This vegan potato soup is rich, creamy and incredibly easy to make. Enjoy a bowl of this warming soup on its own or with some crusty bread for the perfect comfort meal on a cold evening.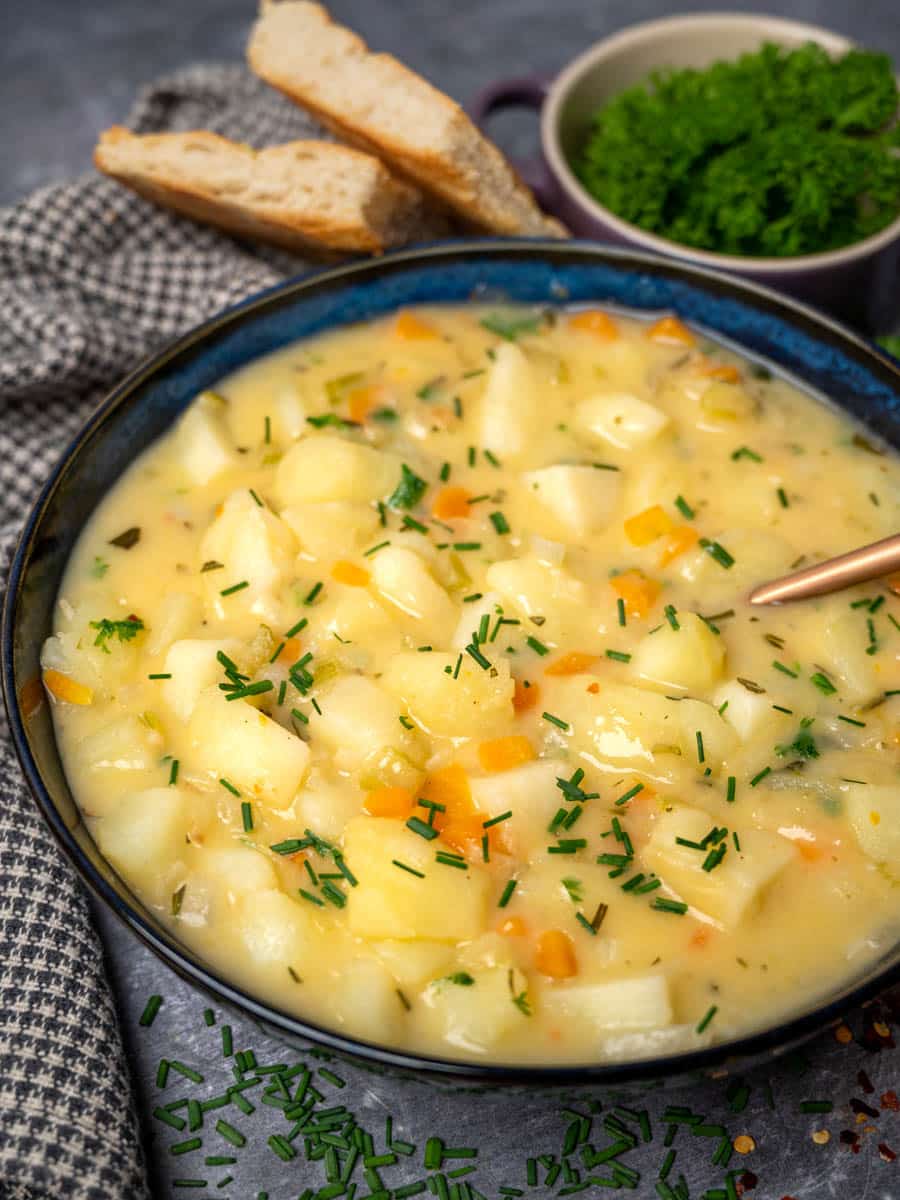 It's no secret I love soups more than any other type of food — the sheer number of soup recipes I posted on Vegan Cocotte is testament to my slight obsession.
That's because nothing beats a delicious bowl of warming, homemade soup. This easy vegan potato soup embodies everything I love about soup — it's creamy, chunky and beyond satisfying.
I love chunky potatoes in this soup, but if you're team smooth potato soup, you can easily use a blender to transform the soup into a velvety treat.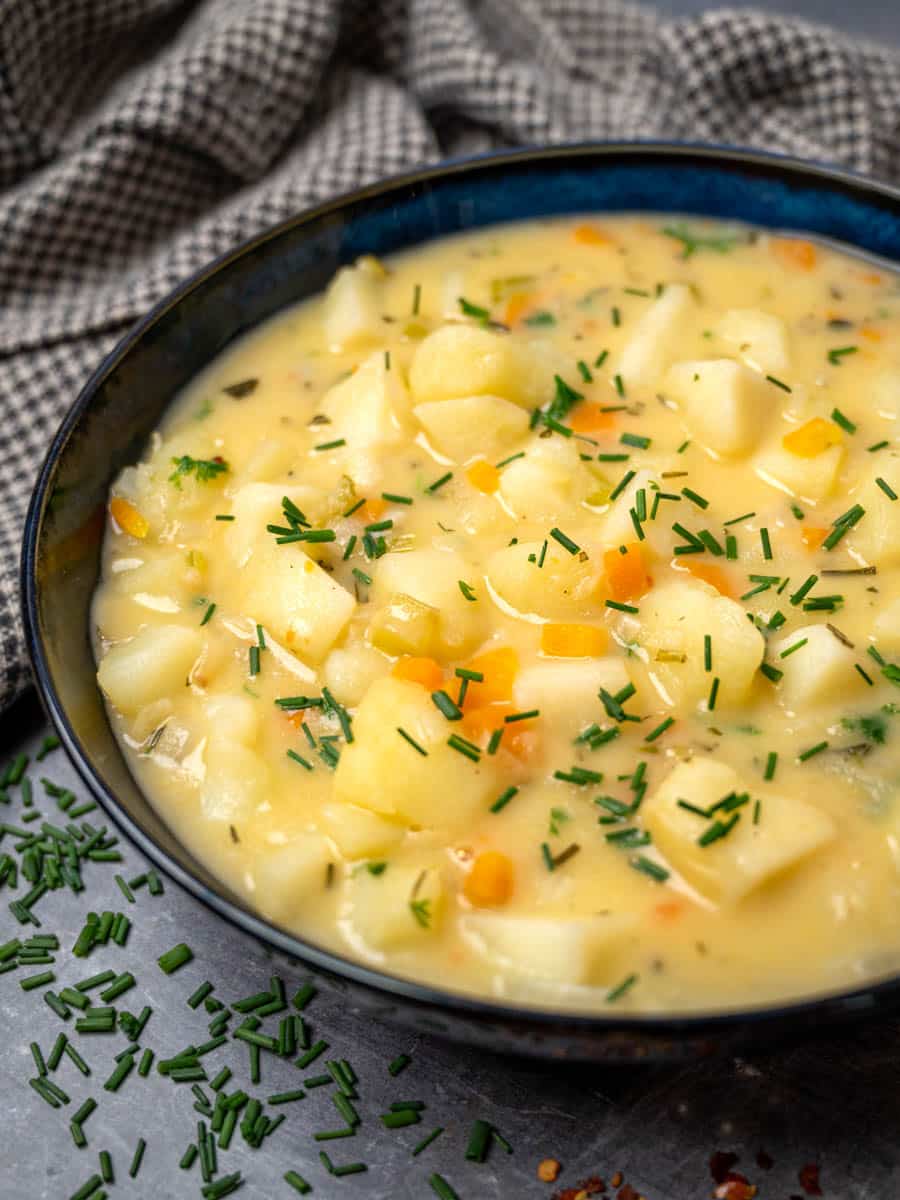 What do you need to make the soup?
Olive oil — Sauteeing the onion, carrot and celery in a bit of extra-virgin olive oil infuses the veggies with extra flavour. However, if you don't want to cook with oil, you can saute the veggies in a bit of vegetable stock instead.
Onions, carrots and celery — These veggies form the base of the soup, adding lots of flavour and texture. Cut them smaller if you want them to soften quicker.
Garlic, rosemary, and thyme — Use freshly chopped garlic and herbs if possible because that's how you get the best flavour. If you have to use dried herbs, 1 teaspoon of rosemary and 1 teaspoon of thyme should be enough.
Potatoes — You can use your favourite type of potatoes in this soup, but look for a semi-starchy variety if possible. Maris Piper or Yukon Gold are good choices as they're buttery while still keeping their shape in the soup.
Vegetable stock — If using shop-bought stock, make sure you pick a vegan one. You can obviously use homemade stock, which is always a good idea.
Coconut milk — This is obviously a dairy-free potato soup, but since I like creamy potato soups, I add some coconut milk at the end. If you don't like coconut milk, substitute it with a plant-based cream or skip it altogether.
How do you make vegan potato soup?
Heat the olive oil in a heavy-bottomed pot such as a Dutch oven and cook the onion, carrot and celery for 4-5 minutes over medium heat until slightly softened.
Next, stir in the garlic, rosemary, thyme and chilli flakes. Continue to cook for another minute, stirring occasionally, until fragrant.
Stir in the flour and cook for another minute. Add two ladles of stock and slowly whisk it in. Make sure you don't have any flour lumps.
When the mixture is thick and smooth, start adding the rest of the stock. Stir to combine, then bring to a boil. Lower the heat and add the bay leaf and potatoes. Simmer for 20 minutes until the potatoes are fork-tender.
Remove the bay leaf, stir in the coconut milk and parsley, then season to taste. Serve with extra parsley or chives on top.
Extra recipe notes
This vegan creamy potato soup will keep well in the fridge for 3-5 days. You can make it ahead and store it in an airtight container.
You can also freeze the soup for up to 3 months. Let it cool down, then transfer it to freezer-friendly containers or freezer bags. I prefer the latter because you can squeeze the extra air and lay them flat in the freezer).
The soup is hearty enough to enjoy on its own, but you can add extra toppings such as vegan cheese, vegan bacon or just some roasted chickpeas.
If you liked this easy vegan potato soup, you might also like some of my other vegan soup recipes:
Don't miss out on any new recipes! Follow Vegan Cocotte on Instagram, Facebook and Pinterest.