This spiced Moroccan chickpea and lentil soup is simple, nutritious, and oh-so-tasty. It's comfort food at its best, and you can serve a bowl of this warming soup with some crusty bread for a very filling and satisfying lunch.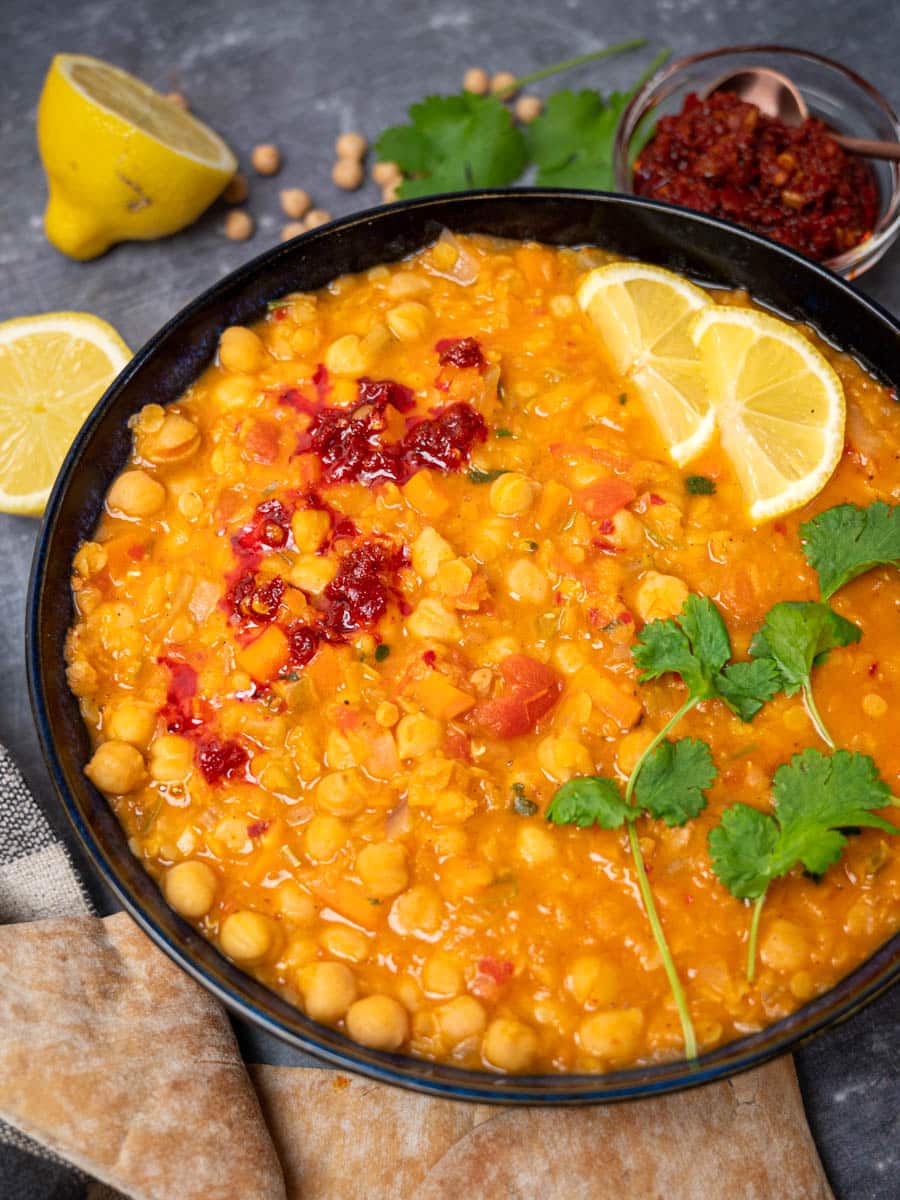 If you love soups that have a bit of a kick, you're in for a treat. This spiced Moroccan chickpea and lentil soup has just enough spice to be fiery but still family-friendly.
As with any spicy soup, you can easily adapt the level of spiciness to make the lentil chickpea soup truly your own.
I use harissa paste to give this chickpea and lentil soup Moroccan vibes. You don't need a lot of harissa for some real kick — two or three tablespoons are enough. Feel free to use more if you think you can handle the heat, though.
This Moroccan lentil chickpea soup is a favourite in our home not just because it's incredibly delicious and healthy but also because it's very easy to make with a handful of staple ingredients.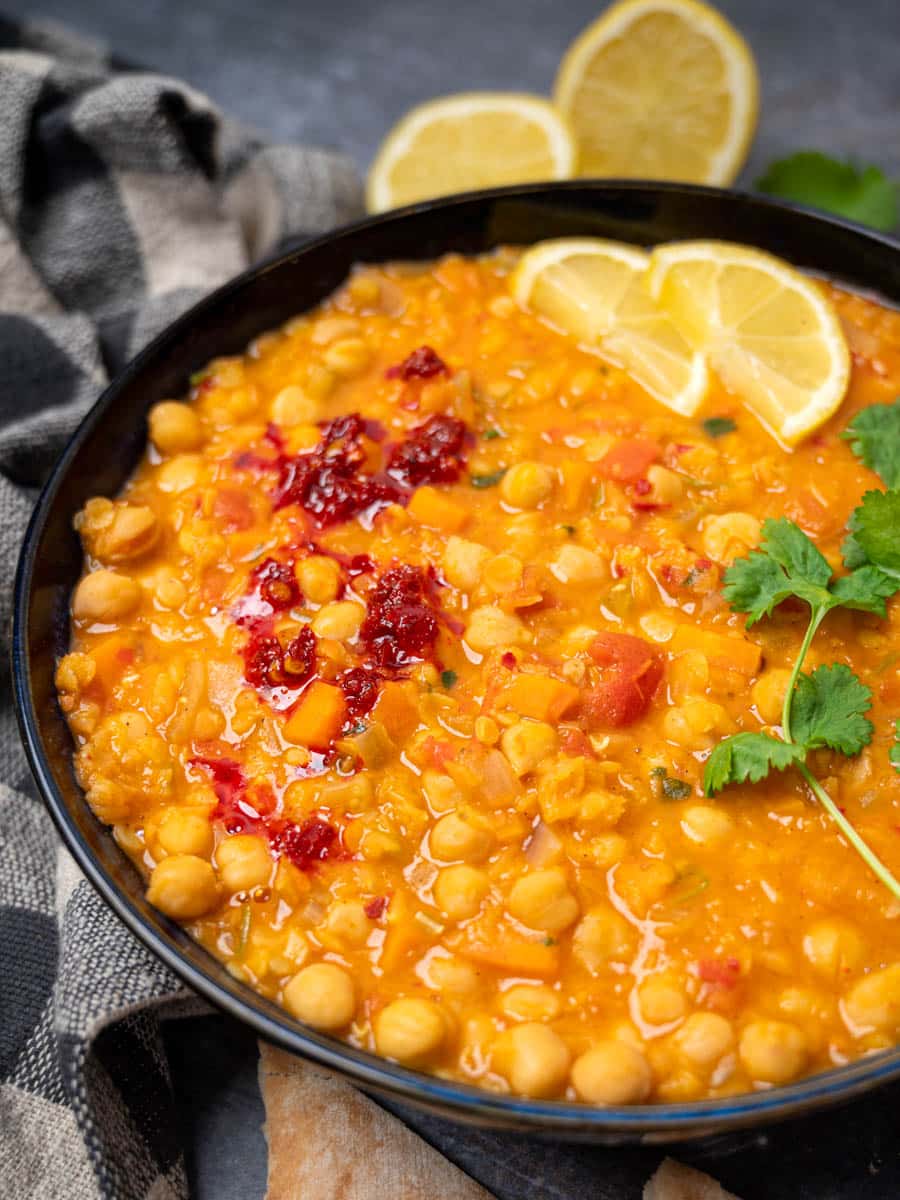 What do you need to make this Moroccan soup?
This chickpea and lentil soup recipe is naturally vegan, which means that you don't have to substitute anything for plant-based products.
Here's what you need to make it:
Olive oil — Any kind of vegetable oil works great in this soup, but I prefer extra virgin olive oil. If you want to make this harissa soup oil-free, simply saute the veggies in vegetable stock instead.
Onion, carrot and celery — These veggies form the base of the soup and will infuse it with lots of flavour. Make sure you saute them for at least 5 minutes or more until they're soft and translucent, so they release their full flavour.
Harissa — Harissa is a spicy North African chili pepper paste that is often used to flavour various Moroccan dishes.
The harissa spice mix may vary, but generally it includes caraway seeds, coriander seeds, garlic powder, cumin powder, red pepper flakes and salt.
You can also use rose harissa in this soup, which includes rosewater or dried rose petals to soften the spiciness of the paste.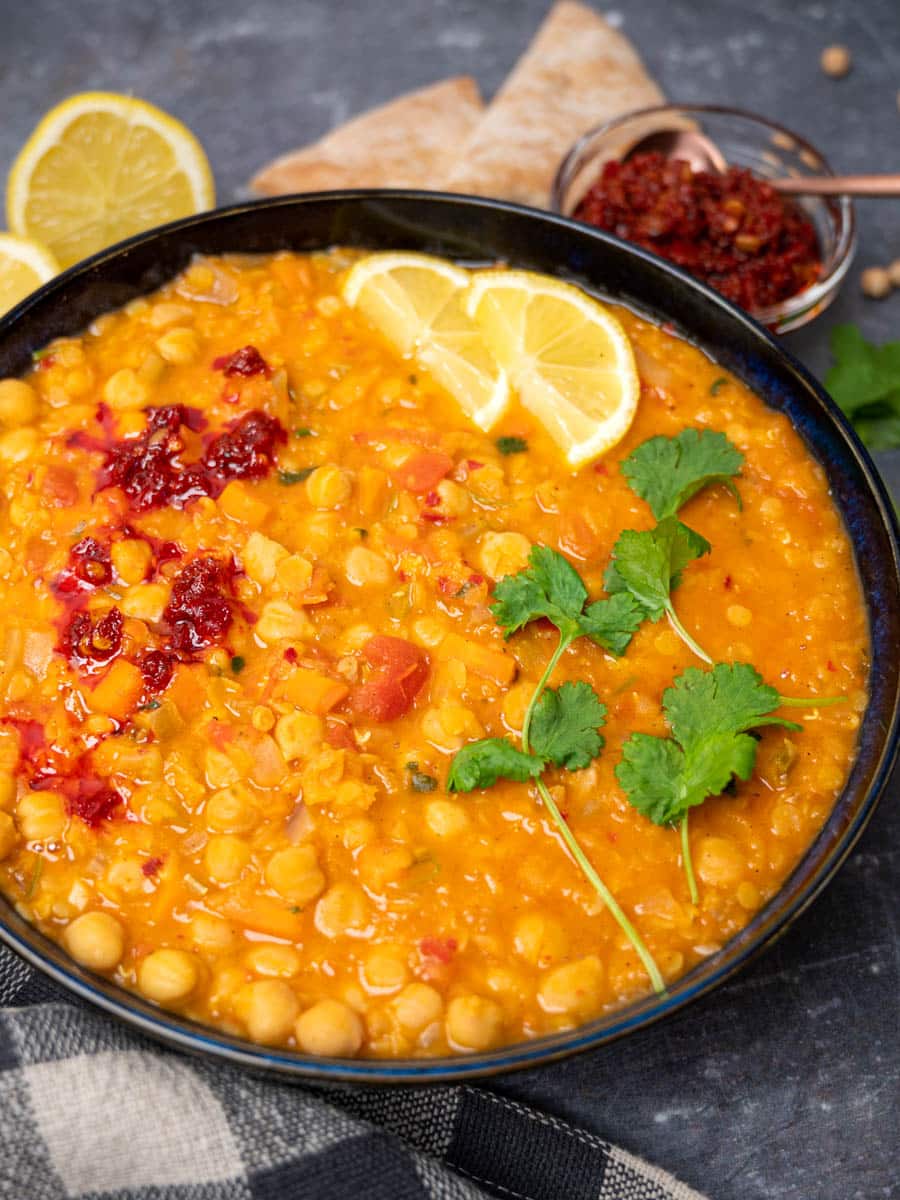 Red lentils — Red lentils are great to use in this Moroccan soup because they cook much faster than other types of lentils.
They have a mild, earthy flavor that pairs well with the spices, and since they break down almost entirely, they give the soup a perfectly creamy texture. Red lentils are a good source of protein, dietary fiber, folate and magnesium.
Chickpeas — I use canned chickpeas for soups like this because they are more convenient and take less time to cook than dried chickpeas.
You can definitely use dried chickpeas if you want, but you'll need to soak them overnight and pre-boil them before using them in the soup.
How do you make spiced Moroccan chickpea and lentil soup?
Heat the olive oil in a heavy-bottomed pot over medium heat.
Add the onion, carrot, and celery and cook for about 5 minutes, stirring occasionally, until soft and translucent.
Stir in the garlic and cook for another minute until fragrant, then add the paprika and ground cumin and cook for a further 30 seconds.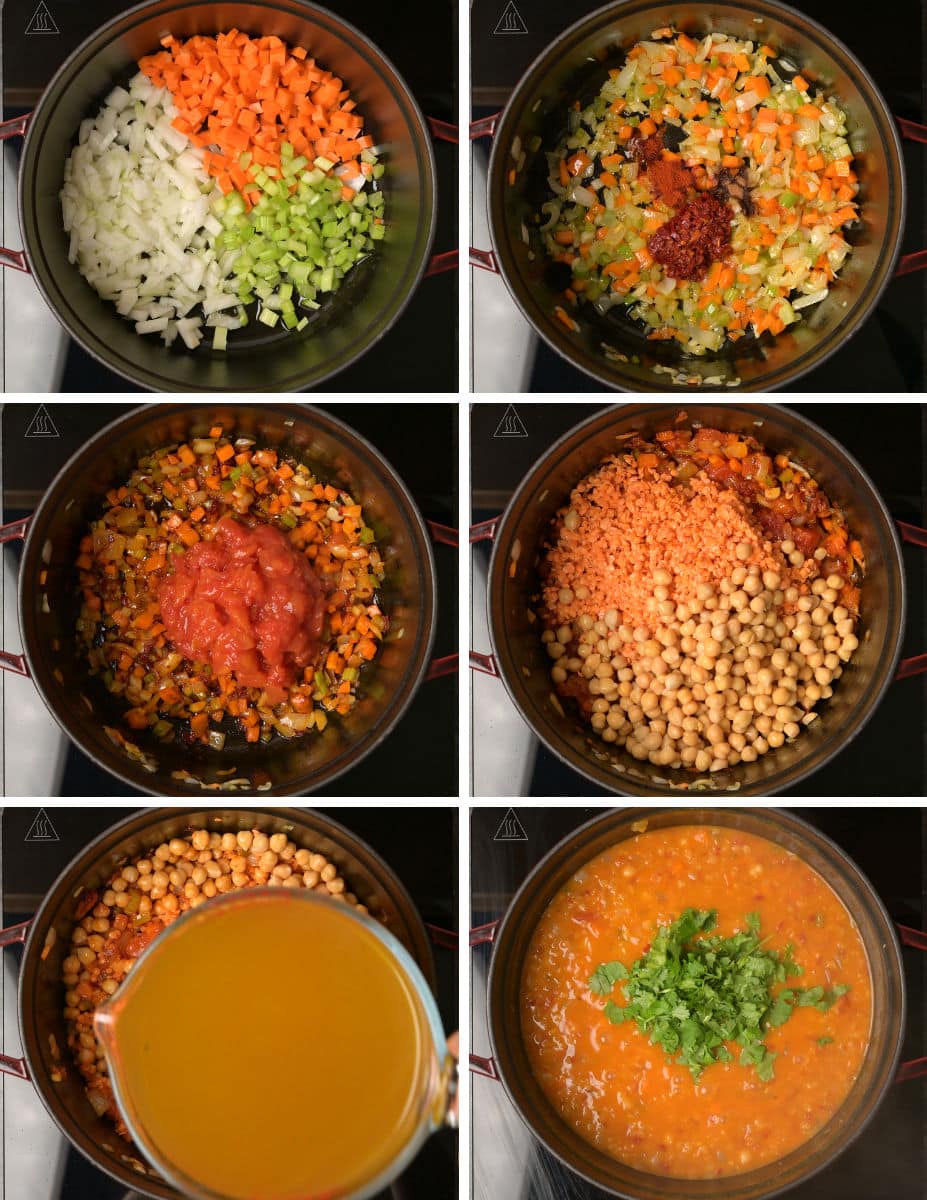 Next, stir in the harissa paste, chopped tomatoes, red lentils, chickpeas and vegetable stock.
Bring to a boil, then lower the heat and simmer for 15-20 minutes, stirring occasionally.
Stir in the lemon juice, chopped parsley or coriander if using, and season to taste.
Serve topped with extra coriander and lemon wedges.
Extra recipe tips
If you'd like the soup to be thinner, use another 200 ml (1 cup) of vegetable stock.
You'll likely see a froth rising to the top when cooking red lentils. You can skim that off if you like; it's just the lentils releasing enzymes as they cook.
You can also add other veggies such as sweet potatoes, red peppers or regular potatoes to the soup to make it even hearthier.
If you liked this spiced Moroccan chickpea and lentil soup, have a look at some of my other easy vegan soup recipes:
Cannellini Bean and Cavolo Nero Soup
Vegan Butternut Squash Kale Soup with Lentils
Don't miss out on any new recipes! Follow Vegan Cocotte on Instagram, Facebook and Pinterest.