This creamy oyster mushroom soup is loaded with flavour of garlic and thyme, and it's completely vegan and dairy-free. It's a velvety soup made with a mix of king oyster and shiitake mushrooms that's ready in just 30 minutes!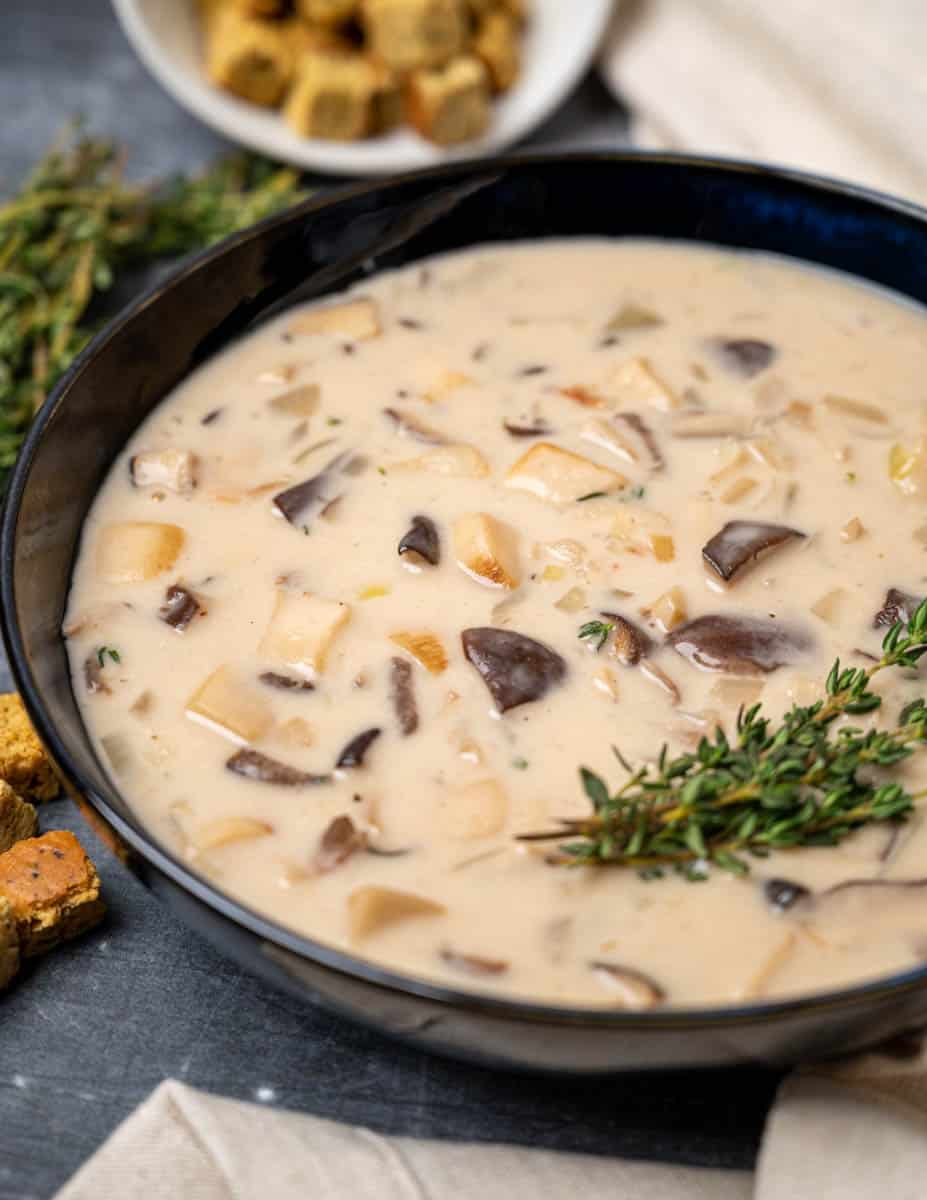 If you love mushrooms and you're looking for a quick and easy creamy oyster mushroom soup, you've just found it.
This soup only includes a handful of ingredients, but it's packed full of flavour and you can serve it with some croutons or crusty bread for a delicious lunch or light dinner.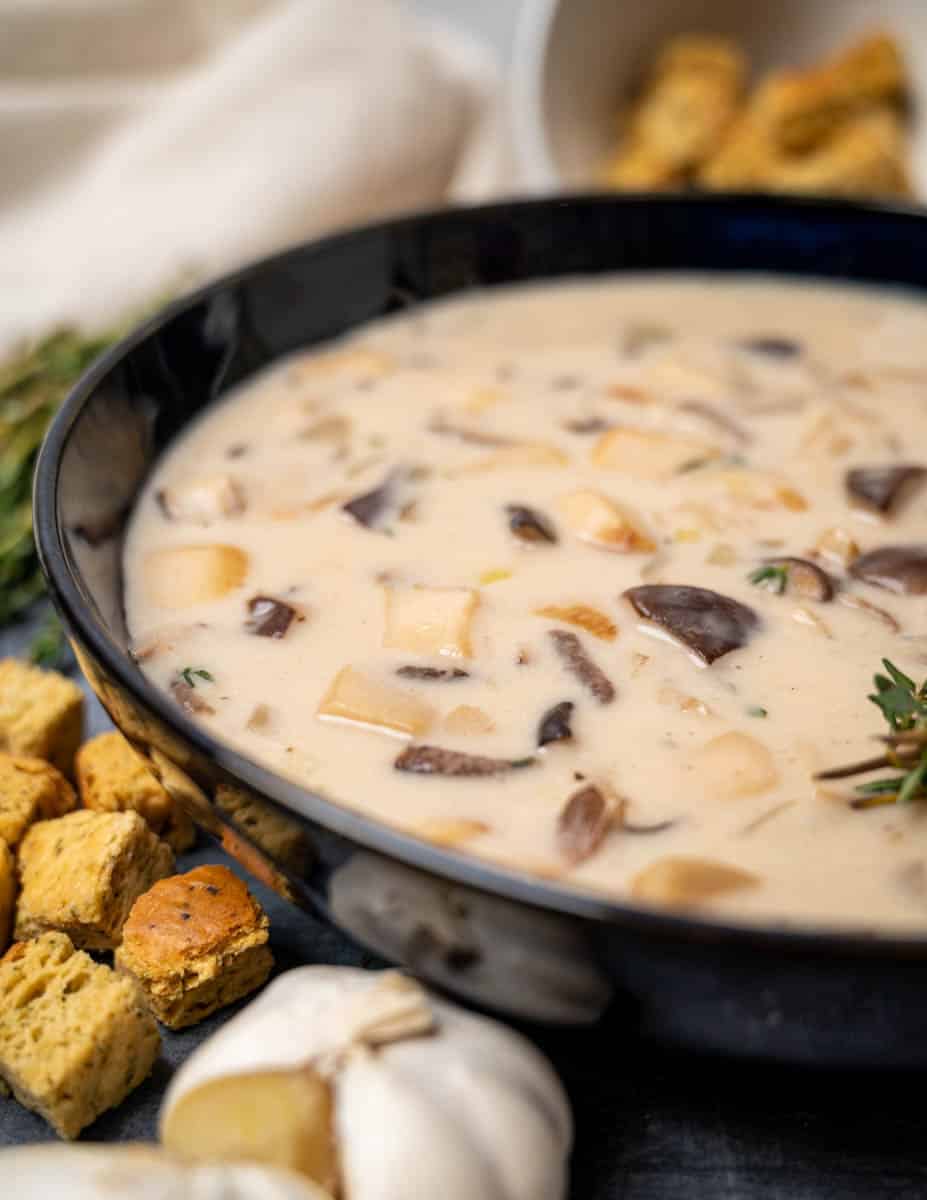 What do you need to make vegan mushroom soup?
Mushrooms
I make this soup with a mix of king oyster and shiitake mushrooms, but you can also use wild mushrooms or add some dry mushrooms as well. You can actually use any mushroom variety in this comforting soup, but I like to make it with oyster mushrooms mainly because of their meaty texture that's quite fantastic in soups.
What I like a lot about this soup is the contrast between the creamy base and the pieces of mushrooms that have been infused with garlic and thyme while sauteeing. If you like it to be more like a cream of mushroom soup, you can puree the entire thing when it's ready.
Coconut Milk
I use coconut cream instead of a vegan type of double cream. Don't be worried about the coconut flavour, as you can't actually feel it in the soup. The mushrooms, garlic and thyme overpower it almost completely. You can use light coconut milk to cut down on calories, but the soup won't be as creamy.
Vegan Butter
I use a knob of vegan butter to saute the shallots in, but you can substitute this with 1-2 tablespoons of olive oil. If you want an oil-free version, saute the shallots in a bit of vegetable stock instead.
How do you make it?
Melt the butter in a large pot or Dutch oven and fry the shallots for 2-3 minutes over medium heat until they soften a bit.
Add the king oyster and shiitake mushrooms and cook for 7-8 minutes until the mushrooms have reduced in size and released their liquids.
Add the garlic and thyme and continue to cook for another minute until fragrant.
Next, stir in the flour and then add half of the mushroom stock. Stir well to combine, add the rest of the stock, and bring to a boil.
Lower the heat and simmer for 4-5 minutes until slightly thickened, then add the coconut milk. Stir to combine and heat through. Season to taste and serve with croutons or some crusty bread.
Recipe tips and notes
The type of mushrooms you choose for the soup will make a difference in flavour. This is why I don't use only king oyster mushrooms. I add shiitake for an extra boost of umami. If you want earthier flavours, closed cup (cremini) mushrooms and dry wild mushrooms or porcini are a great choice.
If you don't have mushroom stock, use vegetable stock instead.
Make sure you stir in the flour well, so you don't end up with any lumps. You can use a whisk instead of a spoon to make it easier.
The soup will keep well in the fridge for 3-4 days.
If you liked this creamy oyster mushroom soup, have a look at some of my other vegan soup recipes:
Harissa Soup with White Beans and Kale
Butter Bean Soup with Lemon and Kale
Creamy Vegan Chickpea Soup with Garlic and Herbs
Pearl Barley Soup with Leek and Potatoes
Don't miss out on any new recipes! Follow Vegan Cocotte on Instagram, Facebook and Pinterest.