This harissa soup with white beans and kale is fiery and bold! It gets its heat from harissa, but it's also a nutritional bomb as it's packed with veggies, beans and greens. Serve it with some fresh crusty bread for a delicious plant-based feast.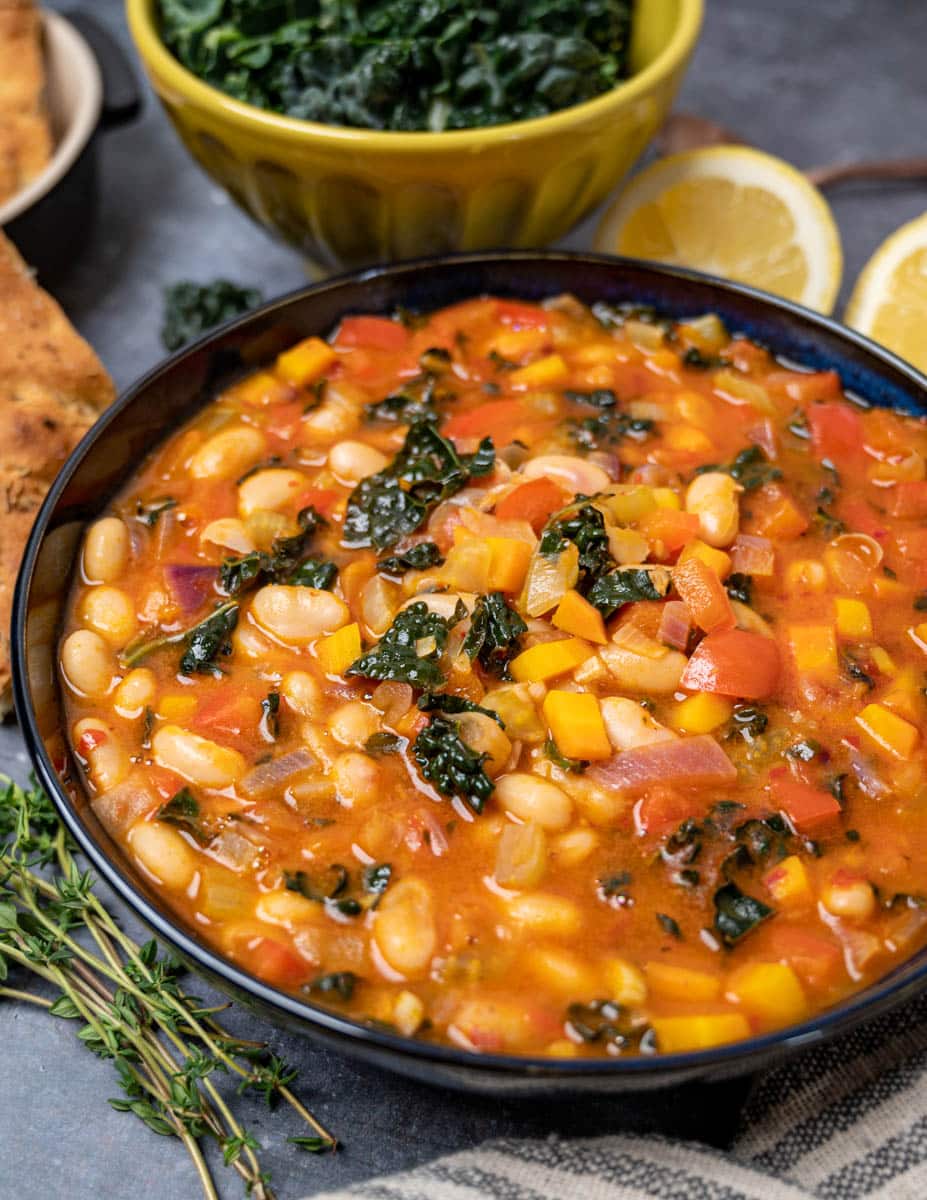 If you like spicy and fragrant soups, you'll fall in love with this white bean soup with harissa and kale. It's quick to prepare with very simple ingredients, and it packs a punch of flavour thanks to the harissa paste.
Harissa is a hot paste used in North African cuisine, and even though recipes vary, it typically consists of a mix of chilli, garlic, olive oil, and spices such as cumin and caraway seeds. You can also find rose harissa, which has rose petals in it.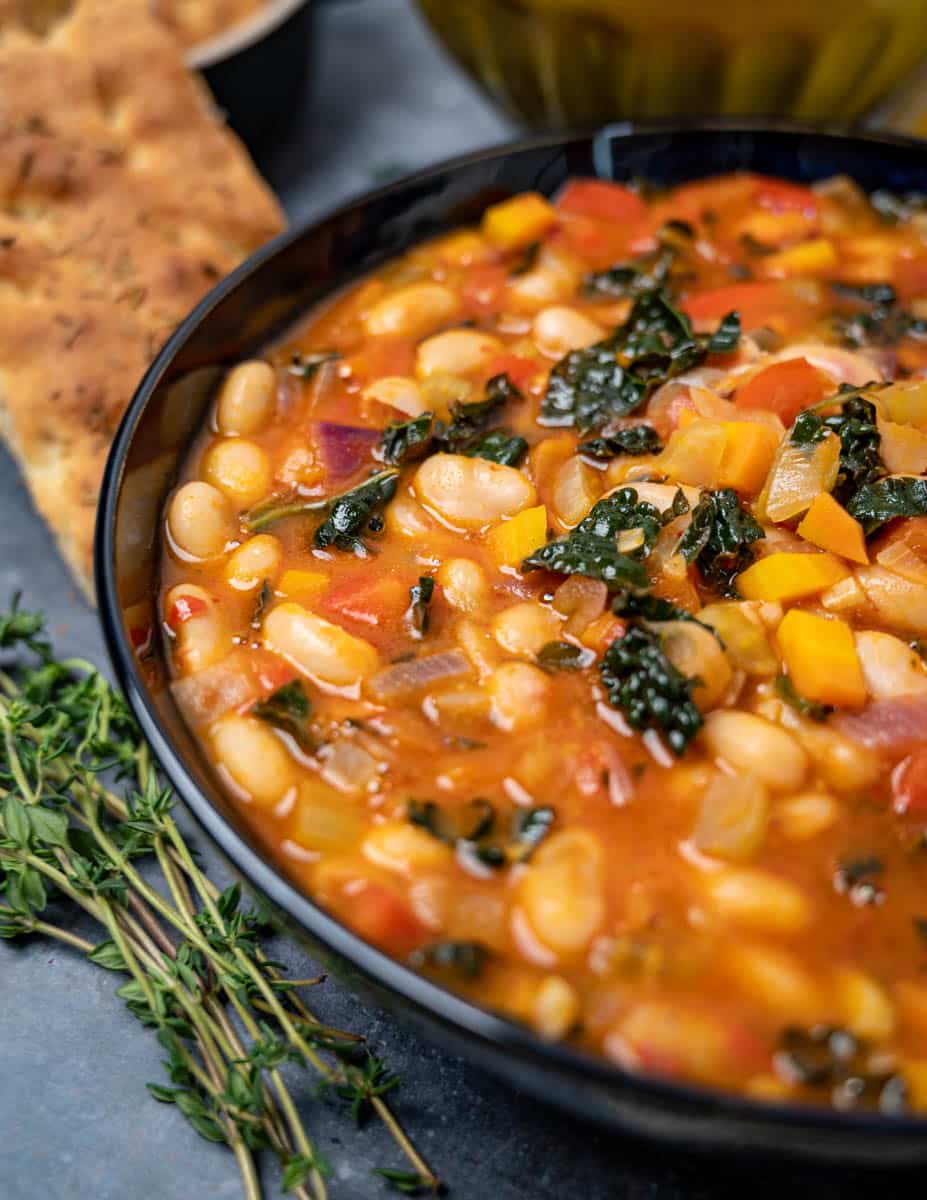 When used in soups and stews, harissa paste infuses them with a warm spiciness. You can make the soup as fiery as you want by playing with the amount of harissa. Be careful, though, as it's easy to overdo it.
What do you need to make this harissa soup?
Besides onion, carrot, and celery, which form the base of the soup, you'll also need sweet red peppers, cannellini beans and kale to make this soup.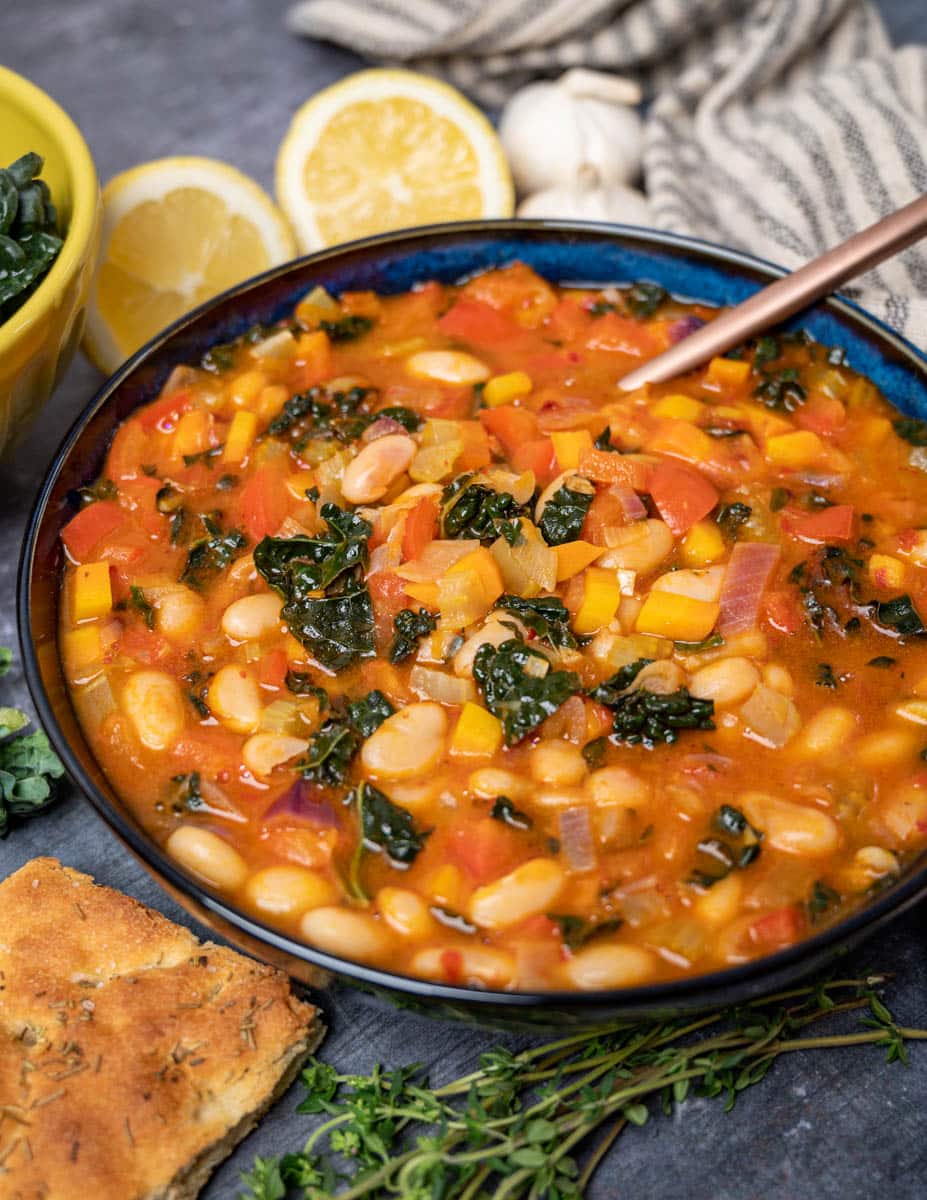 You can add other veggies, such as courgettes or butternut squash, if you want. I use cannellini beans from a tin for convenience, but you can also use dry beans that you've soaked overnight and simmered for 30-40 minutes before adding them to the soup.
Harissa paste gives a lot of flavour to the soup, but I also use some finely chopped fresh thyme and garlic to take the aromas to the next level. This is a really fragrant soup!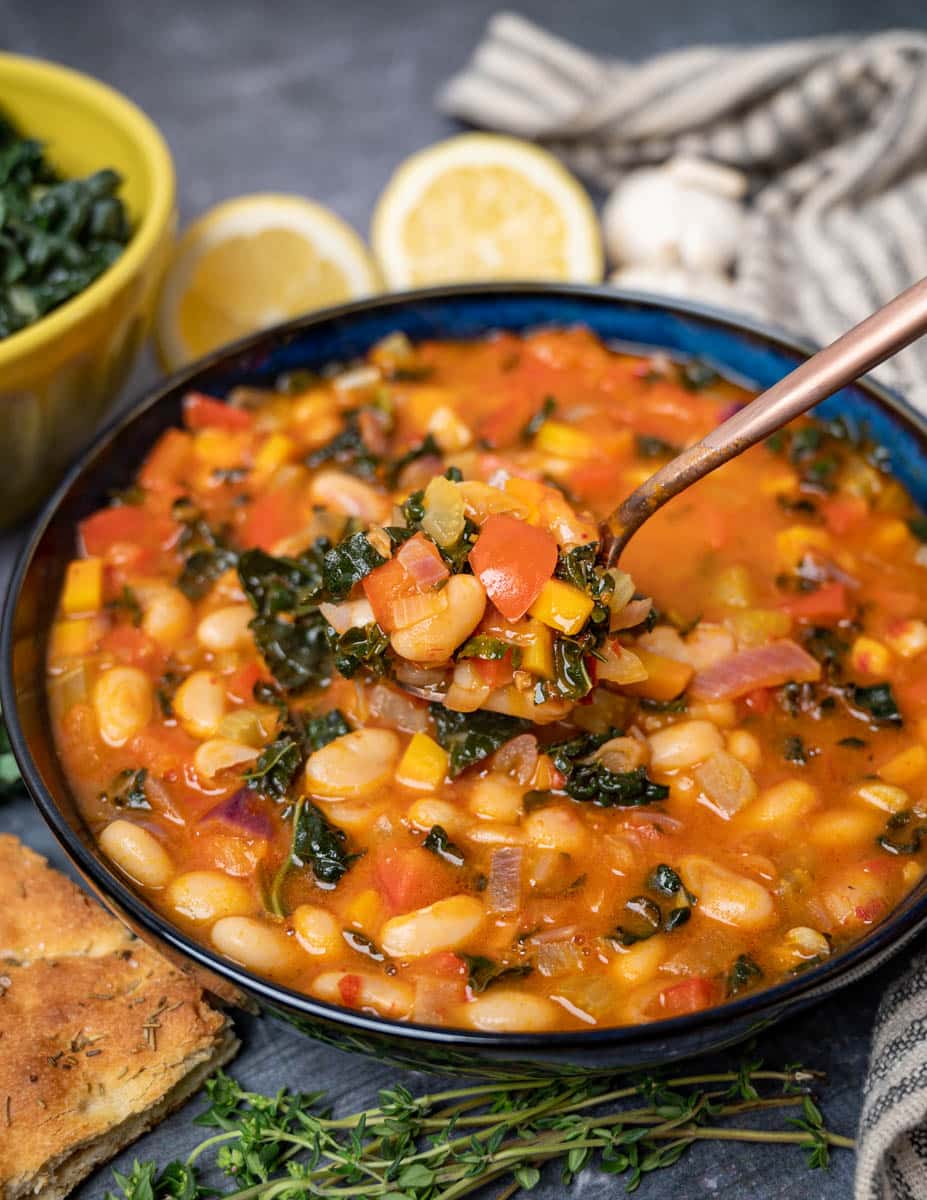 I find kale to be great in harissa soup, and I typically use cavolo nero because I like its texture a lot. You can substitute kale with chard if you want.
How do you make it?
The best thing about this one-pot vegan soup with harissa is that it's ready in just 45 minutes. Making it is just a matter of chopping all the veggies, making a soffrito, and then adding all the other ingredients except for the kale to simmer for 20 minutes.
Here's how to do it:
Heat the oil in a large pot or Dutch oven and fry the red onion, carrot, celery, and red pepper for 8-10 minutes until they soften.
Stir in the garlic and thyme and continue to cook for 1 minute until fragrant. Next, stir in the harissa paste and cook for another 30 seconds.
Add the cannellini beans and stock, bring the soup to a boil, then lower the heat and simmer for 15 minutes.
Stir in the kale and continue to simmer for 5 minutes until the kale has wilted. Season to taste and serve on its own or with some fresh crusty bread.
Extra tips and tricks
If you want the soup to be on the creamier side, use a potato masher at the end to break down some of the beans. Alternatively, you can transfer half of the soup to a blender, blitz until smooth, then return to the pot.
You can serve this soup with fresh crusty bread and drizzled with a dash of olive oil or some lemon juice.
This harissa soup is great for freezing, but preferably without the kale. You can add fresh chopped kale as the soup comes to a boil as you reheat it.
If you liked this harissa soup with white beans, check out some of my other easy vegan soup recipes:
Butter Bean Soup with Lemon and Kale
Vegan Minestrone alla Milanese
Creamy Vegan Chickpea Soup with Garlic and Herbs
Pearl Barley Soup with Leek and Potatoes
Don't miss out on any new recipes! Follow Vegan Cocotte on Instagram, Facebook and Pinterest.