This vegan avgolemono is a creamy, rich and fragrant soup inspired by a traditional Greek recipe. It's packed with flavour and protein, and it's ready in just over half an hour for a delicious meal no one will believe it's vegan.
Vegan avgolemono is an egg-free version of a classic of Greek cuisine — a mixture of lemon, eggs and hot broth that's used for various soups and sauces.
Avgolemono shines best in soups, and this veganised version tastes just as good as the original, with no eggs in sight.
Veganising avgolemono is as easy as replacing eggs with tahini. If you're a vegan who likes to bake, tahini may already be your best friend because it's often used as an egg replacement.
You can easily do the same thing to make a delicious egg replacement mixture for avgolemono.
Simply mix the juice of one large lemon with two tablespoons of tahini and two tablespoons of vegetable stock, and you have the perfect concoction to make your soup taste just like the real thing.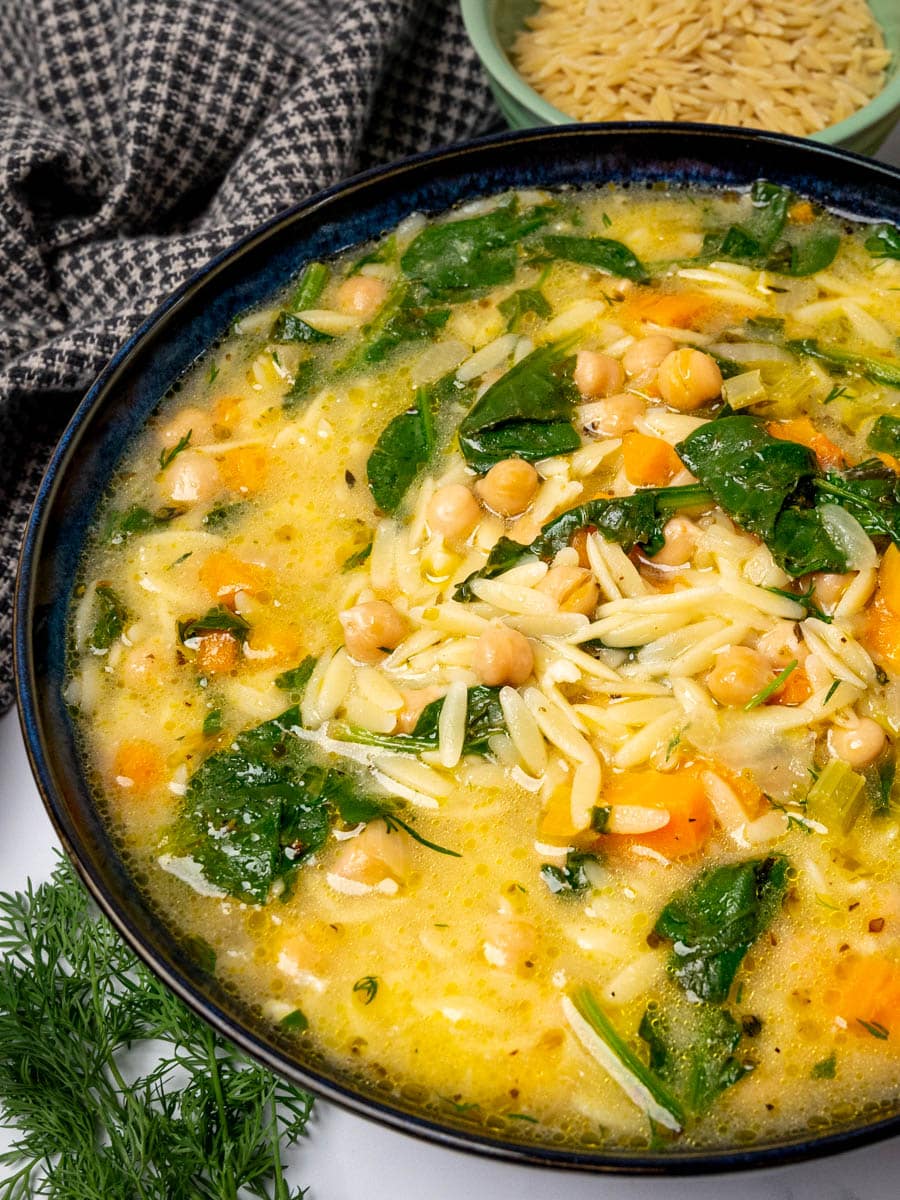 What do you need to make vegan avgolemono?
Olive oil — Extra virgin olive oil is a must for an authentic Greek taste. If you don't cook with oil, saute the veggies in some water or vegetable stock instead.
Onion, carrot, and celery — This trip forms the base of any good soup. Saute them well for 8-10 minutes to get the best flavour.
Garlic — Fresh garlic is best in this soup; don't substitute it with garlic powder or garlic from a tin because the result won't be the same.
Oregano and fresh thyme — I like to use a mix of dried oregano and fresh thyme, but you can use both herbs dry or both fresh if you like.
Chickpeas — A can of chickpeas adds extra protein to this lemon orzo soup. You can also use chickpeas that you cooked from dry.
Orzo — Orzo is a type of pasta that has a slightly firm, chewy texture. It usually has ridges and a ruffled surface, which makes it a great addition for soups. You can also use rice instead of orzo in this soup.
Tahini — Tahini is a common ingredient in Middle Eastern, Eastern European, and North African cuisines.
It's typically made from sesame seeds ground with oil or butter. Tahini is available in most grocery stores either pre-packaged or in tubs near the hummus or Middle Eastern foods section.
Lemon — Lemon is the heart of avgolemono, so you'll need the juice of a large lemon (or two small ones). You can add even more than that if you want your soup to have even more tang.
Baby spinach — This is optional, but great if you want your soup to have some greens in it. You can also substitute it with kale.
Dill — Fresh dill adds extra depth to this soup, so make sure you don't skip it.
How do you make it?
Heat the olive oil in a large pot or Dutch oven and saute the onion, carrot, and celery for 8-10 minutes over medium heat.
Mix the tahini and lemon juice with two tablespoons of vegetable stock and set aside.
Add the garlic, oregano, and fresh thyme to the pot and cook for another minute.
Stir in the chickpeas, vegetable stock and bring to a boil. Add the orzo, lower the heat and simmer for 10 minutes or until the orzo is al dente.
Stir in the tahini mix, baby spinach, and dill and simmer for another 2-3 minutes. Season to taste and serve on its own or with some crusty bread.
Recipe notes and tips
This soup will keep well in the fridge for up to three days in an airtight container. The orzo will continue to absorb the liquid, so you may need to add some extra stock or water when reheating it.
Fresh dill is best for this recipe; if you don't have it, simply skip it. Don't use dried dill as the flavour is just not the same.
You can serve the soup with extra lemon wedges so everyone can add as much as they like to their individual bowls.
If you liked this vegan avgolemono, you might also like some of my other delicious vegan soups:
Cannellini Bean and Cavolo Nero Soup
Minestra di Ceci (Chickpea and Spinach Soup)
Vegan Butternut Squash Kale Soup with Lentils
Don't miss out on any new recipes! Follow Vegan Cocotte on Instagram, Facebook and Pinterest.