Minestra di ceci (or zuppa di ceci) is a rustic Italian recipe full of flavour that's warming and delicious no matter the season. This vegan chickpea soup is super easy to make with canned or dry chickpeas and works great as a tasty lunch or light dinner.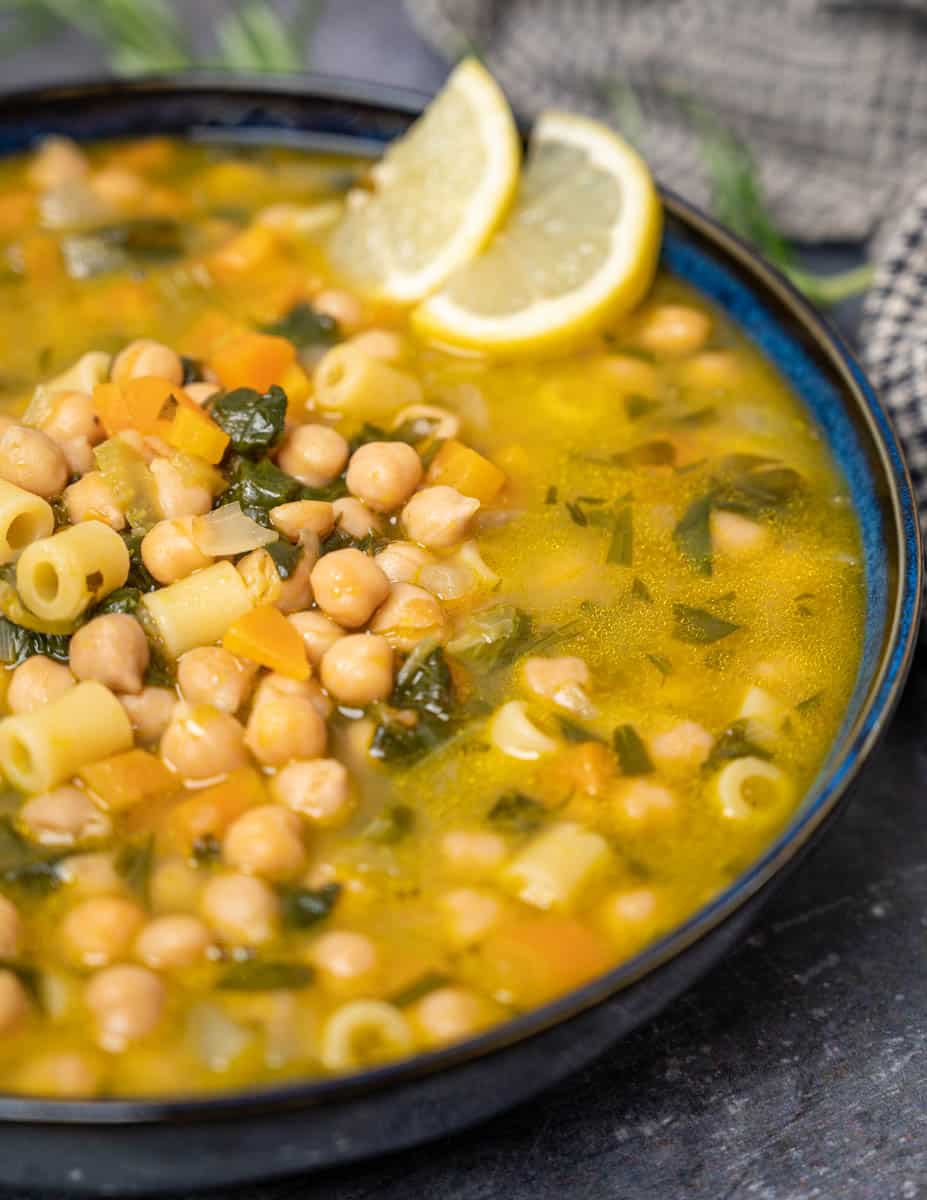 Minestra di ceci translates as chickpea soup and is one the many stapels of Italian cuisine. Like so many other Italian recipes, there's not just one way of making zuppa di ceci, as it's also called. Some versions you'll find across Italy are vegan-friendly, but others have pancetta, Parma ham or parmesan in them.
This is a vegan minestra di ceci that's super easy to make in one pot for a speedy meal that the entire family will love. The soup is full of nutritious goodness and light enough to work in all seasons.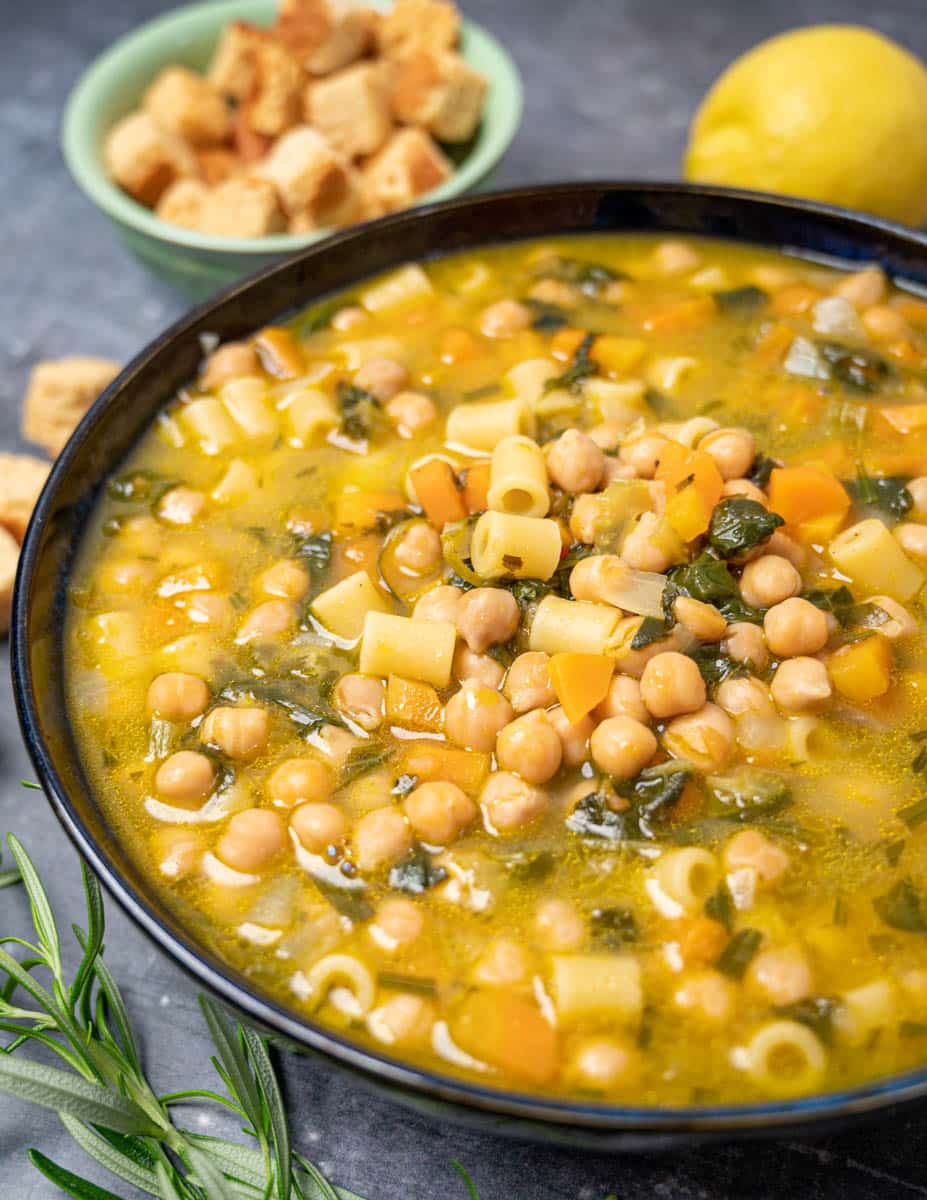 What do you need to make this soup?
Chickpeas go great with herbs like rosemary, so I use a spoonful in this recipe for maximum flavour. Sage and bay leaves are extra herbs you can add to the soup.
The lemon juice is not always used in minestra di ceci, so you can skip it if you want.
Numerous versions are made with tomatoes, but I like it better without them as I feel they distract from the chickpeas and herbs combo.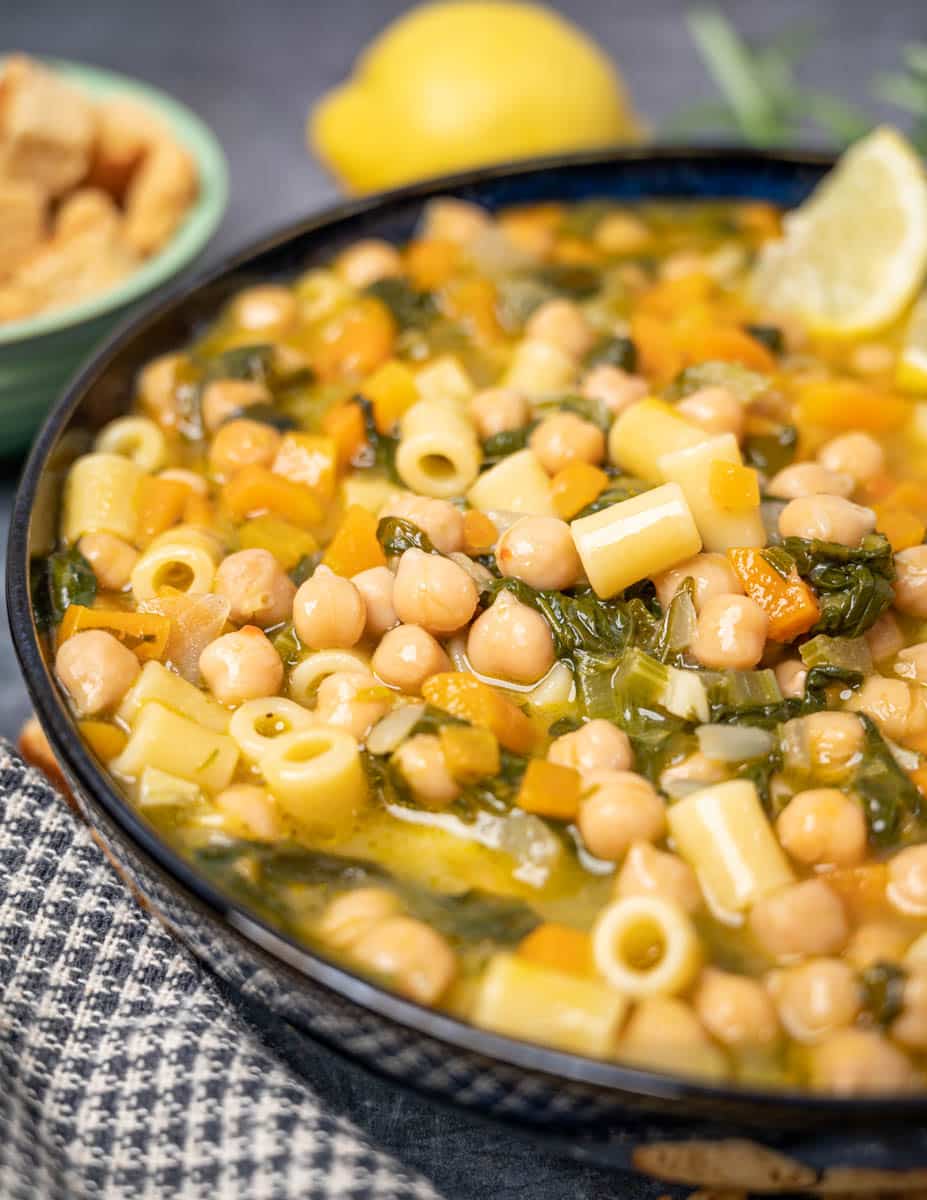 As for chickpeas, you can use either canned or dry ones. Canned chickpeas are more convenient as they allow you to decide to make the soup on a whim, so that's what I use. Feel free to soak and simmer dry chickpeas instead.
The pasta I use for this minestra is called ditalini and it has the perfect shape for soups. You can also use stelline or orzo. You can also skip the pasta altogether for a gluten-free version.
How do you make minestra di ceci?
Heat the olive oil in a large pot or Dutch oven and saute the onion, carrot, and celery stalks for 7-8 minutes until they soften.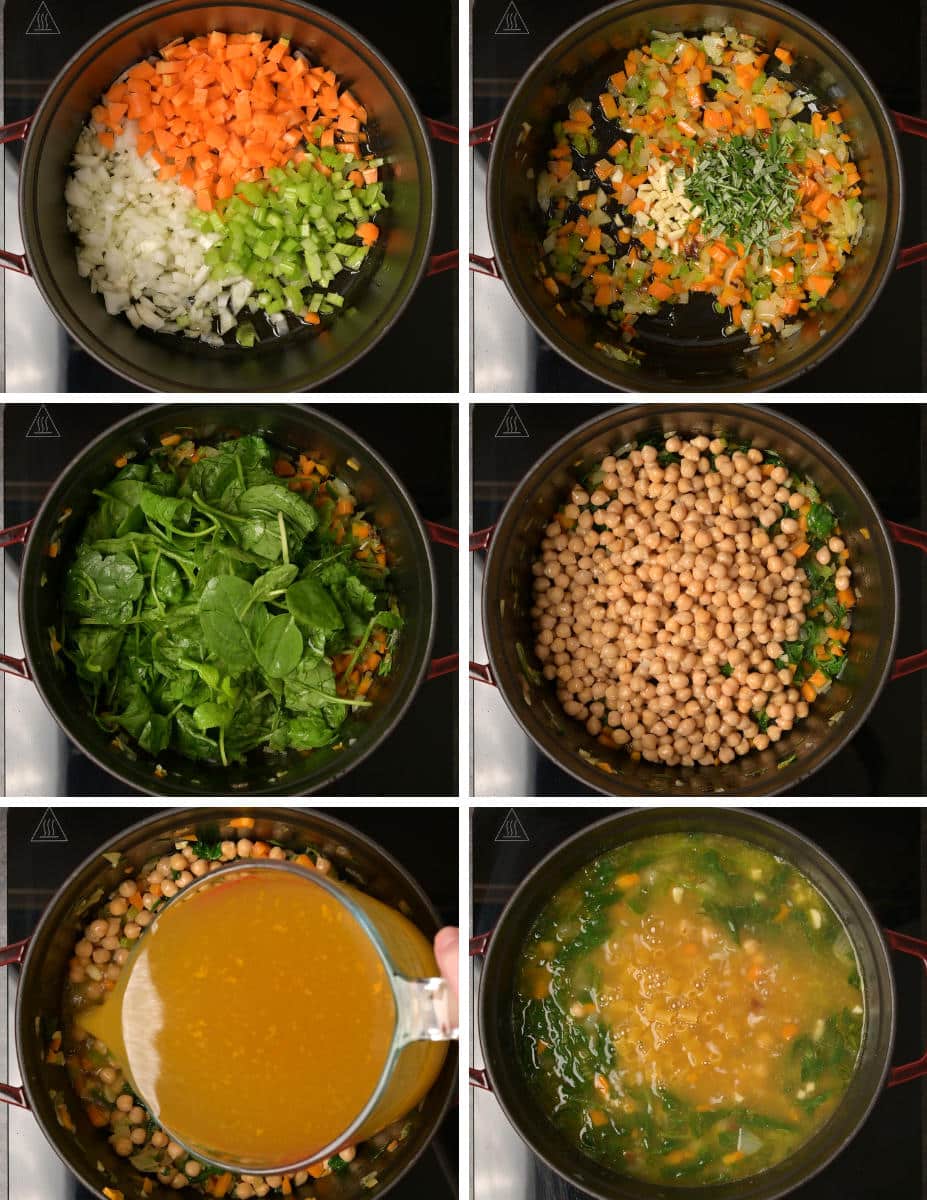 Stir in the garlic and fresh rosemary and cook for another minute until fragrant. Next, add the baby spinach and cook for 1-2 minutes, stirring often, until it wilts.
Add the chickpeas and stock and bring to a boil. Lower the heat and simmer for 15 minutes.
Next, stir in the pasta and cook for another 10 minutes until the pasta is al dente.
Stir in the lemon juice and season to taste. Serve the soup as is or with a chunk of crusty bread.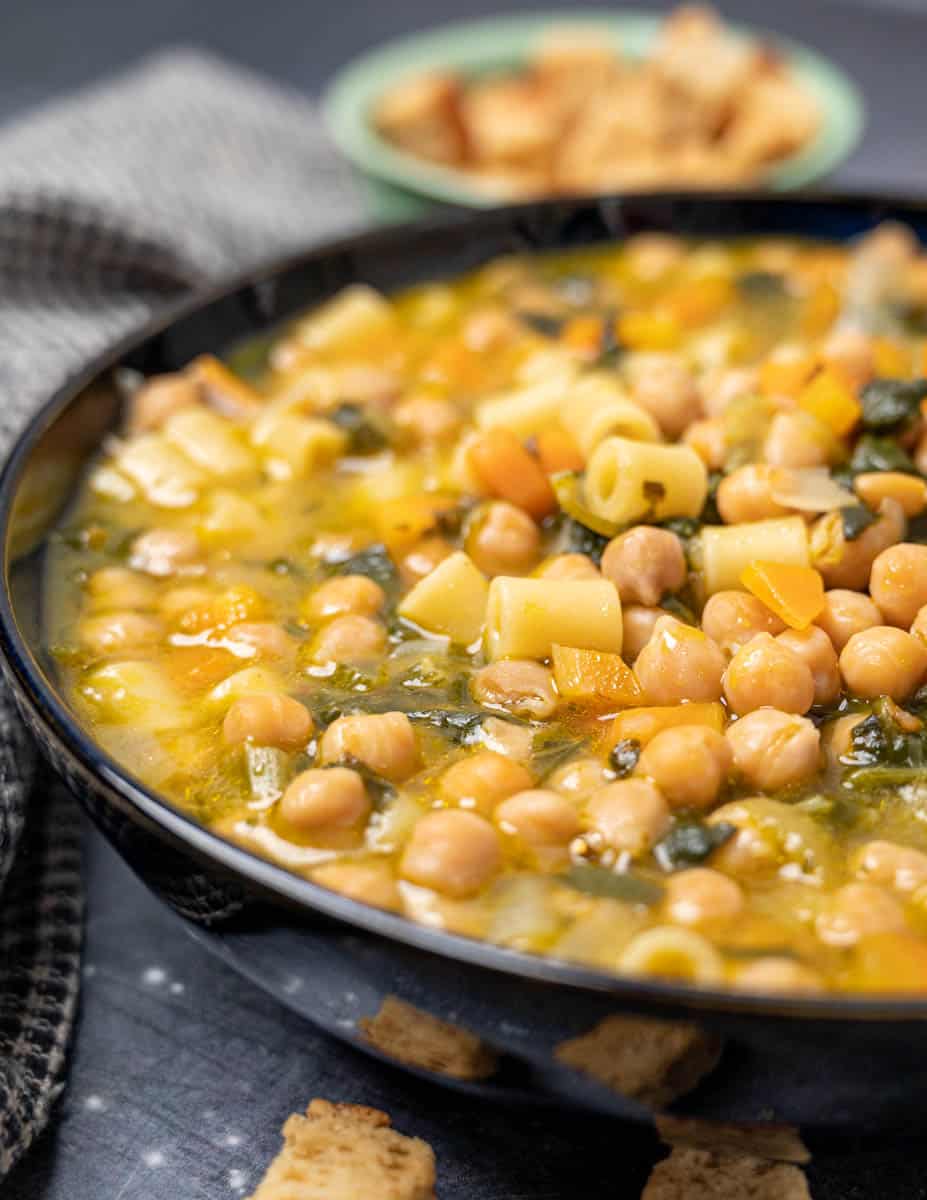 Extra recipe tips
If you want to make the soup creamier, you can blend one of the chickpea cans in a blender or food processor with 50 ml (¼ cup ) water and puree it. Add the pureed chickpeas to the soup together with the other can of whole chickpeas.
To make an oil-free version of this soup, saute the onion, carrot and celery in a bit of vegetable stock instead.
You can also add 1-2 tablespoons of tomato paste with the herbs for a different flavour.
The soup will keep well in the fridge for 2 days in an airtight container.
The soup is hearty enough to enjoy on its own, thanks to the pasta, but you can also serve it with croutons or some crusty bread.
If you liked this minestra di ceci, you might also like some of my other easy vegan soup recipes:
Vegan Butternut Squash Kale Soup with Lentils
Adzuki Beans Soup with Pearl Barley and Kale
Don't miss out on any new recipes! Follow Vegan Cocotte on Instagram, Facebook and Pinterest.