This delicious adzuki beans soup with pearl barley and kale is naturally vegan and incredibly filling. It's packed with tons of flavour, texture and colour, and it's super easy to throw together for a quick midweek meal.
If you have been on Vegan Cocotte before, you might have already noticed that I absolutely love soup! I make soups like this minestrone alla Genovese or creamy chickpea soup year-round and generally enjoy them with a chunk of crusty bread.
This adzuki beans soup with pearl barley and kale is another favourite of mine because it's got the perfect mix of vitamins from vegetables, protein from beans and carbs from pearl barley. This combination makes for a very filling soup that will leave you satisfied even without any bread.
What ingredients do you need for vegan adzuki bean soup?
You don't need many ingredients to make the best soup with pearl barley. What's great about this soup is that you can use as many extra veggies as you want. It's just the perfect fridge cleanout recipe!
Here's what you need to make it:
Olive oil — Extra virgin olive oil is best for any soup like this. However, if you want to make it oil-free, you can saute the veggies in vegetable stock instead.
Red onion, carrot and celery — These form the base of the soup, and you should fry them enough so they're just a bit caramelized for maximum flavour. You can substitute the red onion with brown onion if you want.
Garlic and rosemary — I think a mix of garlic and fresh rosemary is perfect for this soup. If you want to up the flavours a bit, add some extra herbs such as fresh thyme or oregano. If you want it to have a bit of a kick, add half a teaspoon of red chilli flakes, too.
Tomato paste — Just one tablespoon of tomato paste is enough for this vegan soup. If you want the soup to have a more pronounced tomato presence, add half a can of chopped tomatoes.
Pearl barley — You don't need to presoak pearl barley before using it in soups, but you can give it a rinse if you want. If you don't like pearl barley or you don't have it, a small pasta shape such as ditalini would also be great in this recipe. Just make sure you don't overcook it.
Adzuki beans — Also called aduki or azuki, adzuki beans are a small type of bean that's grown throughout East Asia. They are packed with protein, fiber, and complex carbs and also provide a good amount of antioxidants.
Kale — Any type of kale works for this recipe. You can also substitute it with collard greens or even spinach.
How do you make it?
Heat the olive oil in a large pot or Dutch oven and fry the red onion, carrot and celery for 5-6 minutes until they soften.
Stir in the garlic and rosemary and continue to cook for another minute until fragrant. Add the tomato paste and stir to combine.
Next, stir in the pearl barley and adzuki beans and then add the vegetable stock. Bring to a boil, then lower the heat and cook with a lid on for 25 minutes until the pearl barley is tender.
Stir in the lemon juice and kale and simmer for another 2-3 minutes until the kale wilts. Season to taste and serve on its own or with some crusty bread.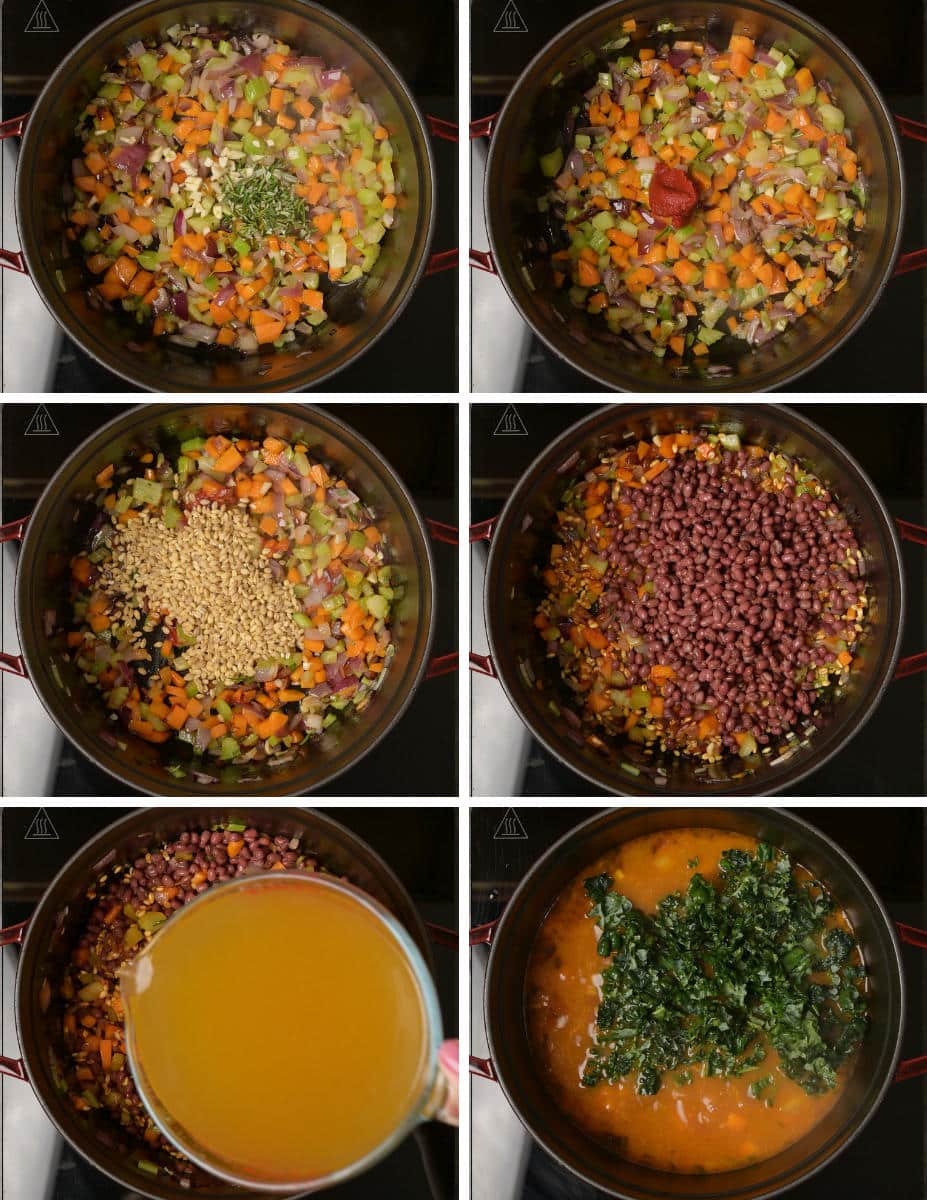 Can you freeze adzuki beans soup?
Yes, this soup freezes great. Allow it to cool completely, then transfer into airtight containers and freeze for up to three months. To reheat, defrost the soup overnight in the fridge, then heat it on the hob. The pearl barley may soak up some of the liquid, so you may need to add to a bit of vegetable stock or eater when reheating.
Extra recipe tips
This vegan pearl barley soup is satisfying on its own, but you can also serve it with some crusty bread that's great for dipping.
If you don't have any pearl barley on hand and you don't want to add pasta to the soup, you can use whole grain rice, farro or spelt instead.
Other veggie ideas for this soup include mushrooms, cabbage, squash, broccoli and courgettes.
If you liked this adzuki beans soup with pearl barley and kale, check out some of my other easy vegan soup recipes:
Harissa Soup with White Beans and Kale
Butter Bean Soup with Lemon and Kale
Pearl Barley Soup with Leek and Potatoes
Don't miss out on any new recipes! Follow Vegan Cocotte on Instagram, Facebook and Pinterest.