This vegan lemon orzo is naturally creamy, simple to make and utterly delicious. It's just the perfect light lunch or side dish full of lemony flavour that you can have ready in 20 minutes!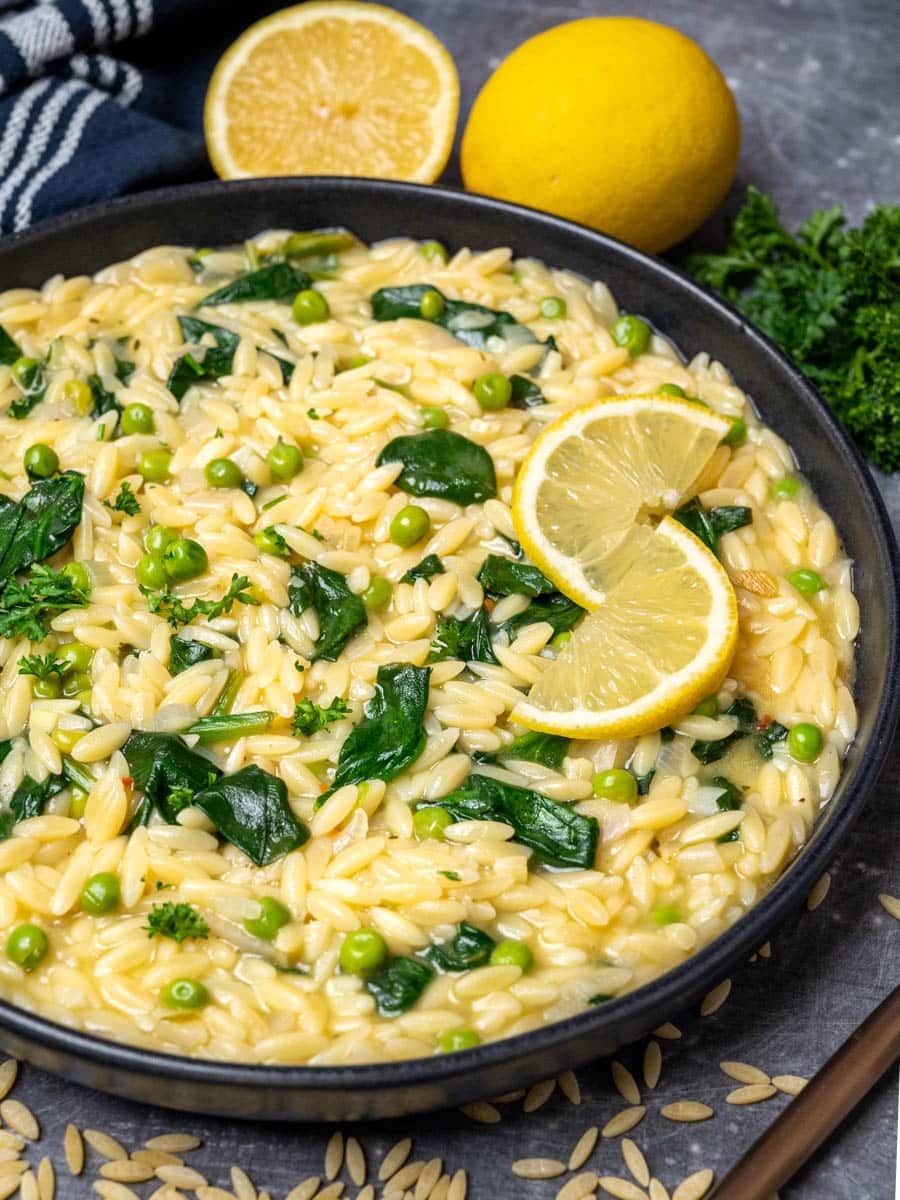 If you're looking for a bright springtime side dish or just a quick lunch, this easy vegan lemon orzo definitely fits the bill.
It can even be a very speedy light dinner and the best thing about it is that you can easily customize it to make it your own.
You can easily make this vegan lemon orzo creamy naturally by adding the veggie stock gradually and stirring it like you'd do with risotto to release the starch.
Why you'll love this vegan lemon orzo
It's super quick to make. All it takes is 20 minutes from start to finish to have a bowl of tasty orzo in your hands.
It's bright and delicious. This vegan lemon orzo is naturally creamy and has a bright citrus flavour that's just perfect for summer.
It's very easy to make it your own. Feel free to swap the veggies and use whatever you have in the fridge.
Ingredients and substitutions
Olive oil — Use some extra virgin olive oil to saute the shallots and toast the orzo for the best flavour. If you don't cook with oil, you can saute the onion in veggie stock and skip the orzo toasting.
Shallots — Any type of onion works in this recipe but shallots are perfect because their subtle flavour won't distract from the lemon.
Orzo — Even though it looks like rice, orzo is actually pasta, hence the quick cooking time. For this recipe, I toast it a bit like I'd do with rice for risotto to add a slighlty nutty taste and make sure it doesn't stick.
Vegetable stock — Shop-bought veggie stock works great in this recipe for convenince. You may need a bit more than one litre, depending on how much liquid you want your lemon orzo to have.
Frozen peas — You can also use fresh peas, asparagus or mushrooms in this vegan lemon orzo recipe.
Baby spinach — Spinach is perfect in this easy lemon orzo because it wilts very quickly but you can also use kale.
Lemon juice — You'll need the juice of a medium lemon for this orzo dish. If you want to make it even extra lemony, add some lemon zest, too.
How to make vegan lemon orzo
Heat the olive oil in a large, deep pan and cook the shallots for 2- 3minutes over medium heat until slightly softened.
Add the garlic and continue to cook for 1 minute.
Stir in the orzo and toast it for 1-2 minutes, stirring often.
Add a third of the vegetable stock and bring to a simmer. Lower the heat and cook, stirring often, until most of the liquid is absorbed.
Repeat with another third of the stock, then add the remaining stock, frozen peas and baby spinach. Simmer, covered, for 2-3 minutes. The orzo should be al dente at this point.
Stir in the lemon juice, season to taste and serve immediately.
Recipe notes and tips
This vegan lemon orzo is best served immediately. If you have any leftovers, they will keep well in the fridge for 3 days in an airtight container.
Add some water or veggie stock when reheating it because the orzo will continue to absorb the liquid.
You can serve this lemon orzo hot or cold, pasta salad style.
If you liked this vegan lemon orzo, you might also like some of my other quick and easy vegan pasta recipes:
Looking for more delicious inspiration? Follow Skinny Spatula on Instagram, Facebook, and Pinterest!