Gigantes plaki is a delicious Greek dish made with giant beans in a tomato-based sauce that's super flavorful and very easy to make. My version is made with canned beans so you can have it on the table in under an hour!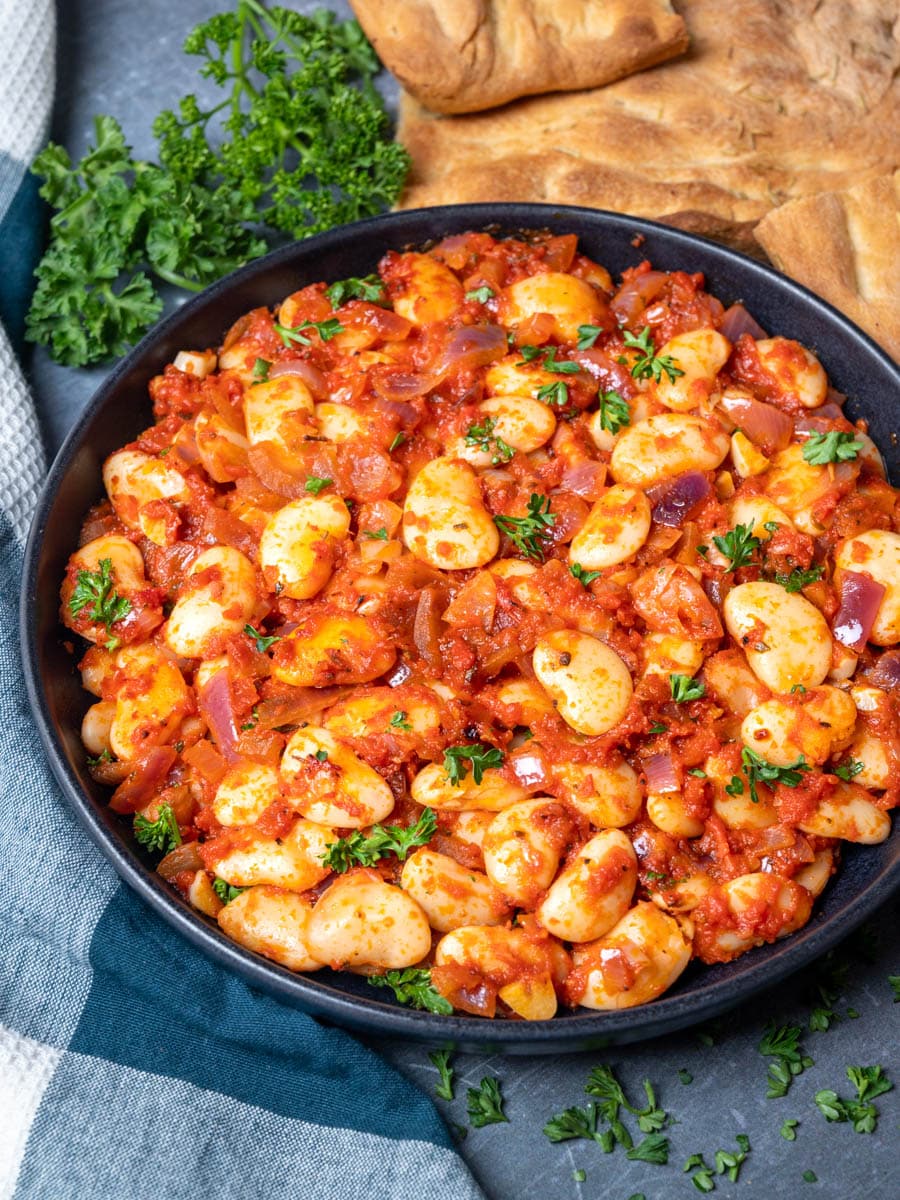 Gigantes plaki is a traditional Greek dish made with giant butter beans, hence the name. It's a simple yet very tasty dish that happens to be naturally vegan.
To make Greek giant beans, you start by cooking the onion, garlic and aromatics on the stovetop, then add the beans and tomato sauce before transferring everything to the oven.
Even though gigantes plaki is typically made with beans cooked from dried, this is a super fast version that uses canned buttered beans for a satisfying yet speedy dinner.
Why you'll love gigantes plaki
Extra healthy and full of protein
Very short list of ingredients
Great for making ahead and for batch cooking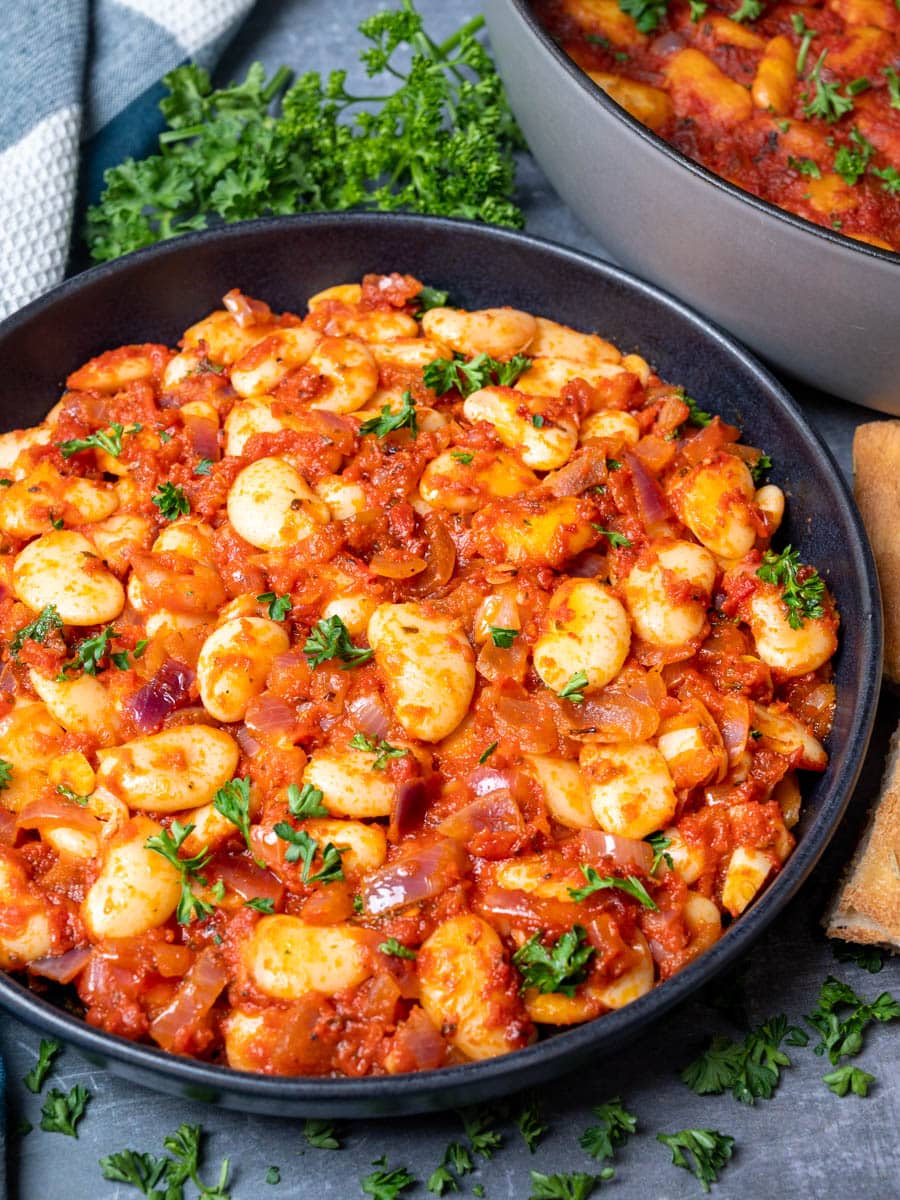 Ingredients and substitutions
Olive oil — The olive oil is an essential ingredient in giant baked beans so use the best quality you can.
Red onion — You can use whatever kind of onion you want but red onions have the perfect flavor for Greek gigantes.
Garlic — I like to dice the garlic roughly for this dish but you can also crush it if you like. Feel free to add as much garlic as you like.
Tomato paste — The role of the tomato paste is to enhance the tomato flavor of the dish and thicken the sauce at the same time.
Oregano — This is optional but I always add some dried oregano to gigantes beans for extra flavor.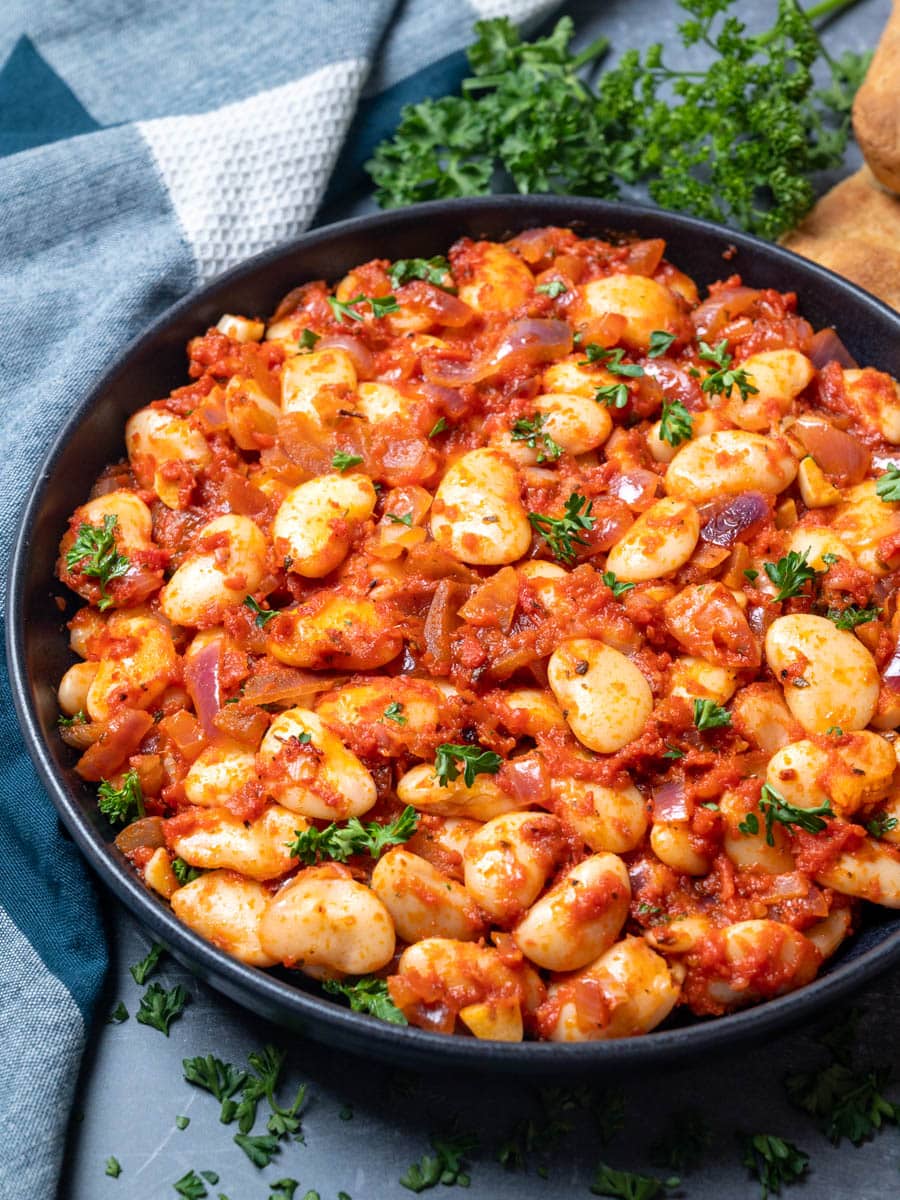 Cinnamon — Cinnamon is the ingredient that makes these baked Greek beans truly special. Both ground cinnamon and a cinnamon stick work here.
Butter beans — The star of the show! I used canned butter beans, which are already cooked and creamy but you can cook your beans from dried if you like.
To do so, soak the dried beans overnight and cook them until tender before using them in this recipe. Use authentic Greek giant white beans if possible; if you don't have them, any other kind of butter beans or large lima beans will do.
Crushed tomatoes — Just like in the case of the olive oil, it's important to use quality crushed tomatoes for the best sauce. You can also use diced tomatoes if you don't mind little chunks in your sauce.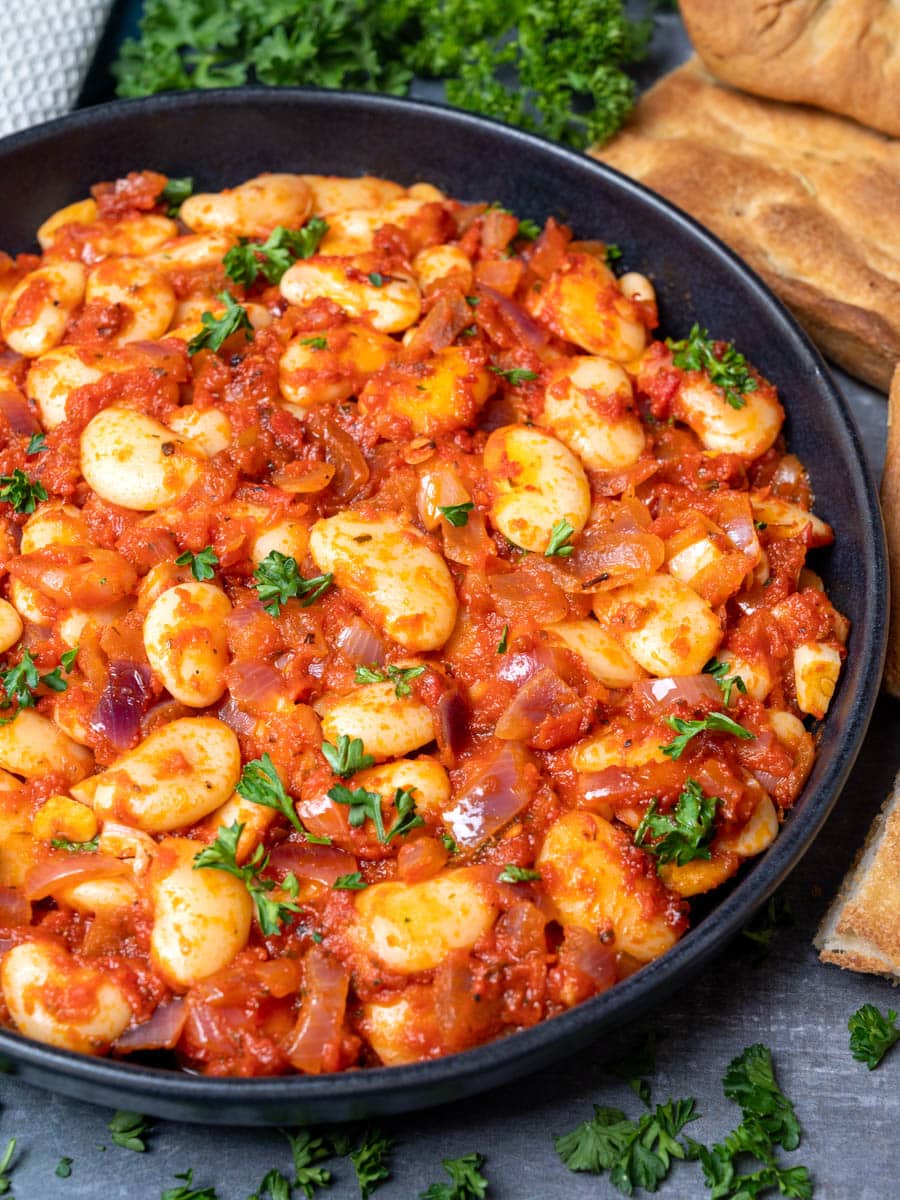 How to make Greek giant beans
Heat the olive oil in a large, deep pan and add the red onion and garlic. Cook for 5-6 minutes over medium heat until softened.
Preheat the oven to 350°F (180°C).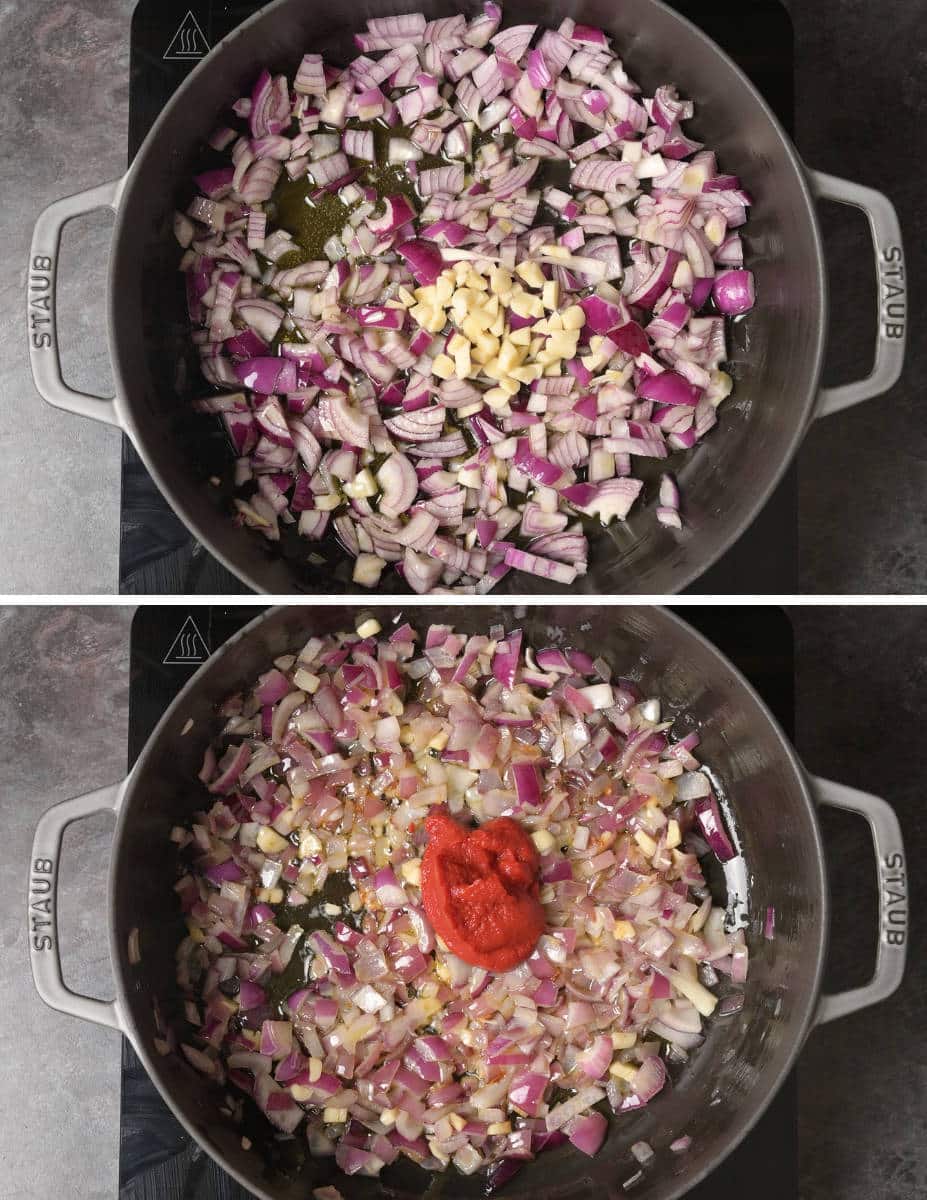 Stir in the tomato paste, oregano and cinnamon, then add the butter beans, crushed tomatoes and water.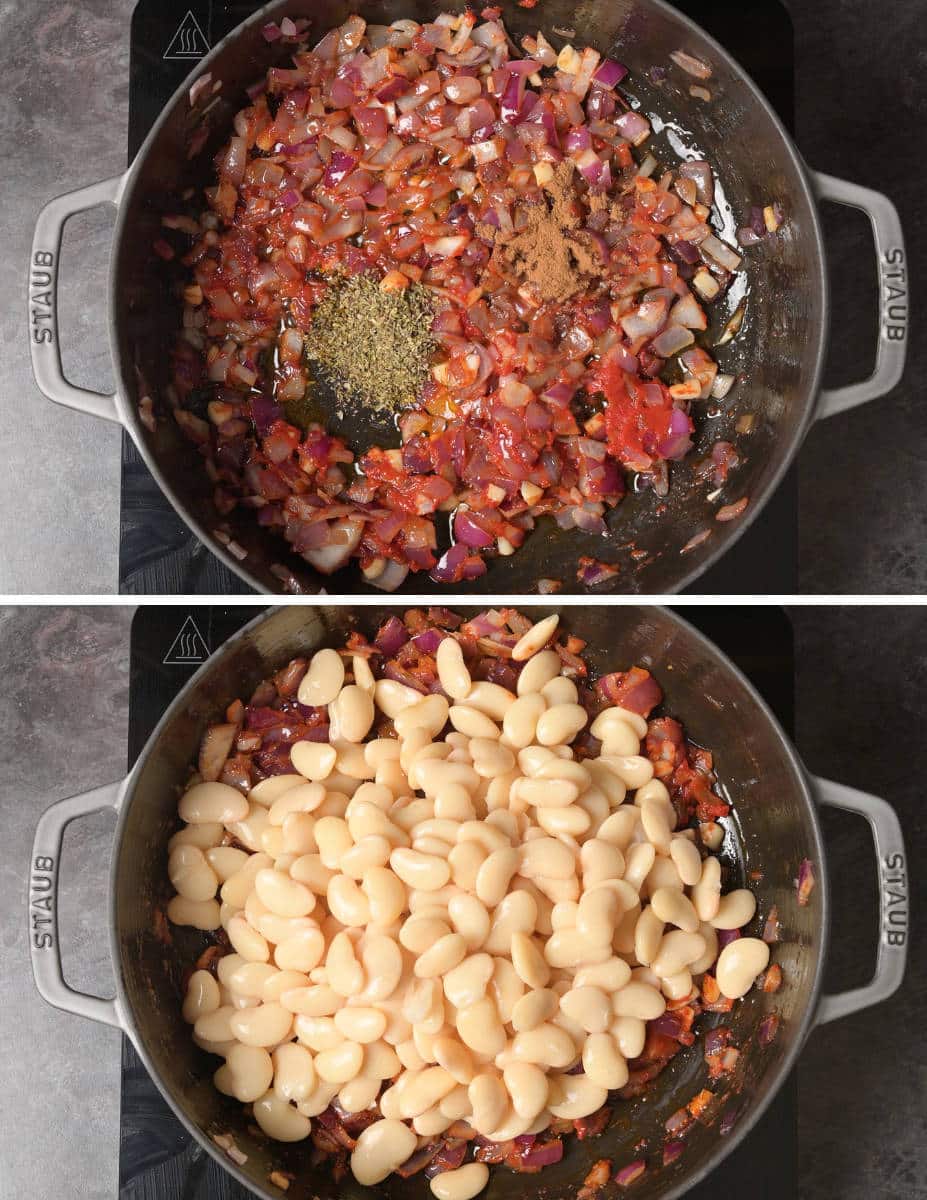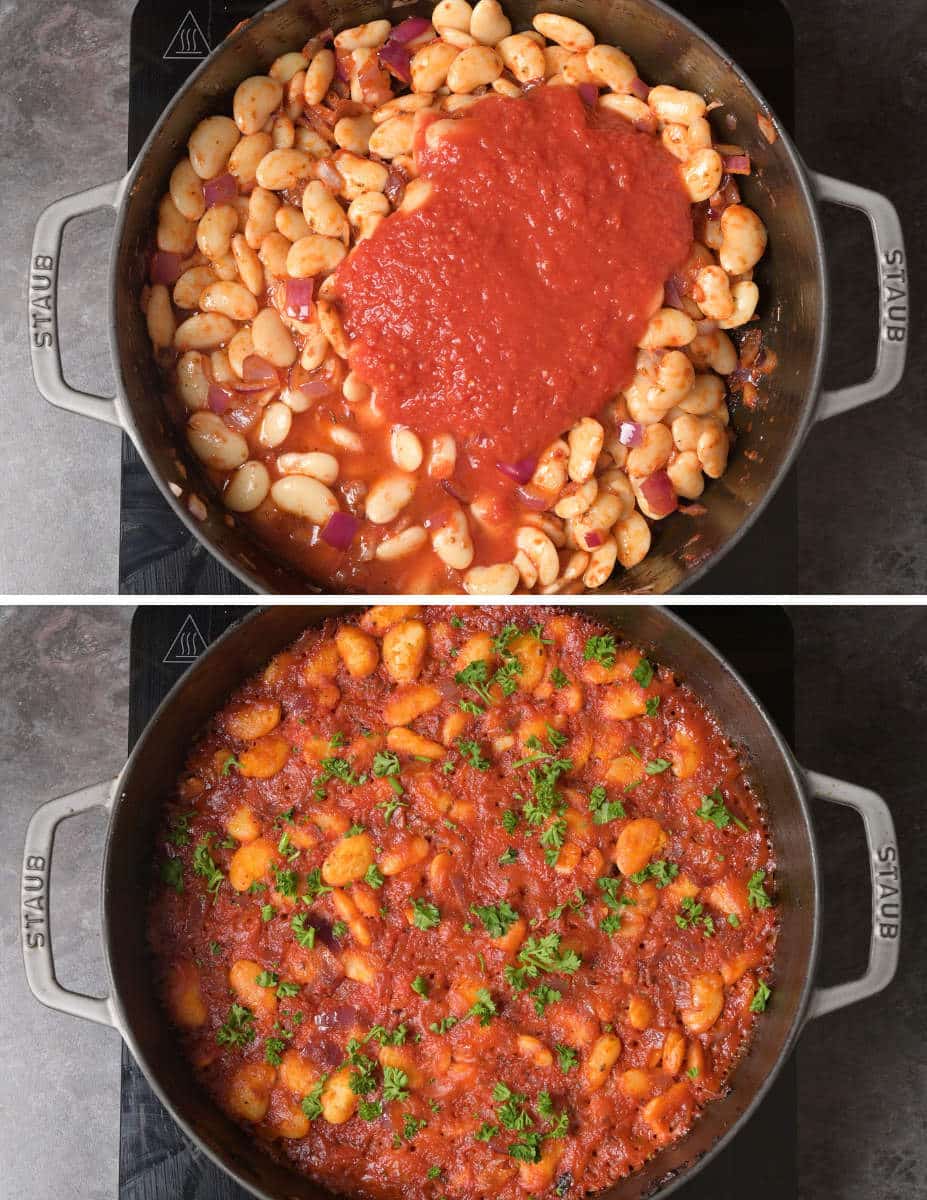 Season with salt and pepper, stir well to combine. If your pan is not oven safe, transfer it to a baking dish.
Bake for 30 minutes until the sauce is thick, adding more liquid if needed.
Allow to cool for 5-10 minutes before serving.
Leftovers and storage
Gigantes plaki is a recipe that's great for making ahead. That's because the flavors have even more time to develop, resulting in an absolutely delicious dish.
You can reheat the beans in the microwave or in the oven. You may need to add a bit more liquid if reheating in the oven.
This dish freezes well for up to 3 months. Thaw it overnight in the fridge before reheating in the oven.
Recipe notes and tips
You can serve gigantes as a main dish with some crusty bread or as part of a meze platter.
These Greek giant beans are typically served with crumbled feta cheese on top. The plant-based feta from Violife is quite close to the real thing.
Make sure the extra water you may add when the beans are in the oven is hot to avoid lowering the cooking temperature.
Sprinkle some fresh parsley on top of the baked beans after taking the dish out of the oven for extra color and brightness.
If you liked this gigantes plaki recipe, you might also like some of my other easy vegan recipes with beans:
Don't miss out on any new recipes! Follow Vegan Cocotte on Instagram, Facebook and Pinterest.