This easy Mexican bean soup is everything you need for a chilly night — it's cosy, comforting, and super quick to make. You can have a bowl of steaming, delicious black bean soup in your hands in just 30 minutes!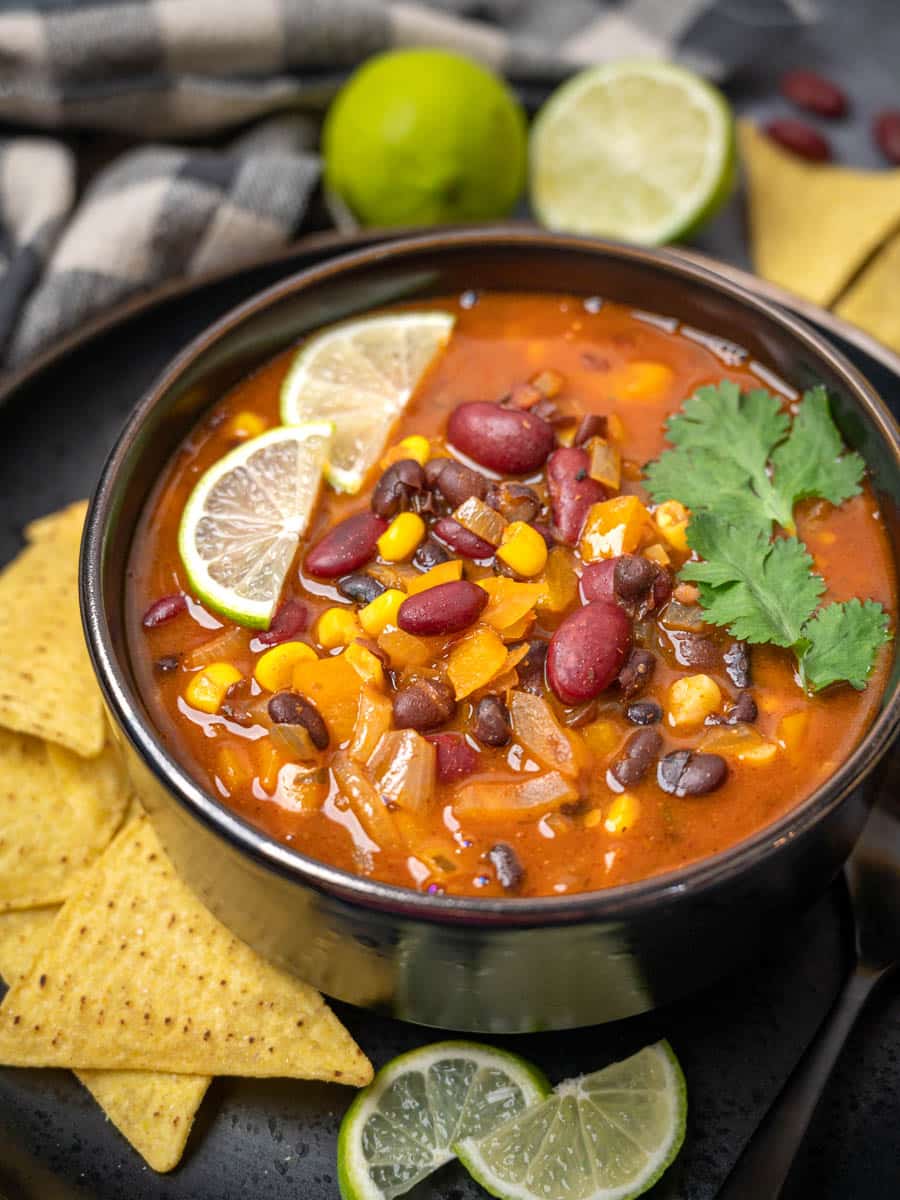 A warming bowl of this easy Mexican bean soup is all you need on a cold day. The soup is ready in just half an hour and requires very little hands-on time, which is just what I want to hear on a busy weeknight.
Besides being spicy and delicious, this bean soup is also nutritious and filling. You can actually feel quite full after eating a bowl without any sides.
But speaking of sides, you can serve this soup with loads of things to transform it into a hearty meal. My favourite thing to serve with it is tortilla chips, which I use as scoops for the beans.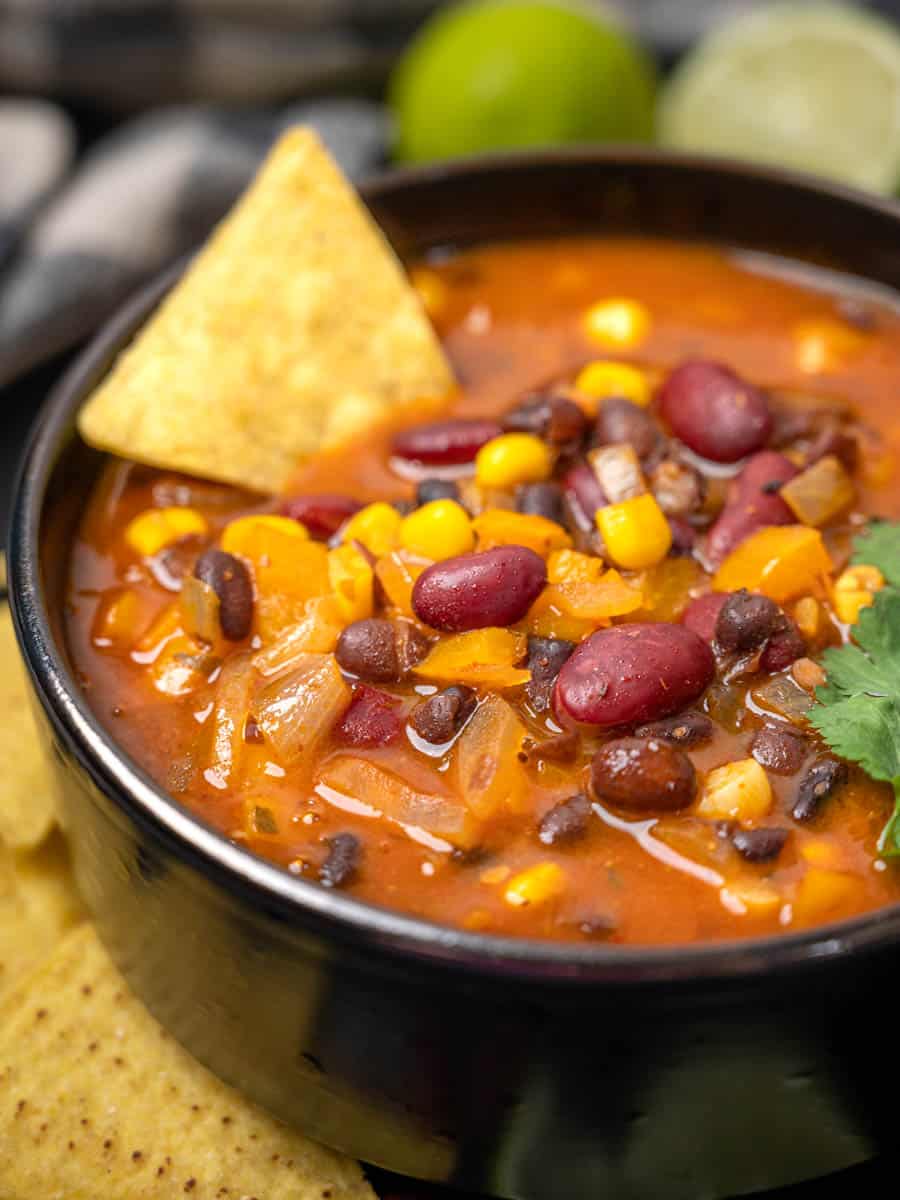 What do you need to make Mexican bean soup?
You only need a handful of ingredients to make this spicy Mexican bean soup, and you probably already have most of them in your pantry or freezer.
Extra virgin olive oil — Sauteeing the onion and carrot in olive oil until they soften helps to release their flavours. If you don't want to cook with oil, though, you can saute the veggies in a bit of stock instead.
Onions and carrots — Fresh veggies are always best in terms of flavour, but you can also use ready chopped or frozen ones if you're in a hurry. Both brown and red onions are good choices for this soup.
Spices — This is where you can get creative to make this Mexican bean soup truly your own. I use a mix of ground cumin, medium chilli powder, oregano and red chilli flakes. You can use ready-made fajita seasoning instead if you want. You can also play with the quantities to make the soup as fiery as you want.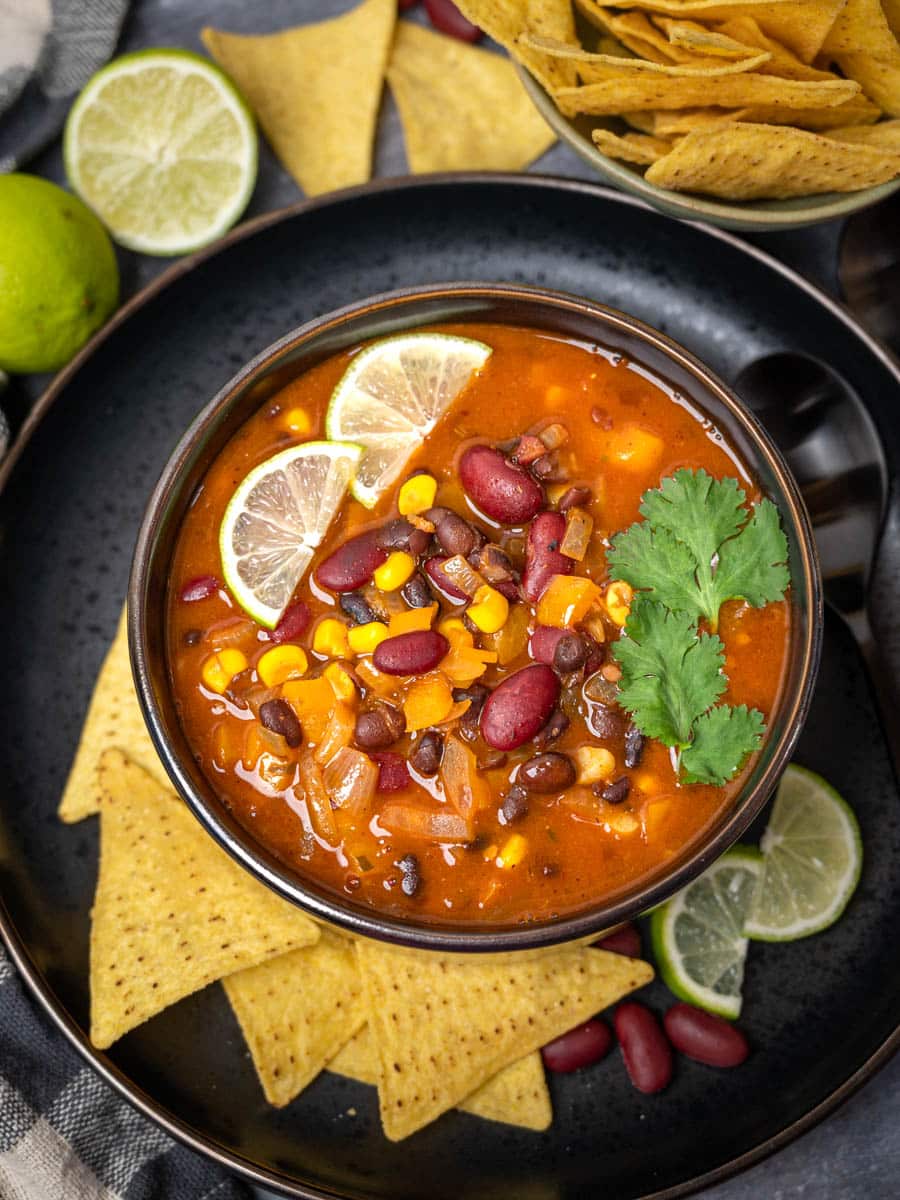 Beans — I use a mix of black beans and red kidney beans in this soup, but you can use other types if you want, like pinto beans, for example. Canned beans are best for convenience, but you can also use beans that you cooked from dried if you have time.
Sweetcorn — I always seem to have a bag of frozen corn in the freezer, so I typically use that, but you can also use canned or fresh sweetcorn instead.
How do you make this bean soup?
Heat the olive oil in a large pot or a Dutch oven and saute the onion and carrot for 5-6 minutes over medium heat until softened.
Stir in the garlic and continue to cook for another minute until fragrant.
Next, stir in the tomato paste and cook for one more minute.
Add the spices and stir to combine.
Next, stir in the vegetable stock, black beans, red kidney beans and sweetcorn.
Bring to a boil, then lower the heat and simmer for 15 minutes.
Season to taste and serve with cornbread or tortilla chips, topped with coriander or lime wedges, if you like.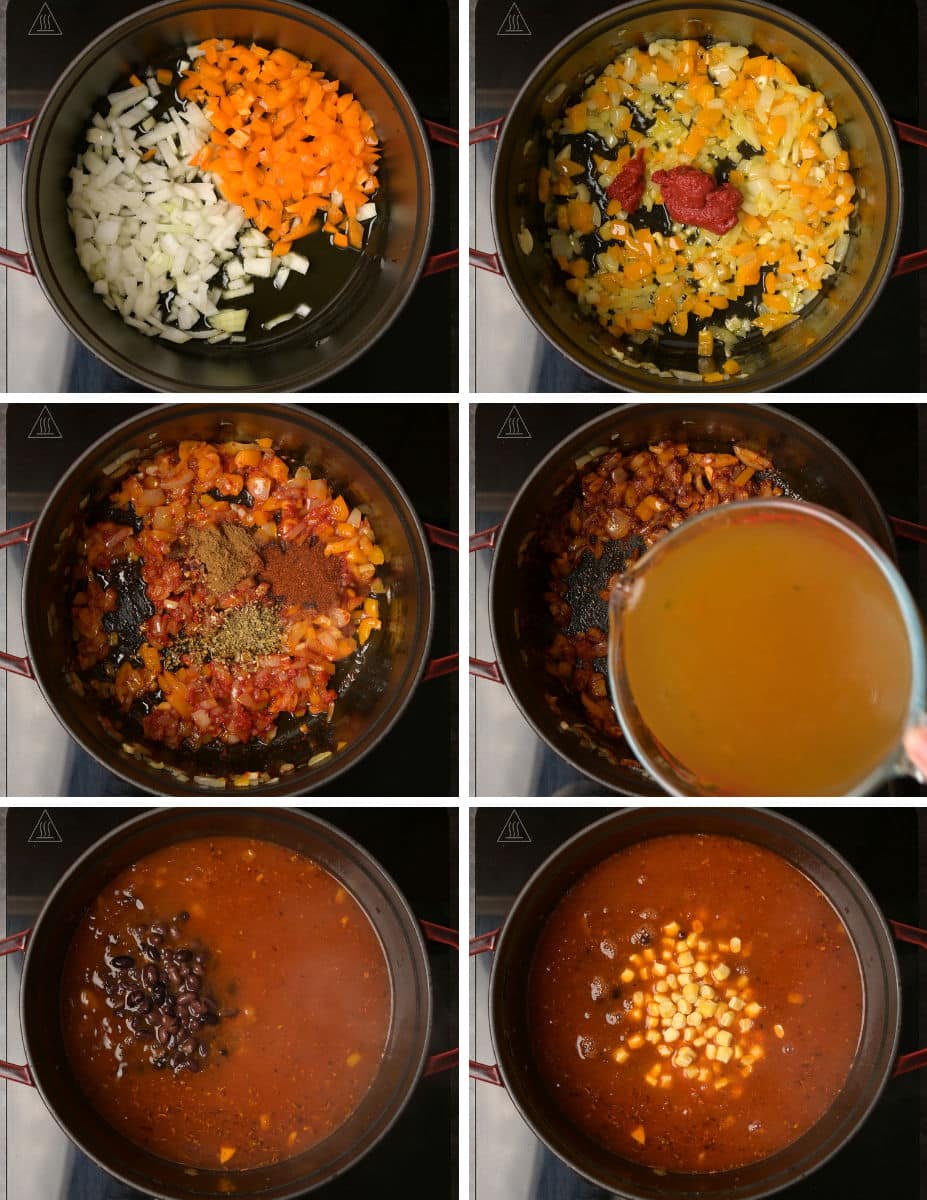 Recipe tips and notes
You can add extra toppings to the Mexican bean soup if you want — coriander, grilled corn and avocado are all great choices.
The soup will keep well in the fridge for up to 5 days. Store it in an airtight container and reheat it on the stove or in the microwave.
You can use frozen ingredients, including ready diced onion and carrot, to speed up the prepping.
If you liked this easy Mexican bean soup, you might also like some of my other easy vegan soup recipes:
Don't miss out on any new recipes! Follow Vegan Cocotte on Instagram, Facebook, and Pinterest.