This vibrant Thai coconut chickpea curry is bold, fragrant and utterly delicious. It's also packed full of nutrition, and it comes together in just 30 minutes for the perfect fuss-free weeknight dinner.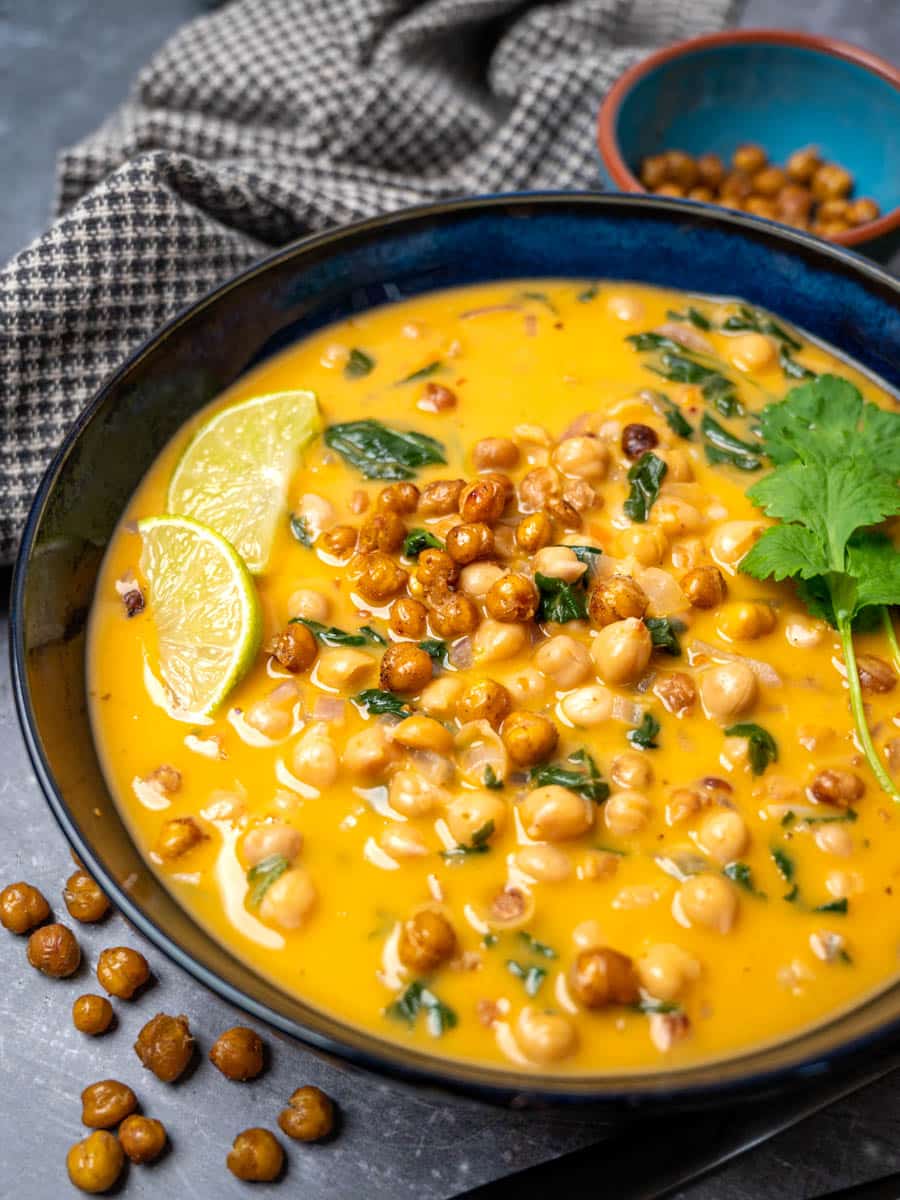 Thai coconut chickpea curry can be easily defined as comfort in a bowl. Like most Thai curries, it's quite watery, so you can easily treat it like a curry soup.
No matter how you look at it, I love the bold flavours of this dish and the texture you get from the roasted chickpeas.
If you're looking for inspiration for a tasty weeknight dinner, this chickpea and coconut curry surely delivers.
The curry tastes fantastic on its own, served over a bed of jasmine rice or quinoa or with naan that can soak up all those delicious flavours.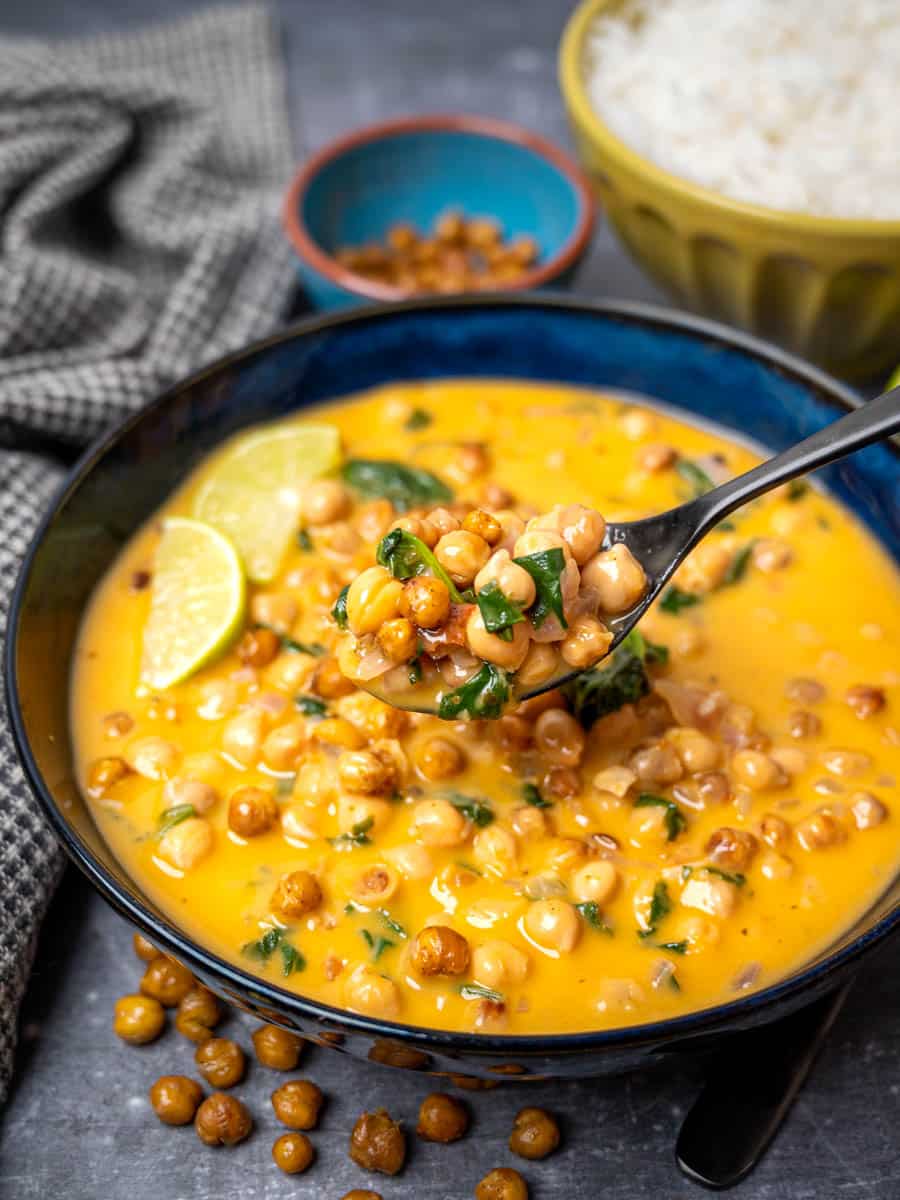 Ingredients and substitutions
Chickpeas — I use canned chickpeas for extra convenience — I always keep some cans in the pantry for those moments I feel like making a curry or simply roast some for a snack.
If you have time, you can cook the chickpeas from scratch for this curry, but you'll need to soak them overnight.
Garam masala — Garam masala is a blend of warm spices that includes cumin, coriander, black pepper, cardamom, cinnamon, cloves, and nutmeg.
If you don't want your chickpeas to be flavoured, you can skip it and only use olive oil to roast them.
Red onion — I like to use red onion in this curry, but you can also use yellow or brown onion instead.
Garlic and ginger — Fresh garlic and ginger are always best in terms of flavour, but if you're in a hurry, you can also use frozen or jarred versions.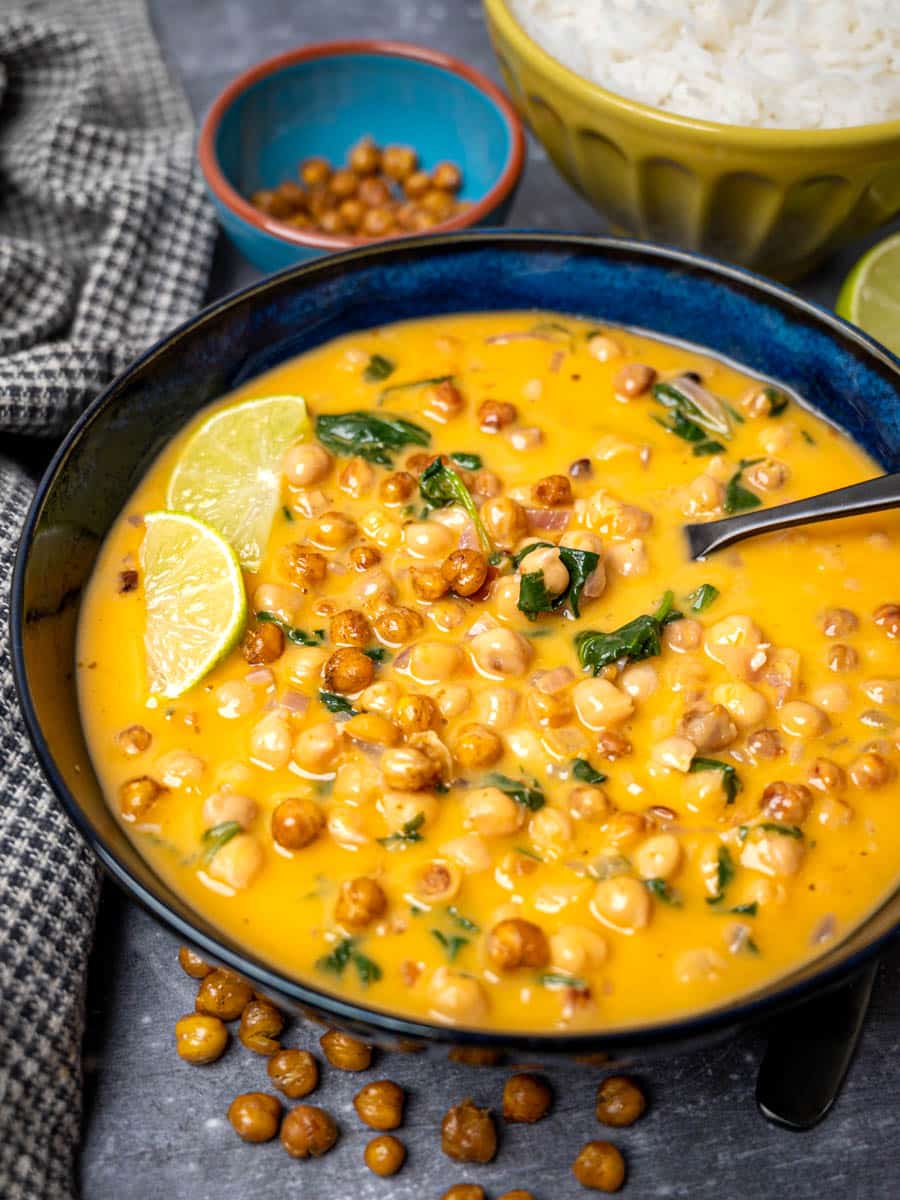 Thai red curry paste — Shop-bought Thai red curry paste is the perfect flavour base for quick and easy curries such as this.
The paste is made with a variety of spices, including cumin, coriander, fennel seeds and turmeric, among others.
Make sure you check your paste is vegan, as some versions contain fish sauce.
Coconut milk — Full-fat coconut milk is perfect for this curry because it makes it super creamy.
Full-fat coconut milk is a good source of healthy fats, has a thick consistency and is rich in flavor.
Light coconut milk is lower in calories and fat content but won't make the sauce as creamy.
Baby spinach — You can substitute the spinach with kale if you like.
How do you make this Thai coconut chickpea curry?
Start by making the roasted chickpeas.
Preheat the oven to 180°C (350°F). Line a baking tray with parchment paper and set it aside.
Place one can of chickpeas (rinsed and well-drained) into a bowl and toss them with the olive oil, salt and garam masala.
Transfer the chickpeas to the baking tray and bake for 20-25 minutes, stirring halfway, until they're crisp all the way through.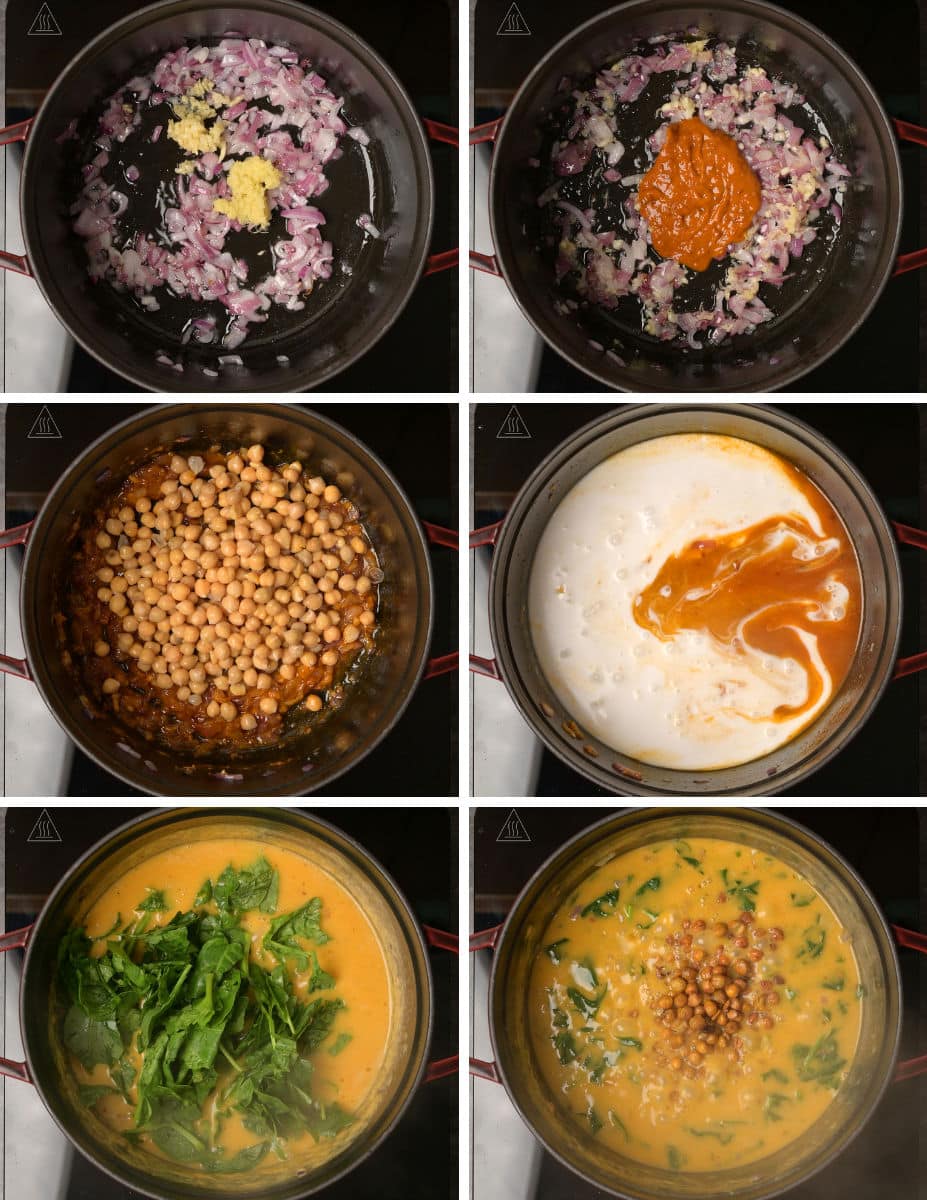 Meanwhile, make the curry.
Heat the coconut oil in a large pan or Dutch oven and add the red onion. Cook for 2-3 minutes until the onion is soft, stirring occasionally.
Add the garlic and ginger and continue to cook for another minute until fragrant.
Add the Thai red curry paste and chickpeas and fry gently for 2-3 minutes. If you want the curry to be on the thicker side, mash some of the chickpeas with a potato masher.
Stir in the vegetable stock and coconut milk and simmer for 15 minutes (or until the curry has thickened to your liking).
Add the spinach and continue to cook for another 2-3 minutes until it wilts. Stir in the lemon juice and top with the roasted chickpeas, reserving some to garnish individual bowls.
Extra recipe tips
Serve this Thai coconut with jasmine or basmati rice, topped with fresh coriander and extra lime wedges.
I like to serve it with this quick and easy Instant Pot basmati rice, which you can cook while you make the curry.
To make the curry even more filling, add some hearty vegetables such as cauliflower or sweet potato. You can add them right after the onion and stir-fry them for a couple of minutes before continuing with the garlic and ginger.
This Thai coconut curry with chickpeas will keep well in the fridge for up to 5 days in an airtight container.
If you liked this Thai coconut chickpea curry, you might also like some of my other easy vegan curry recipes:
Don't miss out on any new recipes! Follow Vegan Cocotte on Instagram, Facebook and Pinterest.