This aubergine coconut curry with peanut butter is a creamy delight that makes the perfect comfort meal any day of the week. Ready in just 30 minutes, this vegan aubergine curry goes great over your rice of choice, quinoa, or cauliflower rice for a gluten-free option.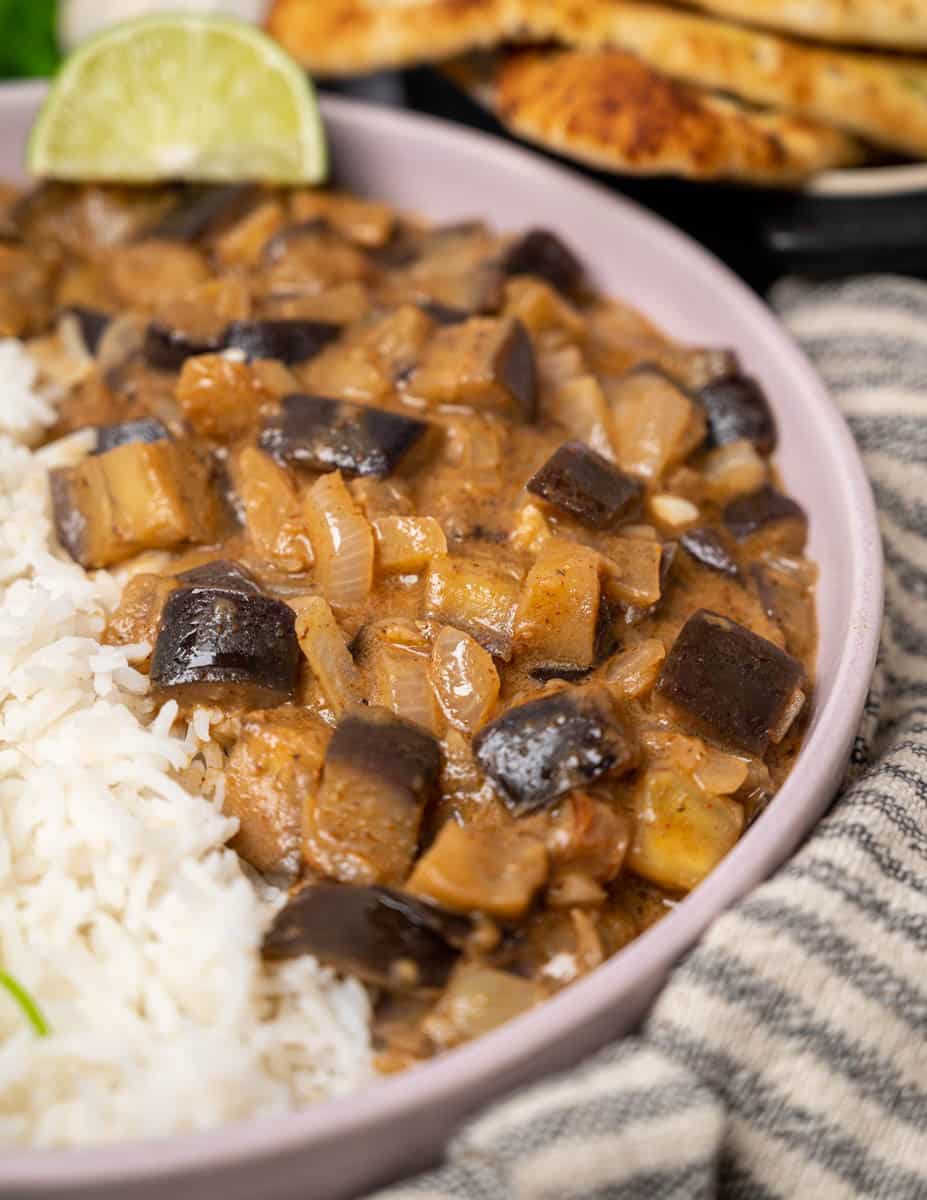 I like all kinds of curries, but creamy ones are definitely my favourite. This delicious aubergine coconut curry is the one I cook most often because it's such a comforting dish that's also super quick to make. You can have a nutritious dinner on the table in just 30 minutes, which is perfect for those busy weeknights.
Now, if you haven't had peanut butter in a curry before, reach for a jar and make this creamy aubergine curry because you're missing out.
If you love curries with lots of flavour without using a long list of ingredients, this is definitely one for you. I only add three spices, but then boost the flavour with a mix of lime juice and brown sugar plus peanut butter and smother it all in coconut milk.
The result is a super creamy curry that's also a bit tangy. The peanut butter makes it even more interesting, and you can even add some peanuts on top if you like.
What do you need to make this curry?
Coconut oil — I like to use coconut oil in curries that I make with coconut oil, but you can use any other neutral oil such as grapeseed, avocado or canola oil.
Aubergines (eggplant) — Two medium aubergines are ideal, so you get a good aubergine/sauce ratio. Cut them into equal cubes, so they cook as evenly as possible.
Coconut milk — Full-fat coconut milk will make this aubergine curry extra creamy, but you can also use low-fat milk if you want to cut down the calories a bit.
Peanut butter — Natural peanut butter is best for this recipe (and any other savoury dish for that matter). This type of peanut butter doesn't have any hydrogenated vegetable oil or added sugar.
How do you make aubergine coconut curry?
Heat the olive oil in a large pan and then fry the aubergine for 8-10 minutes over medium heat. Remove the aubergines from the pan and set them aside.
In the same pan, fry the onion for 4-5 minutes until it softens, then stir in the garlic and ginger. Continue to cook for another minute until fragrant.
Stir in the spices, then add the coconut milk and stir to combine. Mix the lime juice with the brown sugar in a small bowl and add it to the curry sauce.
Stir in the peanut butter and bring to a simmer, stirring often. When the peanut butter has melted, transfer the aubergines back to the pan.
Lower the heat and simmer for 10 minutes until the curry sauce thickens. Season to taste and serve over rice, quinoa, cauliflower rice or with naan bread.
Extra recipe tips
It's sometimes difficult to say whether aubergines are fresh and ripe enough to cook when looking at them. When buying aubergines, press their skin a bit and if it springs right back, they're just perfect. If you see an indentation in the skin instead, that aubergine is no longer fresh.
To get some of the moisture out from the aubergines and prevent them from soaking up all the oil, cut them into cubes, salt generously, and leave them in a bowl for 30 minutes to 1 hour. Drain any liquid before using them in the curry.
The curry will keep in the fridge for up to 3 days in an airtight container.
If you liked this aubergine coconut curry with peanut butter, have a look at some of my other easy vegan curry recipes:
Don't miss out on any new recipes! Follow Vegan Cocotte on Instagram, Facebook and Pinterest.