Creamy chana masala is a variation of one of the most popular Indian vegan dishes. It's a hearty chickpea and tomato curry that's made creamy with the addition of coconut milk. It's also super easy to make in just over 30 minutes for a delicious quick dinner.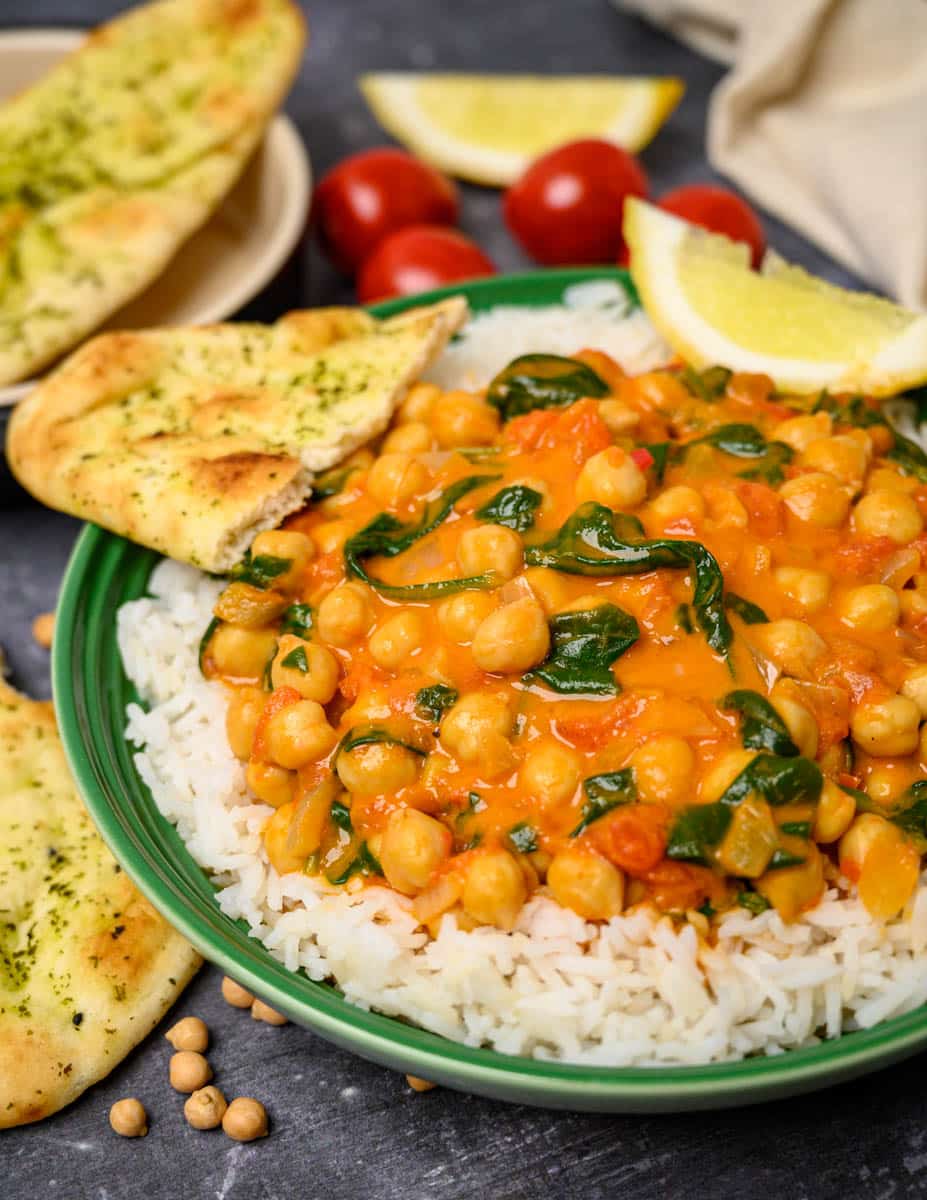 This creamy chana masala is full of flavour, naturally vegan and deliciously creamy. Chana masala is a super simple curry that's a great introduction for many people who have never cooked Indian food before.
The combination of spices gives the curry lots of flavour and the best thing about it is that you can easily adjust the heat to your taste.
You can serve this chana masala over basmati rice or with naan bread (or both if you're feeling particularly hungry). Other options include wholegrain rice, cauliflower rice, and quinoa.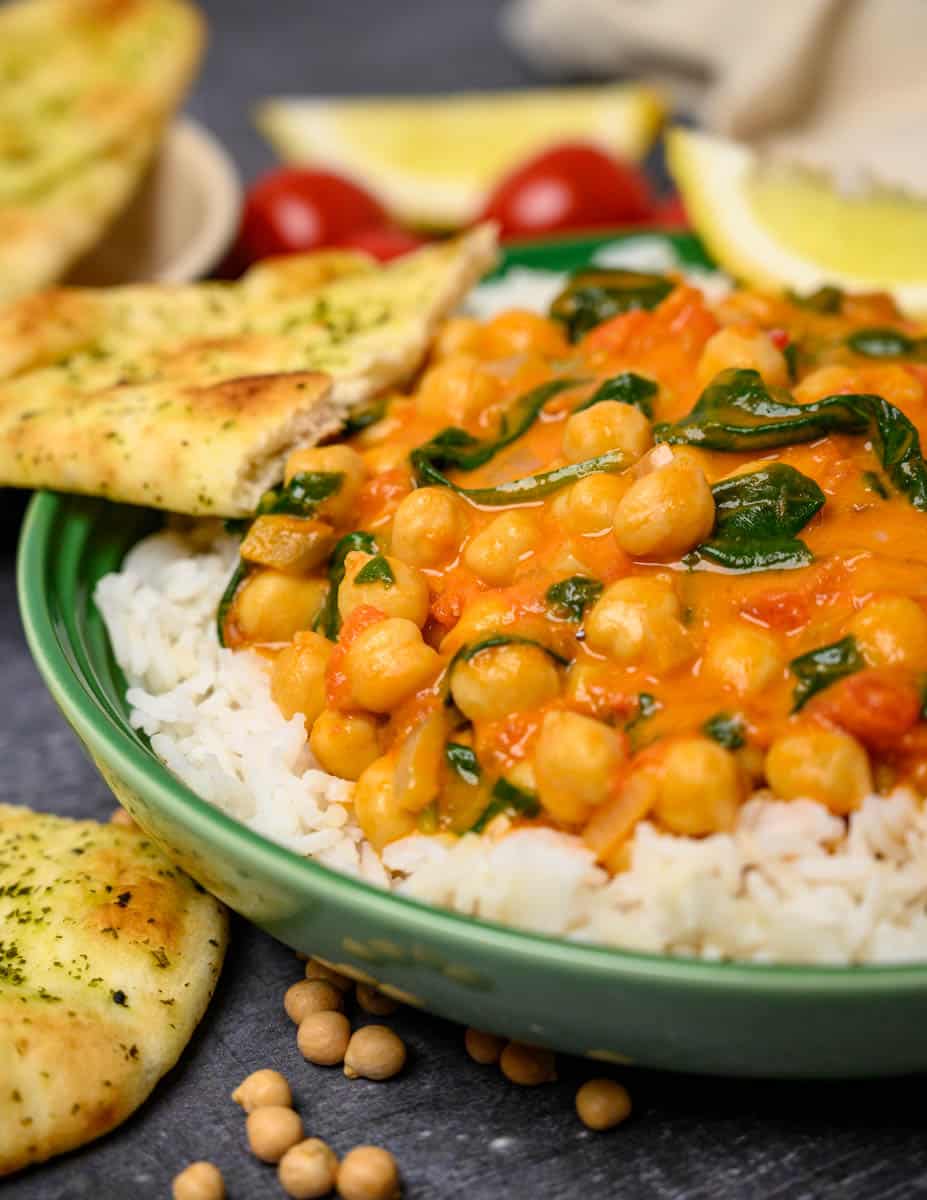 Ingredients you need
Chana is the Indian word for chickpeas, so obviously, these make the base of the curry. I typically make this recipe with canned chickpeas because it doesn't require any planning, but using raw chickpeas soaked in water is always better if you have time.
For the tomatoes, both whole plum and chopped tomatoes work here. If using plum tomatoes, crush them by hand before adding them to the pot. Alternatively, you can blitz them in a food processor or blender to get that crushed tomatoes texture.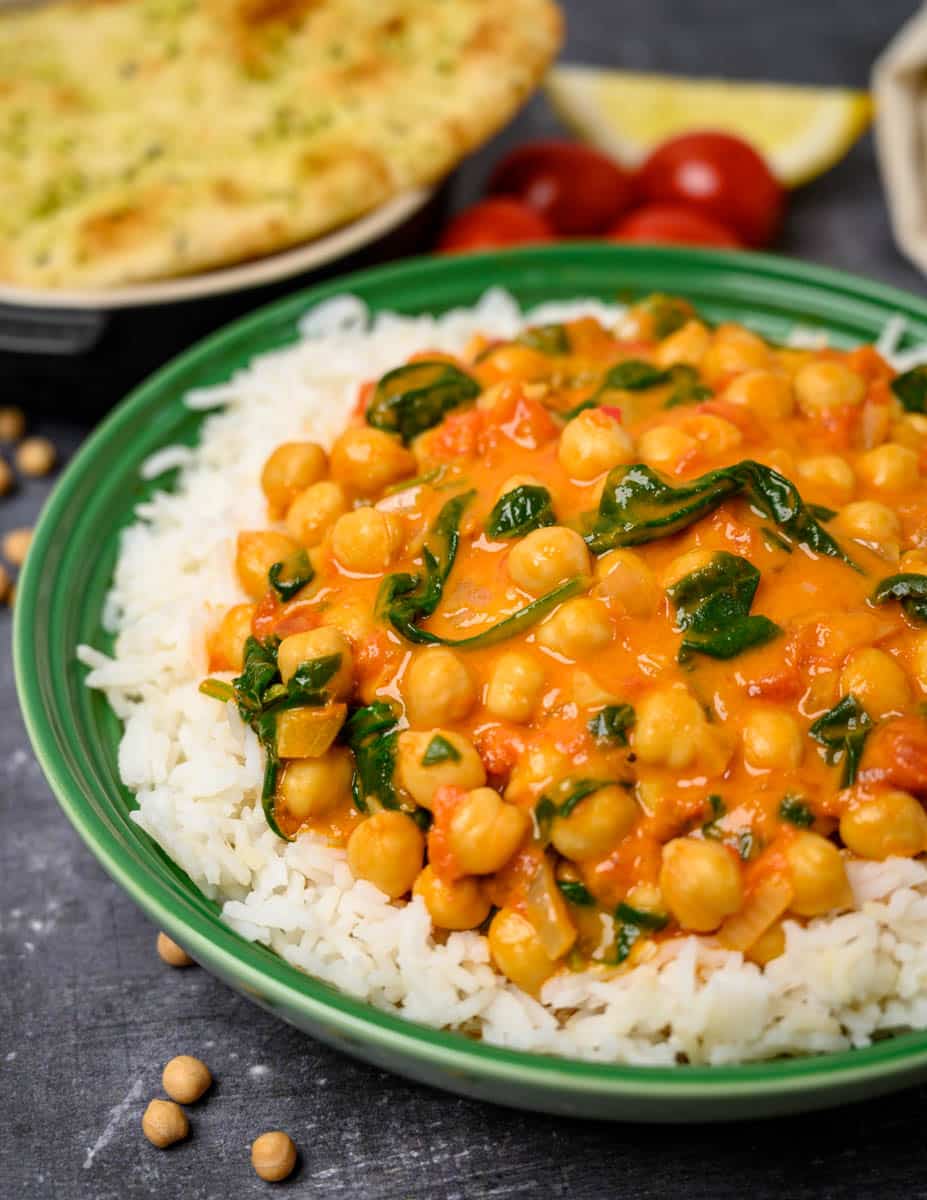 There are numerous variations when it comes to the spices used in chana masala, so feel free to experiment. I found that a mix of garam masala, ground cumin and ground coriander is just perfect.
Full-fat coconut milk is essential in this recipe if you want to achieve a creamy result. Low-fat coconut milk may have fewer caloreis, but the texture is not right for this recipe.
If you want the chana masala to be super creamy, you can use coconut cream instead of coconut milk.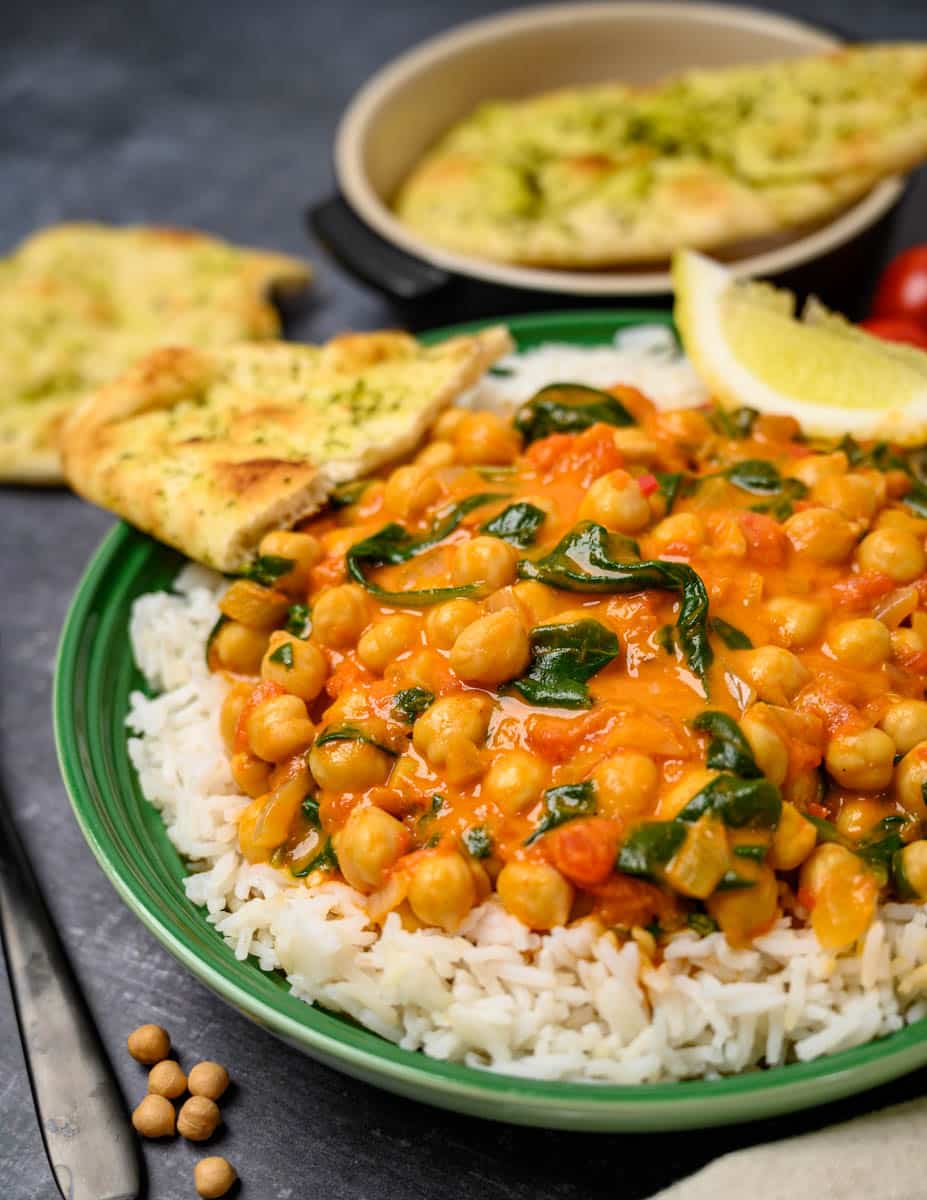 How to make chana masala?
This is a very easy chana masala recipe, and it only takes about 35 minutes to make.
Here's how to do it.
Heat the coconut oil in a large pan over medium heat. When the oil is hot, add the onion and cook it for 3-4 minutes until translucent.
Add the garlic and ginger and continue to cook for another 2-3 minutes. Stir in the red chilli and cook for one more minute.
Stir in the cumin, garam masala and ground coriander, cook for 1 minute, stirring often, then add the tomatoes and chickpeas.
Simmer for 10 minutes, then add the coconut milk and simmer for another 10 minutes until the curry thickens.
Next, add the spinach and cook for 2-3 minutes until it wilts. Season to taste and serve over rice or with naan bread.
Recipes tips for the best creamy chana masala
If you have time to plan ahead, use raw chickpeas, as it does make a difference to the taste. You'll have to soak them overnight then simmer for about 30 minutes before using them in chana masala.
Don't substitute ginger or garlic with store-bought paste as the flavours won't be the same. Use fresh ingredients that you chop/grate yourself.
Even though the chickpeas are already cooked when you add them to the chana masala, don't shorten the simmering step because this is what makes the flavours come together.
Chana masala is a dish that's great for meal prepping or freezing. It keep well in the fridge for 4-5 days, and you can freeze it in an airtight container for up to 3 months.
If you liked this creamy chana masala, have a look at some of my other easy vegan curry recipes:
Don't miss out on any new recipes! Follow Vegan Cocotte on Instagram, Facebook and Pinterest.