This simple vegan Thai yellow curry has bold flavours and loads of protein. It's easy to make in one pot and tastes much better than takeout!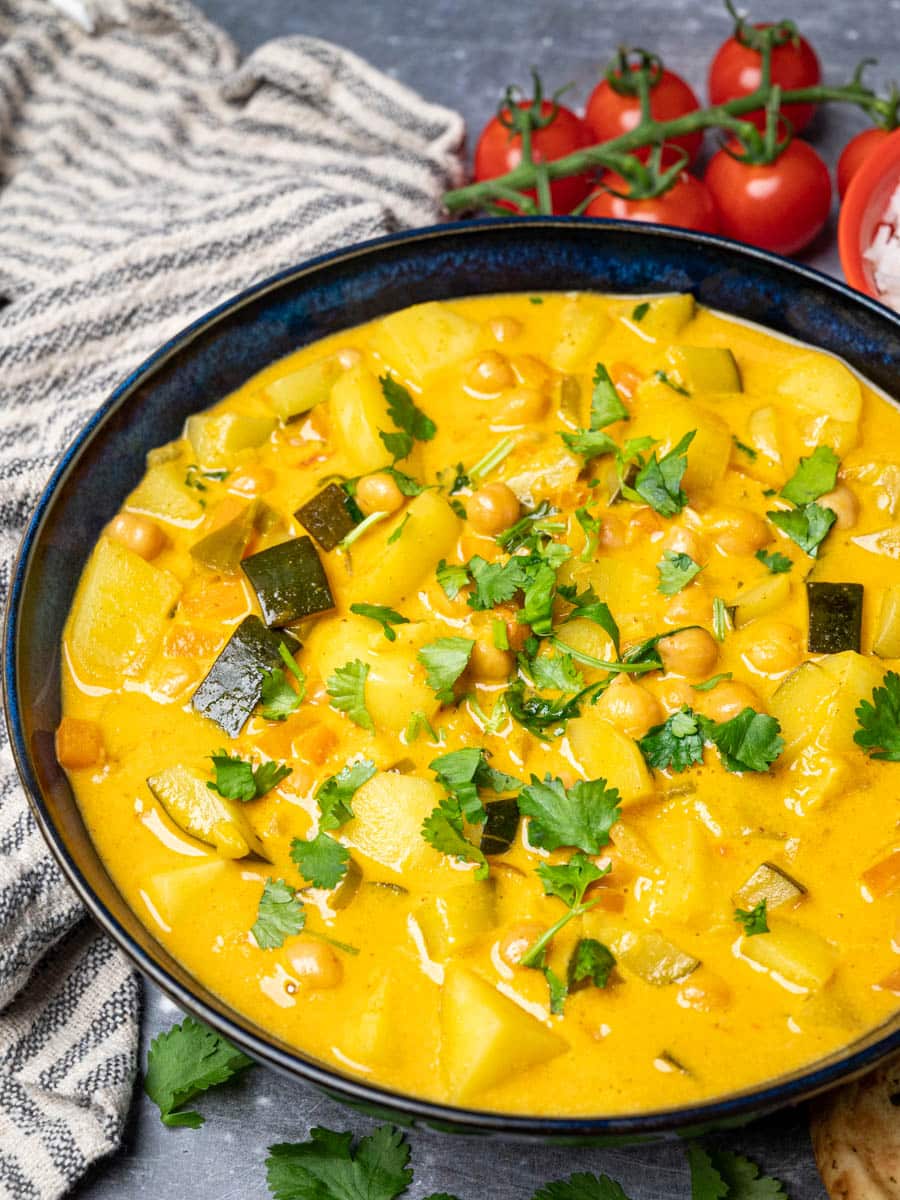 Thai yellow curry is proof you don't have to order in when you're craving a nice plant-based curry because it's so easy to make your own.
You only need a handful of ingredients to make this vegan Thai yellow curry and you can easily adjust it to whatever veggies you may have in the fridge.
The only ingredient that's a little bit difficult to source is the Thai yellow paste — you can typically find it in Asian grocery stores and sometimes in larger supermarkets.
Vegan yellow curry has a rich, creamy texture and you can make it with any veggies you want — ideas include mushrooms, bell peppers, broccoli florets and cauliflower.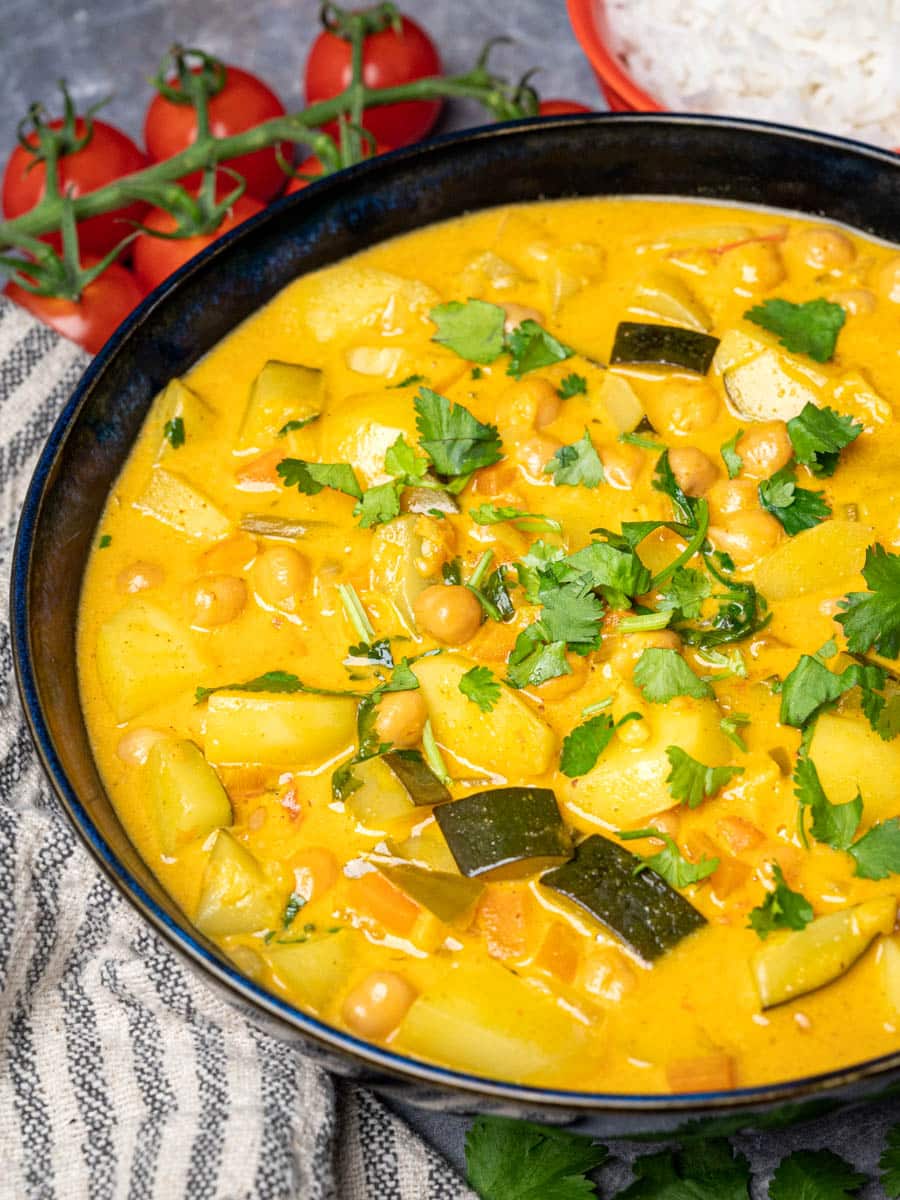 Why you'll love this vegan Thai yellow curry
It's very easy to make with just a handful of ingredients but it tastes so much better than takeout.
You can make it as spicy as you like.
It's just the perfect dish to cook when you have lots of leftover veggies because you can add them all in!
Ingredients and substitutions
Coconut oil — Any kind of vegetable oil would work here. If you don't want to cook with oil, saute the veggies in a bit of veggie stock or water.
Onion and carrot — I like to dice the onion and carrot quite small so they soften quickly. You can also add some celery here.
Garlic, ginger and green chilli — Use fresh aromatics for the best flavour. If you don't have them, frozen or jarred garlic, ginger and chilli would also work.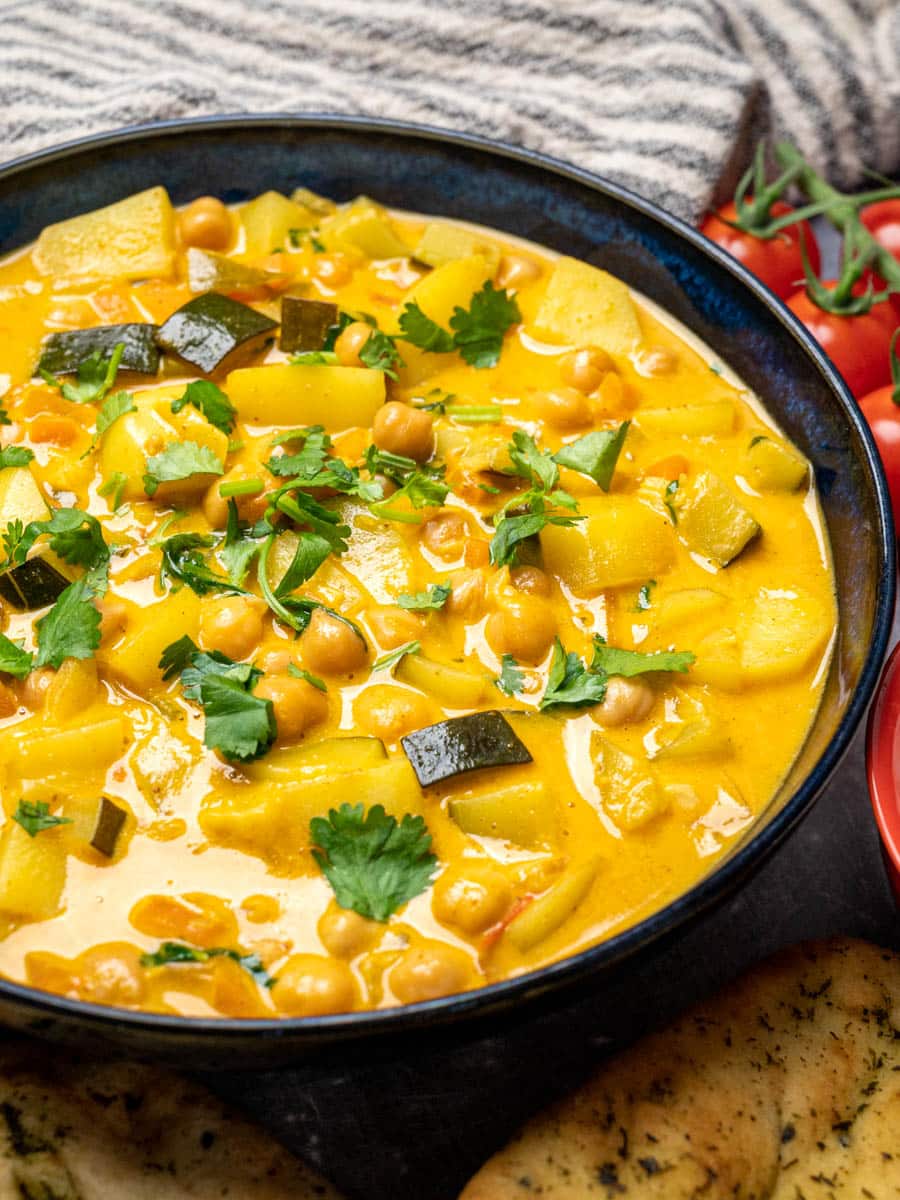 Thai yellow curry paste — Yellow Thai paste is typically made with yellow chillies, galangal, lemongrass and a mix of spices. Make sure the version you use is vegan because some versions contain fish sauce. The Mae Ploy Yellow Curry Paste is vegan friendly.
Zucchini — You don't need to peel the zucchini before adding them to this curry.
Potatoes — You can substitute regular potatoes with sweet potatoes in this yellow curry.
Chickpeas — Canned chickpeas are perfect in curries like this because of convenience but you can also use chickpeas that you've cooked from scratch.
Coconut milk — Full-fat coconut milk is best in this Thai yellow curry recipe because it makes it extra creamy.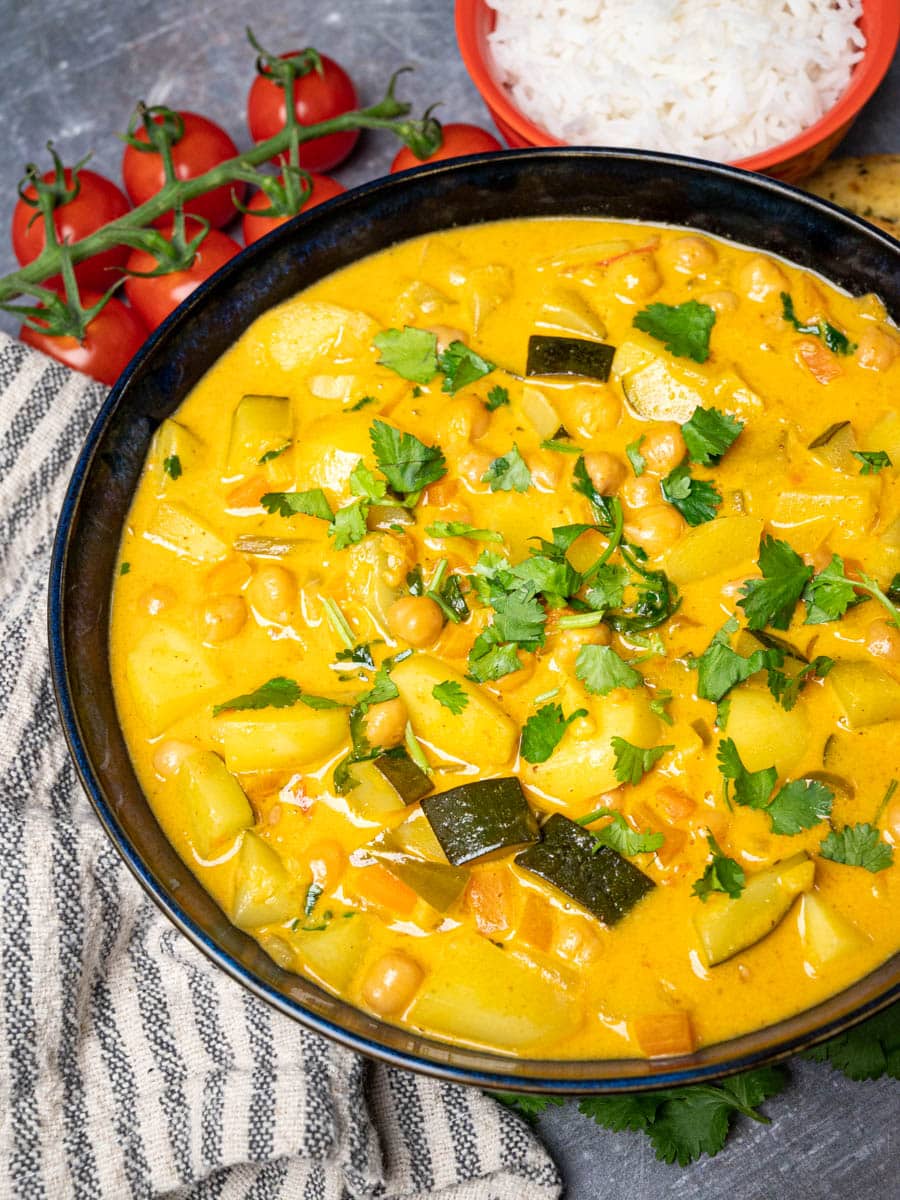 How to make Thai yellow curry
Heat the coconut oil in a large, deep pan and cook the onion and carrot for 4-5 minutes over medium heat.
Stir in the garlic, ginger and green chilli and continue to cook for 1-2 minutes.
Add the tomatoes and cook for 2-3 minutes until they start to break down.
Next, stir in the Thai yellow curry paste and cook for a further minute.
Add the zucchini, potato and water and bring to a boil. Turn the heat to medium-low and simmer for 15 minutes, covered with a lid.
Stir in the chickpeas and coconut milk and continue to cook for another 5 minutes or until the curry has thickened to your liking.
Add the fresh coriander, season to taste and serve over rice or with naan.
Recipe notes and tips
Add some extra green chilli or half a teaspoon red chili flakes to make this yellow curry extra fiery.
For an even creamier result, use coconut cream, which is thicker than coconut milk.
Serve this yellow curry with lime wedges for extra brightness if you like.
If you liked this vegan Thai yellow curry, you might also like some of my other easy vegan curry recipes:
Don't miss out on any new recipes! Follow Vegan Cocotte on Instagram, Facebook and Pinterest.