Easy to make and oh-so-delicious, this Thai mango curry with chickpeas is aromatic and nutritious at the same time. It's also packed with protein from the chickpeas and infused in a sweet and spicy coconut milk sauce that will make everyone go for seconds.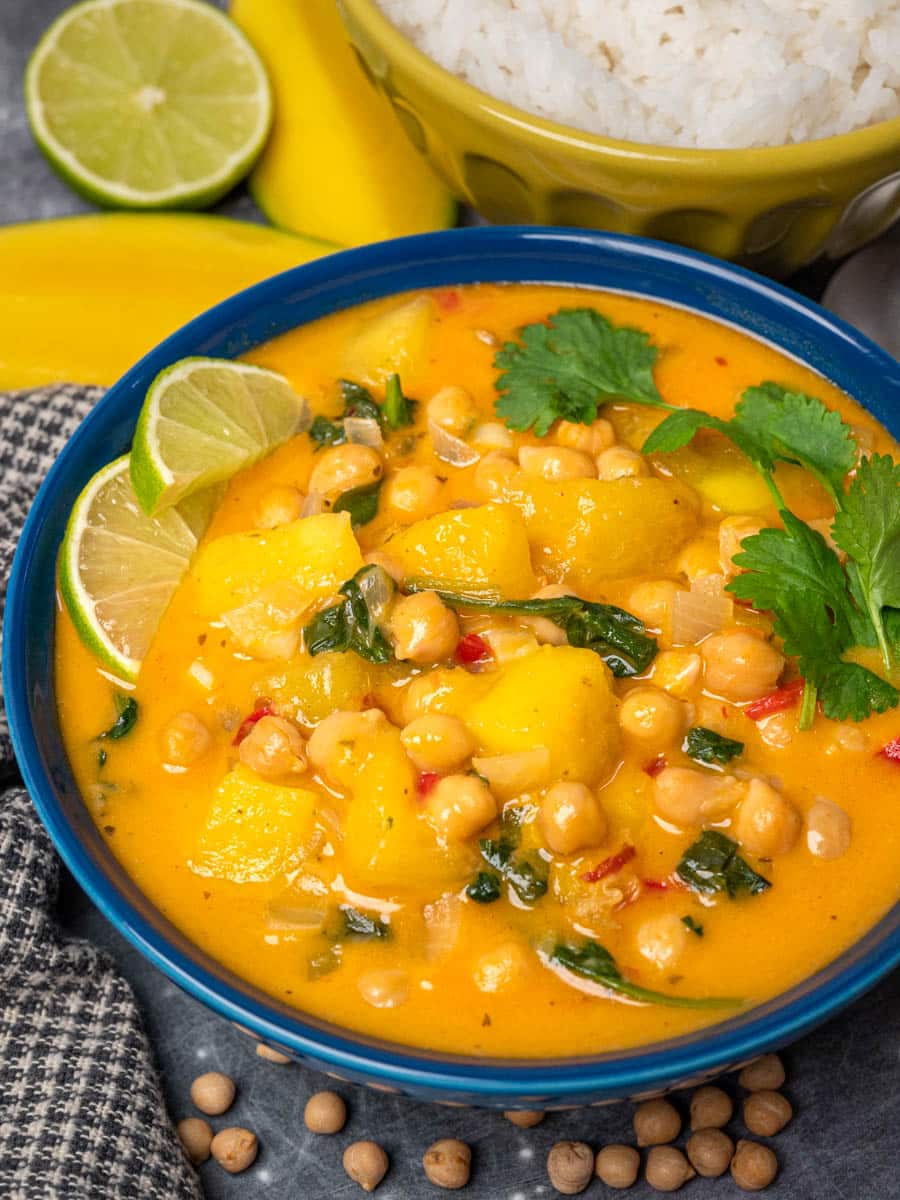 Mango in curry is not something you hear about every day, but it doesn't mean it's not awesome. This Thai mango curry with chickpeas truly has it all — a creamy sauce infused with the flavour of fresh mango, chickpeas for texture and protein, and a total cooking time of 30 minutes.
This mango curry is naturally vegan and relatively mild, but it still has a bit of a kick from the Thai red paste.
The good news is that you can make it as fiery as you want by adjusting the amount of Thai red paste you use.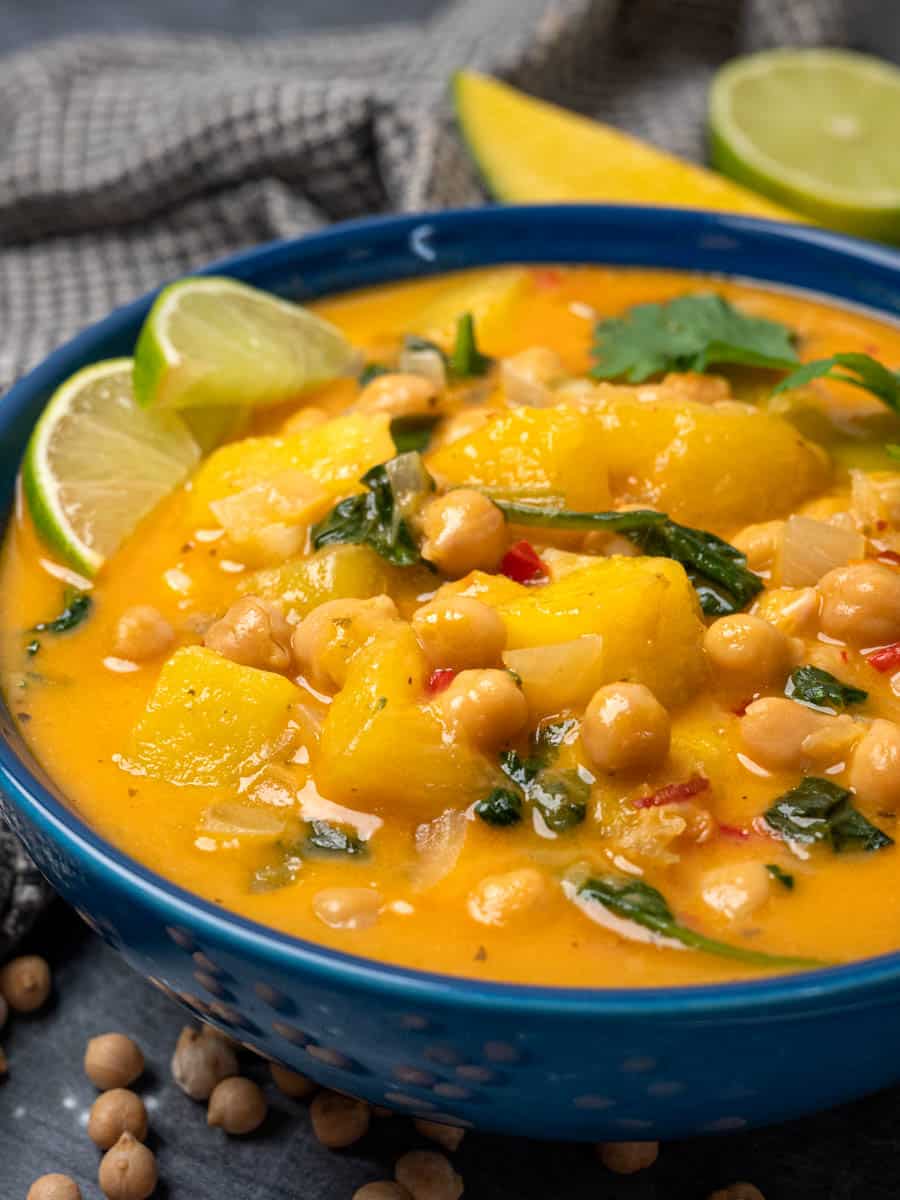 Ingredients and substitutions
Coconut oil — I like to use coconut oil for this curry because it goes well with coconut milk, but any other type of vegetable oil would also work. If you don't cook with oil, saute the veggies in a bit of water or veggie stock.
Onion — Both yellow and red onion are great for this curry. You can also use shallots instead for a milder flavour.
Red pepper — Use any colour you want for the pepper; I like red or green because they pop in the curry more than yellow.
Garlic and ginger — You either mince or grate the garlic for this curry. Use fresh garlic and ginger instead of paste for the best flavour.
Thai red paste — Three tablespoons of Thai red paste should be enough for a mild-medium curry. Feel free to add more if you'd like the curry to have more of a kick.
Coconut milk — Full-fat coconut milk is best for this recipe because it makes the sauce extra creamy.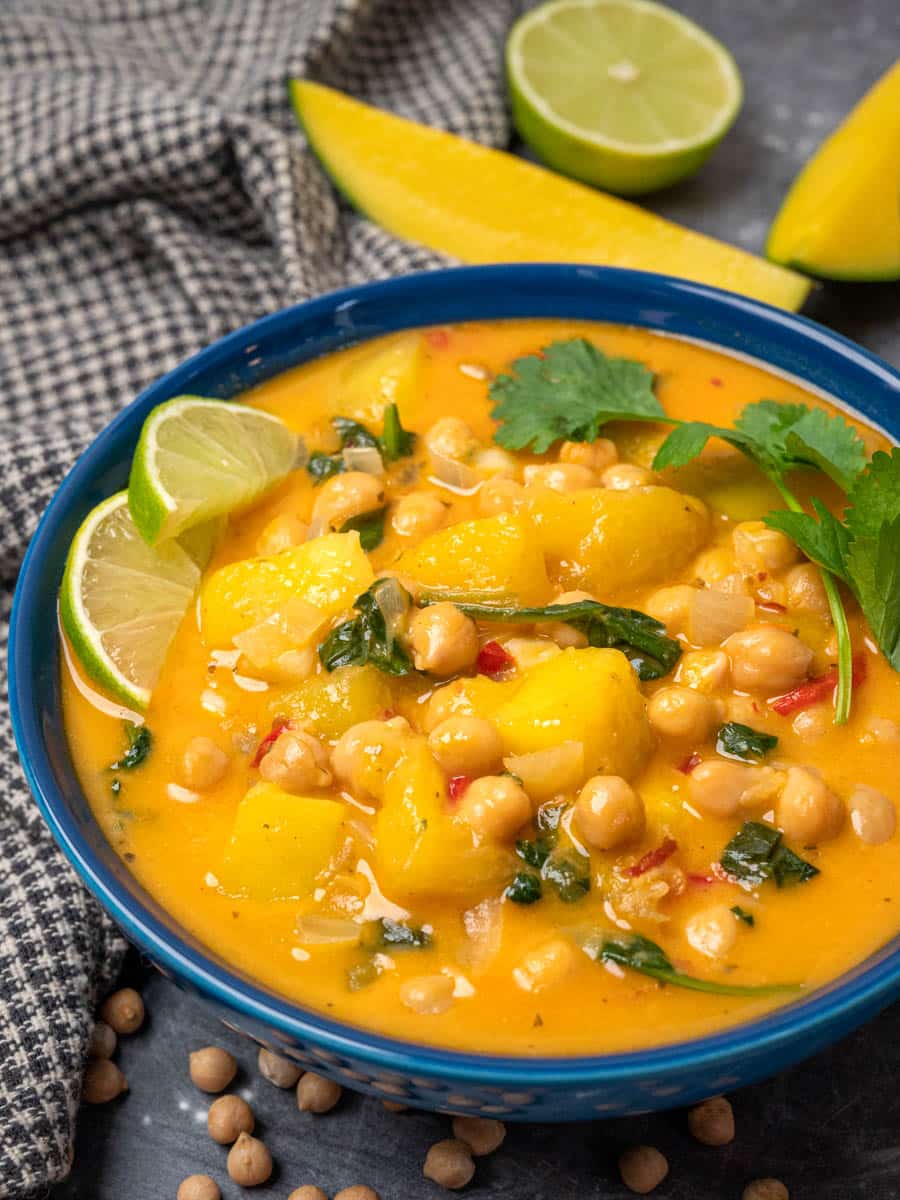 Chickpeas — Canned chickpeas are a staple in my kitchen, so I always use them in curries such as this. If you have time, you can cook your chickpeas from scratch. The quickest way to do that is a pressure cooker such as an Instant Pot.
Mango — You can use either fresh or frozen mango. If using fresh, choose mangoes that are not overly ripe so the sauce is not too sweet (unless you want it that way).
Keep in mind that colour is not an indicator of how ripe a mango is. You can tell a mango is ripe if it's soft but not quite mushy when you press it gently.
Baby spinach — This is optional but highly recommended — the spinach adds extra vitamins and brightness to the curry.
How do you make Thai mango curry?
Heat the coconut oil in a large, deep pan or a shallow cast-iron casserole and saute the onion and red pepper for 4-5 minutes over medium heat until softened.
Add the garlic and ginger and continue to cook for a minute until fragrant. Next, stir in the Thai red paste and cook for another minute.
Stir in the coconut milk, chickpeas, and mango. Allow the sauce to heat until it bubbles, then lower the heat and simmer for 10 minutes.
Add the baby spinach and continue to cook for 1-2 minutes until it wilts. Season to taste and serve over rice and/or with naan bread.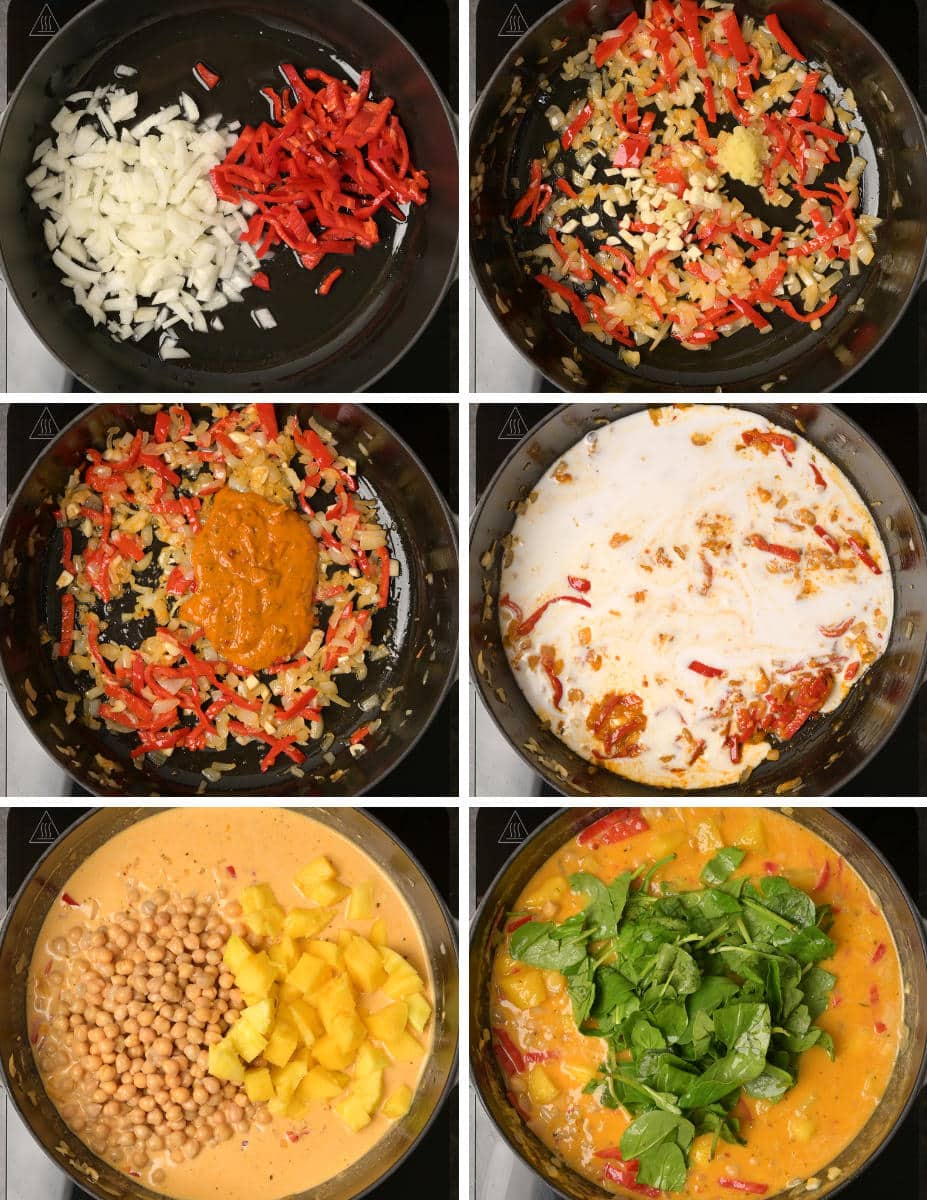 Extra recipe tips
This mango curry with coconut milk is not very spicy, which makes it family-friendly. However, if you'd like it to be more fiery, you can add a minced green or red chilli with the garlic and ginger.
Serve this mango red curry with rice or naan bread and topped with fresh coriander if you like.
If you don't like the idea of having mango cubes in the curry, you can puree the fruit before adding it to the pan.
If you liked this Thai mango curry with chickpeas, have a look at some of my other easy vegan curry recipes:
Don't miss out on any new recipes! Follow Vegan Cocotte on Instagram, Facebook and Pinterest.