This vegan madras curry has it all — crispy bits of tofu, plenty of flavour from the spices and a creamy texture that pairs perfectly with your favourite rice. It's also very easy to make, and it can be on the table in just 45 minutes!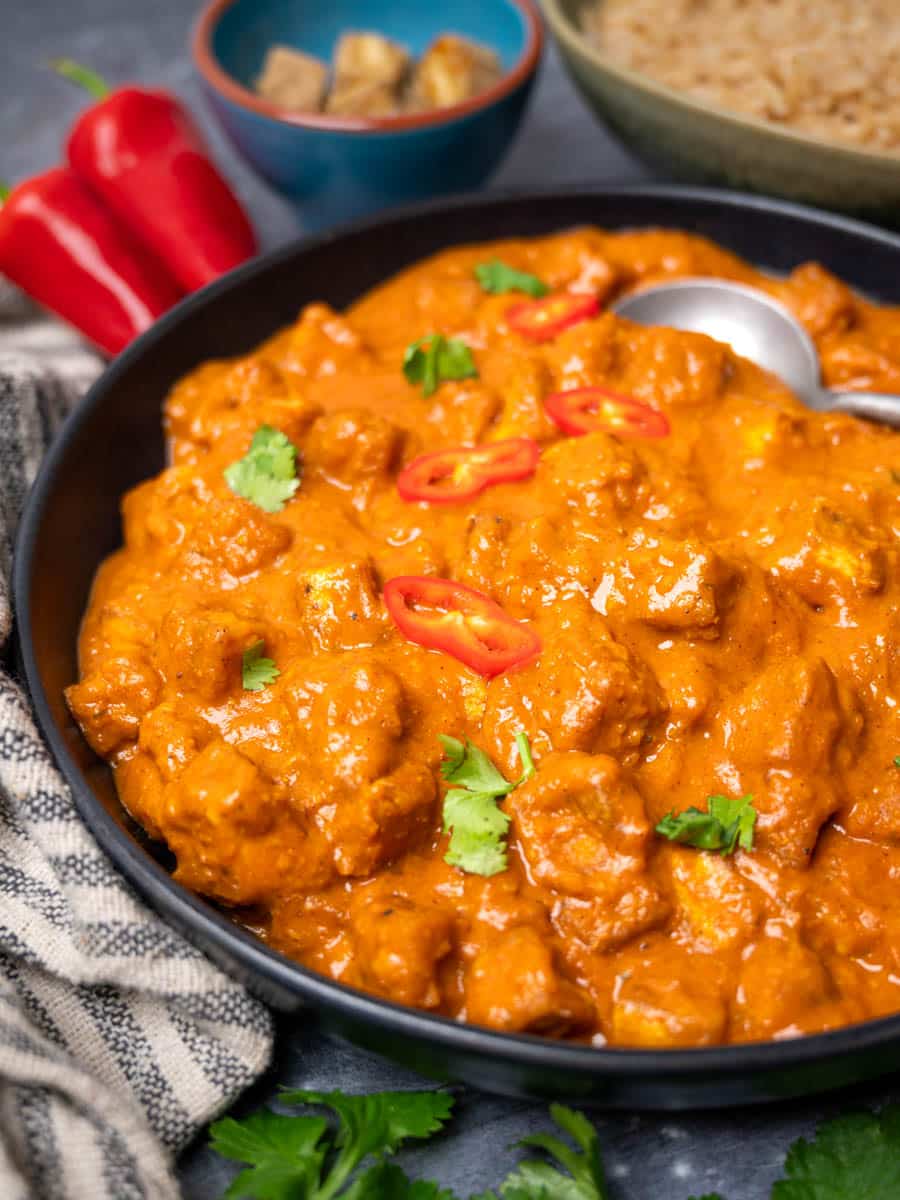 This vegan madras curry is vibrant and flavourful, just perfect for a busy weeknight. What's even better, it's ready in just about the time you'd have to wait for your takeaway, so there's really no reason to order in.
A Madras curry is typically made with dried red chillies, ground coriander, cumin, fenugreek seeds and turmeric. It can come in mild and hot versions depending on the amount of spices you use.
Since this is an easy rendition of madras curry, I used a ready-made madras curry powder.
You can choose from mild, medium or hot madras powders and they are readily available in most large supermarkets.
Keep in mind that overall, madras curry powder is spicier than regular curry powder.
I like this curry to have a bit of a kick without being too fiery, so everyone in the family can enjoy it.
The good news is that you can make it as spicy as you want, either by opting for a hot madras powder or by adding extra red chilli flakes.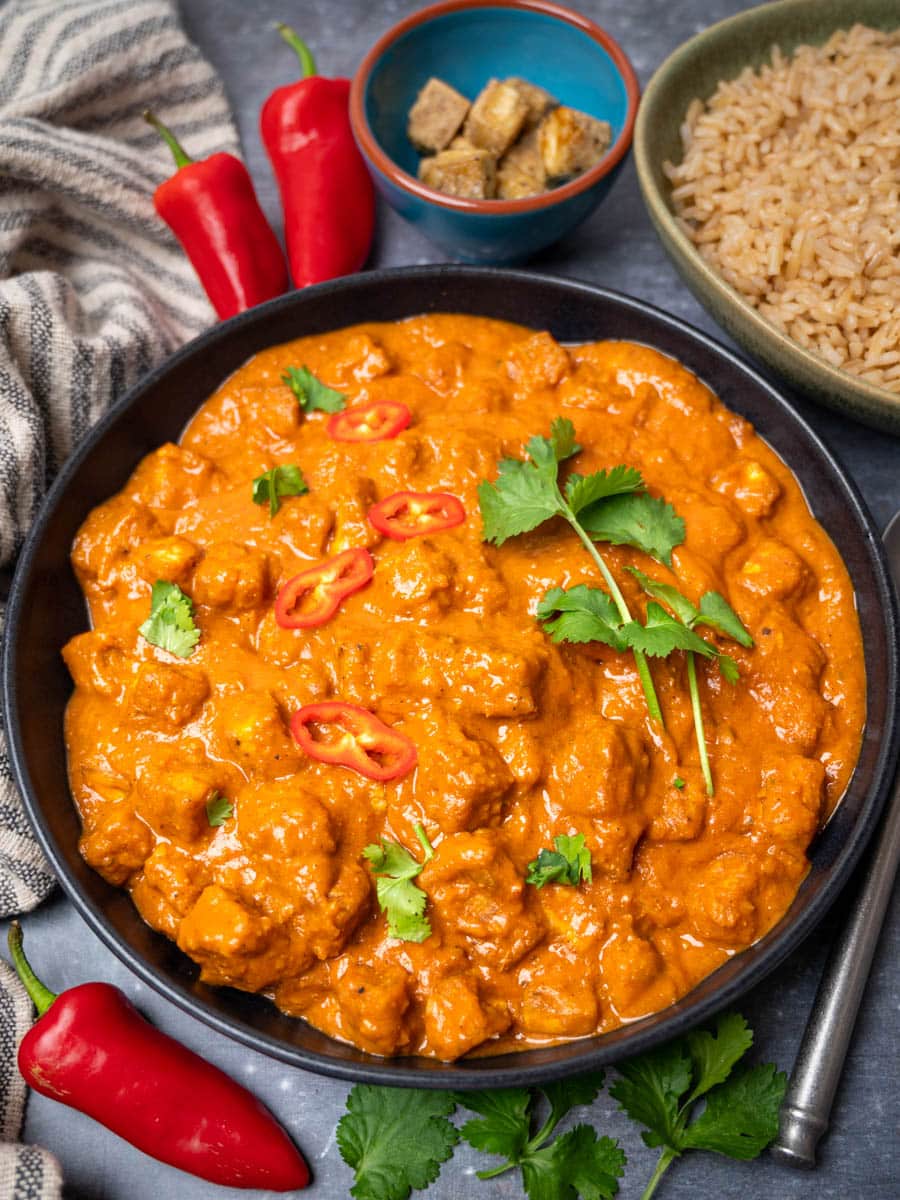 Ingredients for vegan madras curry
Tofu — Extra-firm tofu is perfect for this recipe. I still press the tofu even if it's very firm because that's the best way to make it crispy in the oven.
Onion, garlic and ginger — There are no chunky onion pieces in madras, so you need to use a food processor to blend them together with the garlic and ginger. It only takes a minute on high to turn everything into a paste.
Madras curry powder — You can definitely make your own madras spice mix, but getting a ready-made curry powder from the store is much more convenient.
Madras curry powder is typically spicier than regular curry powder because it contains cayenne pepper. It also includes coriander, cumin, cardamom, black pepper, and turmeric.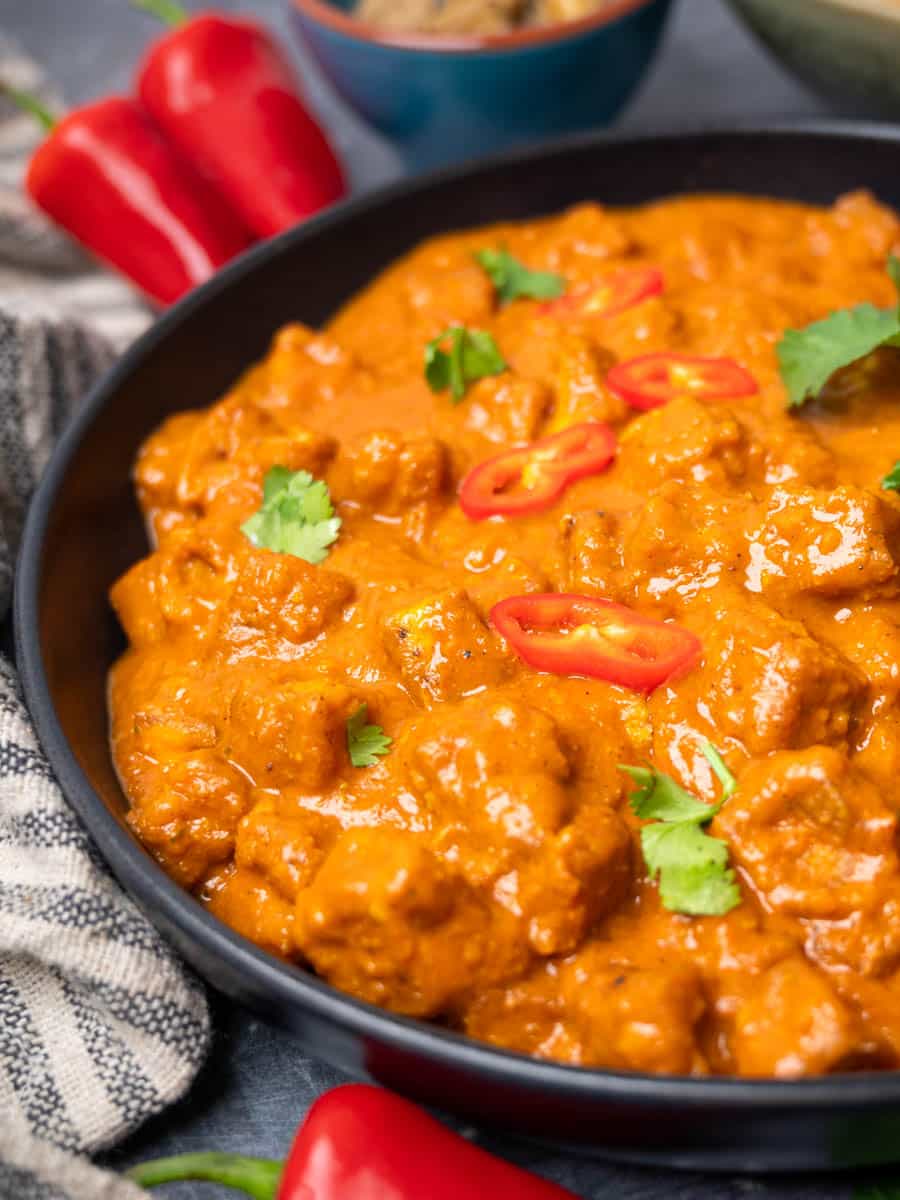 Coconut oil — You can use any vegetable oil you want for this vegan madras curry. Coconut oil is great because it pairs well with the coconut milk.
Coconut milk — Full-fat coconut milk is best for this curyy because it makes the sauce extra creamy. You won't get the same texture if you use light coconut milk.
How do you make vegan madras?
Start by preparing the tofu.
Preheat the oven to 200°C (400°F) and cover a baking sheet with parchment paper.
Add the tofu cubes to a large mixing bowl, drizzle with 1 tablespoon vegetable oil, and season with salt and pepper.
Stir in the cornstarch and toss until the tofu is coated evenly. Arrange the tofu bits in a single layer on the baking sheet.
Bake for 15-20 minutes until crispy, flipping them halfway through.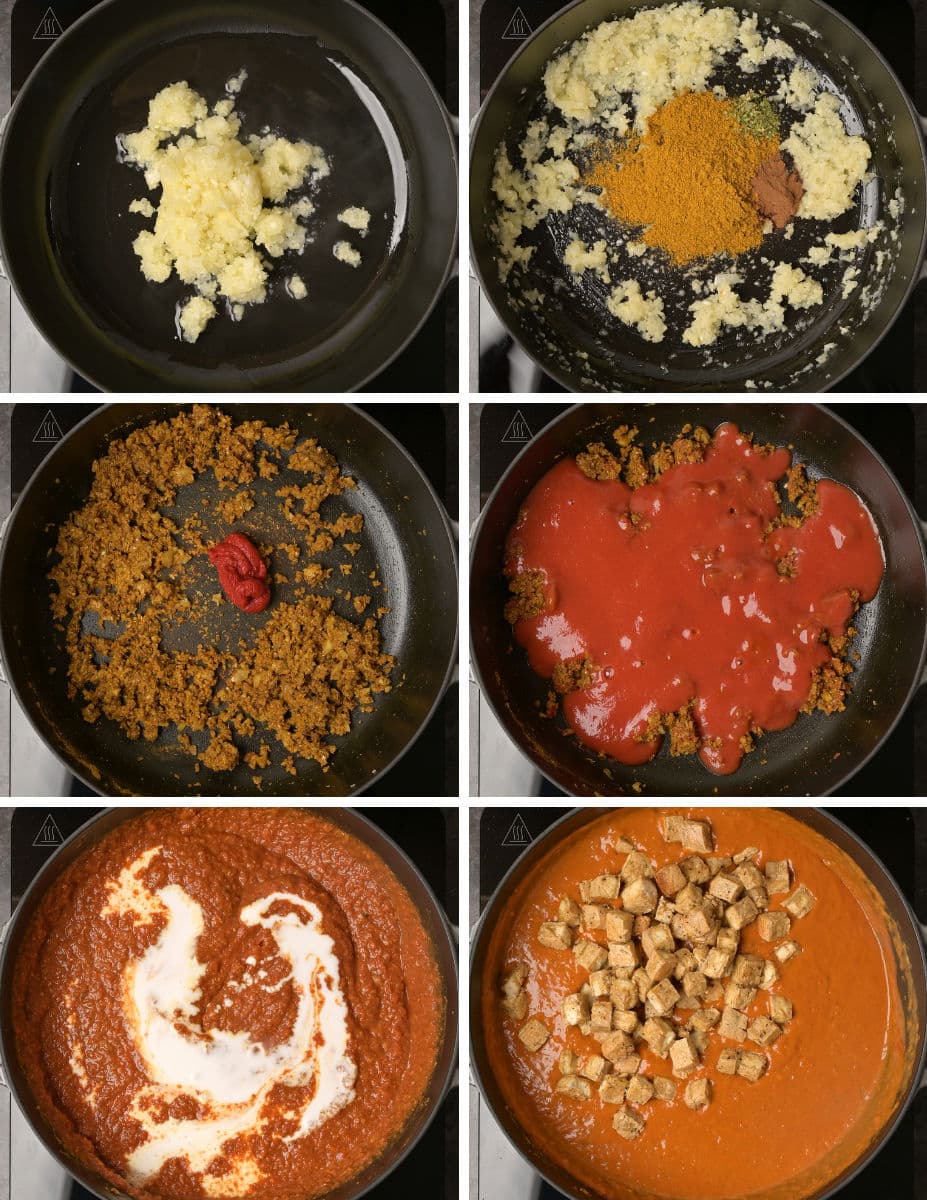 Meanwhile, make the sauce.
Add the onion, garlic and ginger to a food processor and blend to a paste.
Heat the coconut oil in a large, deep pan over medium-high heat.
Add the onion mixture and fry for 4-5 minutes, stirring occasionally, until slightly brown at the edges.
Stir in the curry powder, ground cinnamon and fenugreek leaves and cook for another minute.
Next, stir in the tomato paste and passata and bring to a boil. Add the coconut milk, turn the heat down to low and simmer for 10 minutes.
Add the crispy tofu to the sauce and stir to combine. Serve over rice and sprinkled with fresh coriander if you like.
Extra recipe tips
Serve this vegan madras curry over basmati or cauliflower rice. You can also add some naan bread and mango chutney if you like.
If you want your curry to be particularly spicy, add half a teaspoon of cayenne pepper with the rest of the spices.
You can spice up the tofu cubes by adding a tablespoon of garam masala with the vegetable oil and cornstarch.
If you liked this vegan madras curry with crispy tofu, have a look at some of my other easy vegan curry recipes:
Don't miss out on any new recipes! Follow Vegan Cocotte on Instagram, Facebook, and Pinterest.