This pineapple tofu curry is loaded with flavor and utterly delicious. It has the perfect sweet and savory balance and tastes so much better than takeout!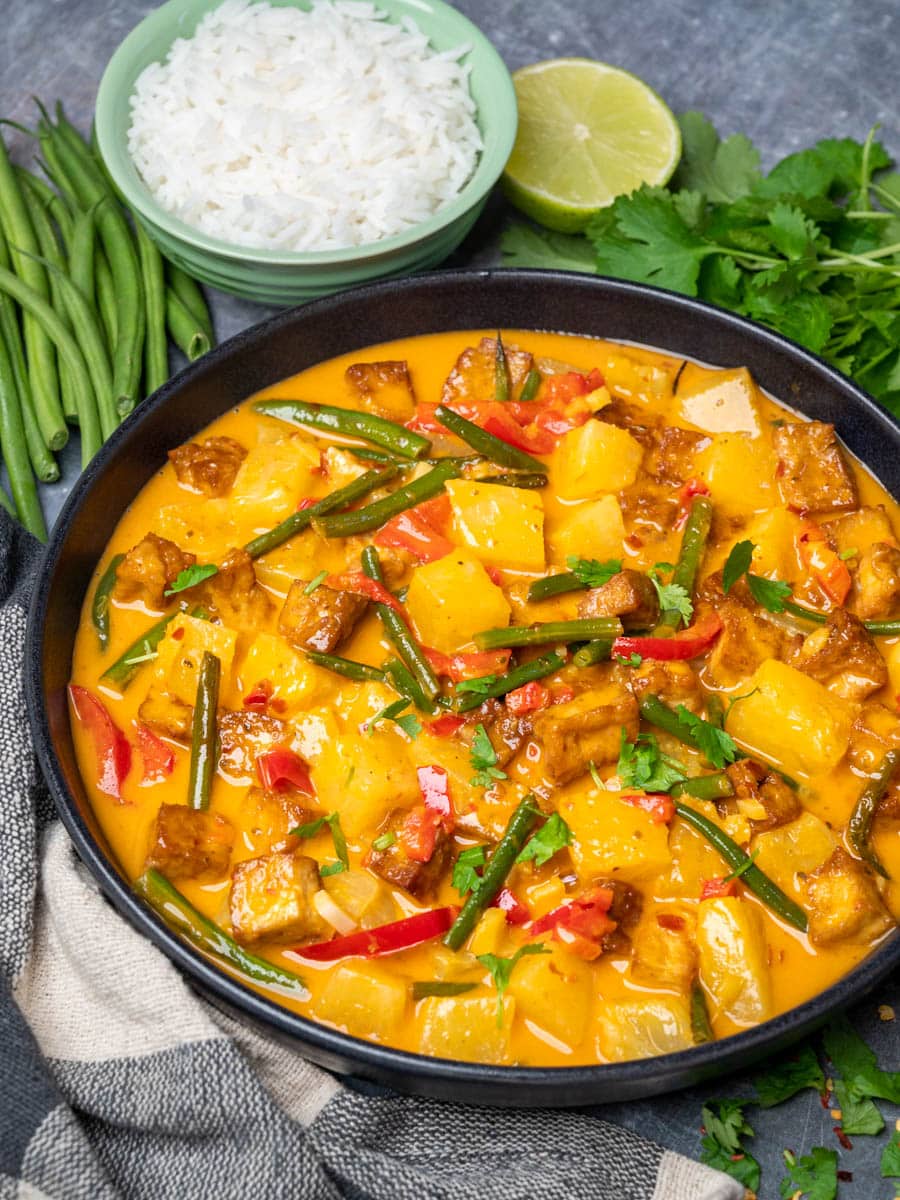 If you love sweet and spicy combinations, this pineapple tofu curry will quickly become your favorite.
It has sweet chunks of pineapple and crispy bits of tofu mixed with a creamy, coconutty sauce that you can make as fiery as you like.
You can either bake or air fry the tofu until crispy and customize the curry by adding various veggies to it.
I like to make it with red bell peppers and green beans, but you can also add sweet potato, broccoli florets or cauliflower.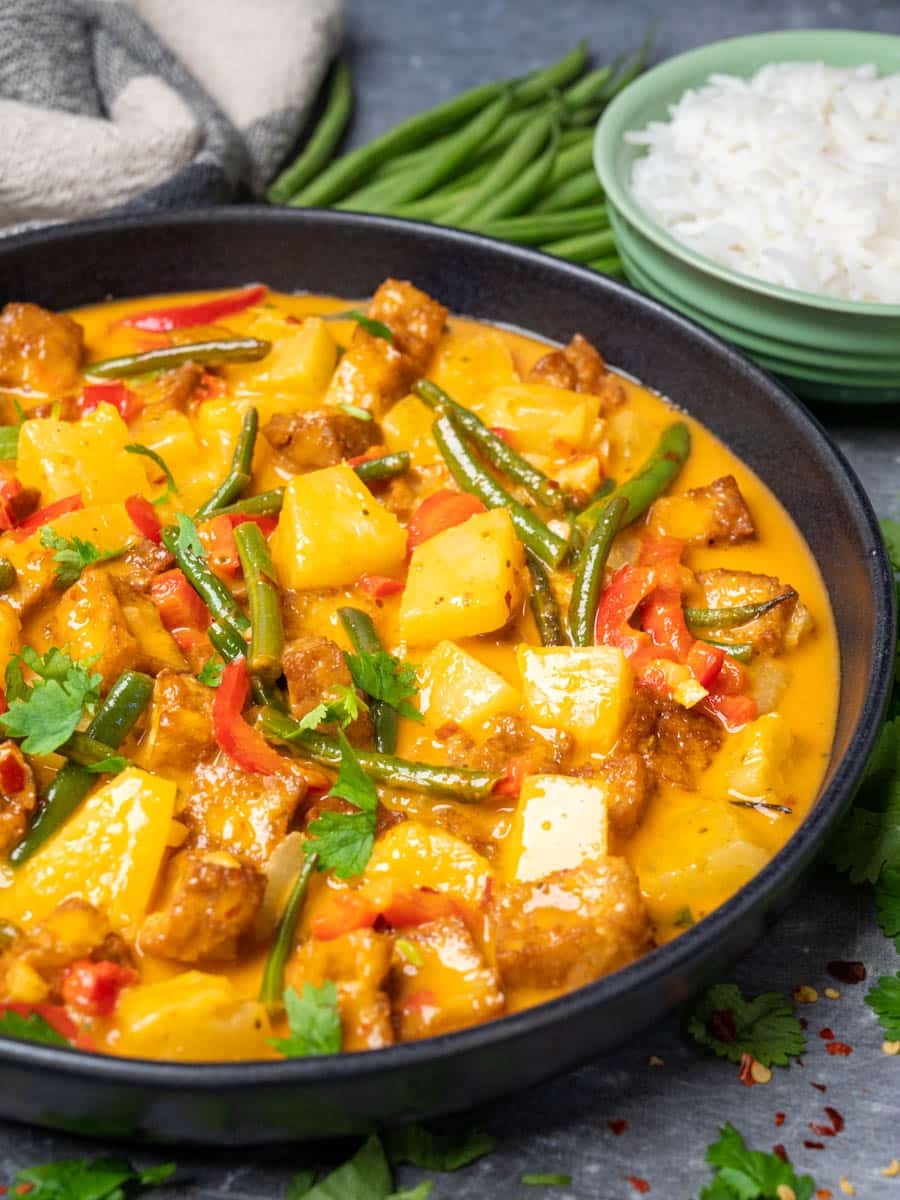 Why you'll love this pineapple tofu curry
It tastes spectacular and it's so much better for you than takeout.
You only need a handful of ingredients to make it, and it's ready in just a bit over half an hour.
The flavors are interesting yet balanced so this is likely to become a family favorite.
Ingredients and substitutions
Tofu — Always press your tofu before using it in a curry, even if it's the extra firm kind.
Tamari sauce — Tossing the tofu with some tamari sauce before baking infuses it with loads of flavor.
Coconut oil — You can also use canola oil or avocado oil here.
Veggies — Besides red bell pepper and green beans, you can also add sweet potatoes, mushrooms, broccoli, cauliflower or zucchini. Some frozen peas would also work in this curry.
Garlic + ginger — Freshly chopped or minced garlic and ginger provide the best flavor for this curry.
Thai red paste — Make sure you check the Thai red paste you use in this curry to ensure it's vegan.
Pineapple — Canned pineapple in juice is perfect in this vegan pineapple curry, but you can also use fresh pineapple if you want. Make sure you drain it well before adding the pineapple to the sauce.
Coconut milk — Full-fat coconut milk is best here because it results in a creamier curry sauce.
How to make Thai pineapple curry
Preheat the oven to 200°C (400°F) and cover a baking tray with parchment paper. Cut the pressed tofu into 1-inch pieces and toss it with the tamari sauce and canola oil. Arrange the tofu in a single layer on the baking tray and bake for 20 minutes until crispy (flip it halfway through).
Alternatively, air fry the tofu following the instructions in this crispy tofu air fryer recipe.
Meanwhile, make the curry sauce. Heat the coconut oil in a large, deep pan and stir fry the bell pepper and green beans for 3-4 minutes over medium heat.
Add the garlic and ginger and cook for another minute, then stir in the Thai red paste.
Cook for another minute, then stir in the pineapple chunks and cook for 2-3 minutes until slightly caramelized.
Add the coconut milk and bring to a boil. Lower the heat and simmer for 10 minutes or until the sauce has thickened to your likening.
Transfer the cooked tofu to the pan and stir to combine. Add some fresh cilantro, season to taste and serve over your favorite rice.
Leftovers and storage
Any leftovers will keep well in the fridge for up to 3-4 days in an airtight container.
You can reheat the pineapple curry in the microwave or on the stovetop.
I don't recommend freezing this curry — the tofu and pineapple will likely be soggy when thawed.
Recipe notes and tips
This tofu pineapple curry pairs perfectly with freshly cooked jasmine or basmati rice.
Add some toasted cashews for extra crunchiness.
Stir in a tablespoon of tamari sauce for even more flavor.
If you liked this pineapple tofu curry recipe, you might also like some of my other easy vegan recipes:
Don't miss out on any new recipes! Follow Vegan Cocotte on Instagram, Facebook and Pinterest.