This chickpea tofu curry is the perfect plant-based dish to try when you want to up your protein intake. With crispy bits of tofu smothered in a super flavourful sauce, this vegan tofu curry is bound to become a dinner staple.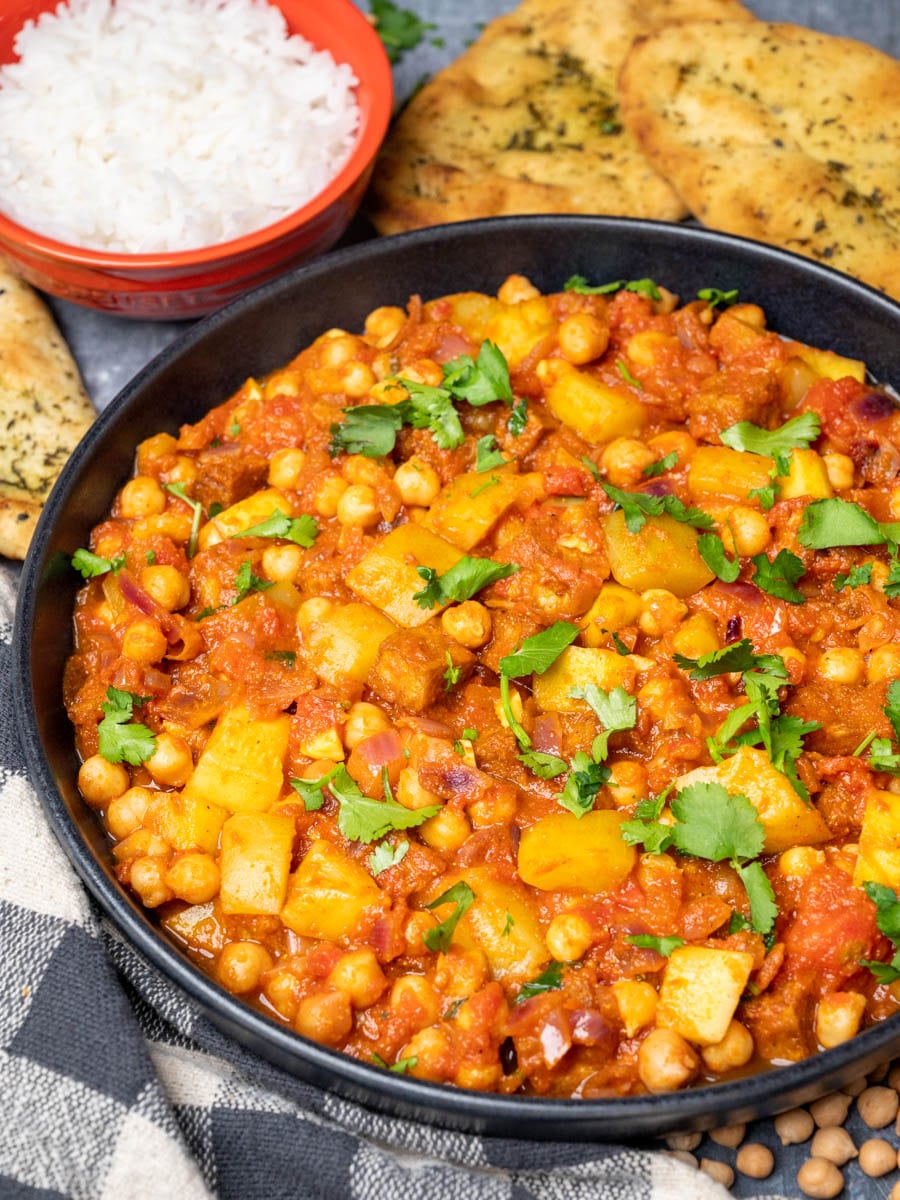 If you've been looking for healthy ways to increase your protein intake, this chickpea tofu curry should make it to the top of your list.
Besides being a nutritional bomb, this tofu and chickpeas curry is also delicious and super easy to make.
I like to crisp the tofu in the air fryer, but you can also do it very easily in the oven.
The sauce is very easy to make using just a handful of staple ingredients and spices.
What I like a lot about this chickpea tofu recipe is that it's very easy to make your own. That's because you can add any veggies you might have in the fridge.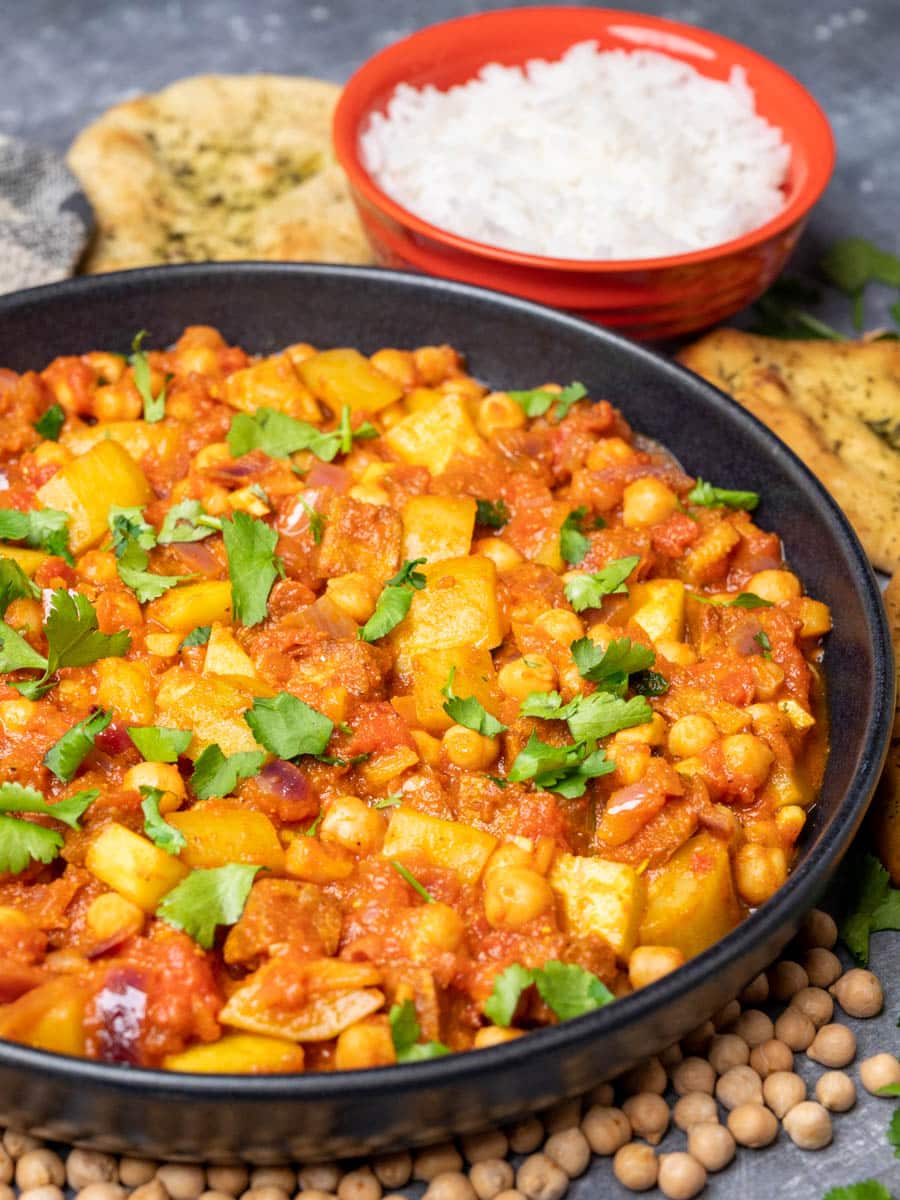 Why you'll love this chickpea tofu curry
It's full of flavour and feels like a proper takeaway treat - only cheaper and much better for you.
You can use just about any veggies you want, so it's a perfect fridge-cleanout recipe.
It's ready in just over 40 minutes so you can have a protein-packed meal on the table in no time.
Ingredients and substitutions
Tofu — You'll need some extra-firm tofu for this recipe. Press the tofu for at least 30 minutes, so it gets crispy in the oven or the air fryer.
Garam masala —Tossing the tofu in a bit of garam masala infuses it with an amazing flavour.
Sunflower oil — Use any kind of oil you want here - canola or coconut oil are also good ideas.
Onion, garlic and ginger — These aromatics set an excellent flavour base for the tofu and chickpea curry.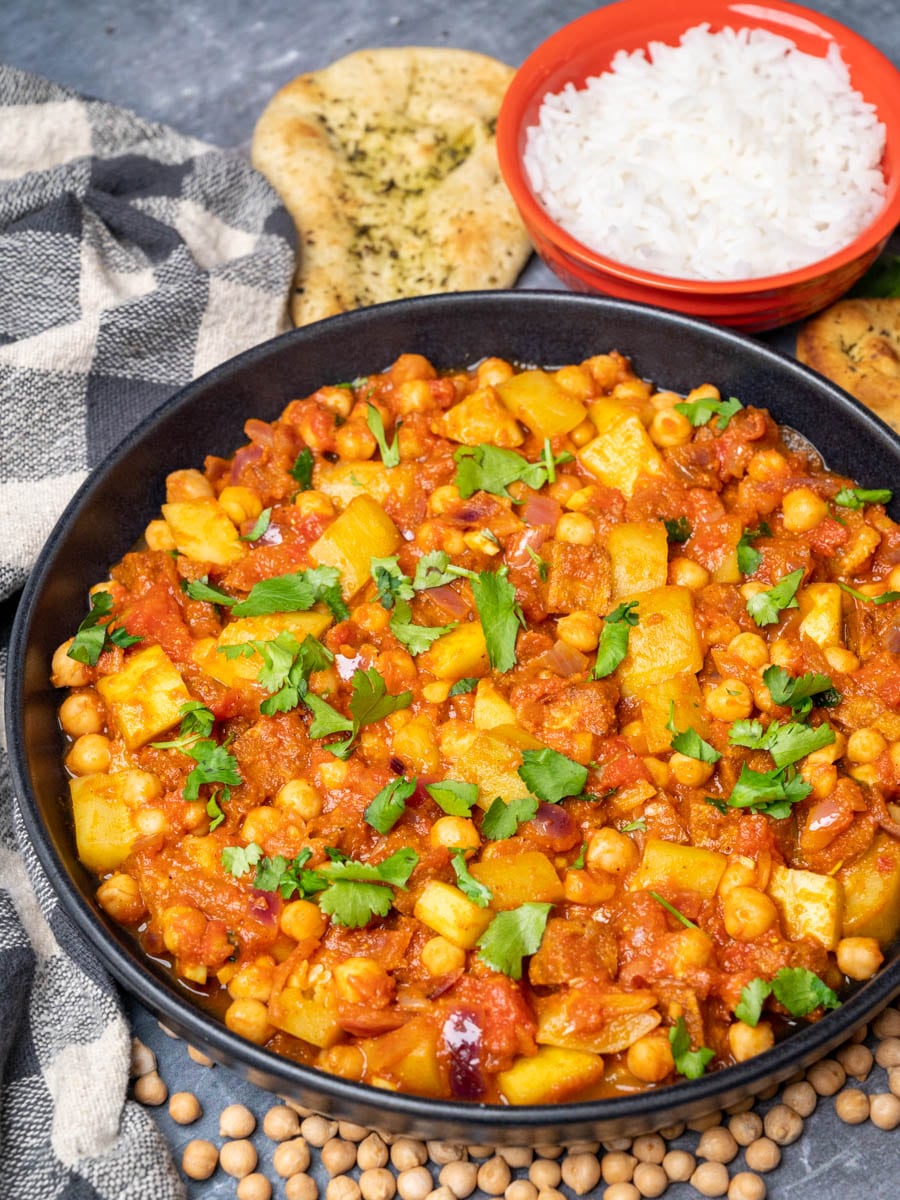 Red chilli flakes — Feel free to adjust the amount of red chilli flakes to your taste.
Spices – I used a mix of medium curry powder, paprika and ground cumin for this curry. If you don't want it to be spicy, use a mild curry powder instead.
Chopped tomatoes — Use a can of chopped tomatoes or peeled tomatoes crushed by hand.
Chickpeas — Canned chickpeas are great for convenience, but you can also use chickpeas that you've cooked from dry.
Zucchini — Feel free to add any other veggies here, such as mushrooms, bell peppers, broccoli or cauliflower.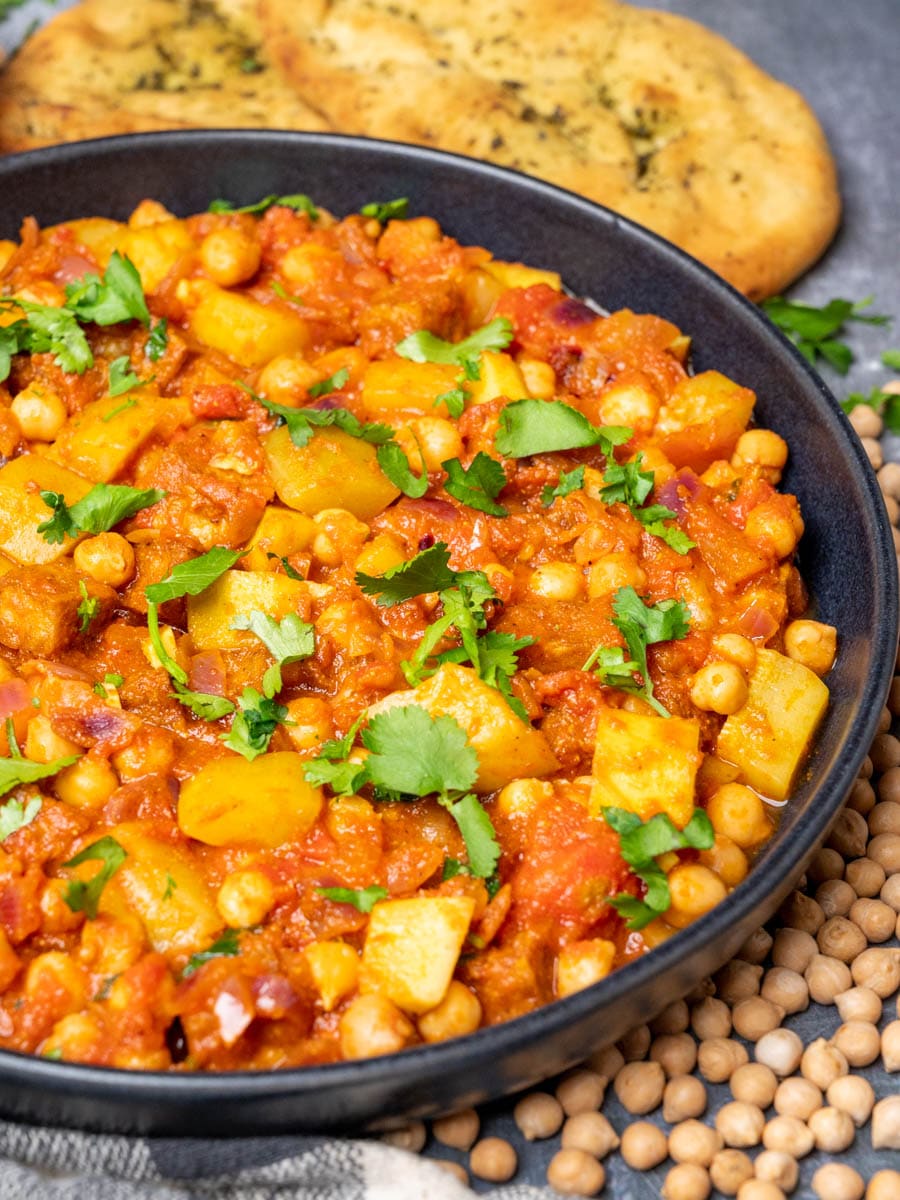 How to make chickpea and tofu curry
Start by making the tofu. Preheat the oven to 200°C (400°F) and cover a baking sheet with parchment paper.
Add the tofu cubes to a large mixing bowl, drizzle with 1 tablespoon of vegetable oil and 1 teaspoon of garam masala, and season with salt and pepper. Arrange the tofu bits in a single layer on the baking sheet. Bake for 15-20 minutes until crispy, flipping them halfway through.
Alternatively, use your air fryer to make crispy tofu.
Meanwhile, make the curry sauce. Heat the oil in a large, deep pan and cook the onion for 2-3 minutes over medium heat until slightly softened.
Stir in the garlic, ginger and red chilli flakes and continue to cook for another minute.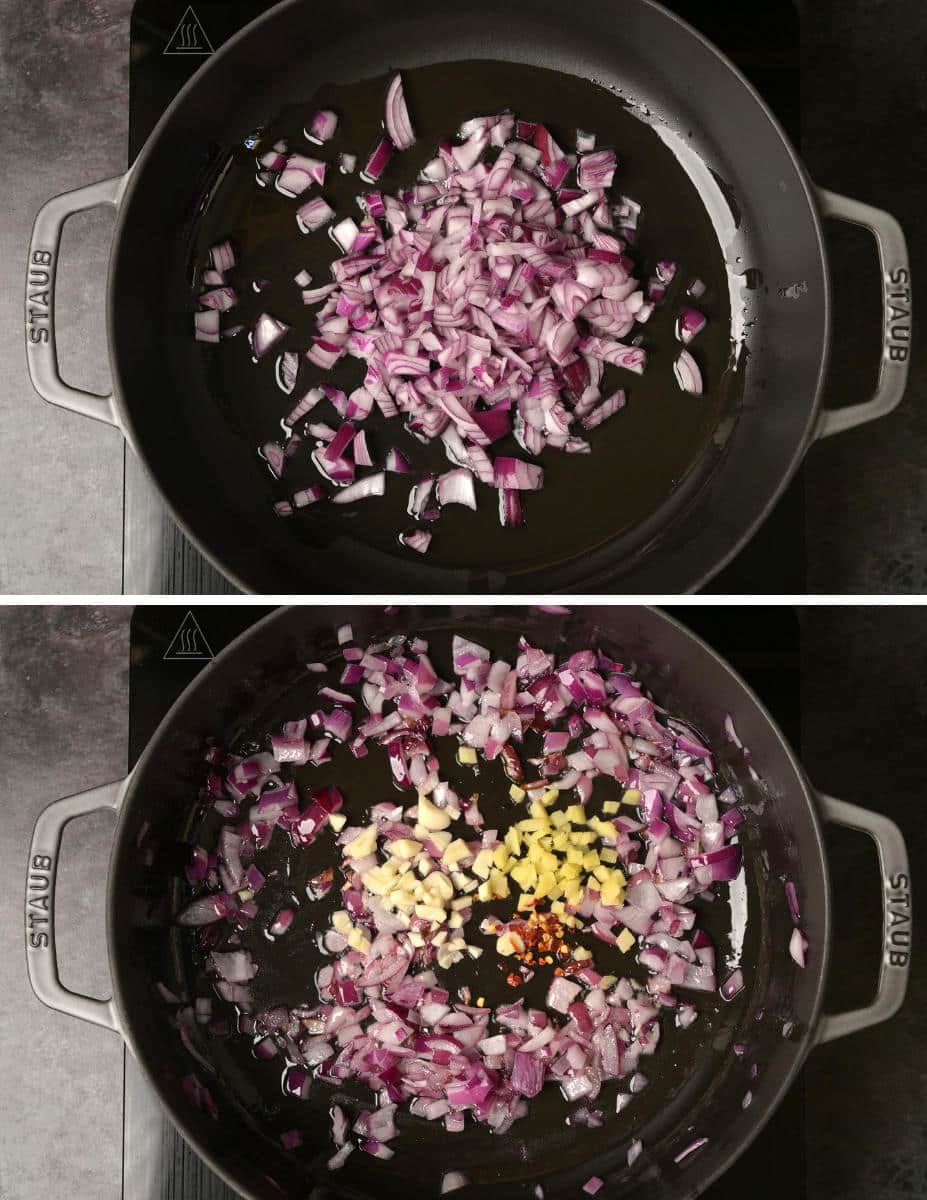 Add the curry powder, paprika, ground cumin and chopped tomatoes. Fill the tomato can halfway with water and add that too. Stir to combine and bring to a simmer.
Stir in the chickpeas and zucchini and simmer for 10-12 minutes until the sauce thickens.
Next, stir in the crispy tofu, fresh coriander and lime juice. Season to taste and serve with rice and naan, sprinkled with fresh coriander if you like.
Leftovers and storage
Leftovers will keep well in the fridge for up to 3 days in an airtight container.
Reheat the curry in the microwave or on the stovetop.
You can freeze the curry for up to 3 months. Make sure you thaw it in the fridge overnight before reheating.
Recipe notes and tips
Add half a can of coconut milk to make this chickpea tofu curry creamy.
Stir in some baby spinach at the end for extra vitamins and brightness.
This tofu and chickpea curry pairs well with basmati or brown rice and naan bread.
If you liked this chickpea tofu curry, you might also like some of my other easy vegan curry recipes:
Don't miss out on any new recipes! Follow Vegan Cocotte on Instagram, Facebook and Pinterest.