This vegan white bean pasta sauce is packed full of protein yet creamy and mouth-watering. You only need a handful of ingredients to make this dairy-free pasta dish that will remind you of a delicious white bean dip.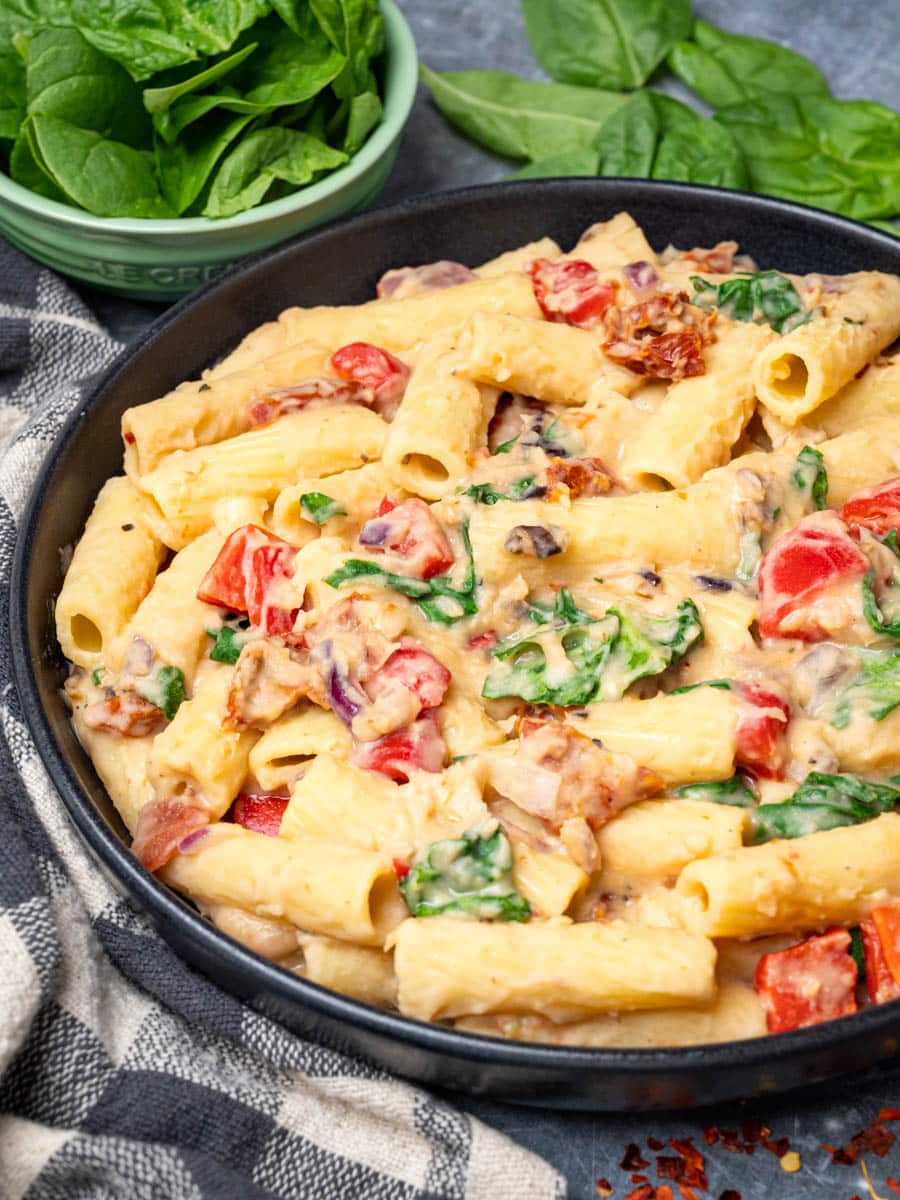 If you're a fan of creamy pasta sauces but also want your meals to be as nutritious as possible, this white bean pasta sauce is something you should definitely try.
The sauce is creamy, delicious and packed with flavor despite being super easy to make. It's also high in fiber and protein for a balanced meal.
Making this white bean alfredo is as simple as opening two cans of cannellini beans, blitzing them in a food processor, then mix with caramelized onions, sundried tomatoes and roasted red peppers.
This cannellini bean pasta sauce is also an excellent recipe for those looking for a creamy vegan white sauce without nuts.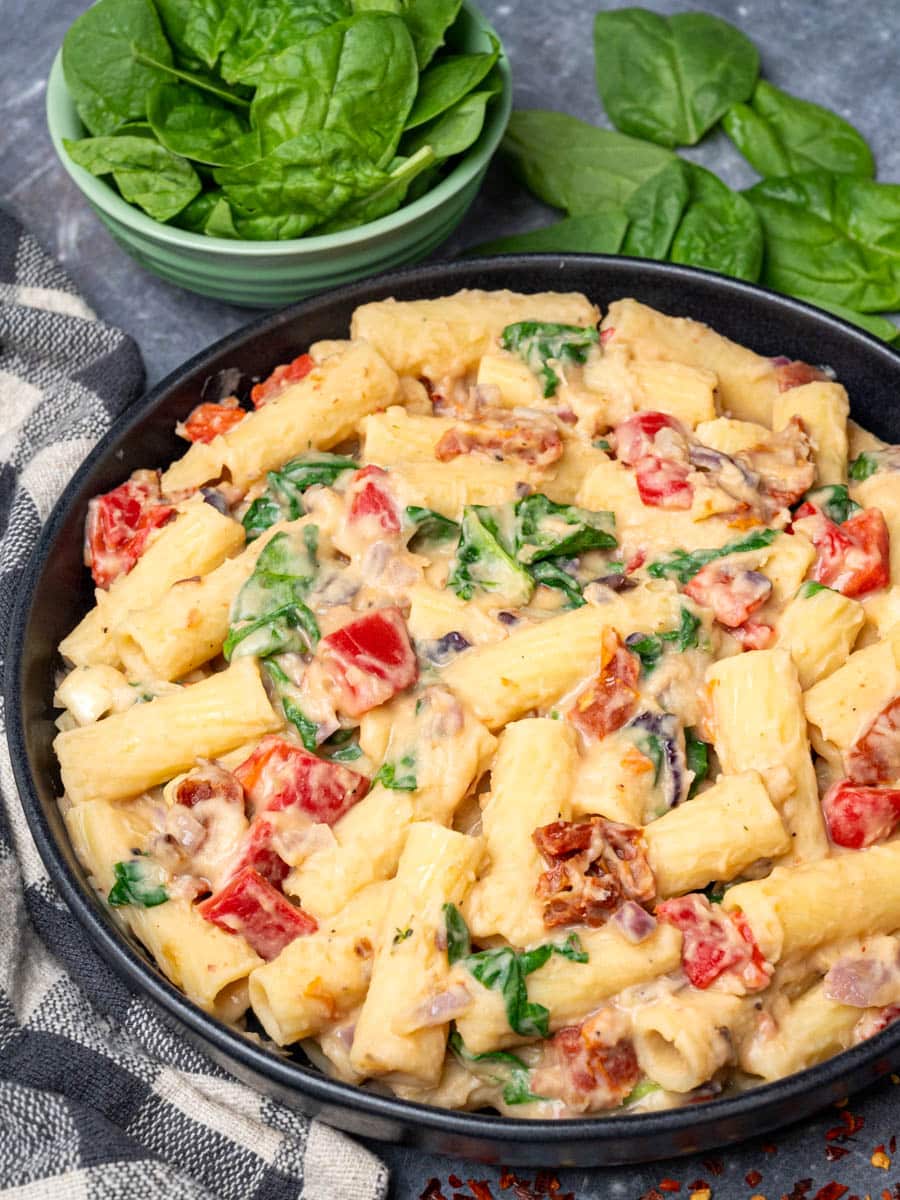 Why you'll love this white bean pasta sauce
It's a perfect combination of carbs, protein and fiber.
It's extra delicious, and you can easily adapt the toppings to suit your fridge content and taste.
The sauce is dairy-free and nut-free.
What goes into this white bean alfredo
Cannellini beans — You'll need two cans of cannellini beans to make this creamy white sauce for pasta. You only have to drain one of the cans because you need some liquid in your food processor.
Olive oil — Add a tablespoon of olive oil to the food processor with the beans to emulsify the mixture. You'll need the rest to saute the red onions in.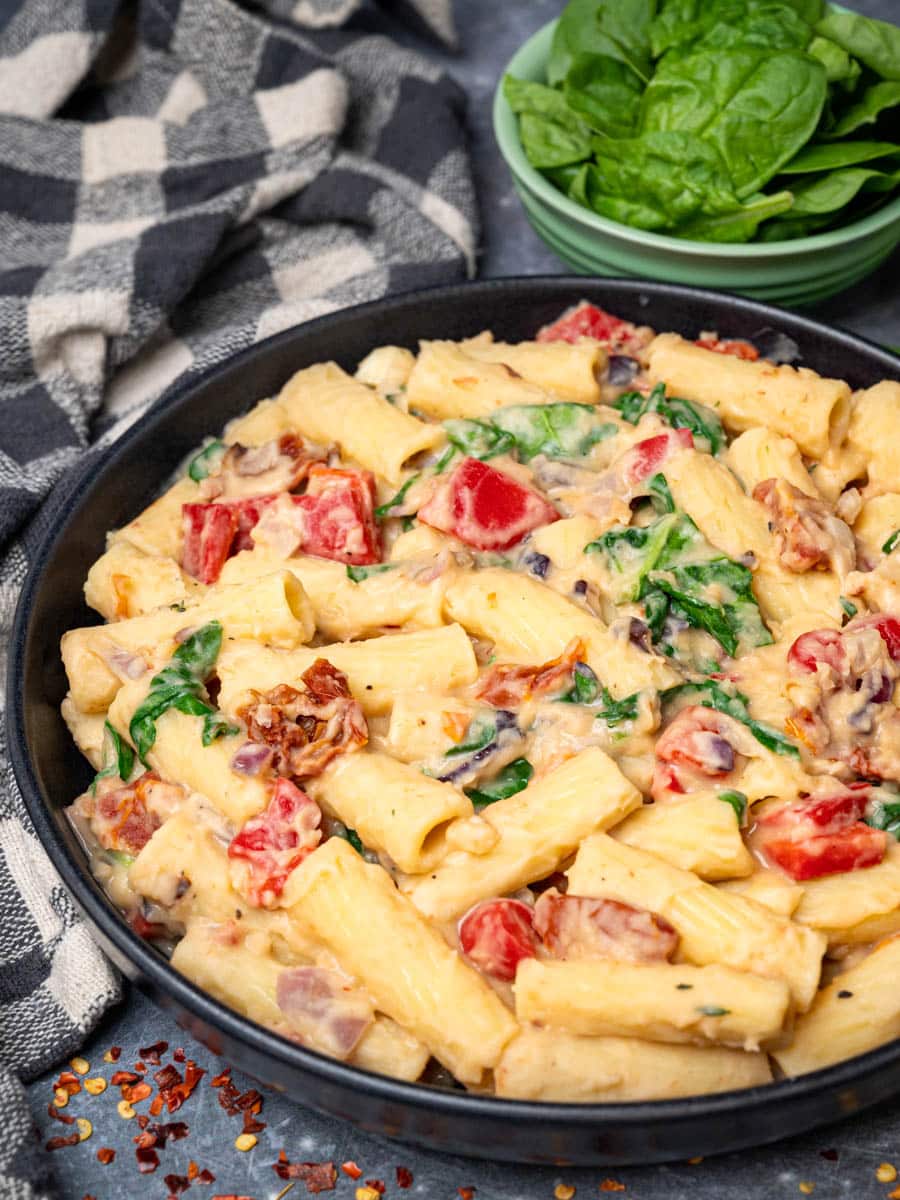 Red onions — The flavor of red onions is just perfect for white beans. You can substitute them with shallots or yellow onion, though.
Garlic — Feel free to add as much garlic as you like. Freshly chopped garlic is always best for flavor.
Red chili flakes — Add more red chili flakes if you want the recipe to have a bit of a kick.
Fresh thyme — If you don't have any fresh herbs, use ½ teaspoon dried thyme or Italian seasoning mix instead.
Baby spinach — You can also use kale in this recipe, but you need to cook it for 2-3 minutes more because it takes longer to wilt than baby spinach.
Pasta — Any short or long pasta works in this recipe. I made it with rigatoni, but you can use tagliatelle or fettuccine, too.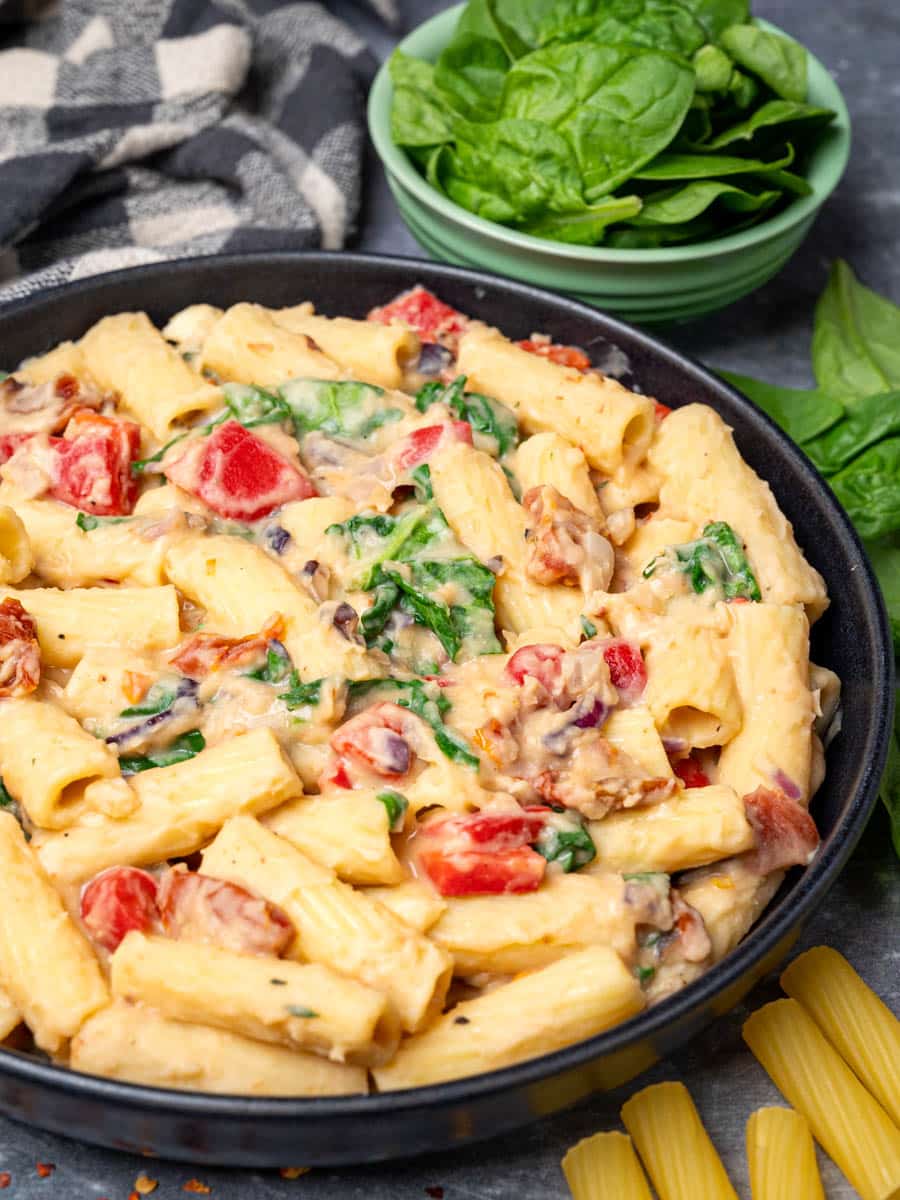 How to make creamy white bean pasta sauce
Bring a large pot of water to a boil, salt it generously and cook the pasta according to the instructions on the package. Reserve 2-3 cups of pasta water before draining.
Meanwhile, drain one of the cannellini beans and add the contents to the bowl of a food processor. Add the contents of the other can, too, without draining it. Next, add 1 tablespoon olive oil and a pinch of salt. Blitz for 1-2 minutes until you have a creamy paste, and set it aside.
Heat the remaining olive oil in a large pan and cook the red onion for 7-8 minutes over medium-low heat until softened.
Next, add the garlic, red chili flakes and fresh thyme and continue to cook for another minute.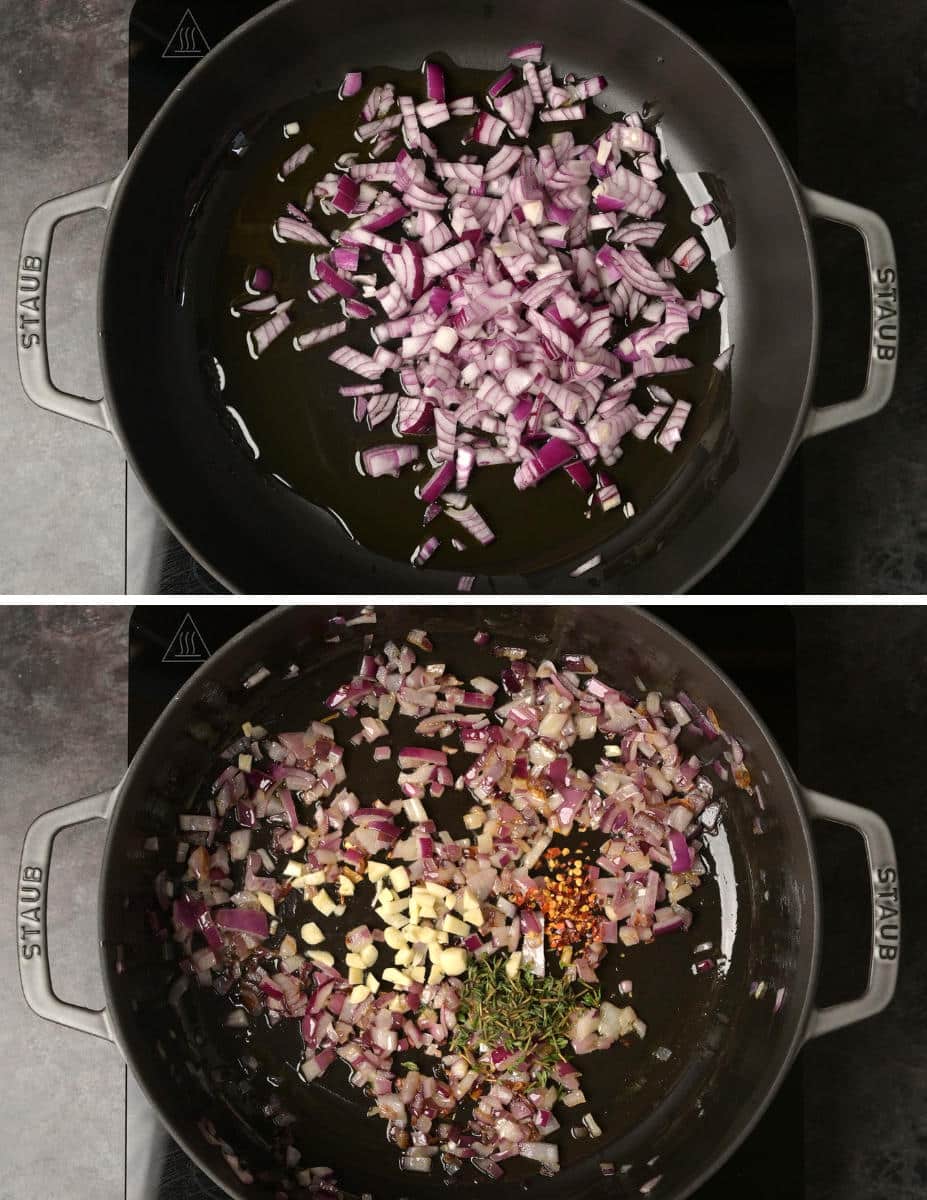 Stir in the pureed cannellini beans and add a bit of the reserved pasta water. Stir in the baby spinach and simmer for a minute until wilted.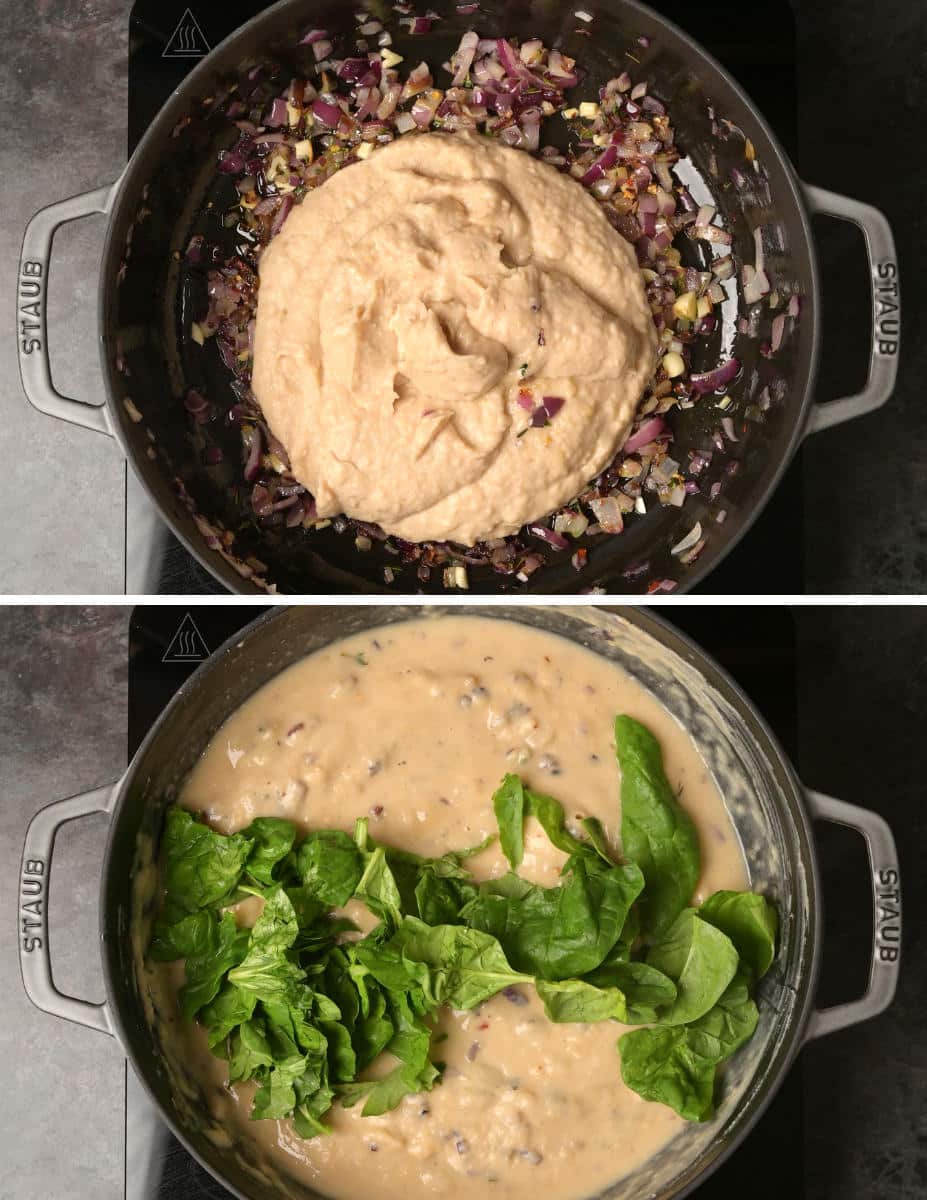 Transfer the cooked pasta to the pan and toss well to combine.
Stir in the sundried tomatoes and roasted red pepper. Season to taste and serve immediately.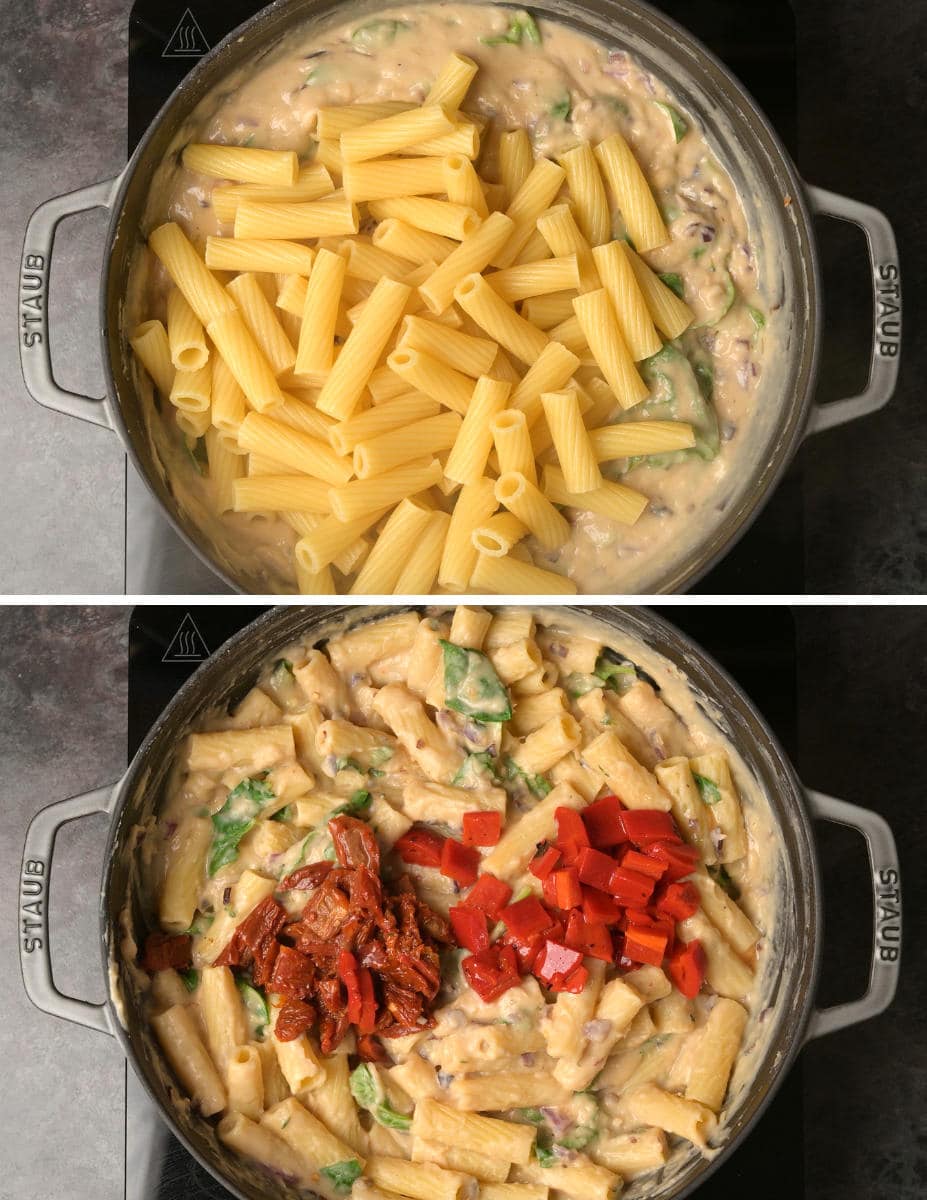 Leftovers and storage
Leftovers will keep well in the fridge for up to three days in an airtight container.
It's best to reheat this vegan pasta in the microwave, but you can also do it on the stovetop (you may need to add some veggie stock or water).
I don't recommend freezing this pasta.
Recipe notes and tips
You can add other veggies to this white bean pasta sauce, including broccoli florets, cauliflower or zucchini.
Don't forget to salt the pasta water. Since there's not a lot of salt in the sauce, you want the pasta itself to be salty.
You can make the same recipe with canned chickpeas instead of white beans.
If you liked this creamy white bean pasta sauce, you might also like some of my other easy vegan pasta recipes:
Don't miss out on any new recipes! Follow Vegan Cocotte on Instagram, Facebook and Pinterest.