This vegan Tom Yum soup is a spicy, warming Thai soup that's comforting and loaded with flavor. It's a Thai hot and sour soup that's easy to customize to your taste and perfect served with noodles or crispy tofu bits.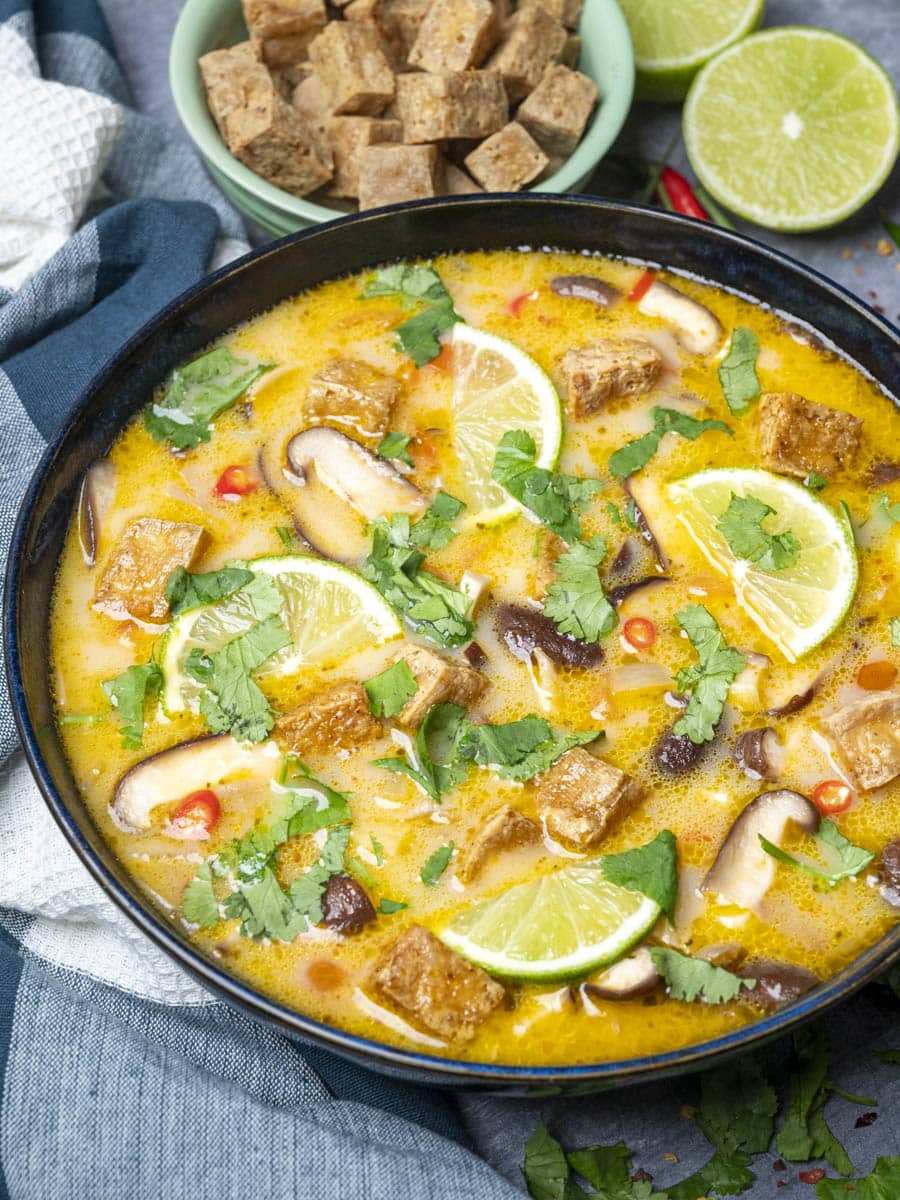 I'm a massive fan of spicy soups with bold and rich flavors, and this vegan Tom Yum soup is one of my absolute favorites.
Tom Yum is a Thai hot and sour soup that comes in countless versions. Mine is obviously a plant-based one, and I love to serve it with air-fried crispy tofu.
The flavors are simply out of this world, and the soup is light and delicious at the same time. It's a real treat for the taste buds, and you can have it on the table in just 25 minutes.
While this vegan Tom Yum recipe is very easy to make, it requires a couple of ingredients that are not that common.
You'll need shiitake and oyster mushrooms, lemongrass stalks, makrut lime leaves and a vegan fish sauce to make the soup.
The result is a very aromatic soup that balances sweet, sour and hot flavors perfectly, so the extra effort for sourcing those ingredients is definitely worth it!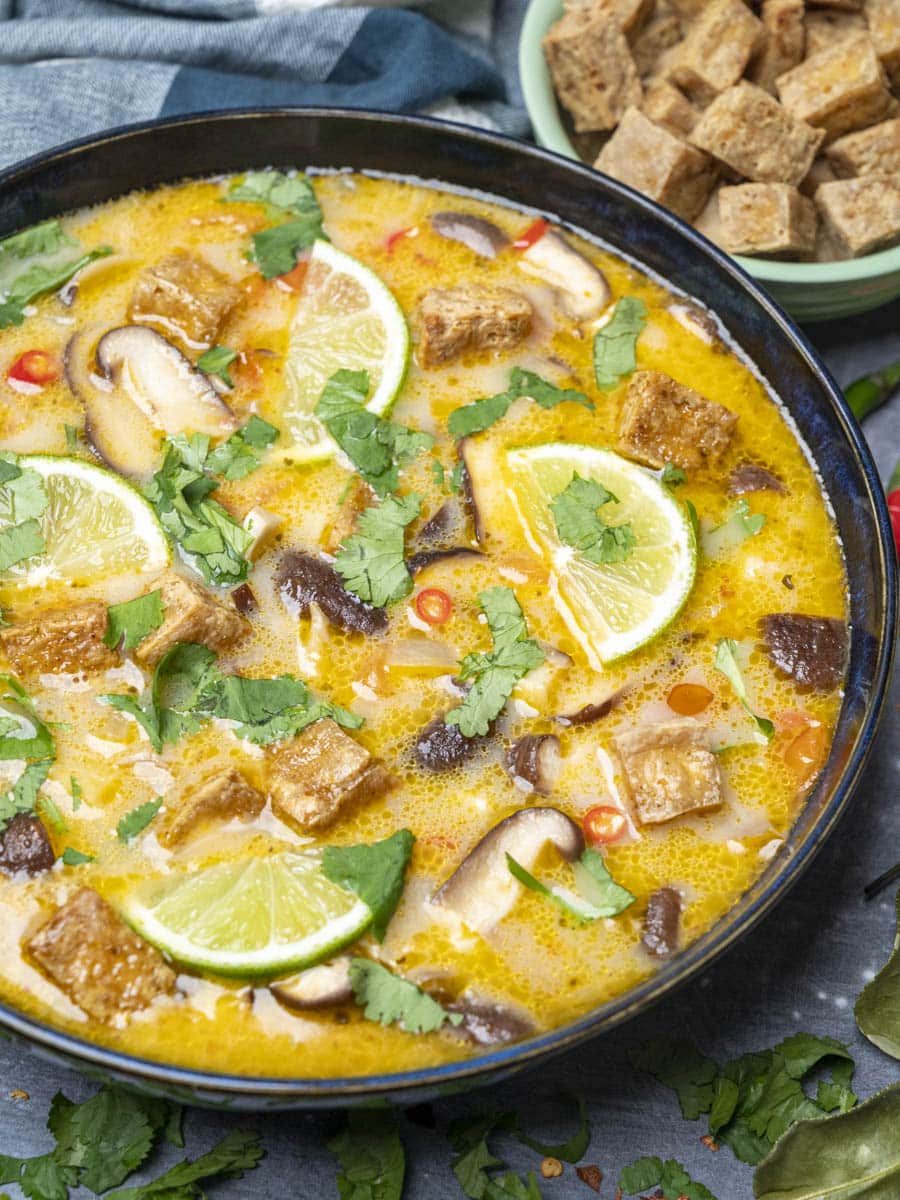 Why you'll love this vegan Tom Yum soup
It's a rich and comforting soup that's absolutely packed with flavor!
The heat level is very easy to customize.
You can serve it with crispy tofu, noodles or rice to make it heartier.
Ingredients and substitutions
Coconut oil — You'll need a bit of coconut oil to saute the aromatics in.
Garlic, ginger and chili — Fresh garlic, ginger and bird's eye chili are best in this soup. Tom Yum is typically made with galangal instead of ginger, but that's quite difficult to source. If you do have it, use it instead of fresh ginger.
Lemongrass stalks — You can use fresh or dried lemongrass stalks in this soup. If using fresh, it's best to smash it a bit with the back of the knife, so it releases more flavor.
Makrut lime leaves — This is the Asian equivalent of bay leaves. Makrut lime leaves have a complex and intense flavor that makes Tom Yum soup so delicious.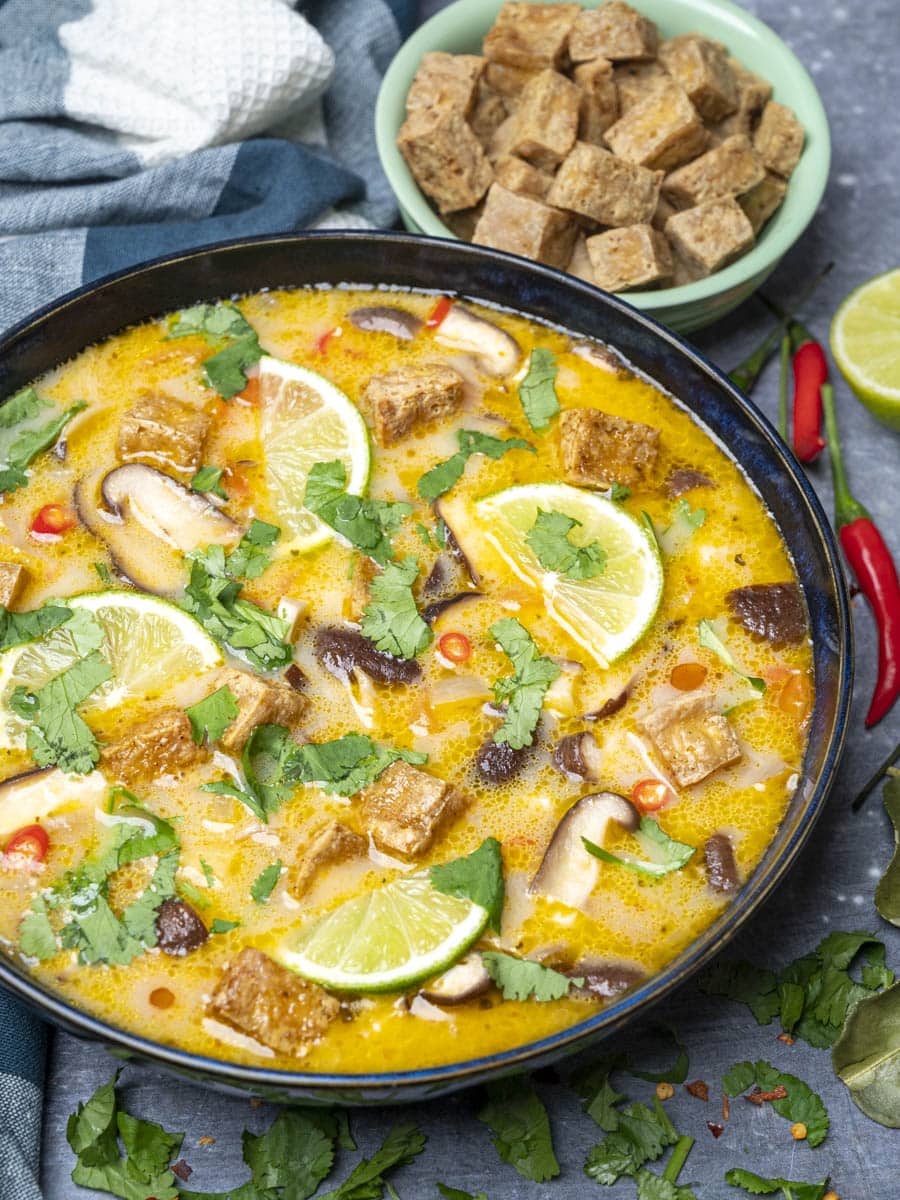 Cherry tomatoes — Make sure your cherry tomatoes are quite ripe.
Vegetable stock — A good quality vegetable stock is important in this soup. You can use low-sodium veggie broth as needed.
Mushrooms — I used a mix of shiitake and oyster mushrooms for extra flavor. You can use any kind of mushrooms you want but it's always a good idea to go for two different types.
Coconut milk — Full-fat coconut milk is essential in this soup. You can also add some coconut cream for an even richer broth.
Vegan fish sauce — It's not always easy to find vegan fish sauce, so you can use soy sauce or tamarind sauce as a substitute here.
Thai red curry paste — Thai red curry paste is available in most supermarkets or Asian grocery stores. It's typically quite spicy, so feel free to adjust the quantity to suit your taste.
Coconut sugar — Light brown sugar also works.
Lime juice — The flavor of freshly squeezed lime juice brings all the flavors together.
Tofu (optional) — I like to serve this vegan Tom Yum soup with crispy bits of tofu. They add texture and make the soup heartier. I use this recipe for crispy air fried tofu to make the tofu croutons while preparing the soup.
How to make vegan Tom Yum
Heat the coconut oil in a stock pot or Dutch oven and cook the onion for 2-3 minutes over medium heat until translucent.
Add the garlic, ginger, chili, lemongrass stalks and makrut lime leaves and cook for another minute.
Next, add the cherry tomatoes and cook for 2-3 minutes until they become soft.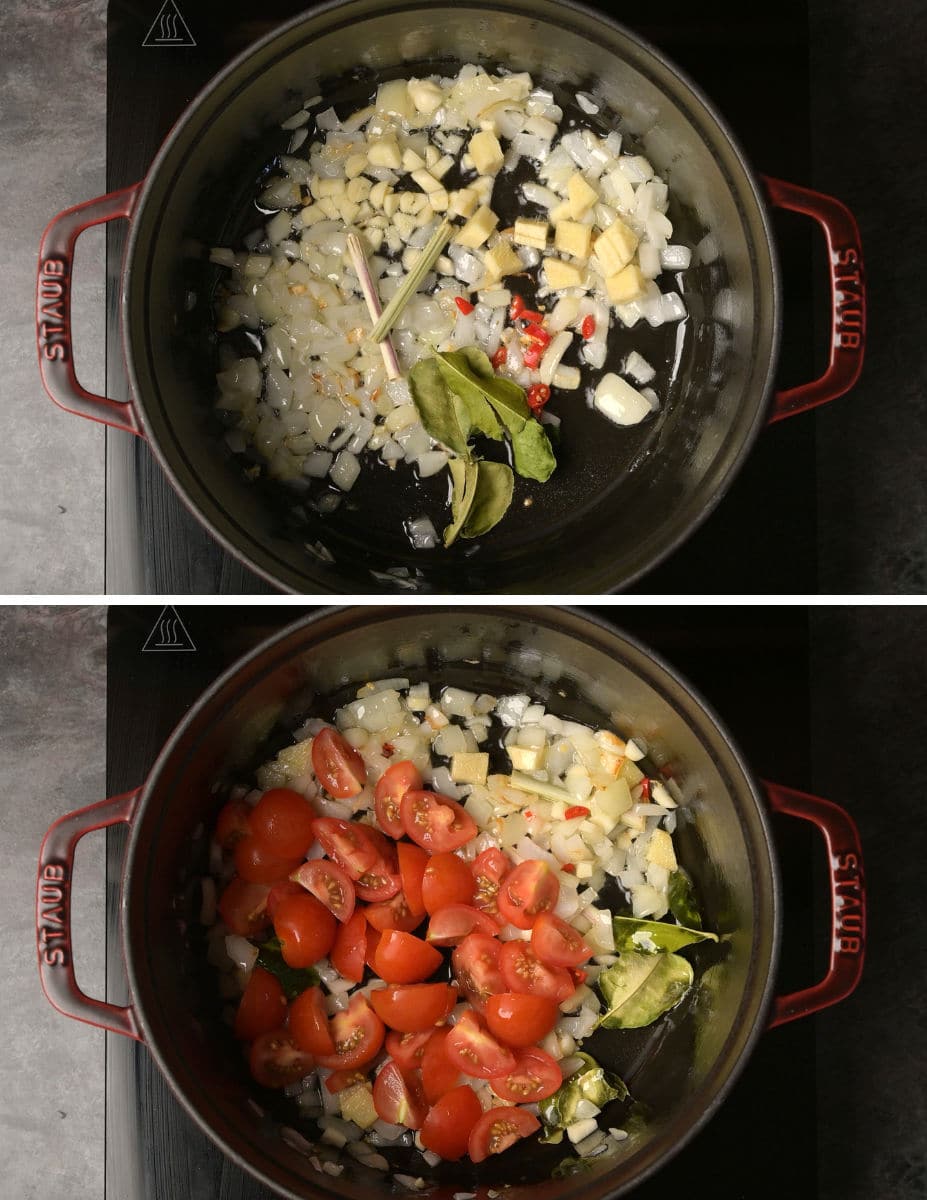 Stir in the vegetable stock, mushrooms and coconut milk. Bring to a boil and simmer for 5 minutes.
Add the vegan fish sauce, Thai red paste and coconut sugar and stir to combine. Simmer for another minute, then turn off the heat.
Stir in the lemon juice, season to taste and serve immediately with crispy tofu bits if you like.
Recipe notes and tips
If you don't want your soup to be too spicy, skip the fresh chili or use just a bit of Thai red curry paste.
Serve the soup with fresh cilantro and extra lime wedges so everyone can squeeze some fresh juice into their bowls.
To make it extra hearty, you can serve the soup with freshly cooked noodles or rice.
Tom Yum soup will keep well in the fridge for up to 5 days in an airtight container. You can reheat it on the stovetop or in the microwave.
If you liked this vegan Yom Yum soup, you might also like some of my other easy vegan soup recipes:
Don't miss out on any new recipes! Follow Vegan Cocotte on Instagram, Facebook and Pinterest.