This vegan rasta pasta recipe will make your taste buds sing! It's a Jamaican-inspired dish full of flavor and made extra creamy without any dairy at all.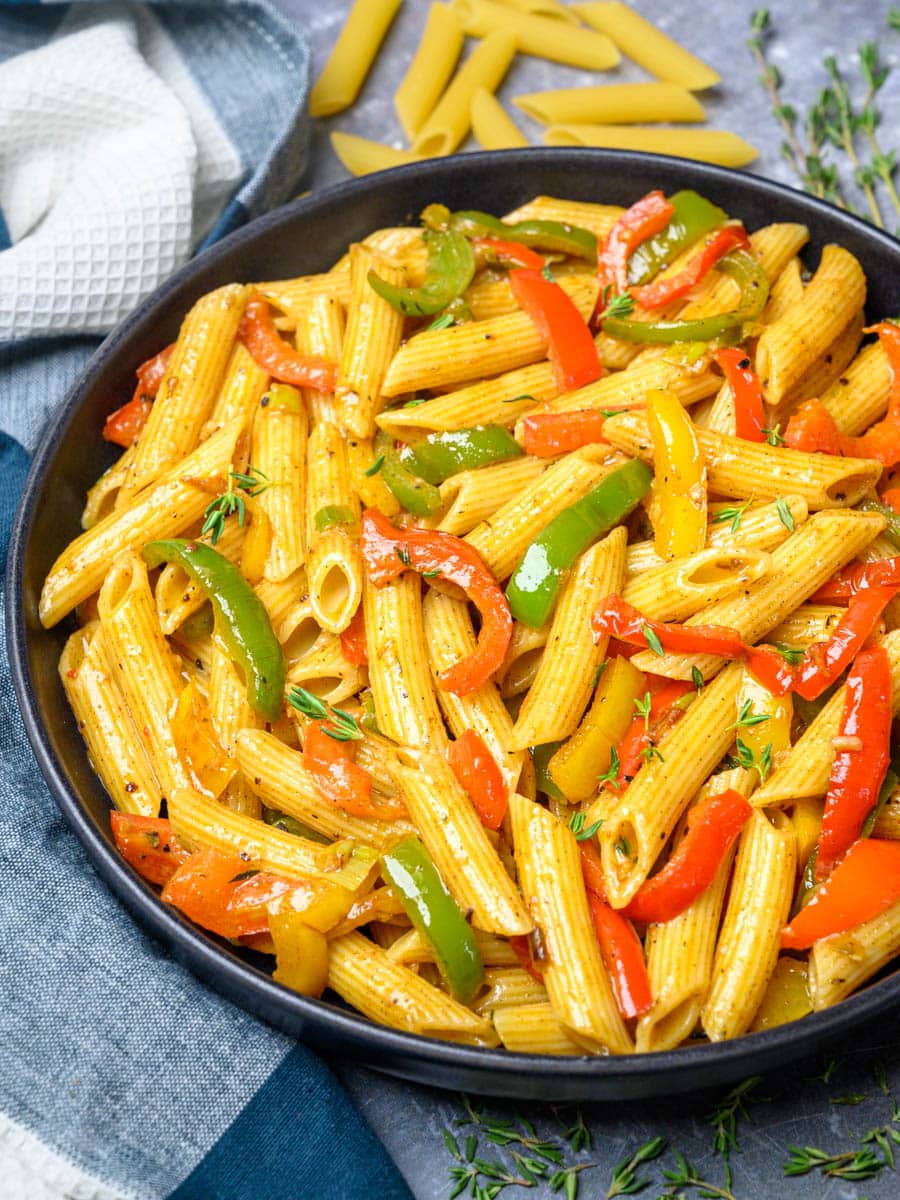 If you've been looking for a mildly spicy and super flavorful vegan pasta dish that you can make in just 30 minutes, this vegan rasta pasta is just the perfect recipe to try.
This creamy rasta pasta recipe stays true to the original version created by Chef Lorraine Washington in 1986, as it has three colored bell peppers and a deliciously creamy sauce infused with jerk seasoning.
However, since this is a vegan rasta pasta recipe, there's no meat or dairy in it. I make it with the creamy top part of a coconut milk can instead of heavy cream and, obviously, skip the chicken.
You can, however, stay even closer to the original dish by using bits of plant-based "chicken" in this Jamaican-inspired rasta pasta recipe.
Why you'll love this vegan rasta pasta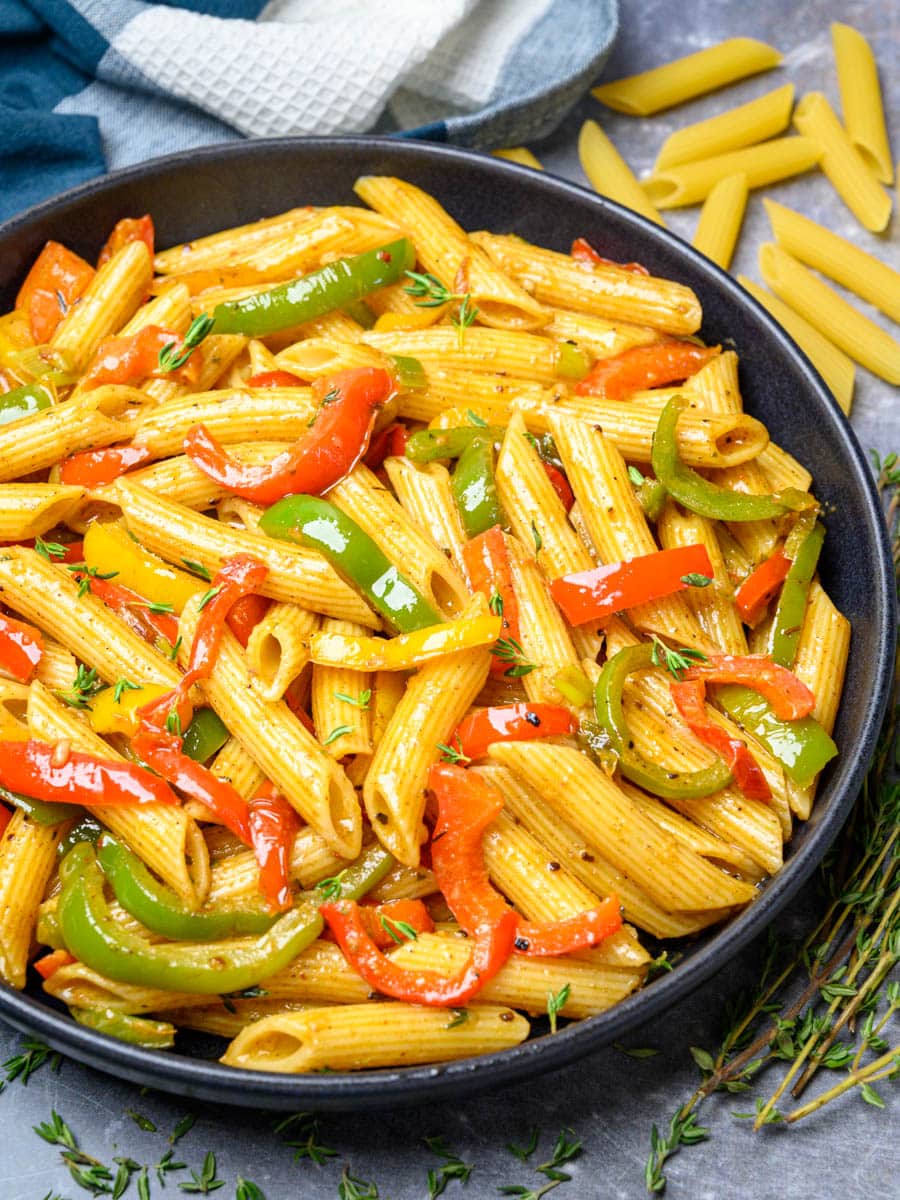 Ingredients and substitutions
Olive oil - You need some olive oil to fry the olive oil in. Alternatively, you can use some canola oil or even coconut oil.
Scallion (green onion) - Rasta pasta is typically made with chopped scallions for extra freshness. Reserve the dark green parts of the scallions for garnishing.
Bell peppers - Rasta pasta gets its name from the trio of Rasta colors, so you'll want to use red, yellow and green peppers to make it.
However, don't fret if you don't have those exact colors on hand - any bell peppers would do.
Garlic - Finely chopped or minced garlic both work well in this recipe.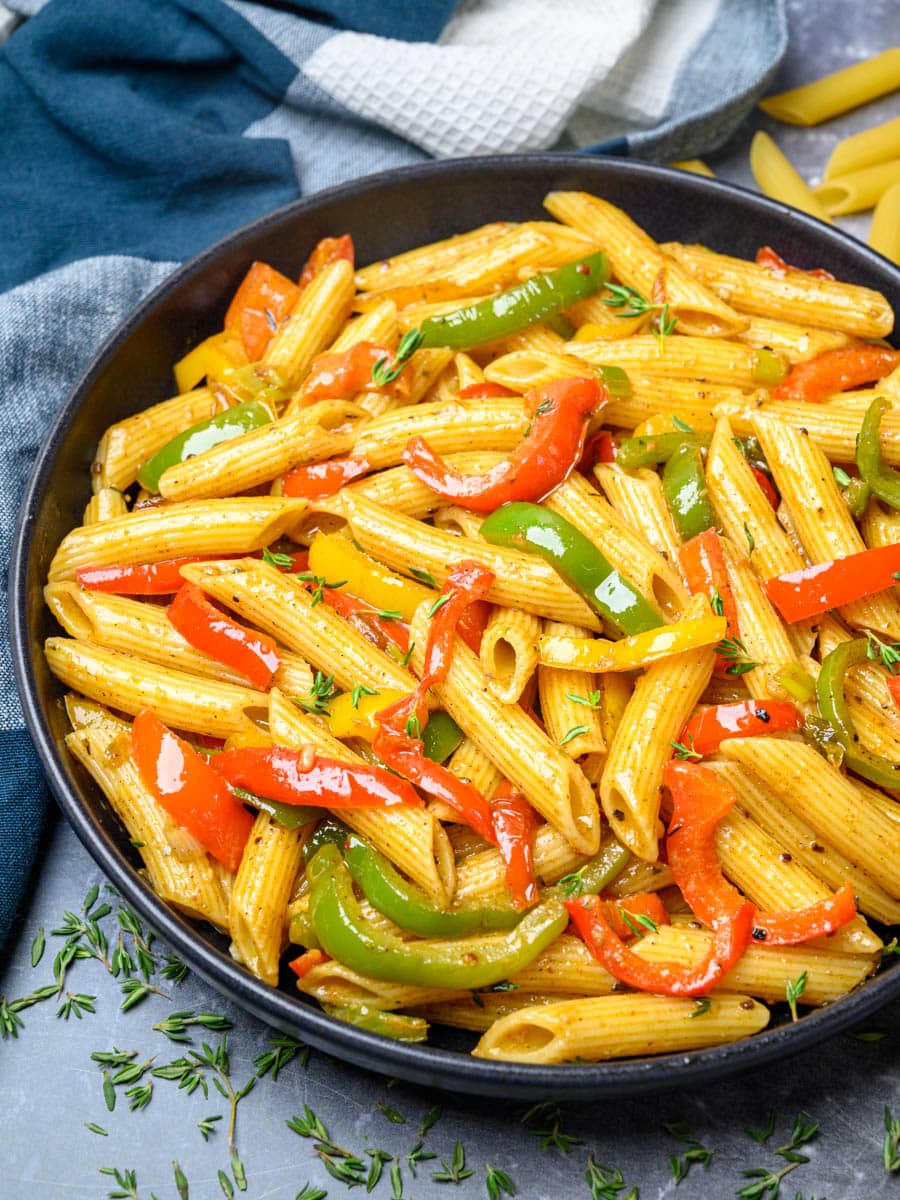 Fresh thyme - If you don't have fresh thyme, substitute with ½ teaspoon dried thyme.
Jerk seasoning - I used store-bought jerk seasoning to make this vegan rasta pasta for convenience. If you have your own preferred homemade mix, definitely use that instead.
Coconut milk - You'll need the creamy top part of a can of full-fat coconut milk. Scoop it out with a spoon and reserve the remaining contents of the coconut milk tin for other meals. It will keep well in the fridge for up to 3 days.
Plant-based parmesan - Use your favorite shop-bought or homemade plant-based parmesan cheese. I used the one from Violife here. You can substitute the vegan parmesan with nutritional yeast.
Pasta - I made this rasta pasta with penne pasta, but any other short pasta shape will do.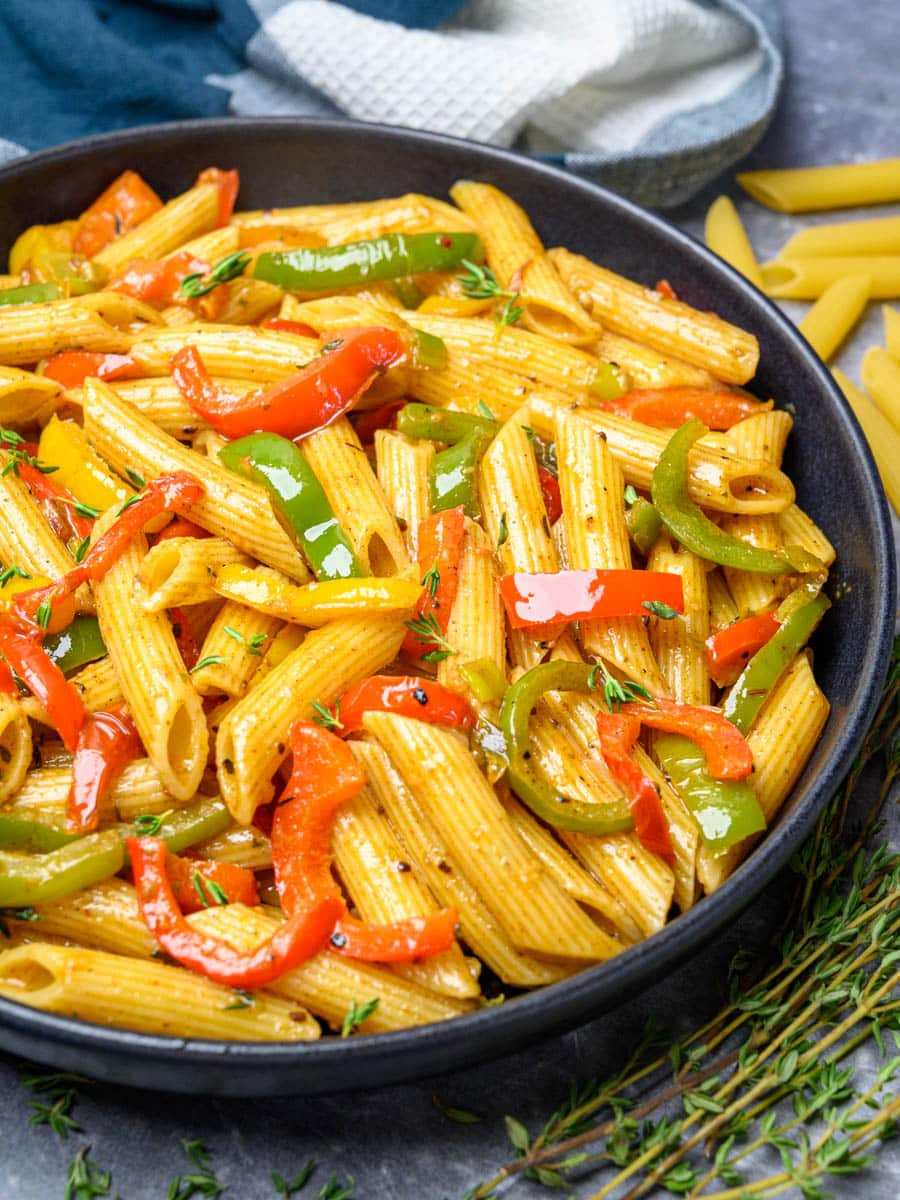 How to make rasta pasta vegan
Bring a large pot of pasta to a boil, salt it generously, and cook the pasta al dente according to the directions on the package. Reserve 1-2 cups of pasta water before draining.
Meanwhile, heat the olive oil in a large, deep pan and add the scallions and bell peppers. Cook for 8-10 minutes over medium heat, stirring occasionally, until the peppers have softened but still have a bit of a bite.
Stir in the garlic cloves and thyme and continue to cook for another minute.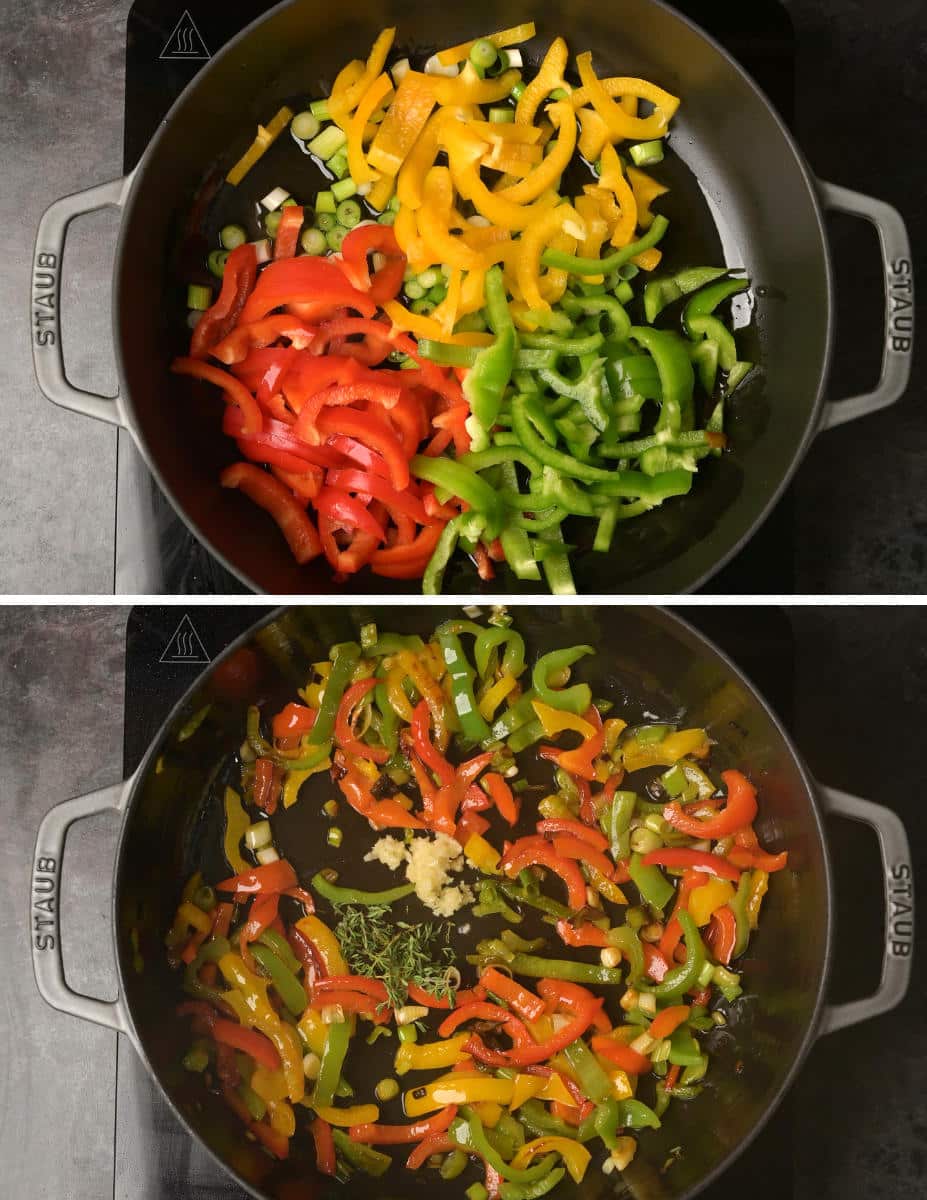 Add the jerk seasoning and stir to combine. Next, stir in the coconut milk and allow it to melt completely.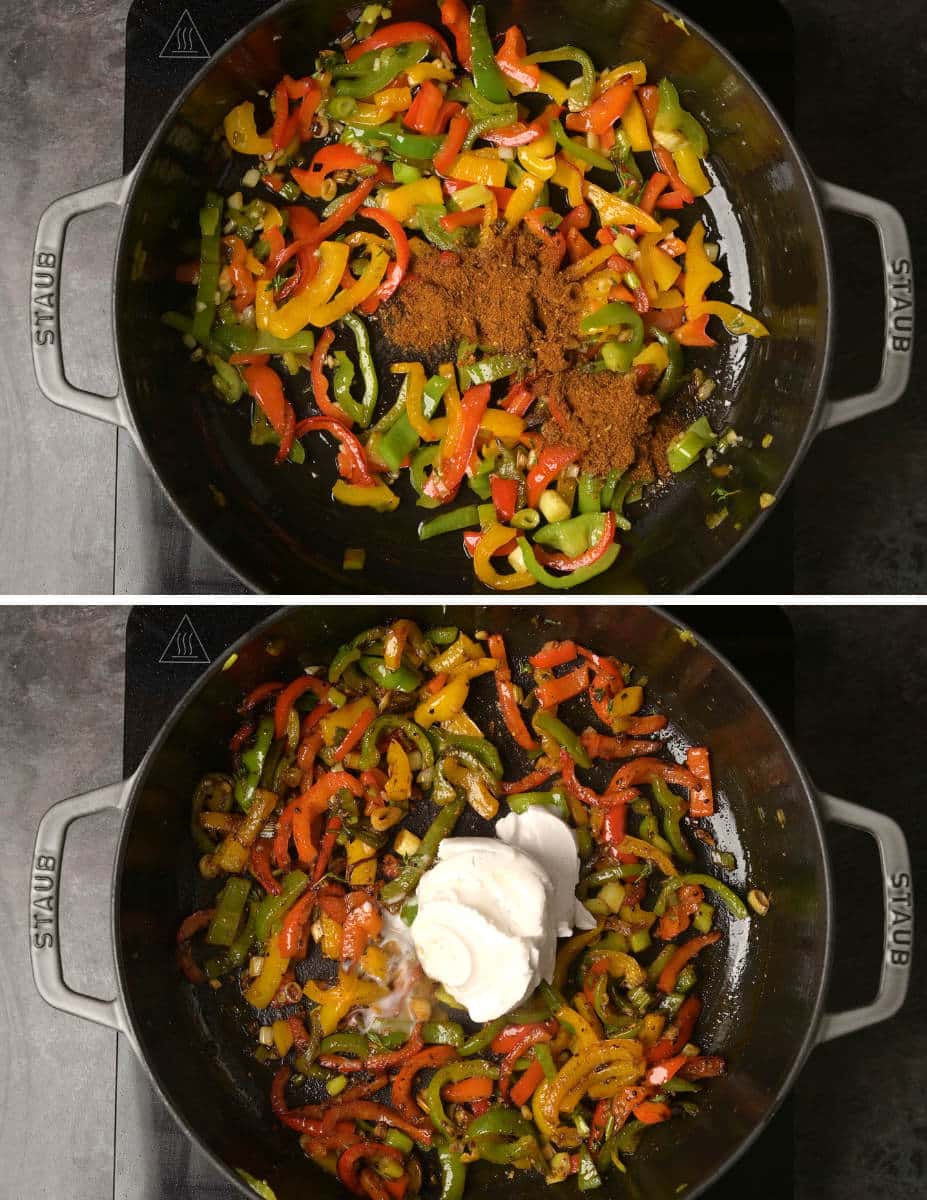 Stir in the vegetable broth and simmer for 1-2 minutes. Transfer the cooked pasta to the pan and toss well to cover it in the sauce.
Add the plant-based parmesan and stir to combine.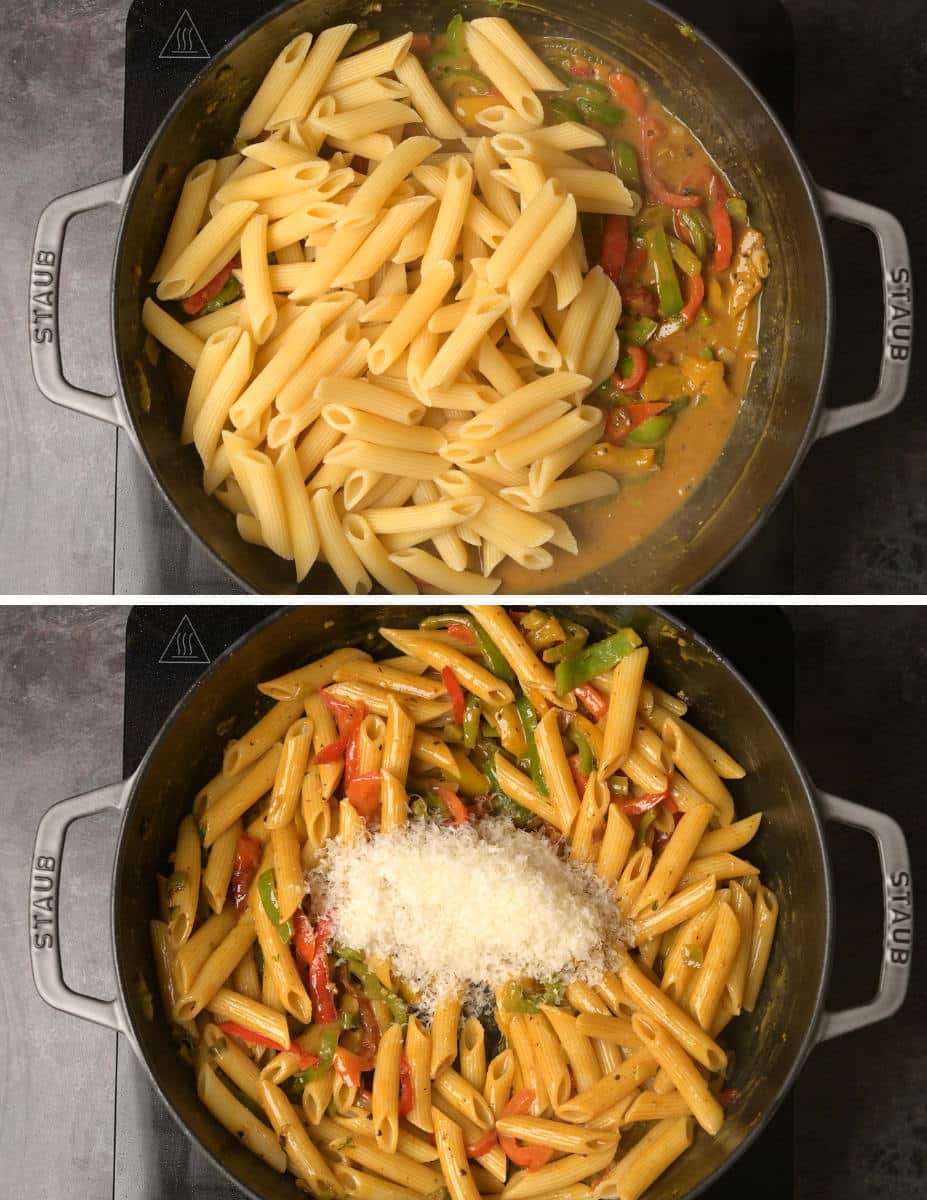 Season to taste with salt and black pepper and serve immediately, topped with some extra grated plant-based parmesan if you like.
Leftovers and storage
Recipe notes and tips
If you liked this vegan rasta pasta recipe, you might also like some of my other quick and easy plant-based pasta recipes:
Don't miss out on any new recipes! Follow Vegan Cocotte on Instagram, Facebook and Pinterest.