This creamy pasta with crispy tofu has a velvety sauce and delicious bits of tofu for the perfect combination of carbs and protein. It's also very easy to make, so you can put it together even on a busy day.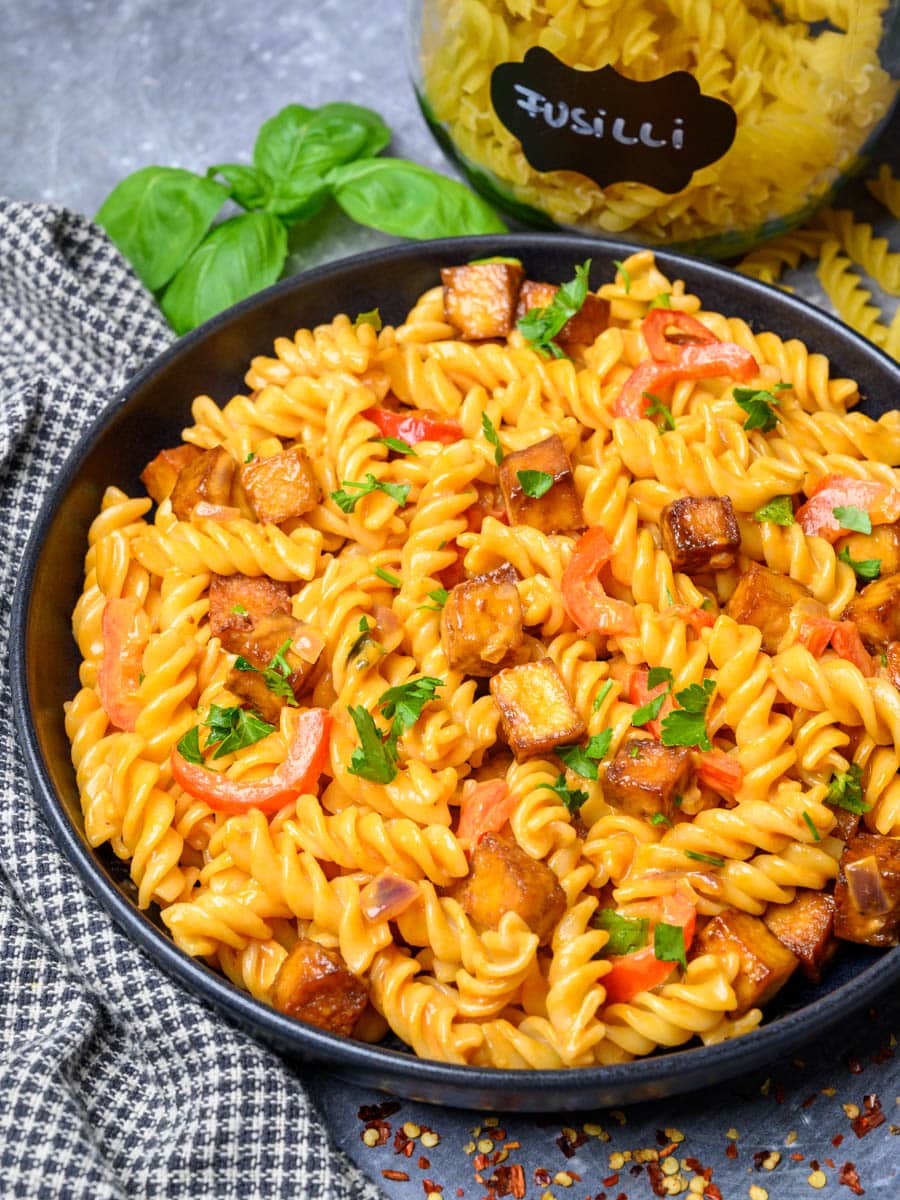 There's nothing quite like a delicious, creamy bowl of pasta to make any day better. This pasta with crispy tofu has all the elements needed to create a perfect treat.
Featuring crispy tofu bits and a smooth sauce made with tomato paste and coconut milk, this tofu pasta will definitely surprise your taste buds.
You can make the crispy tofu bits in the oven or use your air fryer. Making them in the air fryer following this recipe is quick and easy, and it's my favorite way to cook tofu.
Why you'll love this pasta with crispy tofu
It's very easy to make with just a handful of staple ingredients.
It tastes just like something you'd have at a plant-based restaurant.
You can easily add more veggies to make it your own.
Ingredients and substitutions
Tofu — Use extra firm tofu for best results when air frying or oven baking it. Press the tofu for at least 30 minutes before cutting it into cubes.
Olive oil — You'll need a tablespoon of olive oil to prepare the tofu and another one to saute the veggies in.
Onion — I like red onion in this pasta sauce, but you can also use shallots or yellow onion.
Bell pepper — Use any color bell pepper you want and add any other veggies you want, like zucchini, peas or mushrooms.
Garlic — Freshly chopped garlic is always best for flavor in this type of sauce. You can also mince or crush the garlic if you like.
Red chili flakes — Add more than the recommended amount if you want your sauce to be more fiery.
Tomato paste — Using concentrated tomato paste results in a very smooth sauce. If you don't mind it a bit chunkier, you can also add some diced tomatoes.
Coconut milk — Full-fat coconut milk is best for an extra creamy sauce.
Pasta — I used fusilli to make this pasta, but any other kind of short pasta would work just as well.
How to make vegan tofu pasta
Start by preparing the crispy tofu. Follow the instructions in this recipe to air fry it until crispy.
Alternatively, bake the tofu in the oven. Preheat the oven to 200°C (400°F) and cover a baking sheet with parchment paper.
Add the tofu cubes to a mixing bowl together with 1 tablespoon of olive oil, salt and pepper. Toss gently until the tofu is coated evenly. Arrange the tofu bits in a single layer on the prepared baking sheet. Bake for 15-20 minutes until crispy, flipping them halfway through.
While the tofu is cooking, bring a large pot of water to a boil, salt it generously and cook the pasta al dente according to the instructions on the package.
Meanwhile, heat the remaining olive oil in a large, deep pan and fry the red onion and bell pepper over medium heat for 4-5 minutes until softened.
Stir in the garlic and red chili flakes and cook for another minute.
Next, stir in the tomato paste and coconut milk and bring to a boil. Lower the heat and simmer for 7-8 minutes until the sauce thickens.
Transfer the cooked pasta to the pan and toss to combine. Stir in the crispy tofu and fresh parsley, season to taste and serve immediately.
Recipe notes and tips
This pasta with crispy tofu is best served immediately. If you have any leftovers, you can reheat them in the microwave. The tofu is likely to get soggy, though.
Add 1 tablespoon tamari or soy sauce to the tofu cubes before roasting/air frying them for extra flavor.
You can add broccoli, mushrooms, bell peppers, garden peas or any other veggies you want to this pasta with tofu.
Stir in a tablespoon of nutritional yeast for a cheesy-like flavor. Alternatively, sprinkle individual bowls with some grated plant-based parmesan right before serving.
If you liked this creamy pasta with crispy tofu recipe, you might also like some of my other easy vegan pasta recipes:
Don't miss out on any new recipes! Follow Vegan Cocotte on Instagram, Facebook and Pinterest.