This vegan chickpea chili is comforting, warming and loaded with veggies. It's quick and easy to make in one pot, and it's living proof you don't need any meat for a filling and satisfying chili.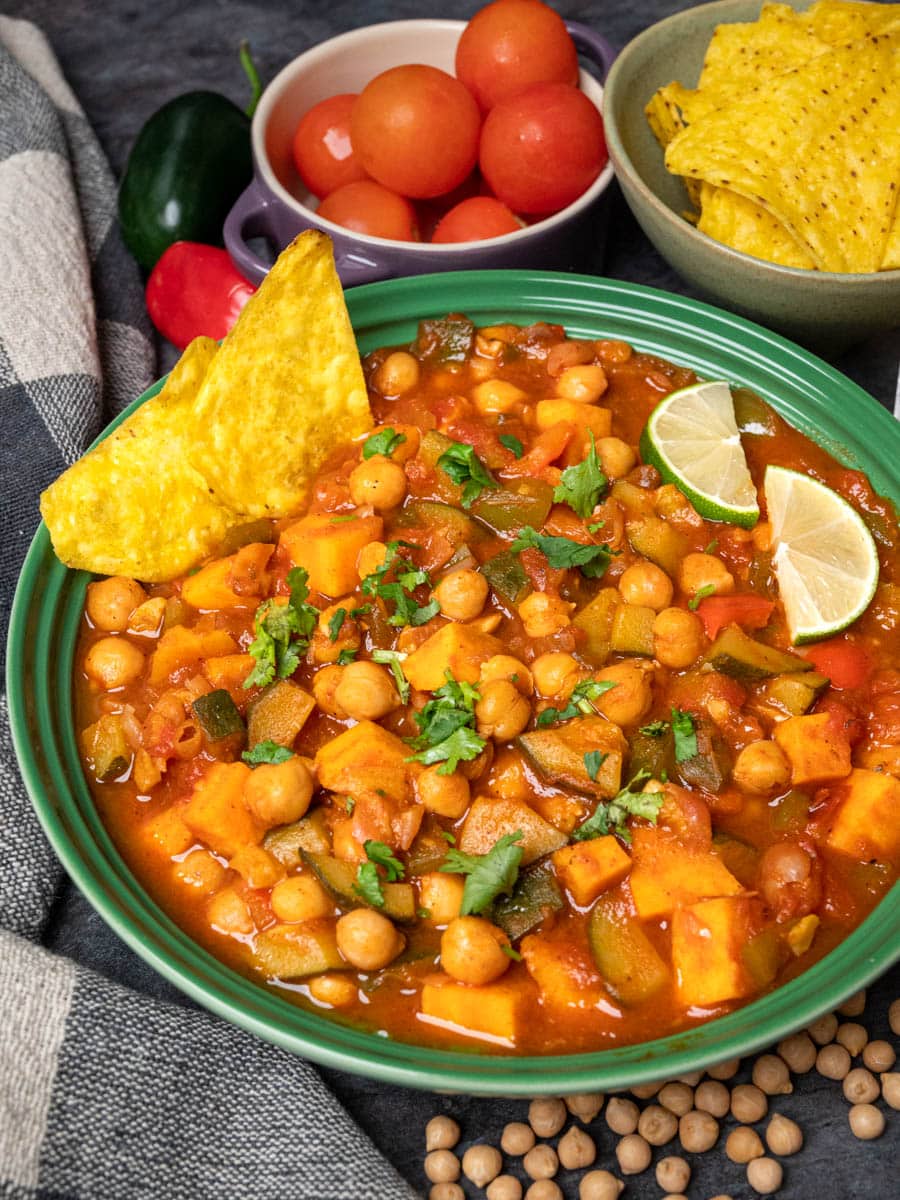 Chilli is the ultimate comfort food and just the best dinner to enjoy on a cold winter night. This naturally vegan chili has chickpeas instead of beans, but it's still packed with protein and utterly delicious.
It's just the perfect recipe to try on a busy weeknight or whenever you're craving a bowl of comfort food that's ready in just over half an hour.
This chili with chickpeas is also very easy to customize so you can truly make it your own by playing with the spices and veggie combinations.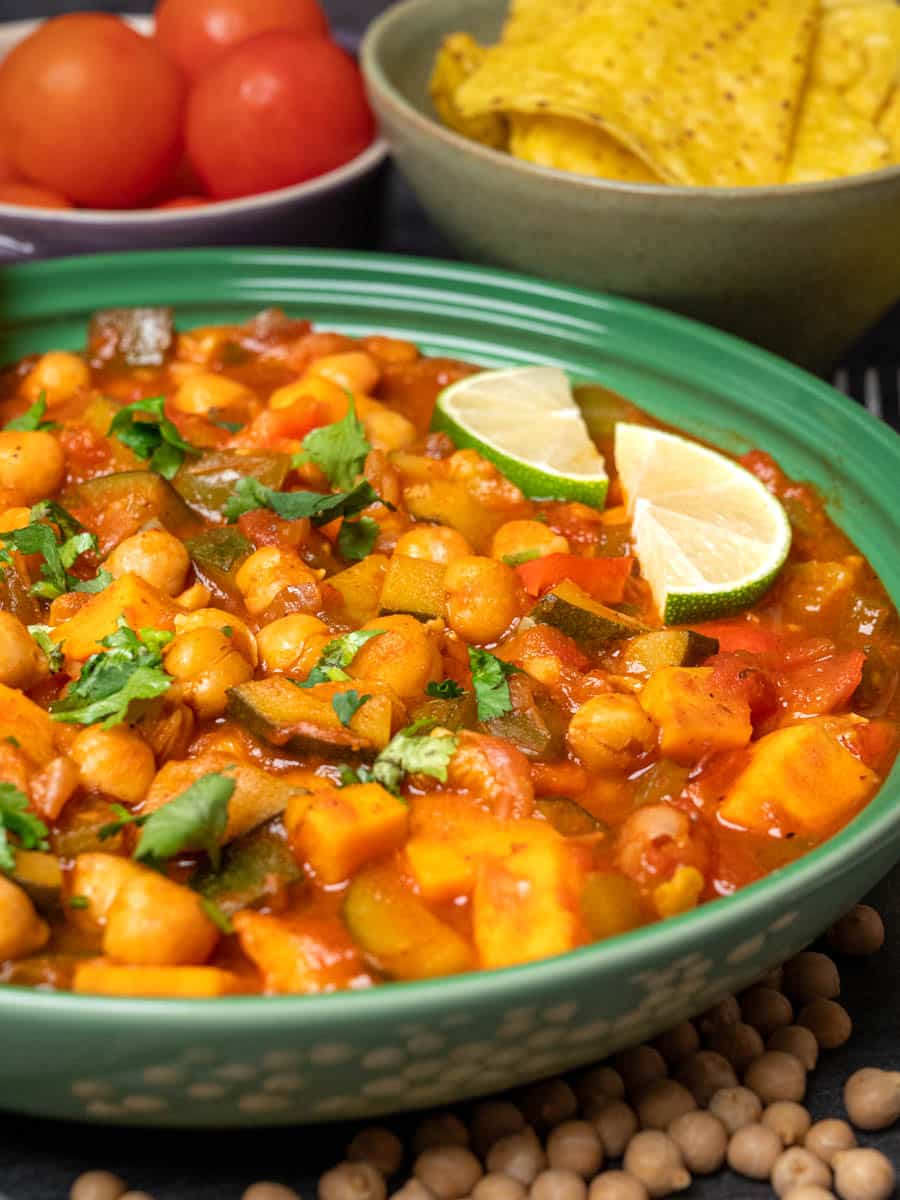 Ingredients and substitutions
Olive oil — You can skip the olive oil if you don't want to cook with oil, but you'll be missing out on flavour. If you do skip it, use some water or veggie stock instead.
Onion — Yellow onion is what I use for this chili, but you can also use red onion or even shallots.
Bell peppers — A mix of colours is great for this chili with chickpeas. I used red and green bell peppers, but any combination will work.
Garlic — Fresh garlic will infuse your chili with a wonderful aroma, but if you don't have any, you can use frozen chopped garlic instead.
Red chili pepper— A small red or green chili pepper will add some kick to this chickpea chili. if you want to keep things on the mild side, you can leave it out.
Spices and herbs — My mix of spices and herbs for chickpea chili includes ground cumin, dried oregano and chili powder. I use a medium chili powder, so the final result is not too spicy, but you can use a hot version if you want your chili to be more fiery.
Chopped tomatoes — A can of chopped or crushed tomatoes is all you need for this vegan chickpea chili.
Sweet potato — A medium sweet potato should be enough for this chili. That's the equivalent of 250-300 g (1 full cup) of sweet potato cubes.
Zucchini — You don't have to peel or scrape the zucchinis for this recipe, particularly if they're organic.
Chickpeas — I use canned chickpeas in this chili for extra convenience, but you can also use dry chickpeas that you soak overnight.
Vegetable stock — As usual, it's best to use homemade vegetable stock. If you go for shop-bought, make sure you choose a vegan-friendly type.
How do you make vegan chickpea chili?
Heat the olive oil in a heavy-bottomed pot and saute the red onion and peppers for 5-6 minutes over medium heat until softened.
Next, stir in the garlic, red chili pepper, ground cumin, oregano and chilli powder and continue to cook for a minute.
Add the tomato paste and cook, stirring continuously, for another minute. Stir in the chopped tomatoes, sweet potato, zucchini, chickpeas and stock. Bring to boil, then lower the heat, cover with a lid and simmer for 20 minutes.
Season to taste and serve topped with fresh coriander and tortilla chips, if you like.
Recipe notes and tips
This chickpea chili will keep well in the fridge for 3 to 5 days in an airtight container. You can reheat it on the stove or in the microwave.
You can add other veggies such as eggplant or yellow squash to this chili. You can also make it with a mix of chickpeas and red kidney or cannellini beans for an extra protein boost.
You can serve chickpea chili with tortilla chips or cornbread—both pair great with the spices in the chili.
If you liked this vegan chickpea chili, you might also like some of my other easy vegan recipes:
Don't miss out on any new recipes! Follow Vegan Cocotte on Instagram, Facebook and Pinterest.