Tuscan minestrone soup with orzo is a hearty dish that's bursting with flavour and super easy to make. It's just the perfect bowl of comfort for those moments when you want something packed with veggies, but you're also craving some carbs!
This Tuscan minestrone soup with orzo is a naturally vegan dish that's perfect for those days when you want a veggie-loaded dinner that already has some carbs in it.
I love this orzo minestrone because it's a highly versatile recipe that you can use as a canvas to add just about any veggies you want.
This minestrone with orzo marries the classic ingredients of Tuscan soups, including garlic, herbs, tomatoes, and black kale. The addition of orzo and lemon juice makes it just a bit extra special.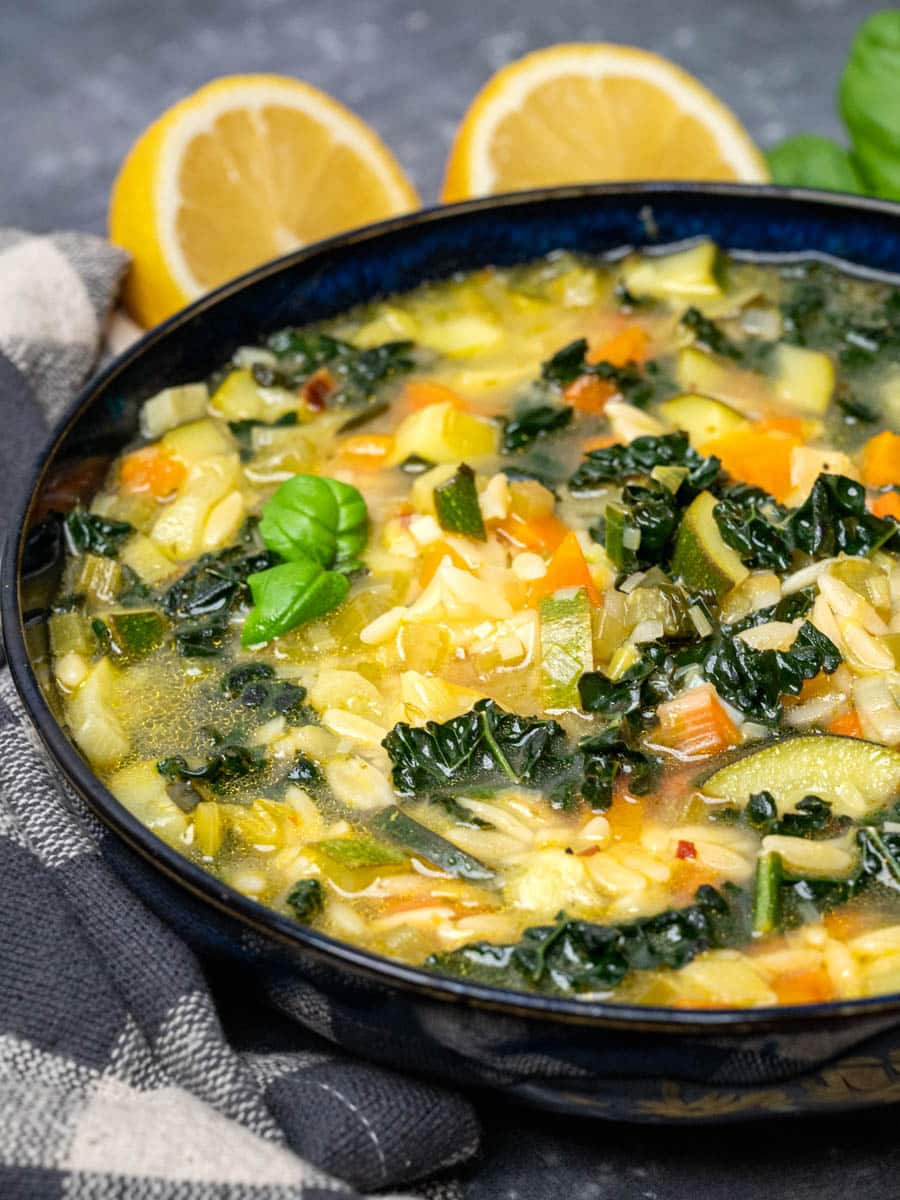 Ingredients and substitutions
Olive oil — A bit of quality extra virgin olive oil will infuse this soup with an excellent flavour. If you don't want to cook with oil, you can sauté the veggies in some vegetable stock instead.
Leek, carrot and celery — This aromatic mix of veggies forms a delicious base for this Tuscan minestrone soup. You can substitute the leek with onion or shallots.
Garlic — I prefer to use fresh garlic in all recipes because it has the best flavour. However, if you only have frozen or jarred garlic, you can use that instead.
Oregano — I love the flavour of oregano in this minestrone soup recipe. You can add some other herbs such as dried thyme or sage or use an Italian seasoning mix instead.
Red chilli flakes — The soup will have just a bit of a kick from a small amount of red chilli flakes. You can skip this if you want or up the quantity if you want the soup to be even fiercer.
Courgette (zucchini) — You don't have to peel the courgette for this minestrone — simply wash it and dice it into bite-size chunks.
Orzo — You can play with the orzo quantities and make the minestrone as thick as you want. However, keep in mind that you should also adjust the liquid accordingly. You should aim for a ratio of 1/10 orzo to liquid.
Vegetable stock — Homemade stock is the best, but if you're using shop-bought, make sure it's a vegan one.
Lemon juice — The lemon juice brightens up this Tuscan minestrone soup and fills it with zesty flavour. If you're not a fan, you can skip it or use just a bit instead of an entire lemon.
Tuscan kale — Kale is perfect for this orzo minestrone, but if you're not a fan, you can substitute it with fresh spinach.
How do you make Tuscan minestrone soup with orzo?
Heat the olive oil in a large, heavy-bottomed pot and saute the leek, carrot and ribs for 4-5 minutes over medium heat.
Stir in the garlic, oregano, and red chilli flakes and continue to cook for another minute until fragrant.
Add the courgette, fresh basil, orzo and vegetable stock and stir to combine. Bring the soup to a boil, then lower the heat and simmer for 10-12 minutes or until the orzo is al dente.
Stir in the lemon juice and kale and simmer for 2-3 more minutes until the kale has wilted.
Season to taste and serve with extra lemon juice and your favourite crusty bread.
Recipe notes and tips
Minestrone is a great soup to make when you want to use up any leftover veggies. Butternut squash, peas or green beans are all great ideas. You can also add some cubed potatoes to make it extra hearty.
Give this soup a protein boost by throwing in a can of white beans or chickpeas too.
This minestrone soup with orzo tastes even better the next day because the flavours have more time to settle. The orzo will continue to absorb the liquid, so you'll need to add a bit more veggie stock or water to reheat it.
The soup will keep well in the fridge for up to 3 days in an airtight container. Unless you make it without the orzo, I don't recommend freezing it.
If you liked this Tuscan minestrone soup with orzo, you might also like some of my other easy vegan soups:
Don't miss out on any new recipes! Follow Vegan Cocotte on Instagram, Facebook and Pinterest.