This vegan wild rice soup is super easy to make in the Instant Pot, and the result is super creamy and flavourful. This soup is just the perfect plant-based treat to warm your soul on a cold winter night!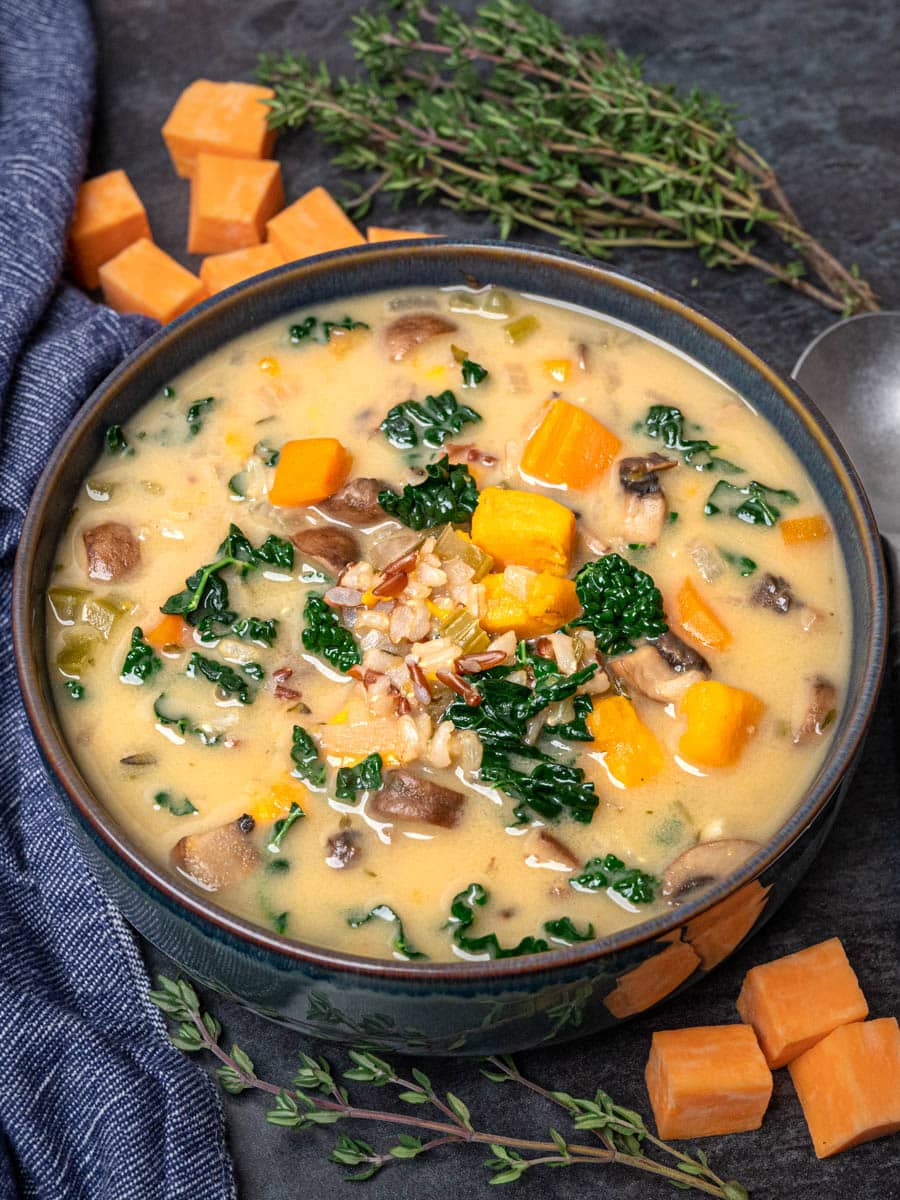 Hearty soups are my jam, and this vegan wild rice soup is one of my favourite winter recipes. Wild rice takes a lot longer to cook than regular rice and that's why I use my trusty Instant Pot to make it.
Plus, when you make a rice soup in the Instant Pot, you don't have to babysit the pot and be careful about rice sticking to the bottom — you just set it and forget about it until you hear a beep.
This wild rice mushroom soup is naturally vegan and extra creamy, thanks to the addition of coconut milk. It's also highly customizable, and you can actually make it with any other veggies you want.
Ingredients and substitutions
Olive oil — Sauteeing the veggies in a bit of extra virgin olive oil is the best way to infuse this soup with loads of flavour. If you don't cook with oil, you can use a bit of water or veggie stock instead.
Onion and garlic — Use freshly chopped onion and garlic for this rice soup to get the best flavours. Frozen works, too, but the flavour just won't be the same.
Mushrooms — I make this soup with chestnut mushrooms but feel free to use any other kind you like. Portobello mushrooms might make the soup a bit darker in colour, but they still taste fantastic here.
Fresh herbs — Fresh thyme and rosemary make this soup truly special, but if you don't have them on hand, you can substitute them with one teaspoon each of dried herbs instead.
Sweet potatoes — You can substitute sweet potatoes with butternut squash or even regular potatoes.
Wild rice mix — You can make this vegan mushroom wild rice soup with 100% wild rice, but that's often more difficult to find and definitely more expensive. A wild rice mix is just perfect instead, and that's what I typically use.
Coconut milk — Full-fat coconut milk will make this soup extra creamy, but you can use light coconut milk instead if you want to cut down on calories.
Cavolo nero (Tuscan kale) — I'm a massive fan of kale, but since it's not everyone's cup of tea, you can easily substitute it with baby spinach or collard greens.
How do you make vegan wild rice soup in the Instant Pot?
Set the Instant Pot to "Saute" and heat the olive oil. Add the onion and saute it for 1-2 minutes until it softens slightly.
Add the mushrooms and garlic, continue cooking for 2-3 minutes, then stir in the carrot and celery.
Cook for another minute, then stir in the fresh thyme, fresh rosemary, sweet potato, wild rice and vegetable stock. Turn off the "Saute" mode.
Set the Instant Pot to High for 25 minutes. When the Instant Pot beeps, perform a quick release.
Remove the lid when the pin drops and stir in the coconut milk and kale or spinach. Put the lid back for 2-3 minutes to allow the kale to wilt.
Season to taste and serve with croutons or your favourite crusty bread.
Recipe notes and tips
To make the soup thicker, you can stir in 1-2 tablespoons plain flour after sauteeing the mushrooms.
You can deglaze the pot with a bit of dry white wine before adding the carrot and celery. This will add some extra flavour to the soup.
This vegan mushroom and wild rice soup is hearty enough to serve on its own, but you can also serve with croutons, garlic bread or just some simple toast.
The soup will keep well in the fridge for up to three days in an airtight container. You can also freeze it for up to three months. You may need to add a bit of water or veggie stock when reheating it.
If you liked this vegan wild rice soup, you might also like some of my other easy vegan Instant Pot recipes:
Don't miss out on any new recipes! Follow Vegan Cocotte on Instagram, Facebook and Pinterest.