Warm up with a comforting bowl of Instant Pot mushroom rice soup! This easy and delicious recipe is made with a mix of mushrooms for extra flavor, and it's perfect for a weeknight dinner or a cozy lunch.
When the weather starts to cool down, there's nothing quite like a warm bowl of homemade soup. Not only is it more nutritious than canned soup, but the flavor is also much more satisfying.
This Instant Pot mushroom rice soup is filled with flavorful mushrooms, aromatic vegetables and herbs.
The wild rice adds a hearty texture and earthy taste, and even though it typically takes a lot of time to cook, the Instant Pot reduces the time considerably.
This is also the perfect wild rice soup to make if you have a mix of mushrooms on hand and want to use them in the tastiest way.
I made it with a mix of crimini (chestnut) and shiitake mushrooms for variety in flavor but just about any mix would do.
Why you'll love this mushroom rice soup
Ingredients and substitutions
Olive oil — You need just a bit of olive oil to sauté the vegetables. You can substitute it with any other oil that can withstand high heat, such as avocado oil or vegetable oil.
Onion — Yellow and red onions both work here, but you can also use leeks or shallots.
Carrot — Diced carrots add sweetness and texture to the soup. If you don't have carrots, you can substitute them with other root vegetables like sweet potato or parsnips.
Celery — Diced celery adds a subtle crunch and freshness to this wild rice mushroom soup.
Mixed mushrooms — I used a mix of crimini (chestnut) and shiitake mushrooms for extra flavor.
You can use any type of fresh mushrooms you like or have on hand, such as button, portobello, or oyster mushrooms.
Dried mushrooms such as porcini mushrooms are another great idea.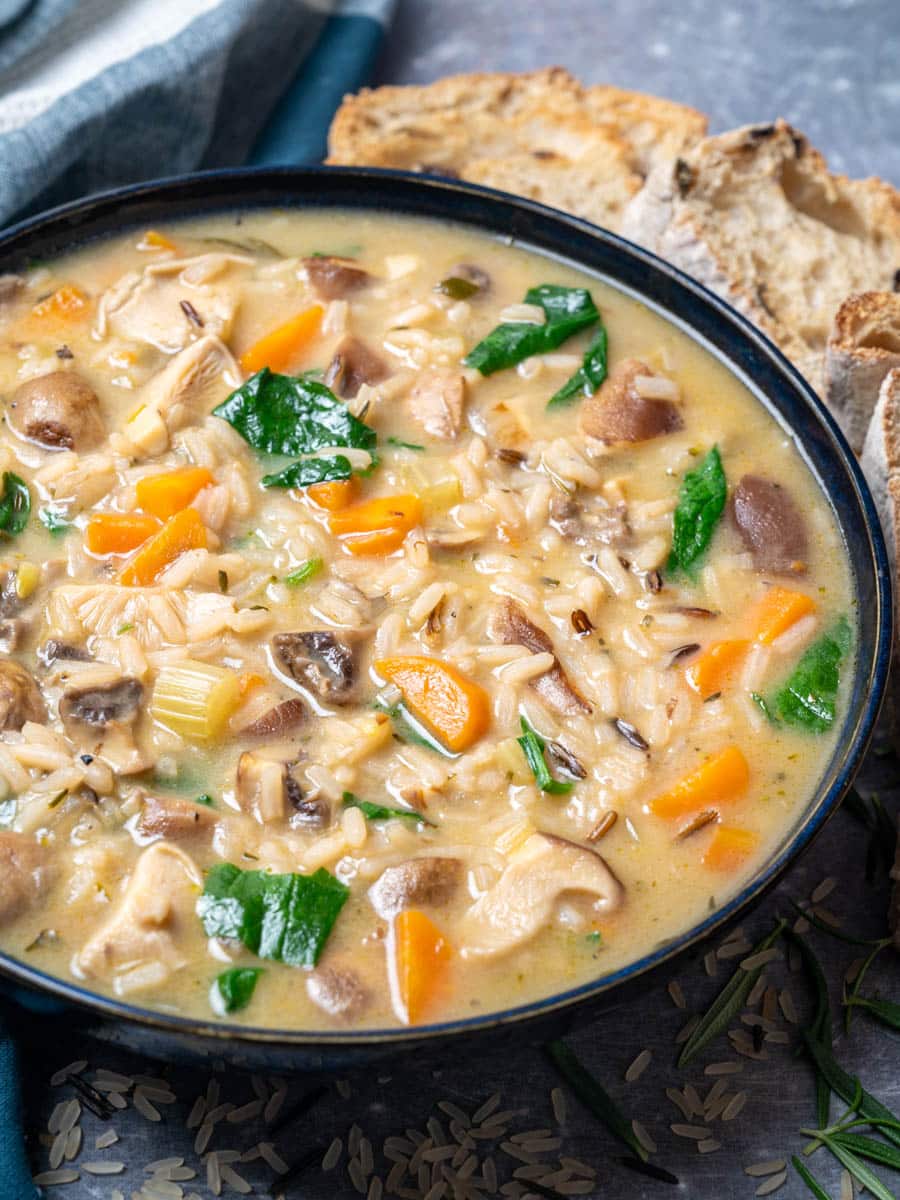 Garlic — Feel free to add more garlic if you like. Freshly minced or grated is always best!
Fresh thyme and rosemary — These fresh herbs give this mushroom soup an earthy flavor. You can use half a teaspoon each of dried rosemary and thyme if you don't have fresh herbs.
Wild rice mix — Wild rice mix is a combination of wild rice, brown rice and other grains. You can use any other type of rice or grain, such as brown rice, quinoa, or farro.
Coconut cream — This will make the wild mushroom soup extra creamy and delicious. You can also use your favorite cashew cream here.
Baby spinach — Add some baby spinach at the end for extra brightness and vitamins. You can substitute it with another type of leafy green, such as kale or chard.
How to make Instant Pot mushroom rice soup
Turn on the Instant Pot and set it to "sauté" mode. Add the olive oil and allow it to heat up.
Add the diced onion, carrot, and celery and sauté for 4-5 minutes until the vegetables are softened.
Next, add the sliced mushrooms and cook for 2-3 minutes until they reduce a bit in size.
Stir in the garlic, rosemary, and thyme and sauté for another minute.
Add the wild rice mix and vegetable broth. Stir well and make sure the rice is completely submerged in the liquid.
Close the lid of the Instant Pot and set the valve to "sealing." Set the Instant Pot to "High" Pressure Cooking for 20 minutes.
Once the cooking time is up, quick release the pressure by turning the valve to "venting."
Open the lid and stir in the coconut cream and baby spinach.
Season with salt and pepper to taste and serve hot.
Leftovers and storage
Recipe notes and tips
If you liked this Instant Pot mushroom rice soup, you might also like some of my other easy vegan Instant Pot recipes:
Don't miss out on any new recipes! Follow Vegan Cocotte on Instagram, Facebook and Pinterest.