This Instant Pot sweet potato curry is a light yet super satisfying dish that's just perfect for a quick weeknight dinner. Besides being delicious and full of protein and fiber, this budget-friendly vegan curry can be on the table in 20 minutes!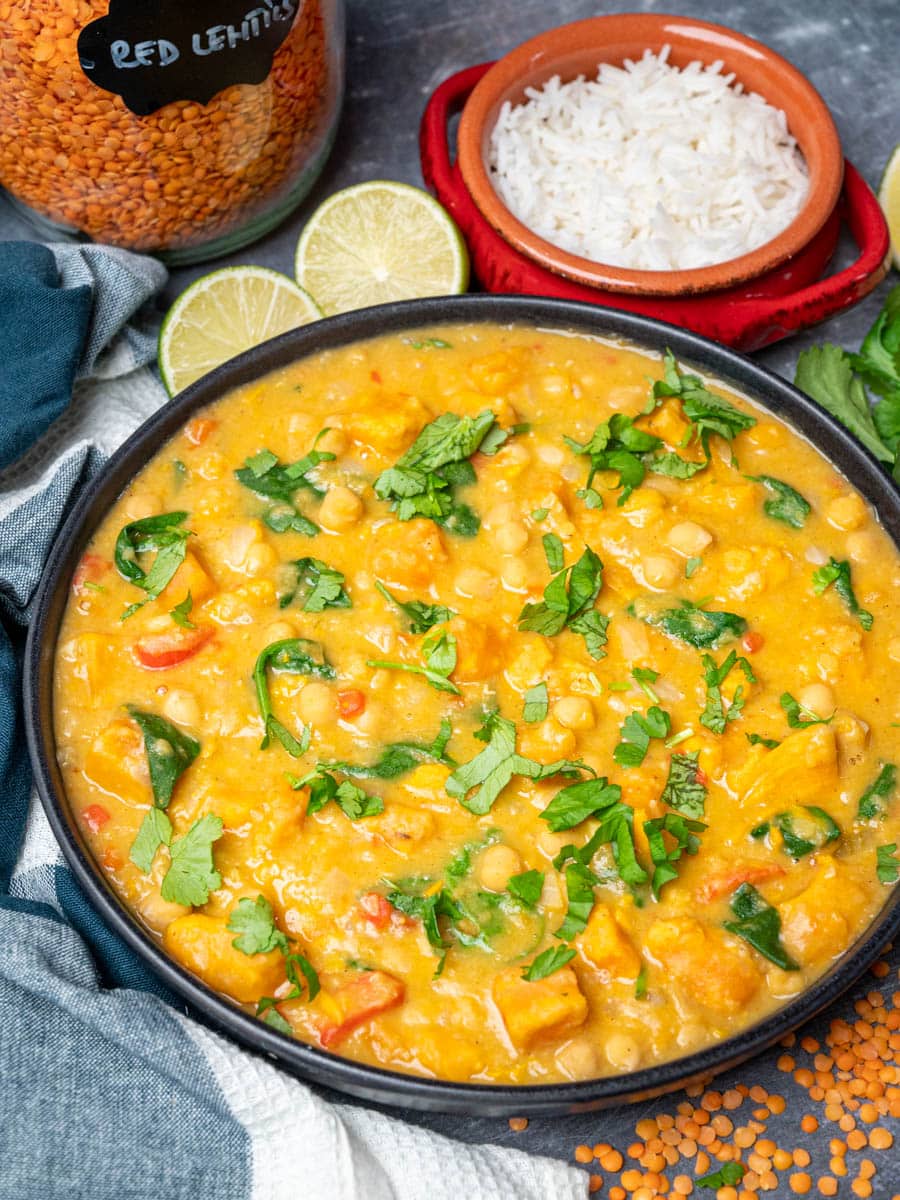 Sweet potatoes, red lentils and chickpeas make a smashing curry combination, and this Instant Pot sweet potato curry is proof.
The sweetness of the potatoes pairs perfectly with the mildly spicy curry sauce that's made creamy with coconut milk. And since it's cooked in the Instant pot, this vegan sweet potato curry only takes about 20 minutes to make.
This is also a cheap dish made with staple ingredients that you may already have in the pantry. The curry is quite versatile, and you can add other veggies to use up any leftovers you may have in the fridge.
Why you'll love this Instant Pot sweet potato curry
It's super easy to make in 20 minutes, thanks to the magic of pressure cooking.
You only need simple, affordable ingredients to make it.
It's an excellent alternative to ordering Indian food in — so much cheaper and better for you!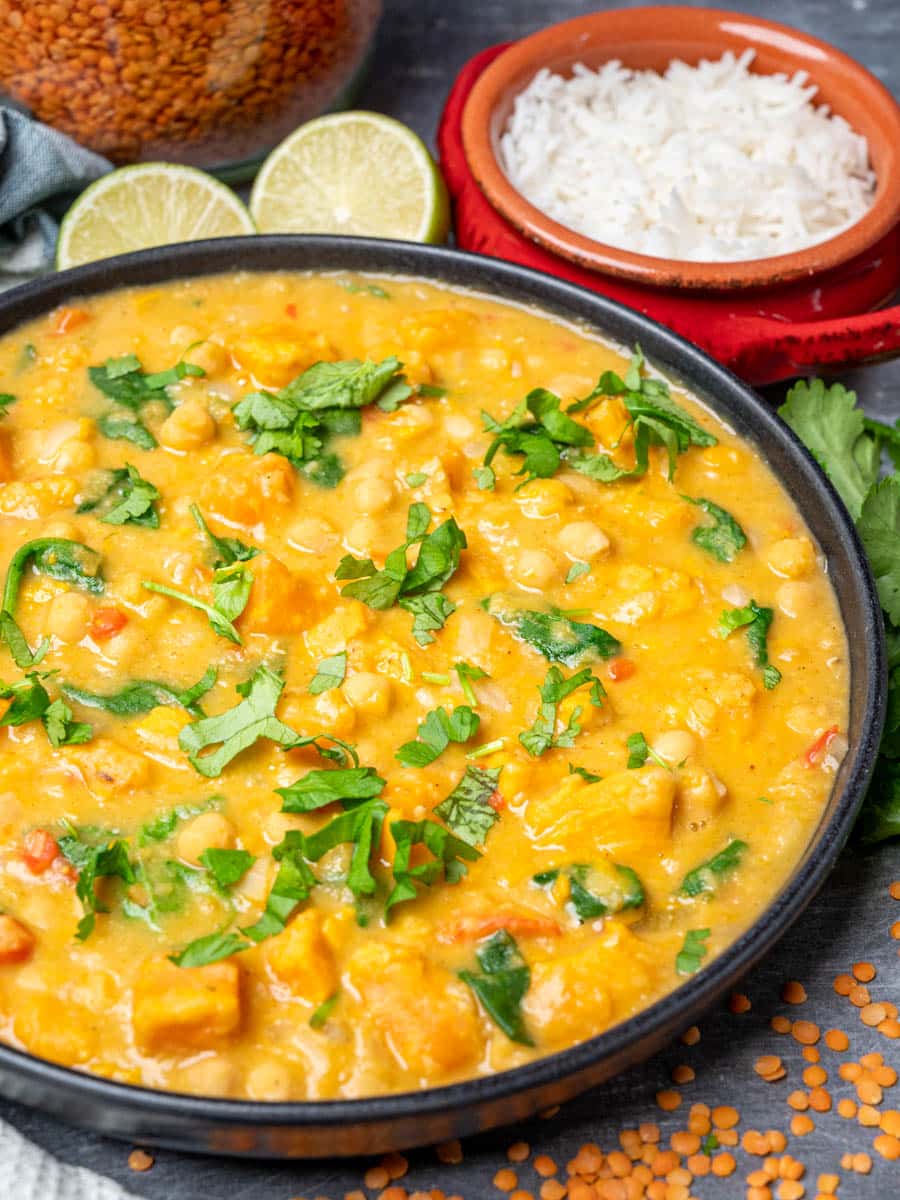 What goes into this vegan sweet potato curry
Olive oil — You'll need a bit of extra virgin olive oil to saute the veggies in. Coconut oil is another good choice for this curry.
Onion — Yellow and red onion both work well here.
Garlic and ginger — Freshly chopped or minced garlic and ginger are always best in curries, but if you don't have them on hand, substitute with 1-2 tablespoons of garlic ginger paste.
Spices — I used a mix of ground cumin, ground coriander and mild chili powder in this sweet potato chickpea curry.
If you want the curry to be fiery, use hot chili powder. Alternatively, add some red chili flakes or cayenne pepper.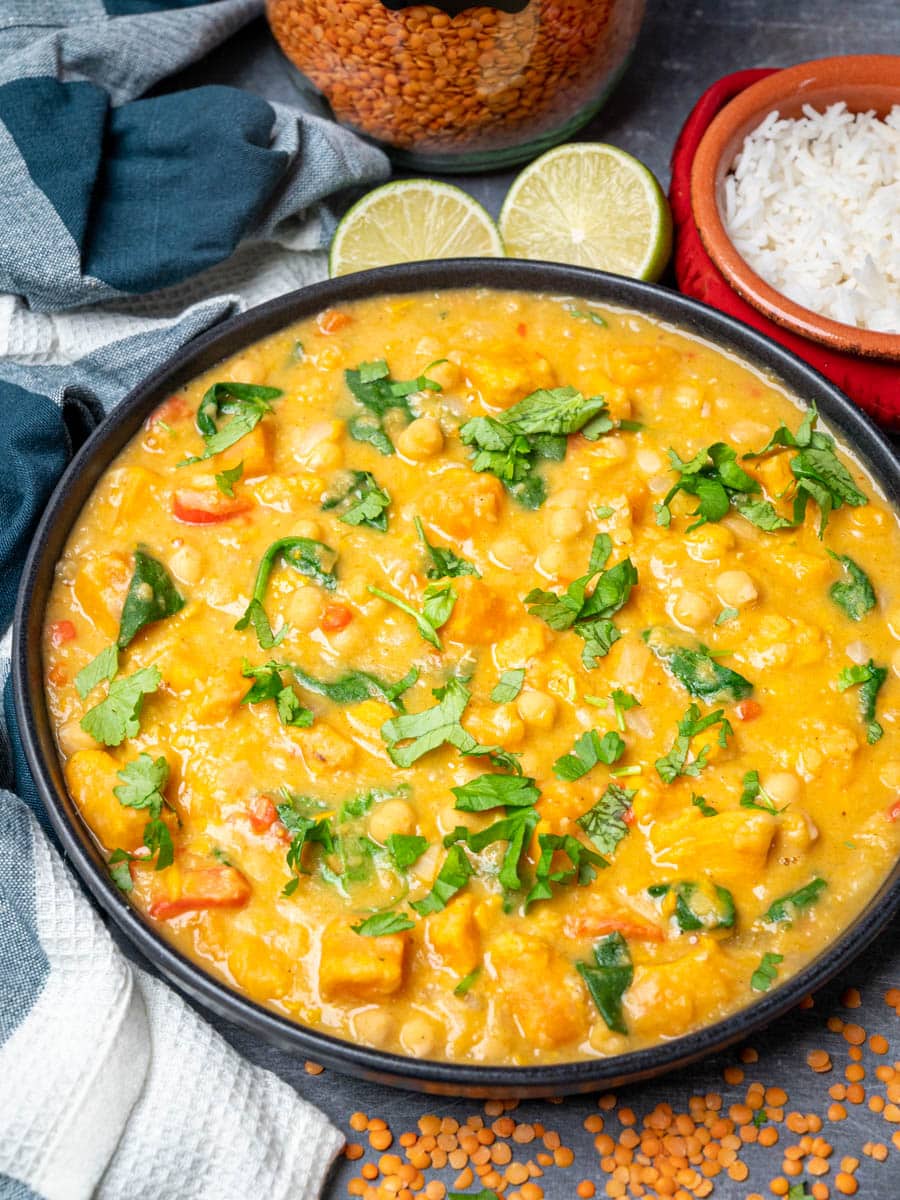 Sweet potatoes — Cut the sweet potatoes into larger chunks if you don't want them to be too mushy.
Red pepper — I used a red bell pepper in this curry, but any other color would do.
Red lentils — Don't substitute red split lentils with dry green or brown lentils because the cooking times are different.
If you want to use different lentils, opt for canned green lentils that are already cooked.
Chickpeas — Canned chickpeas are perfect in this curry for convenience.
Coconut milk — You only need the creamy top of a can of full-fat coconut milk to make this curry creamy.
Baby spinach — I love baby spinach in this curry, but other leafy greens such as kale or Swiss chard are other good options.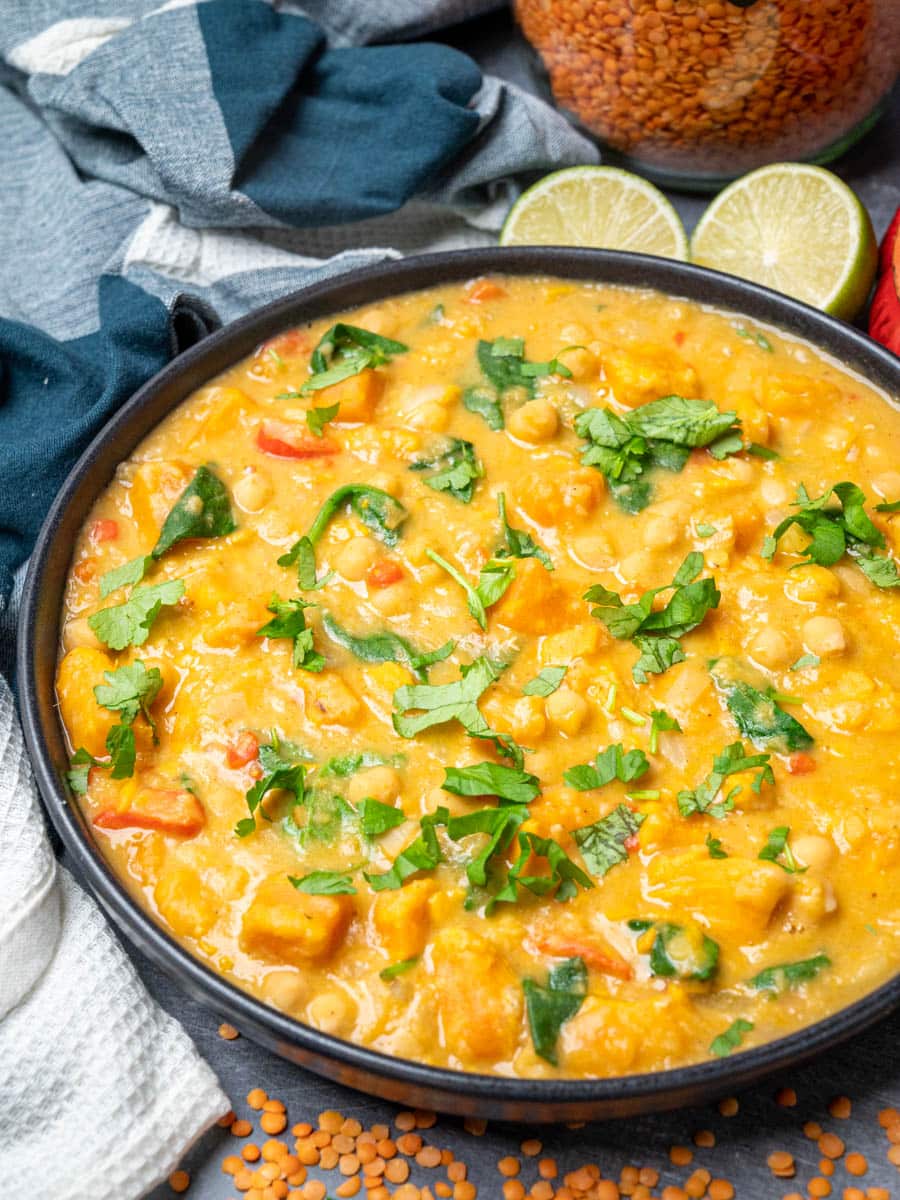 How to make sweet potato curry in the Instant Pot
Set the Instant Pot to "Sauté" and add the olive oil. Once the oil is hot, add the onion and sauté for 1-2 minutes.
Stir in the garlic, ginger and red chili pepper and continue to cook for another minute.
Next, add the ground cumin, ground coriander and mild chili powder and cook for a further minute, stirring often. Turn off the "Sauté" function.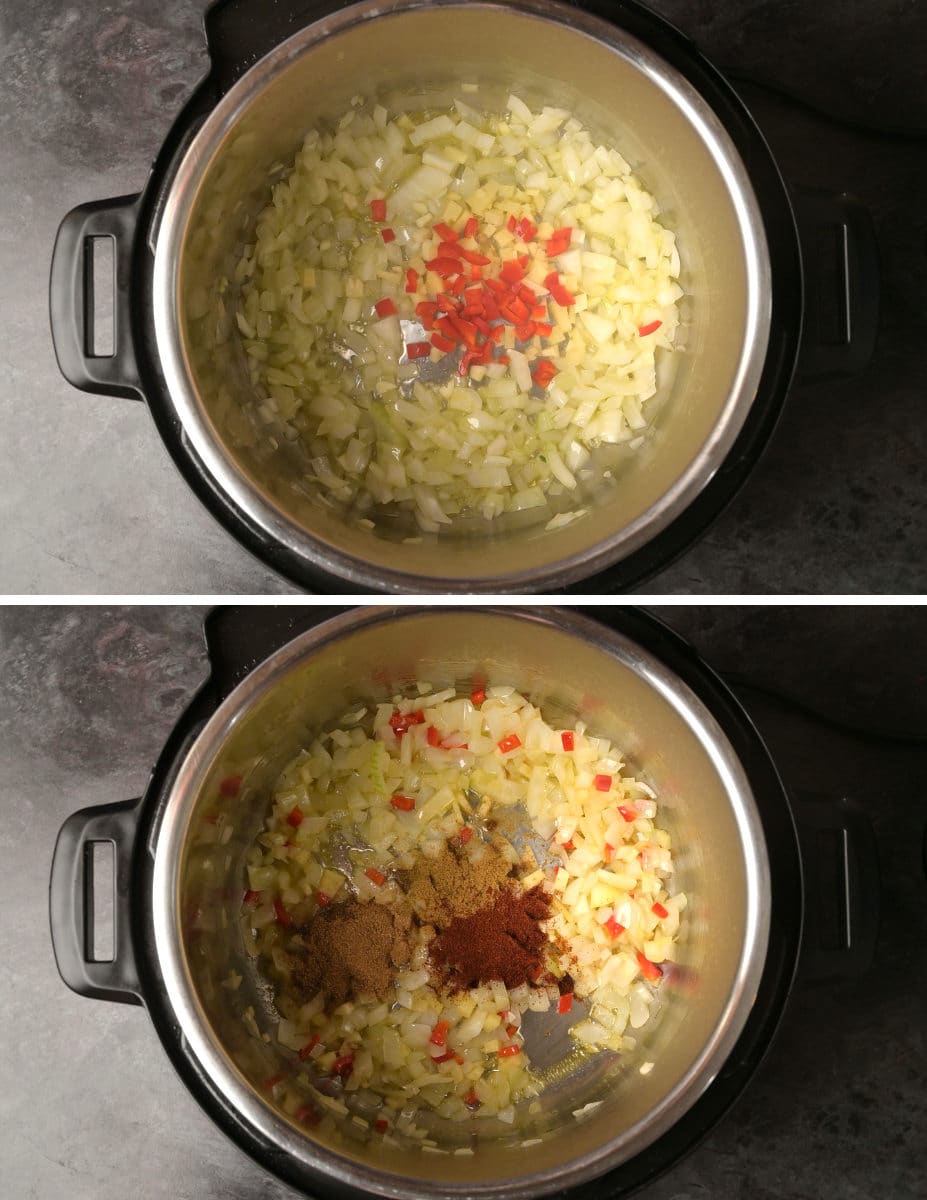 Add the sweet potatoes, red pepper, red lentils, chickpeas and vegetable stock. Secure the lid on the Instant Pot and set it to "High Pressure" for 1 minute.
When the time is done, allow the pressure to release naturally for 3 minutes before turning the valve to "Venting" to release the remaining pressure.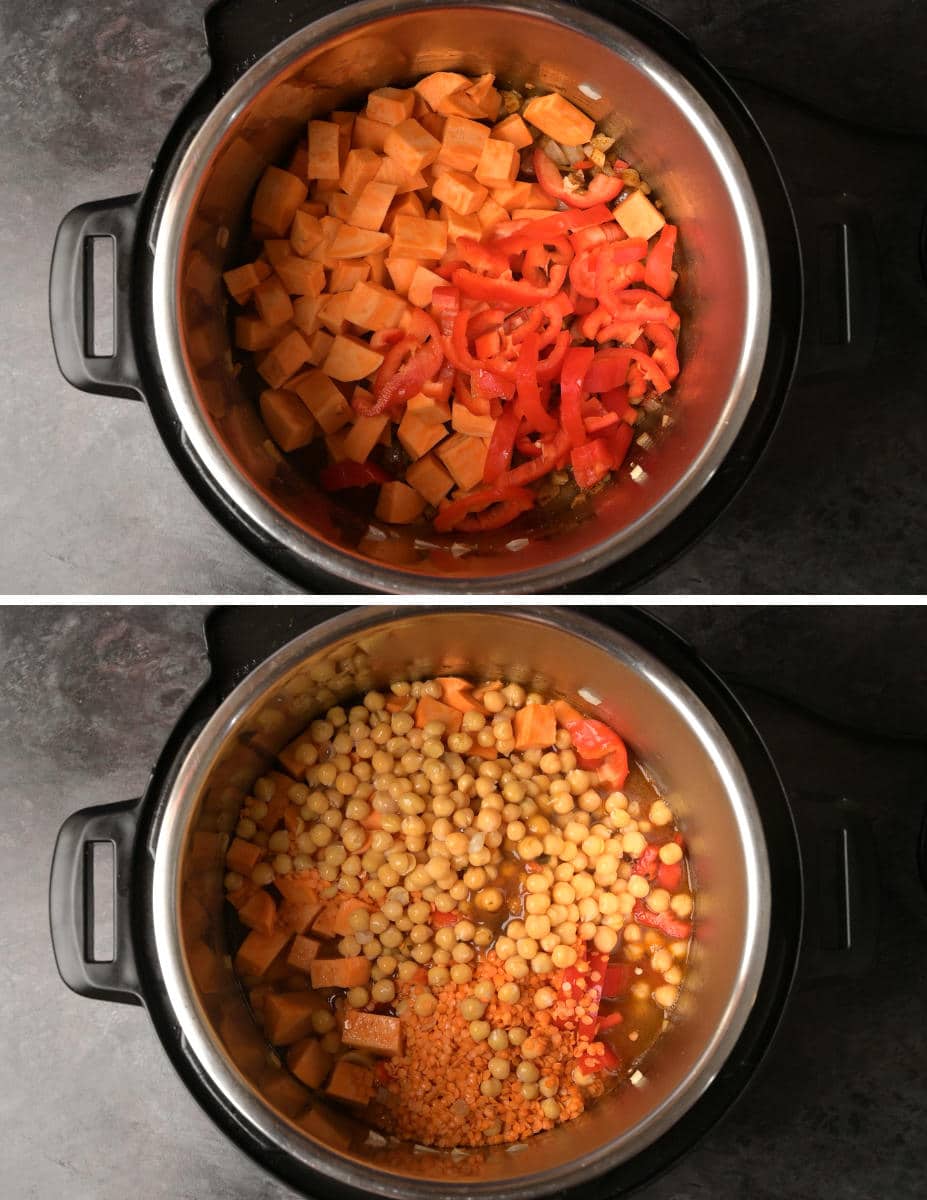 Stir in the coconut milk and baby spinach and allow to wilt for 1-2 minutes.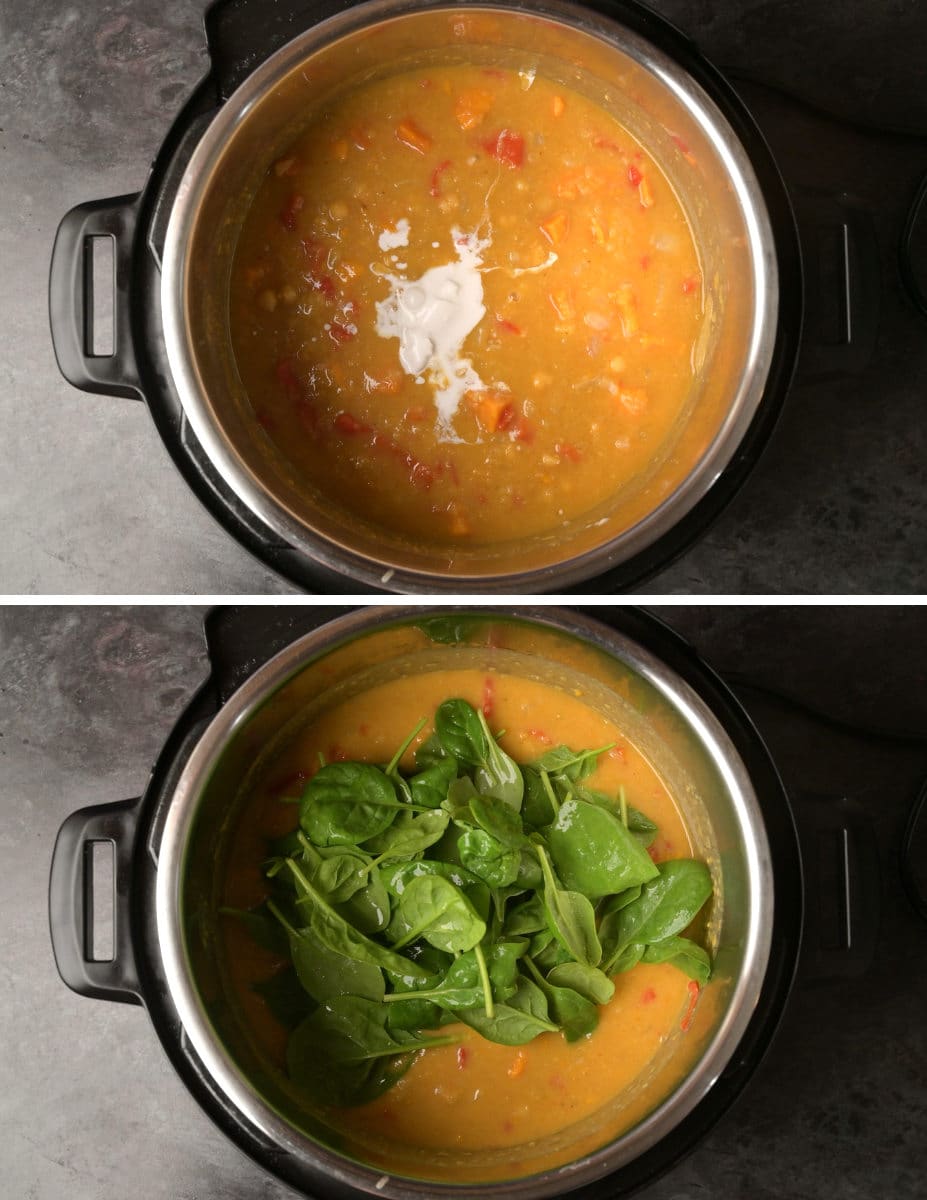 Season to taste and serve over basmati rice, brown rice, or naan.
Leftovers and storage
Leftovers will keep well in the fridge for 4-5 days in an airtight container.
You can reheat this vegan sweet potato curry on the stovetop or in the microwave.
This curry freezes well for up to 3 months. Allow it to cool completely before transferring it to freezer-friendly containers. Thaw the curry in the fridge overnight before reheating.
Recipe notes and tips
Other veggies you can add to this sweet potato lentil curry include zucchini, peas, cauliflower and broccoli.
Stir in ¼ cup natural smooth peanut butter for some flavor variation.
Serve the curry with your favorite rice — I love it with this Instant Pot basmati rice.
If you liked this Instant Pot sweet potato curry, you might also like some of my other easy vegan Instant Pot recipes:
Don't miss out on any new recipes! Follow Vegan Cocotte on Instagram, Facebook and Pinterest.