This vegan cajun risotto is a light and tasty midweek meal with incredible southern flavours. Think of it as a risotto meets jambalaya combo!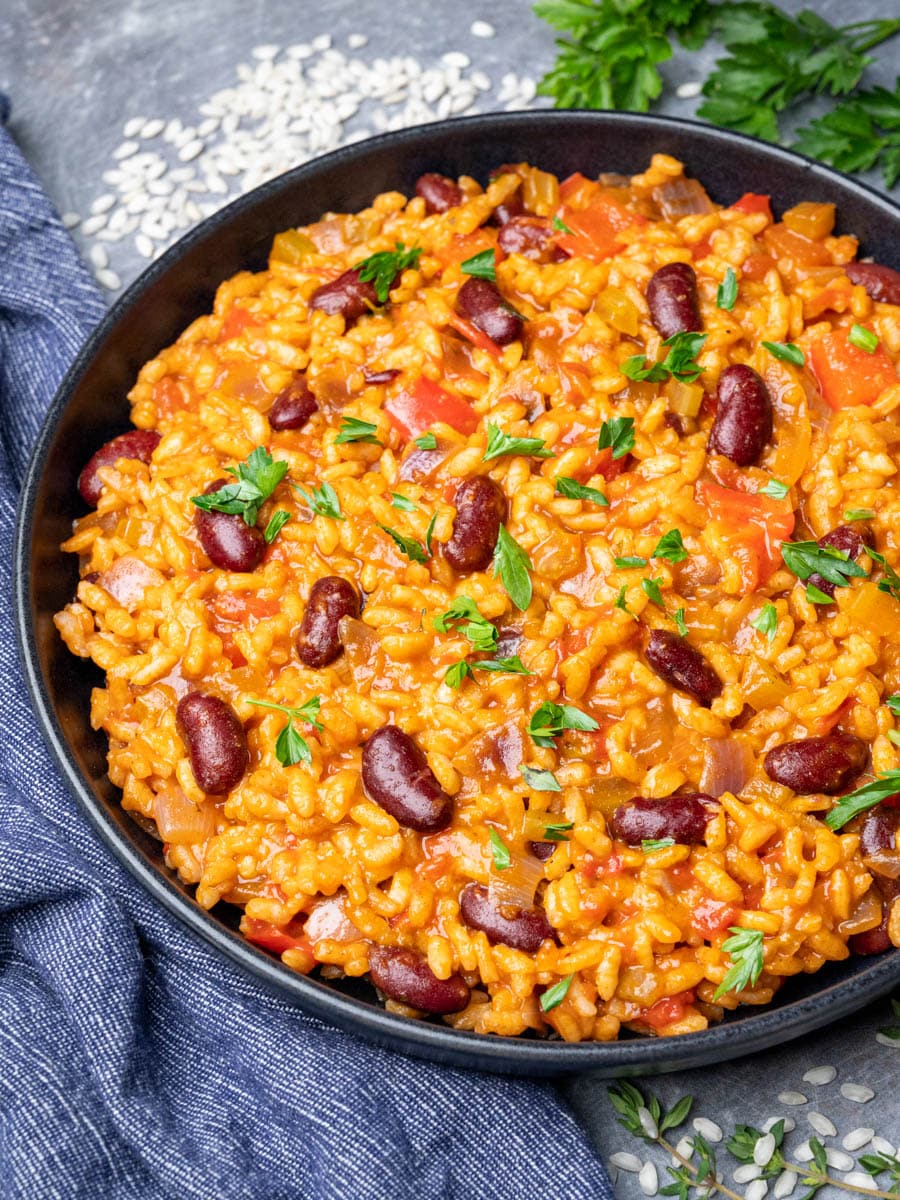 I love risotto and I make multiple vegan variations of it — like this Asparagus and Courgette Risotto or this Mushroom and Pea Risotto.
This time, I decided to spruce things up a bit and go for a spicy risotto! It's still an all-veggie, no-dairy risotto that has a bit of a kick since it's infused with Cajun flavours.
This easy vegan cajun risotto combines red onion, bell pepper, celery, tomatoes and red kidney beans, and it's naturally creamy from the starch in the arborio rice.
Why you'll love this cajun risotto
It's a light yet delicious meal that's just perfect for a busy weeknight.
You can easily customize it with any extra veggies you may have in the fridge.
It's naturally creamy just from the starch in the arborio rice. No dairy required!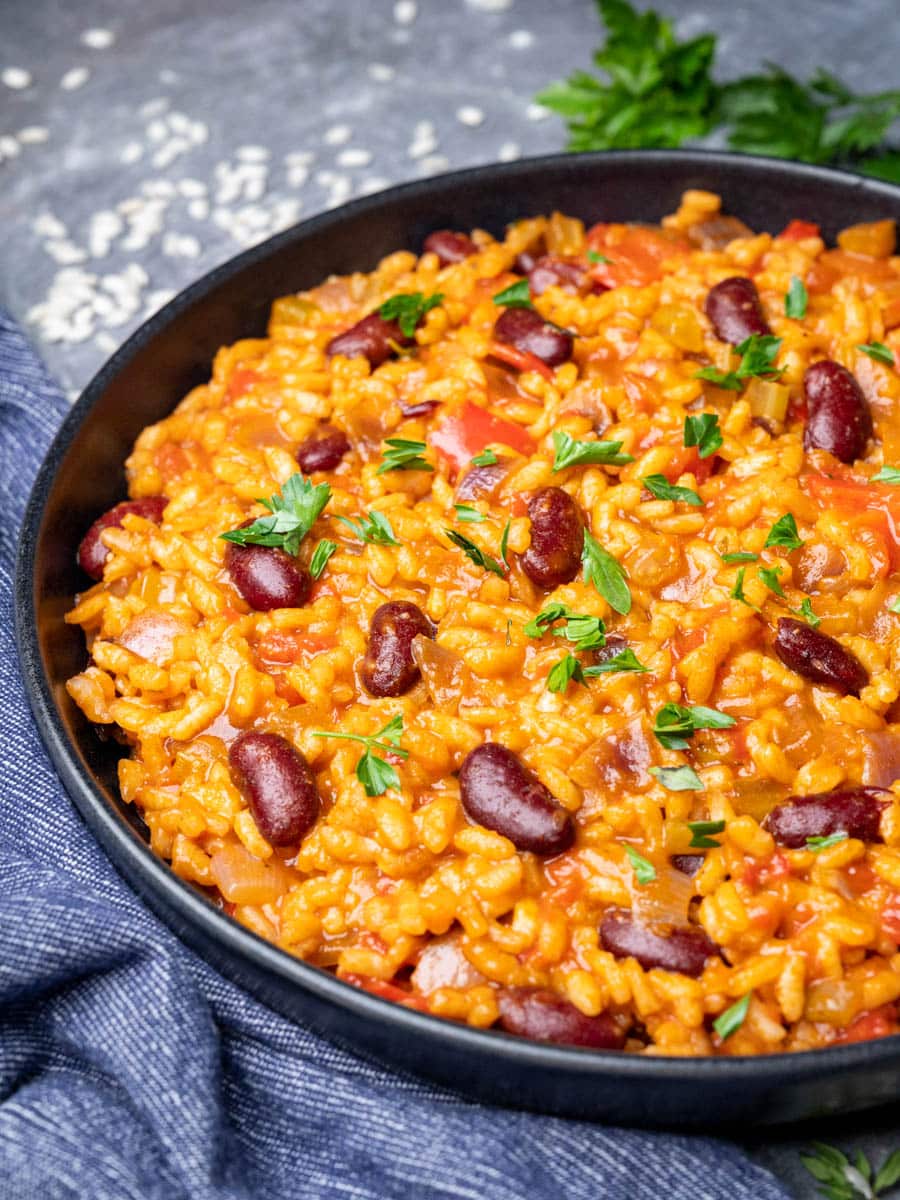 Ingredients and substitutions
Olive oil — You only need a tablespoon of olive oil to saute the veggies in. You can substitute it with plant-based butter for an even creamier risotto.
Red onion — I love how the flavour of red onion pairs with the other ingredients in this veggie risotto, but you can use any other kind of onion you want.
Bell pepper — Any colour bell pepper is great in this recipe — or you can use a mix of colours.
Cajun seasoning — I used a shop-bought Cajun seasoning for this risotto, but a homemade mix is perfect if you have it on hand. You can make your own by mixing paprika, cayenne pepper, oregano, garlic powder, salt and pepper.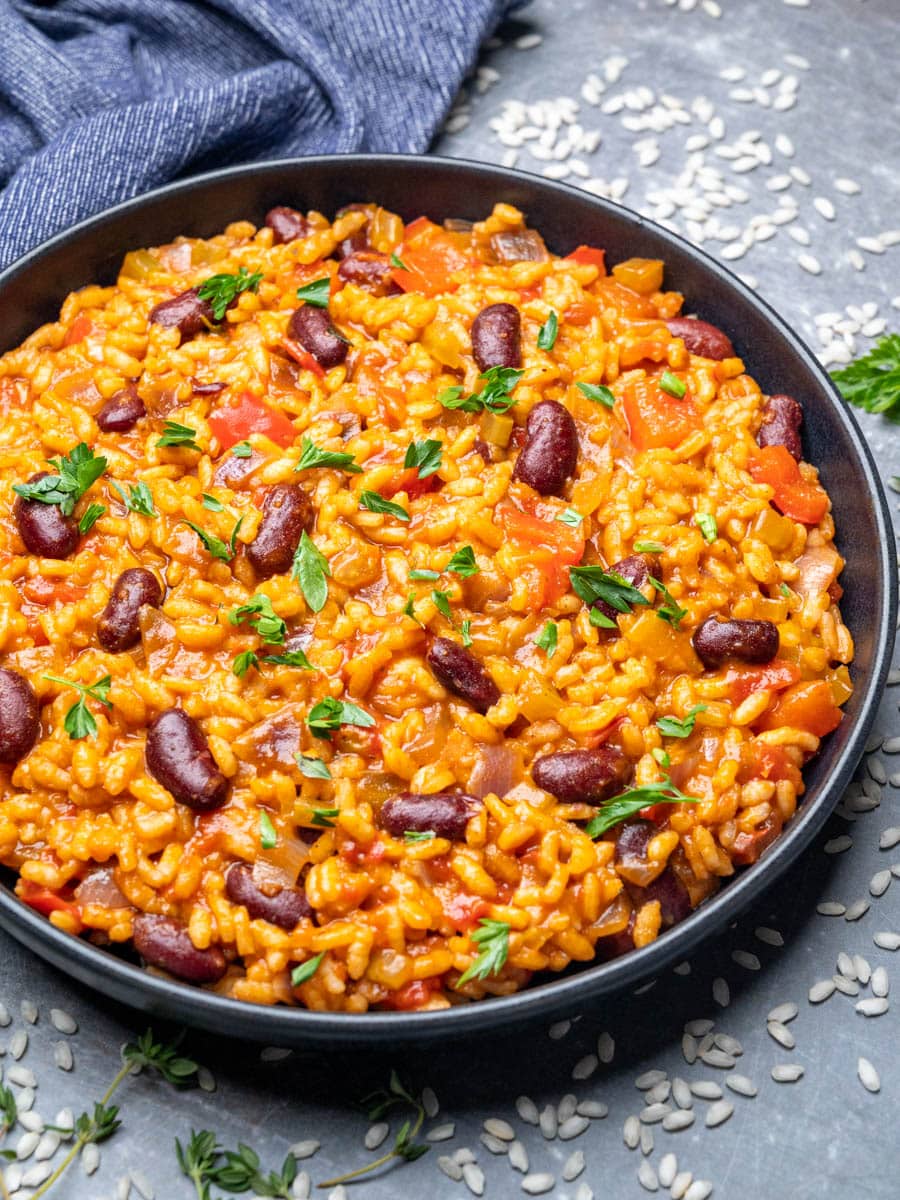 Onion and garlic granules — A teaspoon of onion and garlic granules each infuses the risotto with extra flavour.
Rice — Arborio or carnaroli rice are both great options for risotto. Since this is a dairy-free risotto, you need a starchy kind of rice that will make it naturally creamy.
Chopped tomatoes — Both crushed and diced tomatoes work well in this recipe.
Red kidney beans — Use any kind of beans you like here — pinto beans or black beans are great options.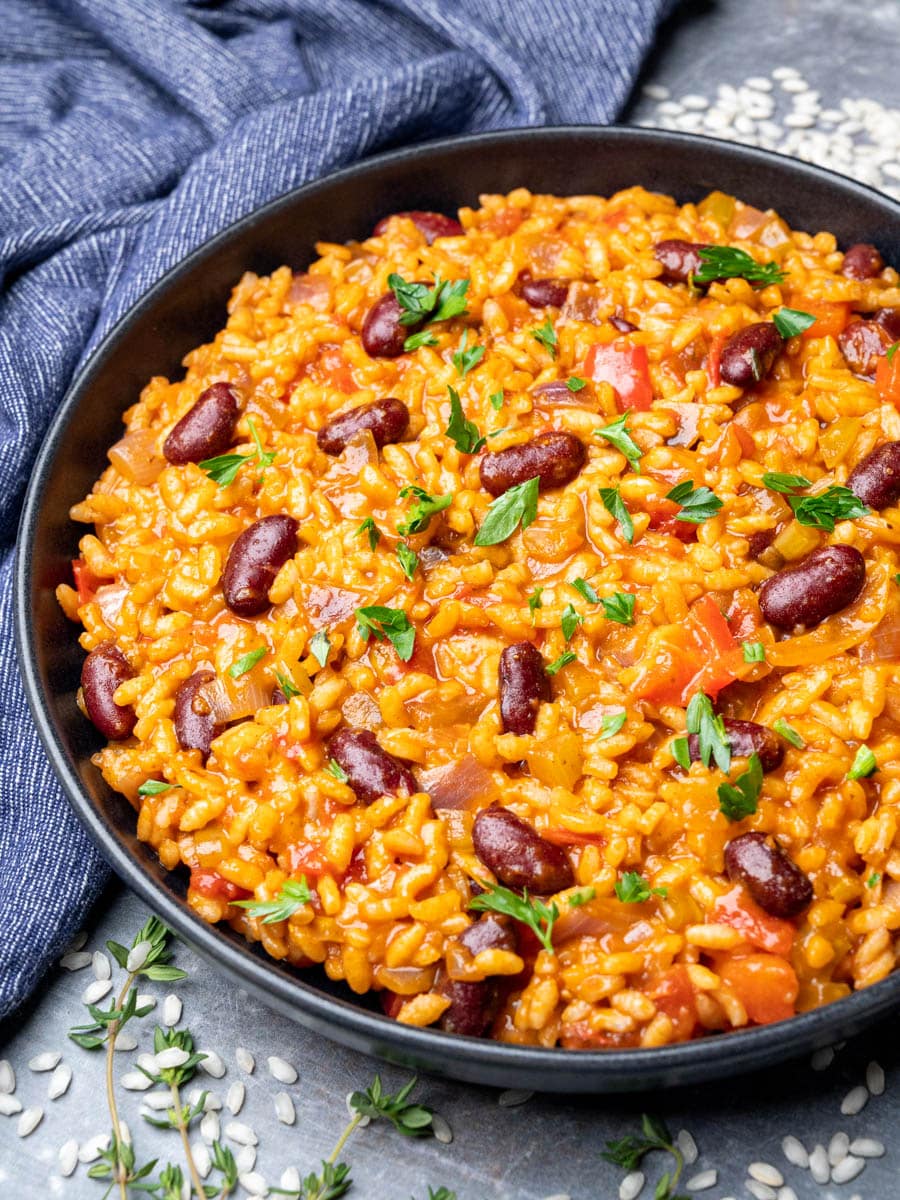 Vegetable stock — Homemade veggie stock is always best, but you can definitely use shop-bought if that's what you have on hand.
Fresh thyme — If you don't have fresh thyme, simply add some freshly chopped parsley for extra brightness.
How to make vegan cajun risotto
Heat the olive oil in a large, deep pan and fry the onion, red bell pepper and celery for 4-5 minutes over medium heat.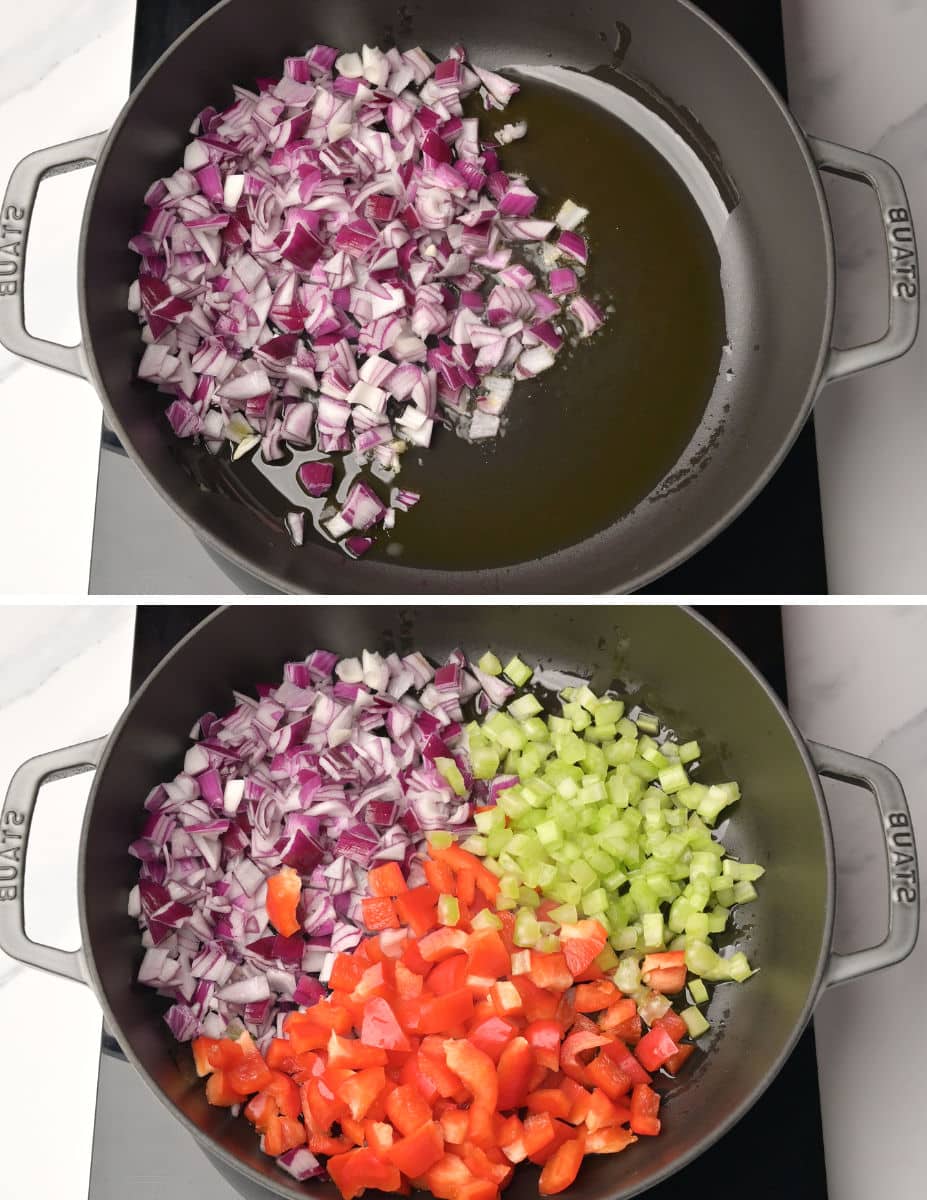 Stir in the cajun seasoning, onion granules and garlic granules and continue to cook for another minute, stirring often.
Add the rice and toast it for 1-2 minutes, stirring often.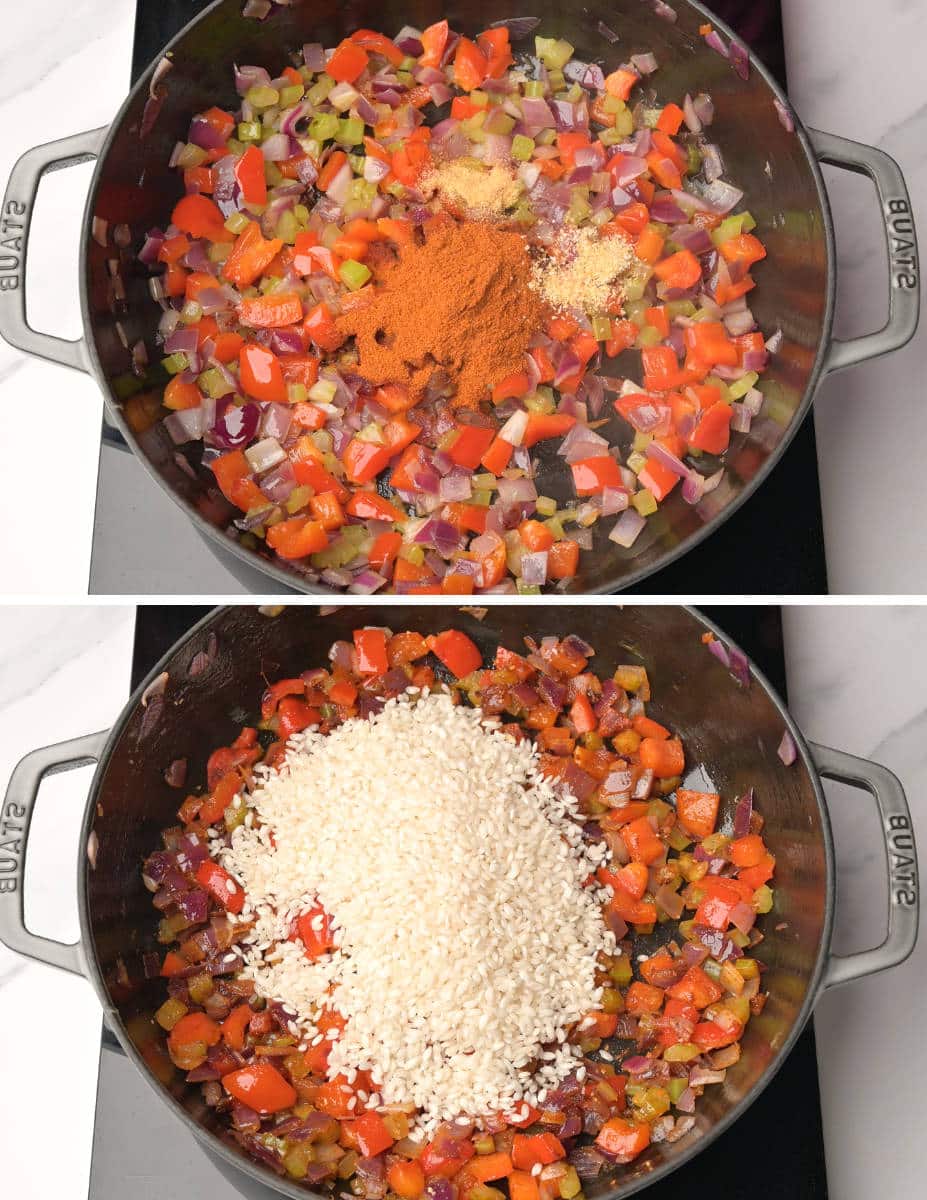 Add the chopped tomatoes and red kidney beans, then pour in half the vegetable stock.
Bring to a simmer, then lower the heat and simmer, stirring often, until the liquid is almost gone. Add the rest of the stock and continue to cook until the rice is al dente and the risotto creamy. The liquid should be mostly absorbed.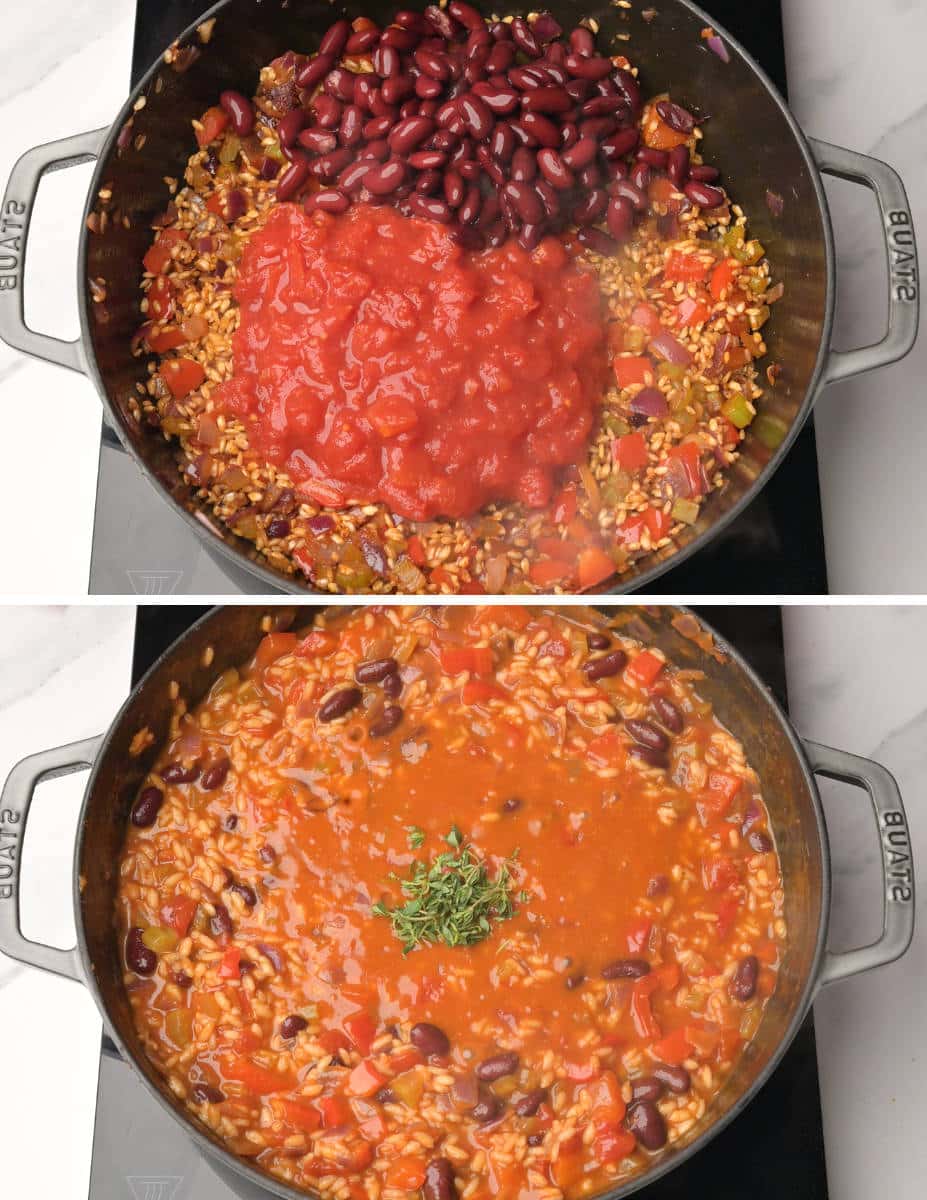 Stir in the fresh thyme, season to taste and serve immediately.
Leftovers and storage
Leftovers will keep well in the fridge for up to 5 days in an airtight container.
The best way to reheat this vegan cajun risotto is in the microwave. Make sure the rice is piping hot before serving.
You can freeze this cajun veggie risotto for up to 3 months. Defrost it overnight in the fridge before reheating in the microwave.
Recipe notes and tips
Add any extra veggies you want to this cajun risotto — mushrooms, sweet potatoes and peas are all good ideas.
Never rinse the rice when making risotto because this will remove the starch, and the risotto won't be creamy.
You may need a bit of extra veggie stock or hot water at the end. The rice should be slightly al dente but tender, and remember that it will continue to soak up liquid as it sits.
If you liked this vegan cajun risotto, you might also like some of my other easy vegan rice recipes:
Don't miss out on any new recipes! Follow Vegan Cocotte on Instagram, Facebook and Pinterest.