A fragrant dish that's packed with nutritious ingredients, this easy vegan biryani is quick to make and utterly delicious. It's loaded with aromatics, roasted cauliflower and crunchy cashews for a perfect weeknight meal.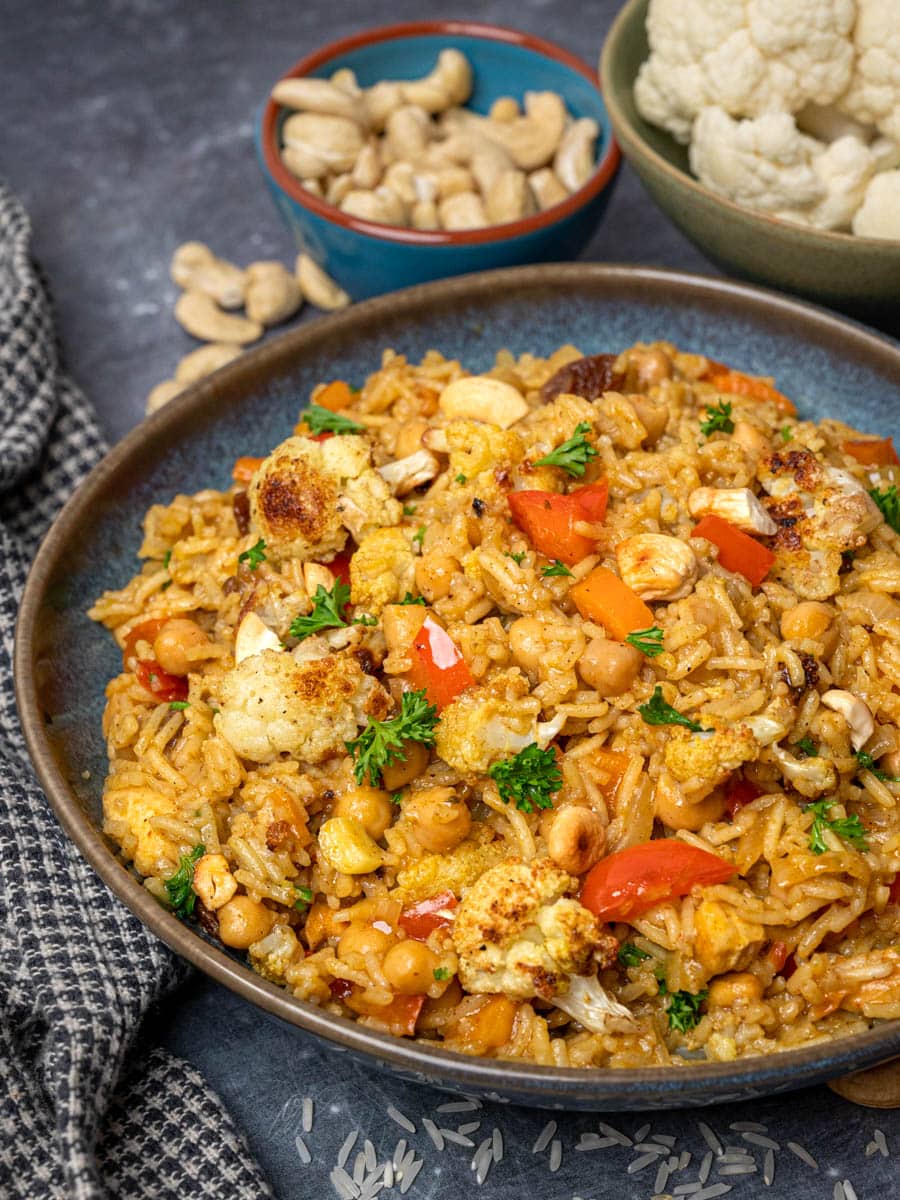 This aromatic vegan biryani is loaded with veggies and chickpeas to create a nutritional bomb that's also super aromatic and easy to make.
Making biryani the authentic way is definitely a labour of love. My version is a simplified one that cuts some corners but still delivers a super flavoursome result.
The roasted cauliflower is the perfect addition not just for flavour, but also because it gives the biryani extra texture.
You can serve this veggie biryani topped with toasted cashews and fresh coriander. It also goes well with warm naan bread.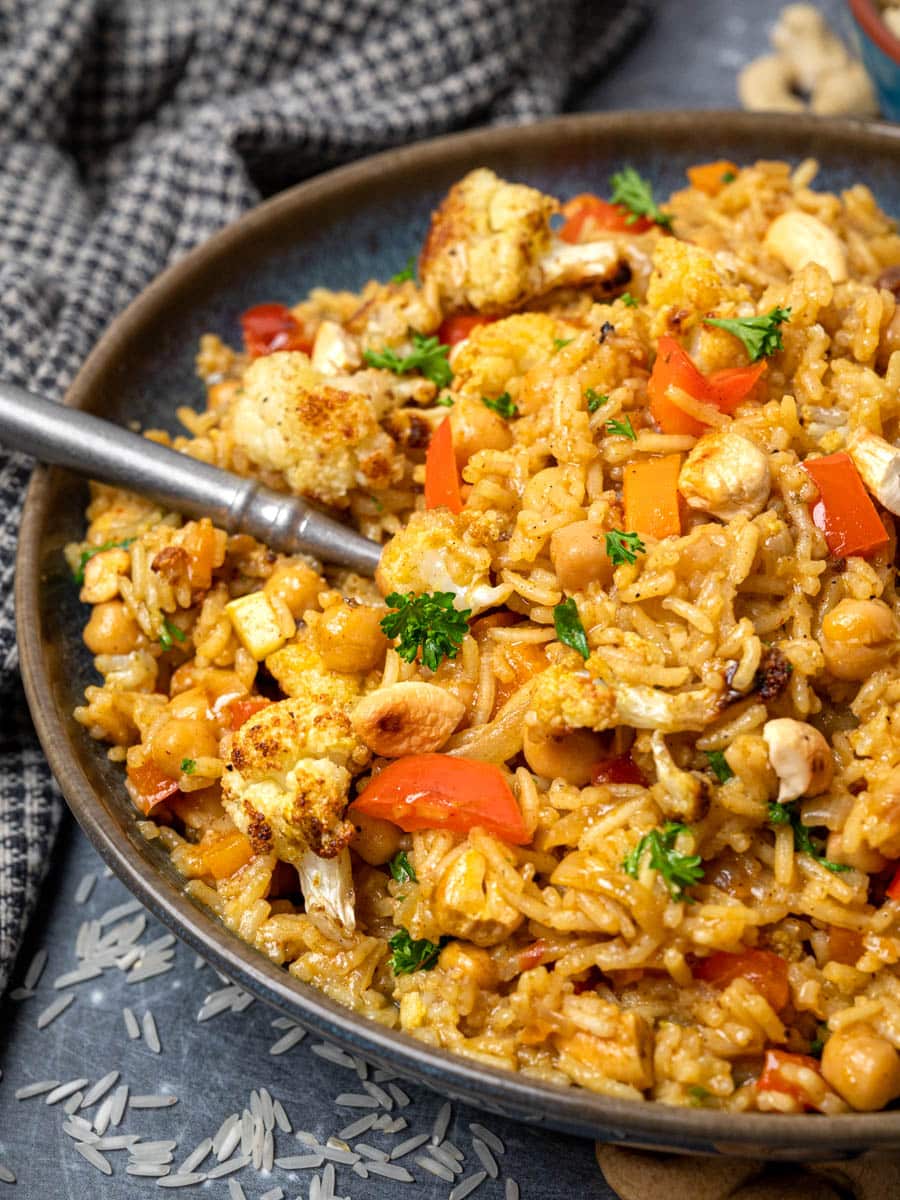 Ingredients and substitutions
Cauliflower — Roasted cauliflower makes this vegan biryani truly special. You can skip this step if you want, but there's really no reason to since the cauliflower will be nice and crispy by the time the biryani is ready.
Veggies — I use a mix of onion, carrots and bell peppers, plus roasted cauliflower. However, you can add just about any other veggies you want. Ideas include broccoli, mushrooms and peas.
Spices — I make this cauliflower biryani with a mix of mild curry powder, garam masala, ground cinnamon, chilli powder and ground turmeric. You can definitely play with the spices to truly make this biryani your own. If you'd like it to be on the spicier side, you can use hot curry powder and/or chilli powder instead of mild.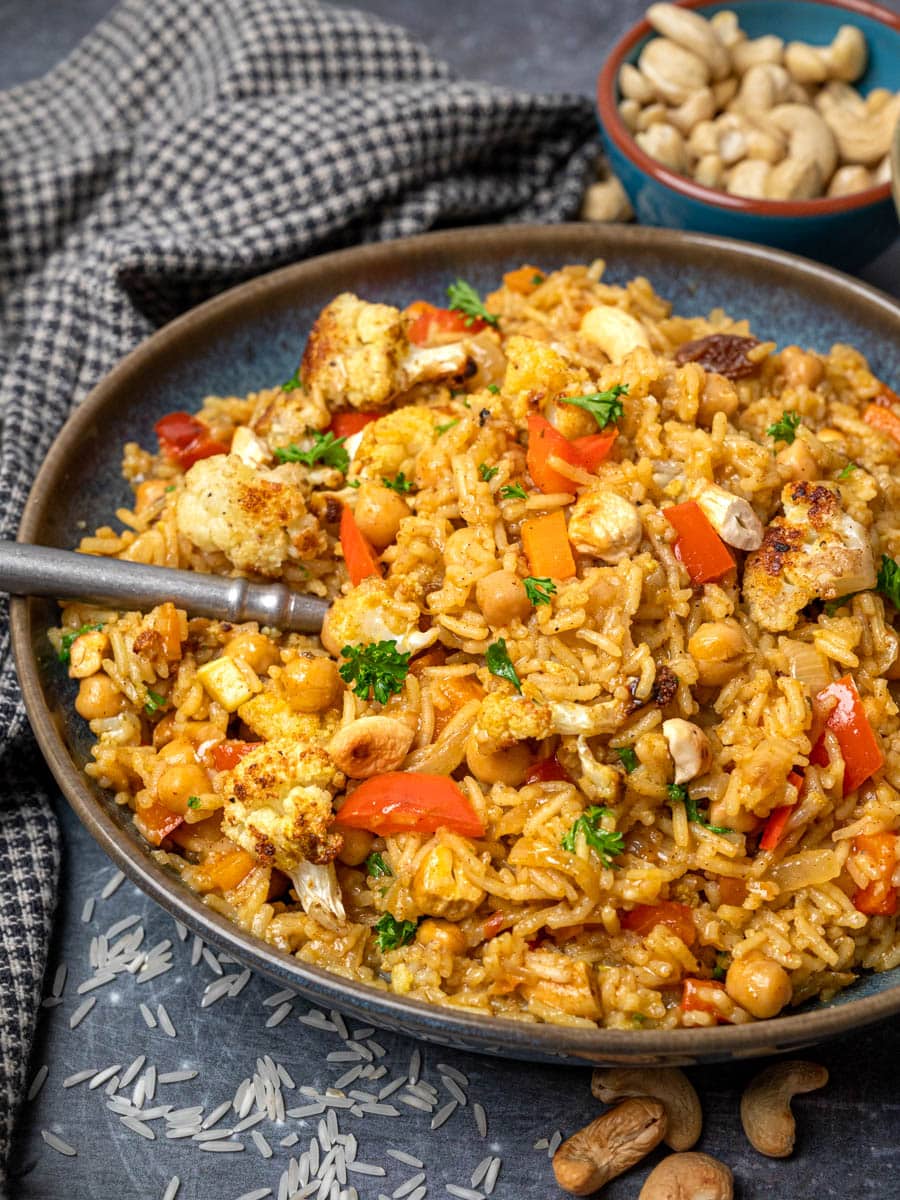 Rice — The best rice for vegan biryani is basmati, but any long grain rice will do. Basmati rice is less sticky than other types of rice, which means that the grains are separated from each other.
Stock — Make sure the veggie stock you're using is vegan as not all of them are.
Chickpeas — I make this veggie biryani with canned chickpeas because it's so much more convenient than cooking them from dry. If you have time, you can use definitely use chickpeas you've cooked from scratch.
Raisins — Raisins add a touch of sweetness to the biryani, which contrasts very well with the spices. Sultanas or golden raisins are both good choices.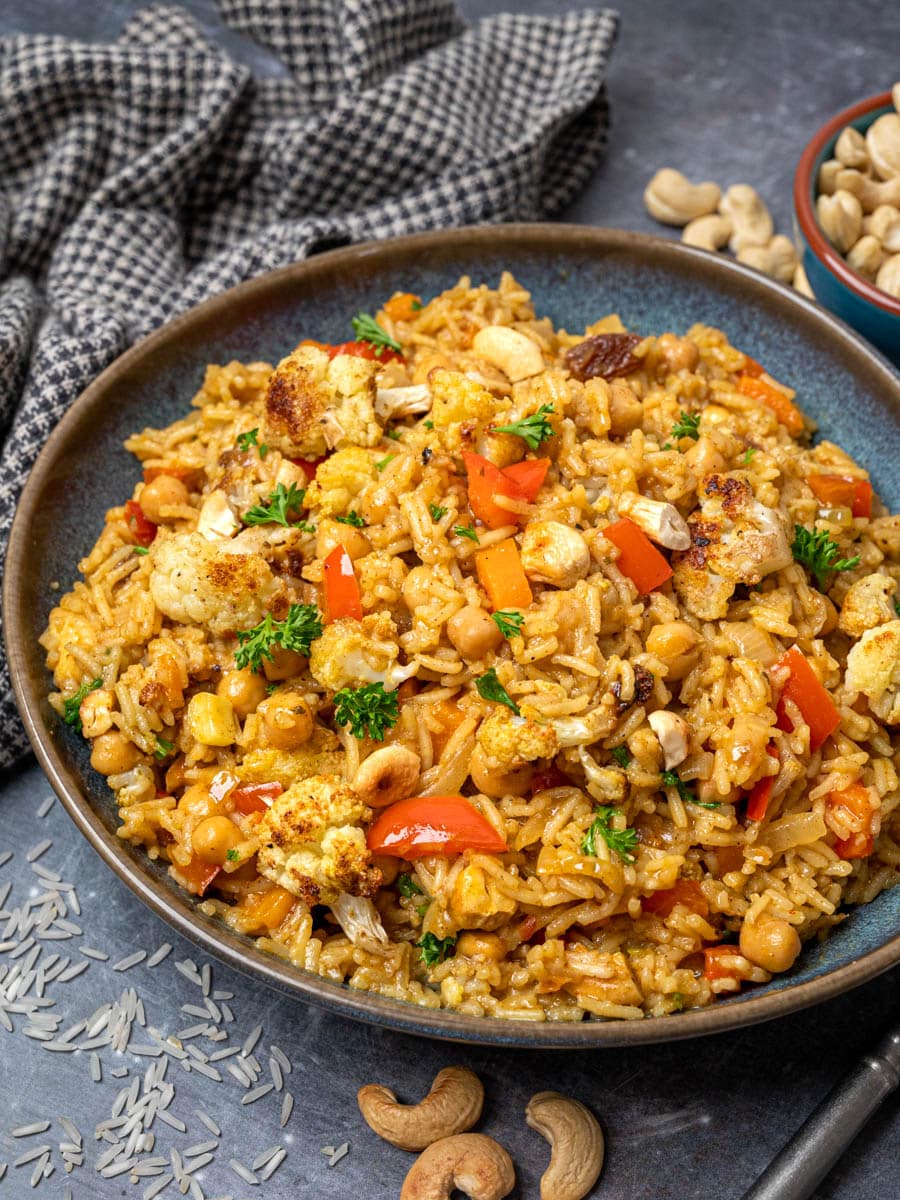 How to make vegan biryani?
Start by preparing the cauliflower.
Preheat the oven at 200ºC/390ºF.
Place the cauliflower florets in a large bowl and add the oil, garam masala, salt and ground black pepper.
Toss well to coat the cauliflower in spices.
Transfer the cauliflower to a large baking sheet and roast for 30 minutes, tossing halfway through.
Meanwhile, make the biryani.
Heat the oil in a large, deep pan that has a lid. Saute the onion, carrot and bell pepper for 4-5 minutes until slightly softened.
Stir in the garlic and ginger and continue to cook for another minute until fragrant. Next, add the spices, stir well to combine and cook for a further minute, stirring occasionally.
Add the rice, stock, chickpeas, and raisins and bring to a simmer. Lower the heat to low, place the lid on the pan and simmer for 20 minutes until the rice has soaked up the liquid.
Uncover the biryani, fluff it up and add the roasted cauliflower, toasted cashews and fresh parsley or coriander. Serve with your favourite chutney and naan bread.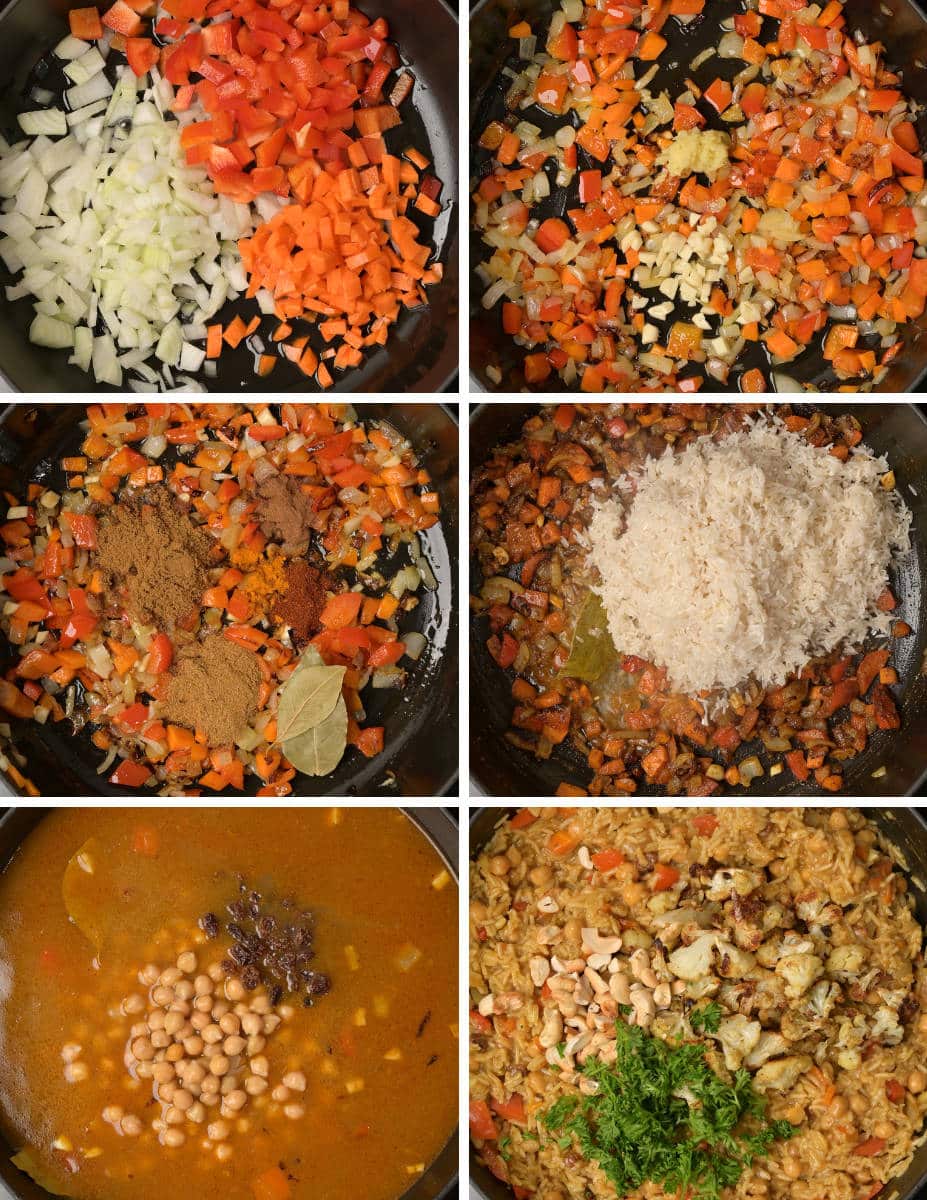 Recipe notes and tips
If you want the rice to cook quicker, cover the pan with a thin dish towel, then place the lid on top. This will keep the steam in by creating a seal and the rice will cook quickly.
You can make this cauliflower biryani with brown basmati if you want something with extra fibres, but you'll need to add 10 minutes to the cooking time.
For a nut-free biryani, skip the cashew nuts.
This vegan biryani freezes well for up to 2 months in an airtight container. Allow it to reach room temperature, then transfer it to portion-sized containers so you can defrost them easily. To defrost, place the biryani in the fridge to thaw overnight and then reheat it in the microwave.
If you liked this easy vegan biryani, you might also like some of my other vegan Indian recipes:
Don't miss out on any new recipes! Follow Vegan Cocotte on Instagram, Facebook and Pinterest.