Vegan Spanish chickpeas and rice is an easy one-pot recipe bursting with smoked paprika and tomato flavours. It's a budget-friendly vegan recipe that packs in lots of protein and fibre, all in a mouthwatering bowl of goodness.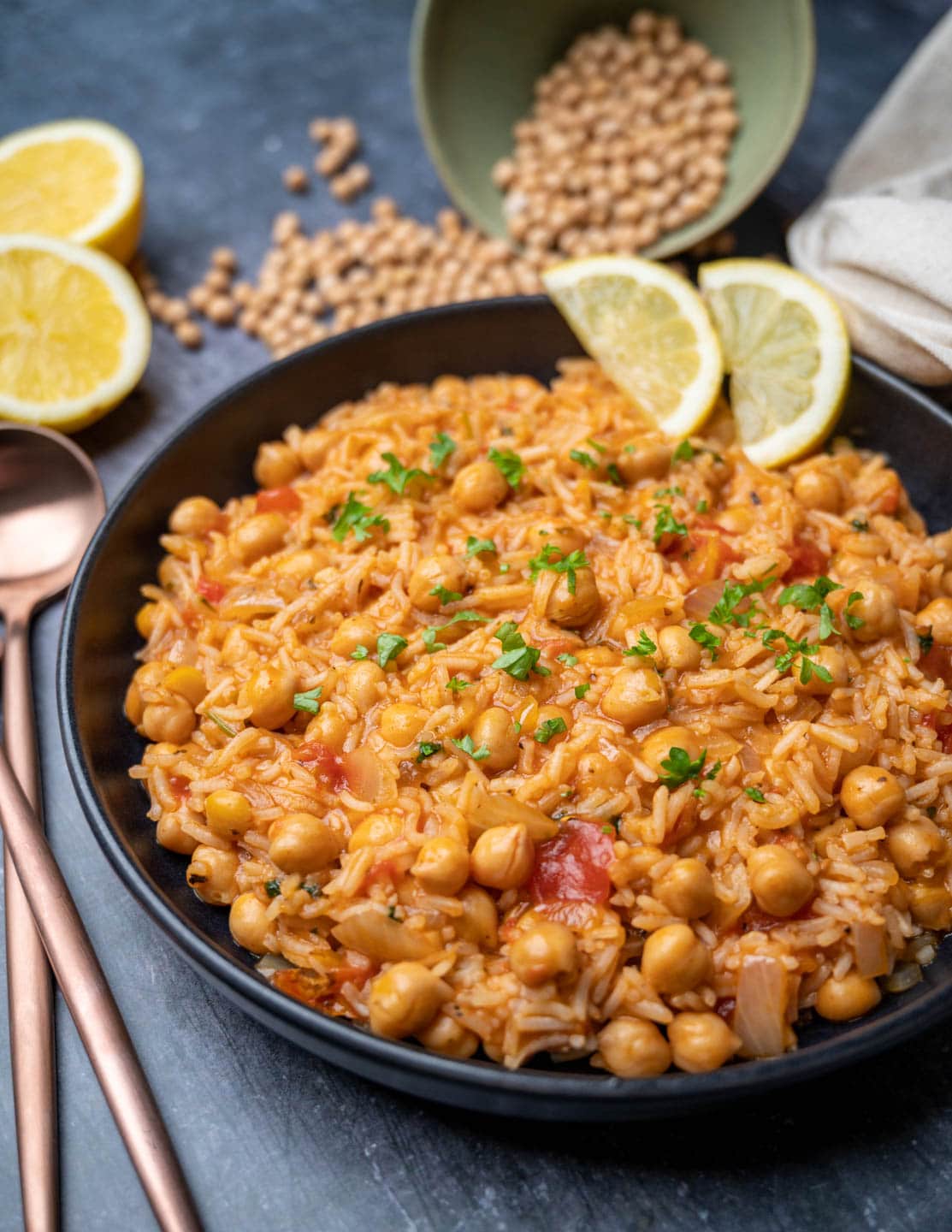 I love vegan chickpea recipes because they're hearty and filling while also boasting lots of nutrients, mainly when it comes to protein and fibre. This Spanish chickpeas and rice is no exception. It's a simple yet complete dinner that's easy to make in one pot.
All you have to do to enjoy a steaming bowl of rice and chickpeas is chop some onion and garlic, fry them up in a drizzle of olive oil, add some spices, rice, chickpeas, chopped tomatoes and stock and let it all simmer for 20-25 minutes. Everything comes together in one pot, so cleanup is a breeze.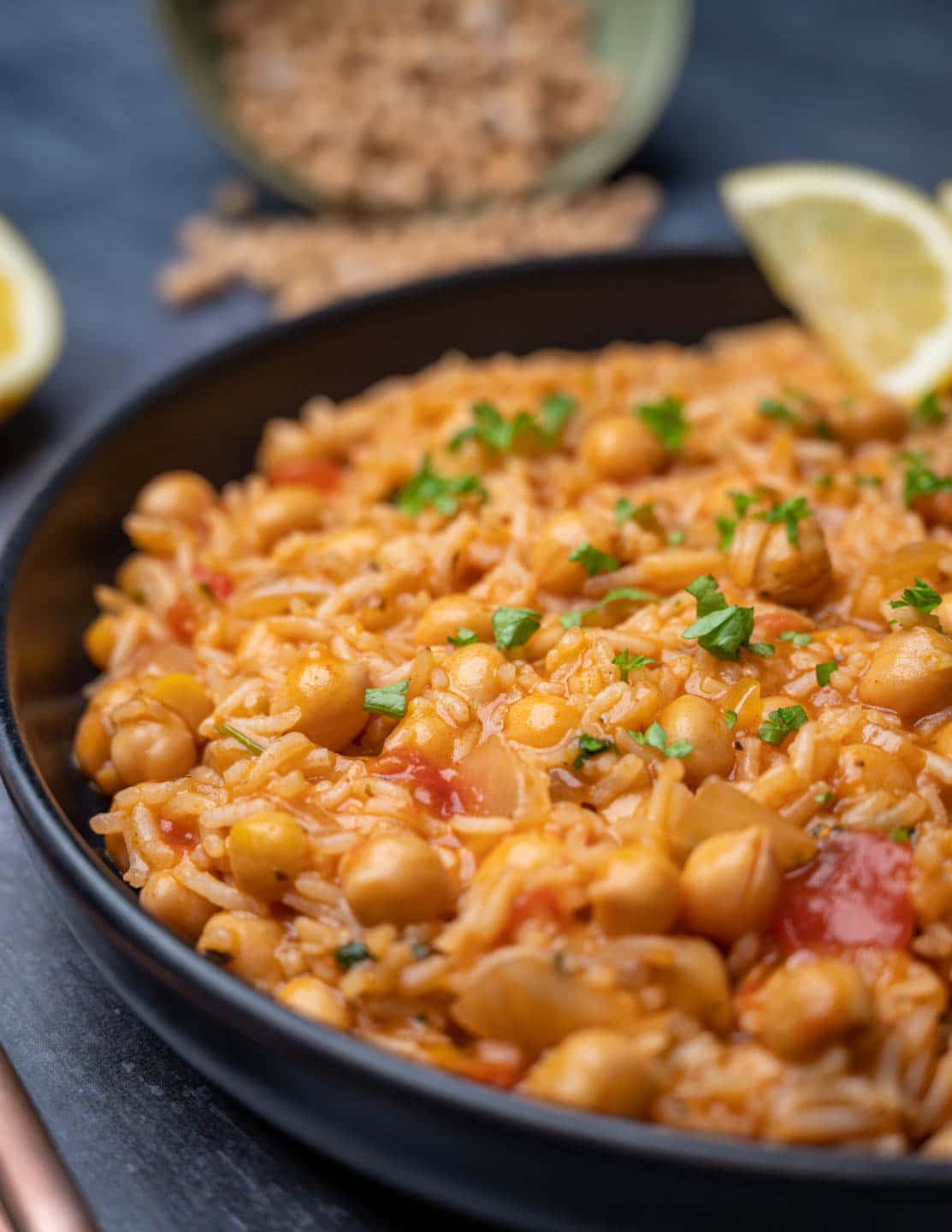 What goes in this vegan chickpea rice?
Veggies — I use two medium onions and garlic as the base for this chickpea and rice recipe, but you can add some other veggies if you want. Celery, carrots, sweet peppers, or broccoli are all good ideas.
Long grain rice — long grain rice is perfect for this recipe, but you can substitute it with brown rice if you want. Just keep in mind that it may take a bit longer to cook.
Chickpeas — I use tinned chickpeas for convenience, but you can use dry chickpeas instead. You'll have to soak them overnight and boil them for 30-40 minutes before using them in this recipe.
Tomatoes — Try to use quality chopped tomatoes because they can make or break this recipe. Some very cheap tinned tomatoes are highly acidic so try to avoid them if possible.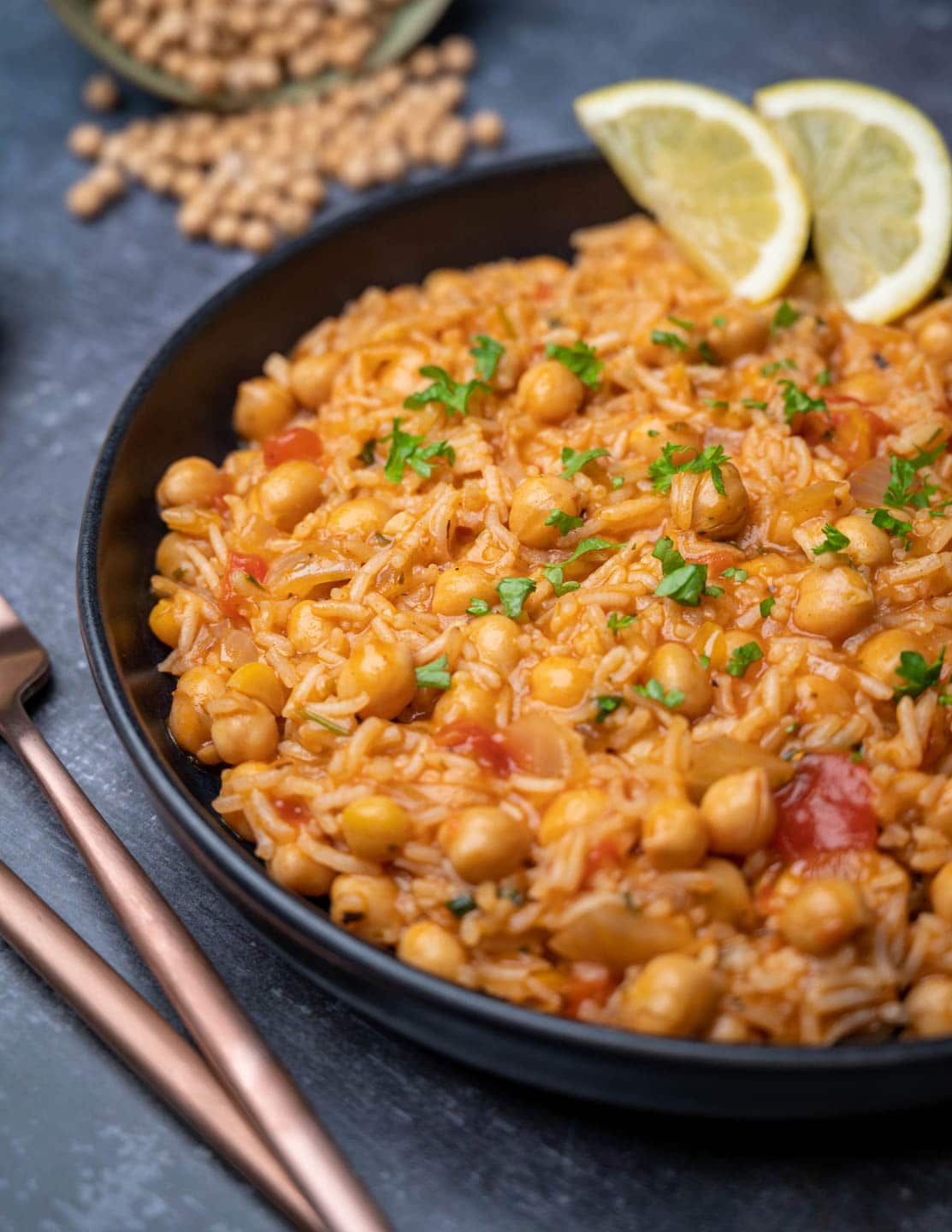 How do you make it?
Heat the olive oil in a large pan and fry the onion for 4-5 minutes over medium heat until golden.
Add the garlic and continue to cook for another minute until fragrant.
Stir in the smoked paprika, oregano and chilli flakes, then add the rice and toast it for 1-2 minutes, stirring frequently.
Next, add the chopped tomatoes and chickpeas and pour in all the stock.
Bring to a boil, cover the pan with a lid, lower the heat and simmer for 20-25 minutes until the rice is cooked, stirring occasionally. If it looks too dry, add a bit more stock.
Stir in the fresh parsley, season to taste, and serve immediately.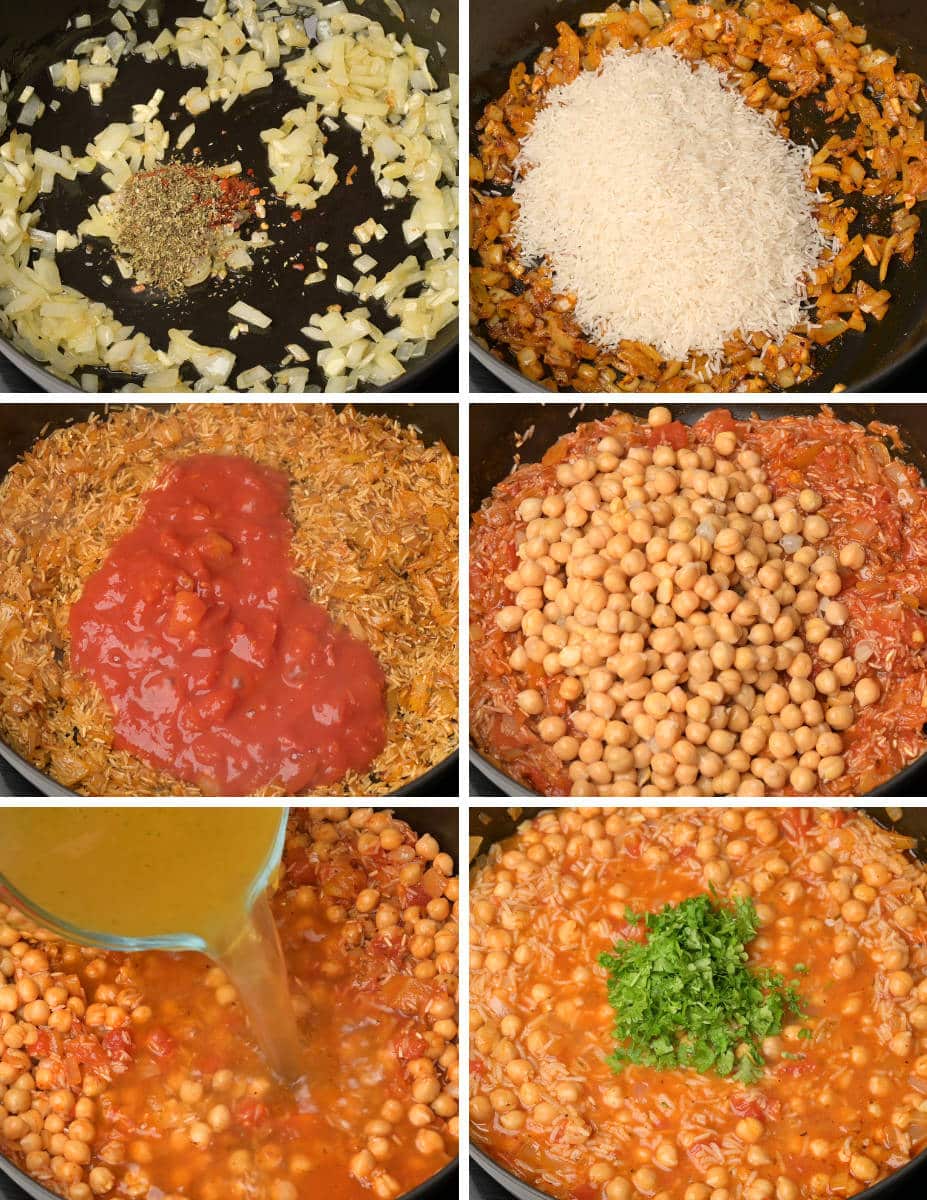 Extra tips and tricks
This is a great meal prep recipe. You can make a big batch and pack the leftovers in airtight containers that you can store in the fridge for up to five days.
If you find that there's not enough liquid left and the rice isn't cooked through, add another 100 ml (½ cup) vegetable stock or water and continue to cook for a couple of minutes until the rice is cooked.
Make sure the stock you use is vegan. I use the Knorr vegetable stock pots in the UK, which are vegan. Alternatively, you can use homemade vegan stock for this recipe.
If you add other veggies such as sweet peppers, for example, fry them up with the onion for a couple of minutes.
If you liked this vegan Spanish chickpeas and rice recipe, you may also enjoy:
Don't miss out on any new recipes! Follow Vegan Cocotte on Instagram, Facebook and Pinterest.