Sopa de lentejas is a Spanish lentil soup with vegetables that's delicious and full of nutrients. Perfect for the cold season, this is a naturally vegan lentil soup the entire family is bound to fall in love with.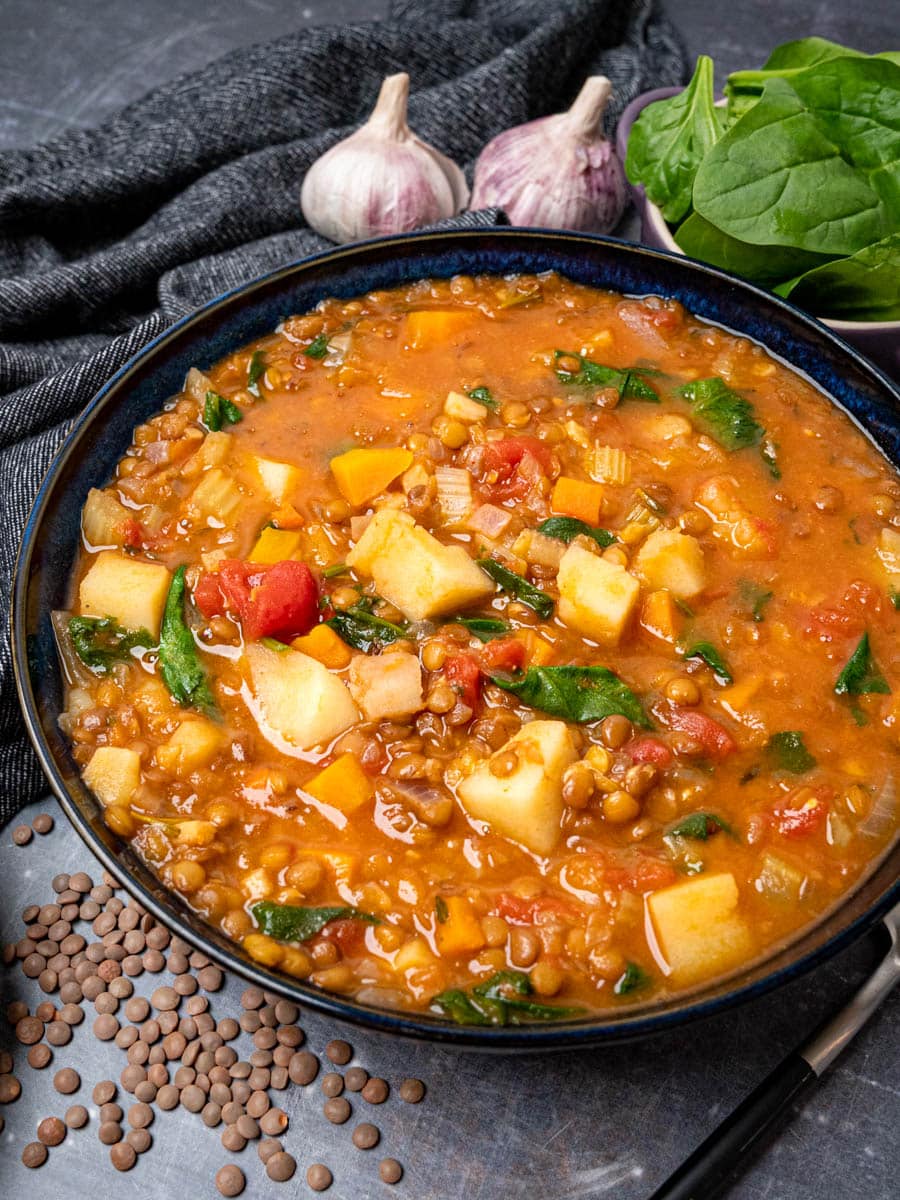 Most countries have their own version of lentil soup, and Spain is no different. Sopa de lentejas is the Spanish name for a delicious lentil and veggie soup that's not only super nutritious but also very easy to make.
There are lots of different versions of sopa de lentejas, and every family in Spain typically tweaks the recipe to make it their own.
Just like you would expect from a Spanish recipe, the flavours are rich and bold. The Spanish lentil soup only uses very humble ingredients, which makes it an excellent choice for vegans on a budget.
To make this hearty and comforting sopa de lentejas, you can use brown or green lentils — both are excellent choices in terms of texture and nutrition.
What makes this sopa de lentejas recipe even better is the fact that you can make it in one pot, so there's less washing up to worry about.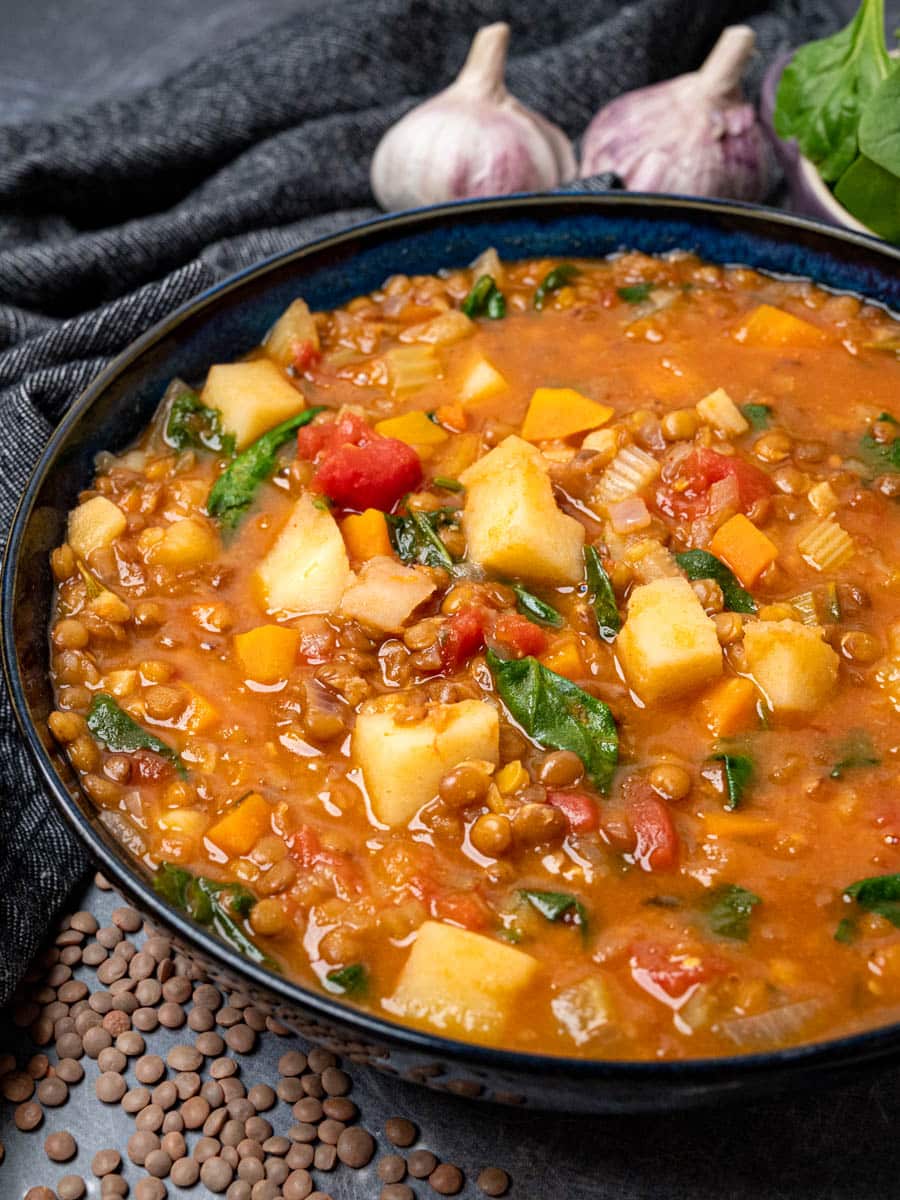 Ingredients and substitutions
Olive oil —quality olive oil makes all the difference in soups such as this. If you can, use some Spanish extra virgin olive oil. If you don't cook with oil, you can saute the veggies in some water or veggie stock instead.
Onion — Both brown and red onions are good choices for Sopa de lentejas.
Carrot, celery and parsnip — Make sure you take your time when sauteeing the veggies for this soup to help them release their flavours.
Garlic — Fresh garlic is best for this soup; don't substitute it with garlic granules because the taste just won't be the same.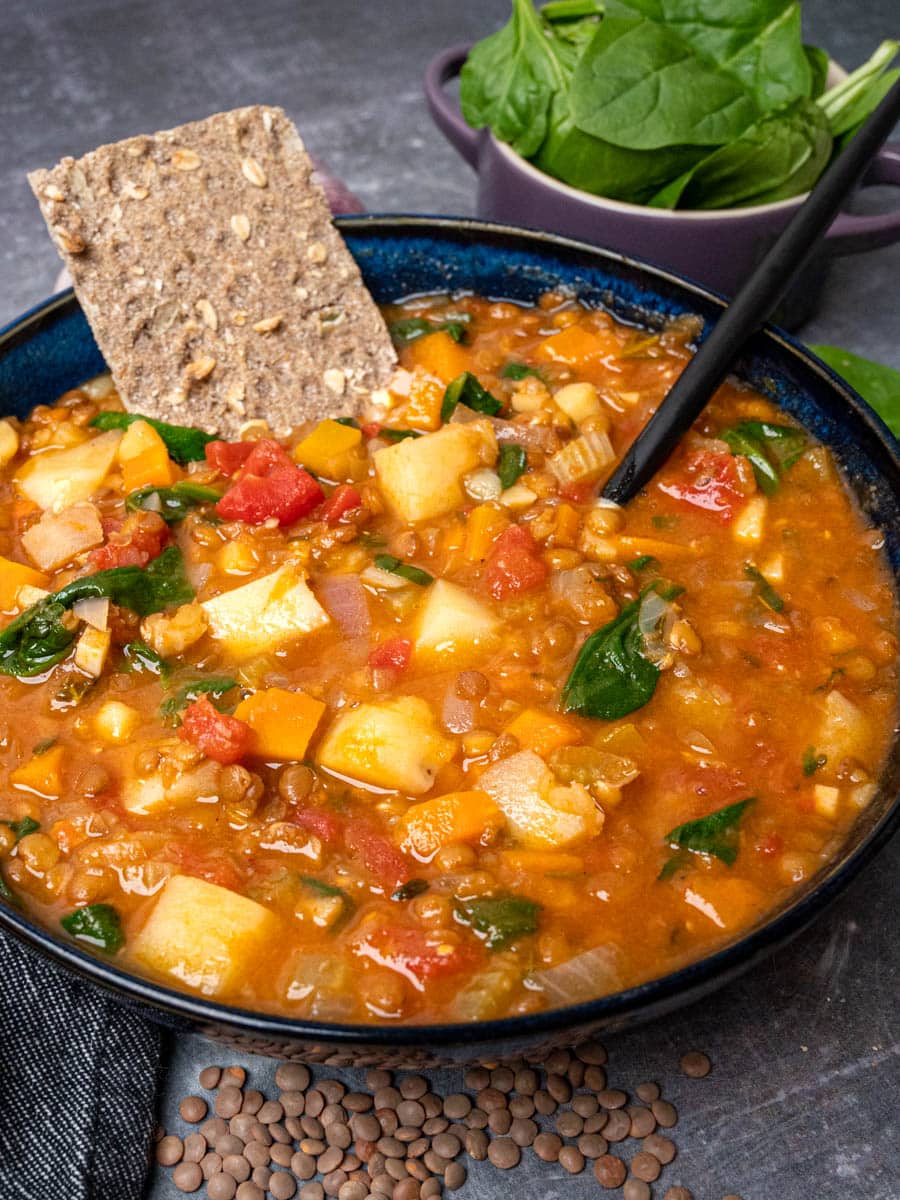 Smoked paprika — This is what gives this lentil soup its Spanish touch. If you don't like smoked paprika, you can substitute it with regular paprika.
Fresh thyme and rosemary — Fresh herbs will elevate the flavours of this soup to a whole new level. If you don't have them, you can use 1 teaspoon dried thyme and rosemary instead.
Potatoes — Waxy potatoes are best here because they stand well in this type of soup. Red potatoes are an excellent choice, but Yukon Gold (Maris Piper) should also work.
Baby spinach — You can use any greens you like in this lentil soup, including kale or collard greens. Alternatively, feel free to skip them altogether.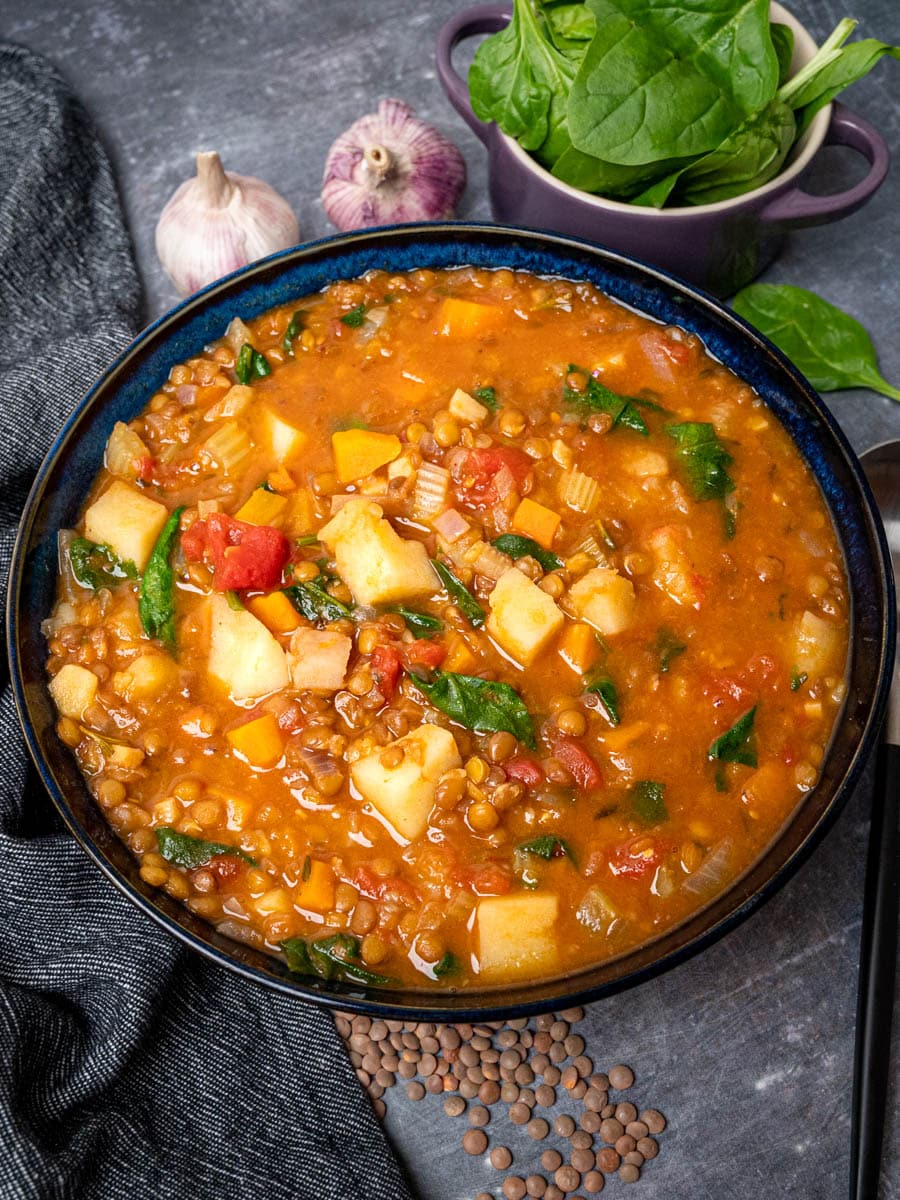 How do you make sopa de lentejas?
Heat the olive oil in a large, heavy-bottomed pot such as a Dutch oven. Saute onion, carrot, celery and parsnip for 8-10 minutes over medium heat until the veggies soften.
Add the salt and garlic and continue to cook for another minute until fragrant. Stir in the smoked paprika, fresh thyme and fresh rosemary and cook for a further minute.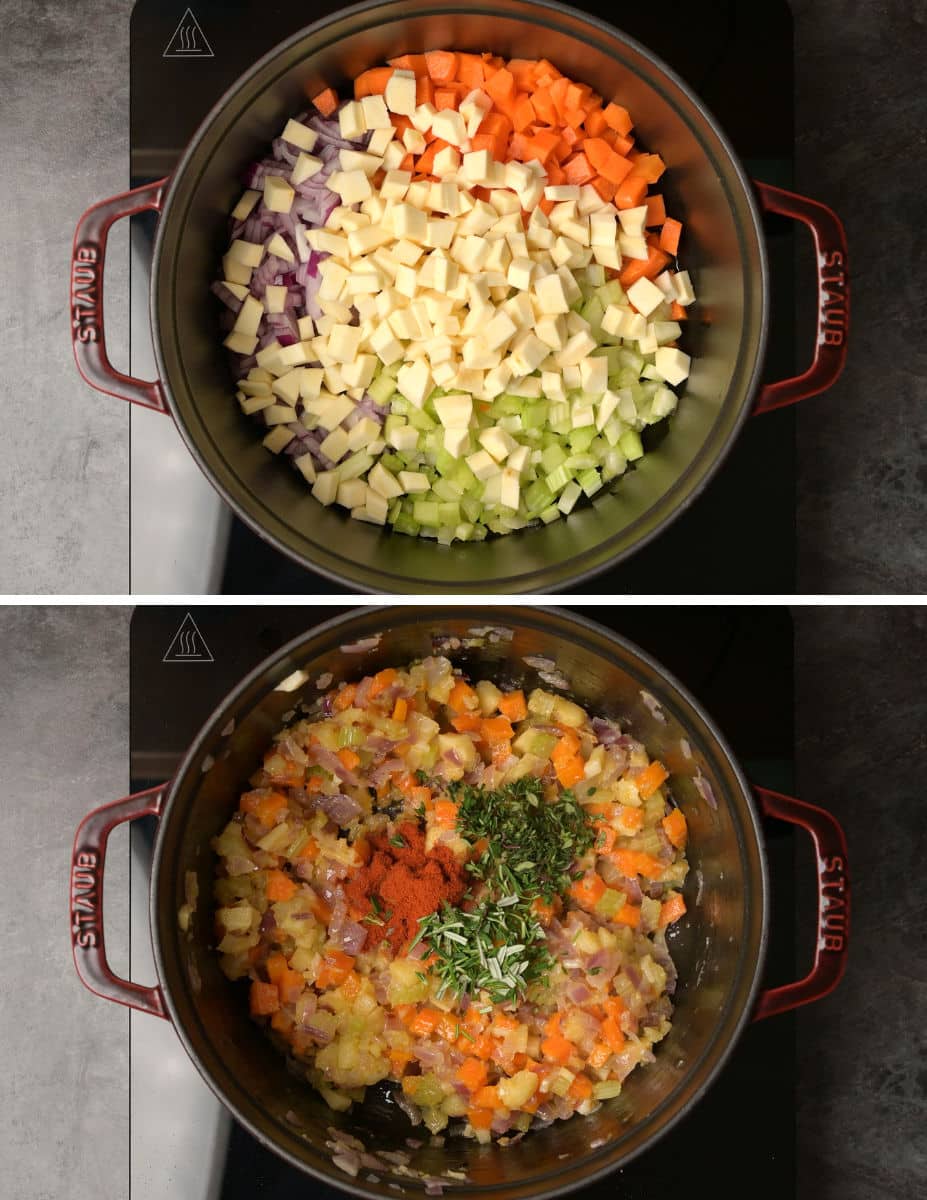 Next, stir in the chopped tomatoes, potatoes, lentils, bay leaves and stock.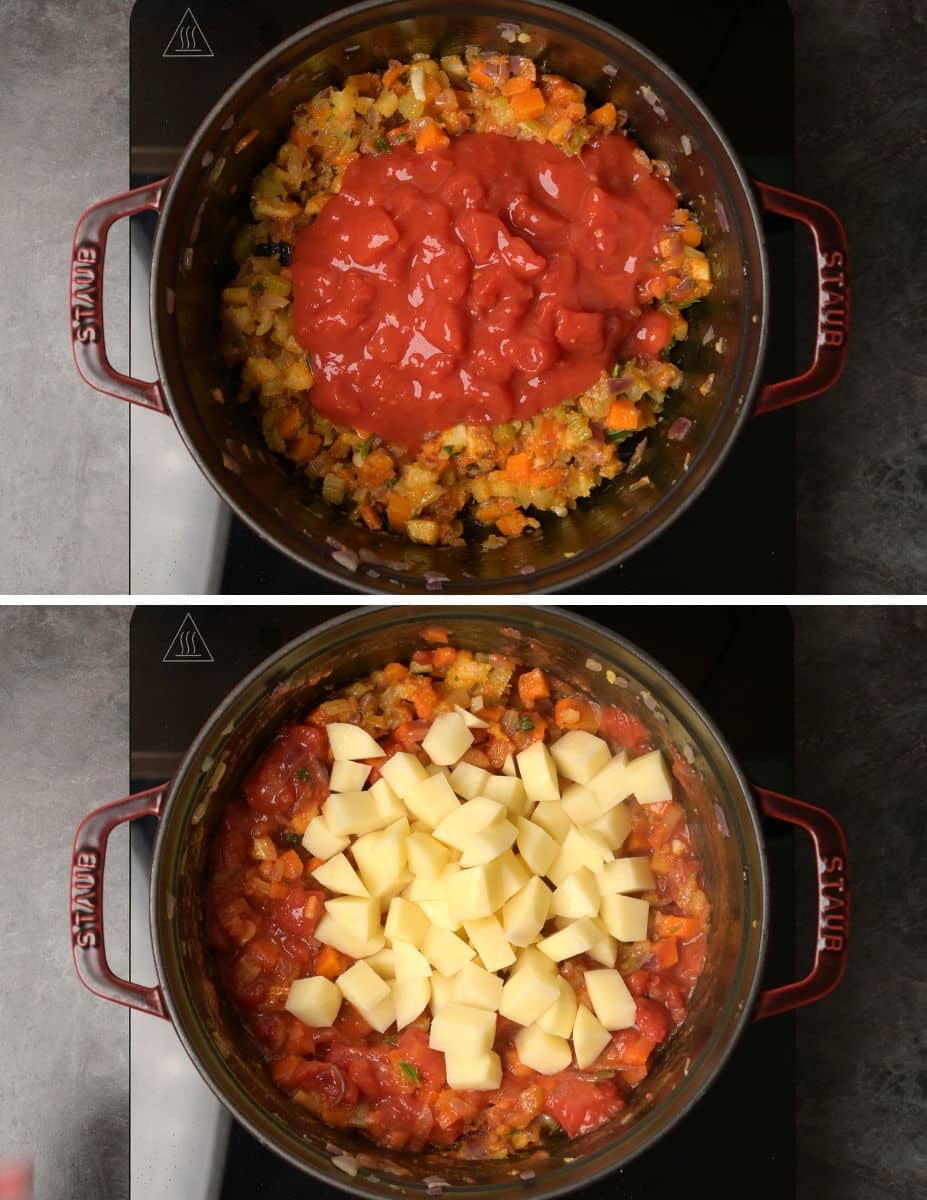 Bring to a boil, then lower the heat, cover the pot with a lid, and simmer for 25-30 minutes, stirring occasionally, until the lentils are cooked to your liking.
Add the baby spinach and put the lid back for a minute to allow it to wilt.
Season with freshly ground black pepper and extra salt if needed and serve with your favourite crusty bread.
Recipe notes and tips
You don't need to soak the lentils for this easy vegan lentil soup, but it's always a good idea to give them a quick rinse under cold water before adding them to the pot.
Sopa de lentejas is perfect with a chunk of rustic bread, but you can also serve it with toast.
Leftovers will keep well in the fridge for up to 5 days in an airtight container. You can also freeze the soup for up to 3 months.
If you liked this sopa de lentejas, you might also like some of my other easy vegan soup recipes:
Don't miss out on any new recipes! Follow Vegan Cocotte on Instagram, Facebook and Pinterest.