This peanut butter soup is inspired by a staple West-African dish and has a delicious flavour that combines sweet potato with protein-packed peanut butter and chickpeas. It's a naturally vegan soup that pairs well with crusty bread or rice.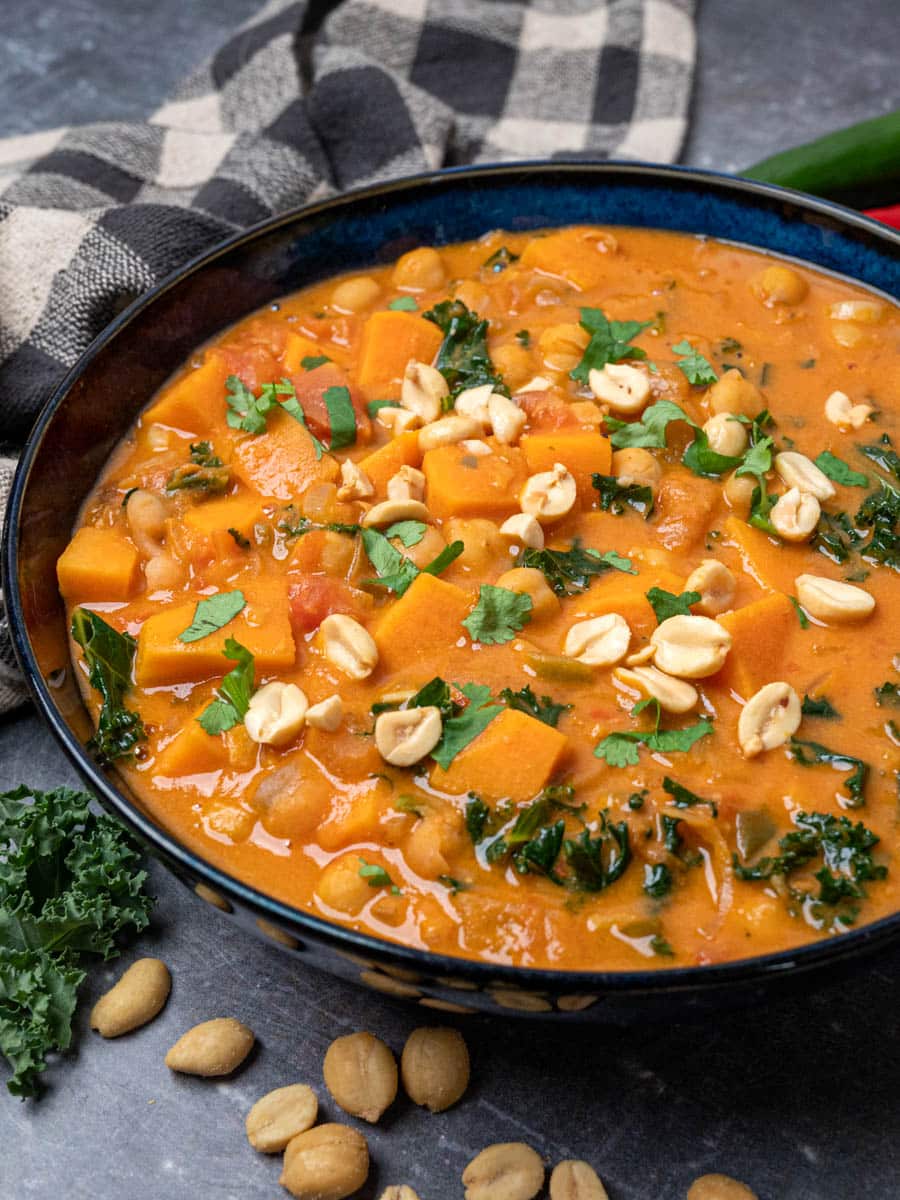 Peanut butter soup is hearty and warming, not to mention super nutritious. When it comes to protein, it's truly a vegan's dream — you'll get loads of protein from the peanut butter and chickpeas combo.
This sweet potato peanut butter soup is of West African inspiration, and it's just a bit spicy. You can, however, tweak the spiciness level to suit your taste.
You may think that peanut butter in soup sounds a bit strange. In fact, this is the ingredient that binds everything together and makes the soup extra creamy.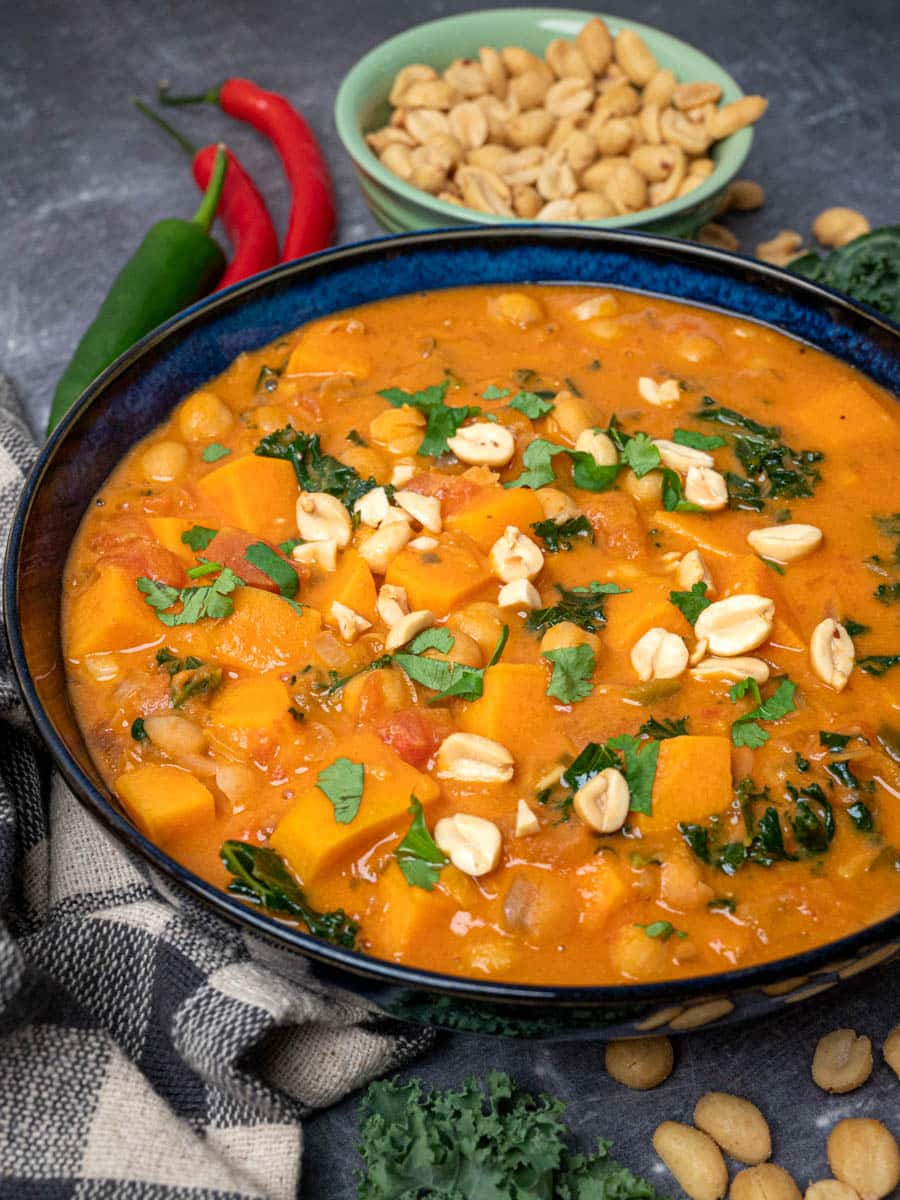 Ingredients and substitutions
Olive oil — Use some good quality olive oil if possible for soups like this. Extra virgin olive oil is always a winner. You can saute the veggies in some stock or even water if you don't cook with oil.
Onion — Both brown and red onion are good options here. Make sure you allow the onion to soften and even caramelize a bit, as it really makes a difference. Don't rush it!
Garlic — Fresh garlic and ginger are great in this soup, but you can also use frozen or a paste if you don't have any fresh ones.
Tomato paste — The combination of peanut butter and tomato paste is a really delicious one. If you want to soup to have an even more pronounced tomato paste, you can double the quantity.
Crushed tomatoes — Just like in the case of olive oil, quality canned tomatoes make all the difference, so use the best you can.
Ground cumin — This is the only spice I like to add to this soup, and I like how it provides it with just the right amount of warmth it needs. You can also add some chilli powder if you like.
Sweet potato — You don't need a lot of sweet potato for this creamy peanut butter soup. A medium one (about 300 g) would be enough.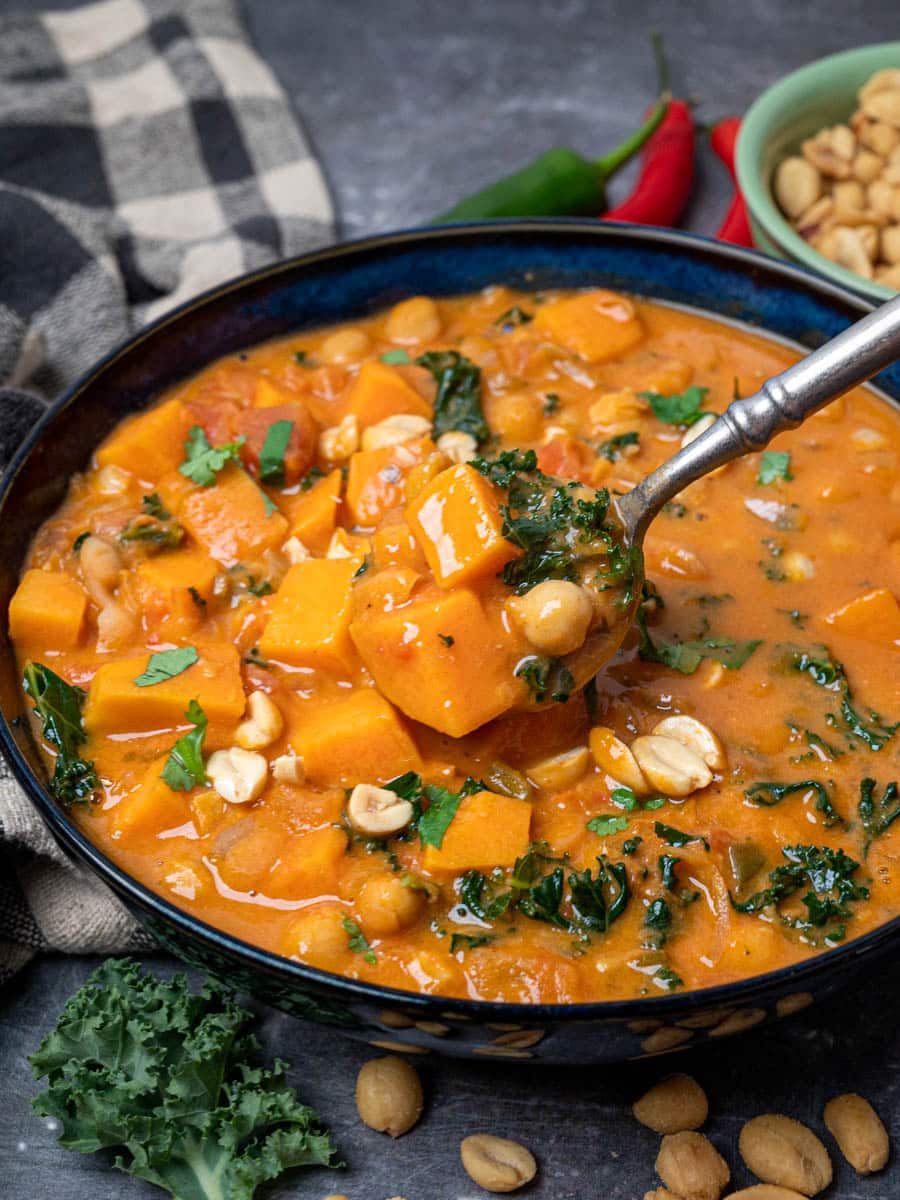 Peanut butter — The soup will taste like peanut butter, so make sure you use a good one. Natural peanut butter is best here — look for a type that only has peanuts as an ingredient.
Kale — I love to make this peanut butter soup with kale, but you can also use other greens, like spinach or collard greens.
How do you make peanut butter soup
Heat the olive oil in a heavy bottom pot and saute the onion for 4-5 minutes over medium heat until softened and slightly golden.
Stir in the garlic and continue to cook for another minute until fragrant.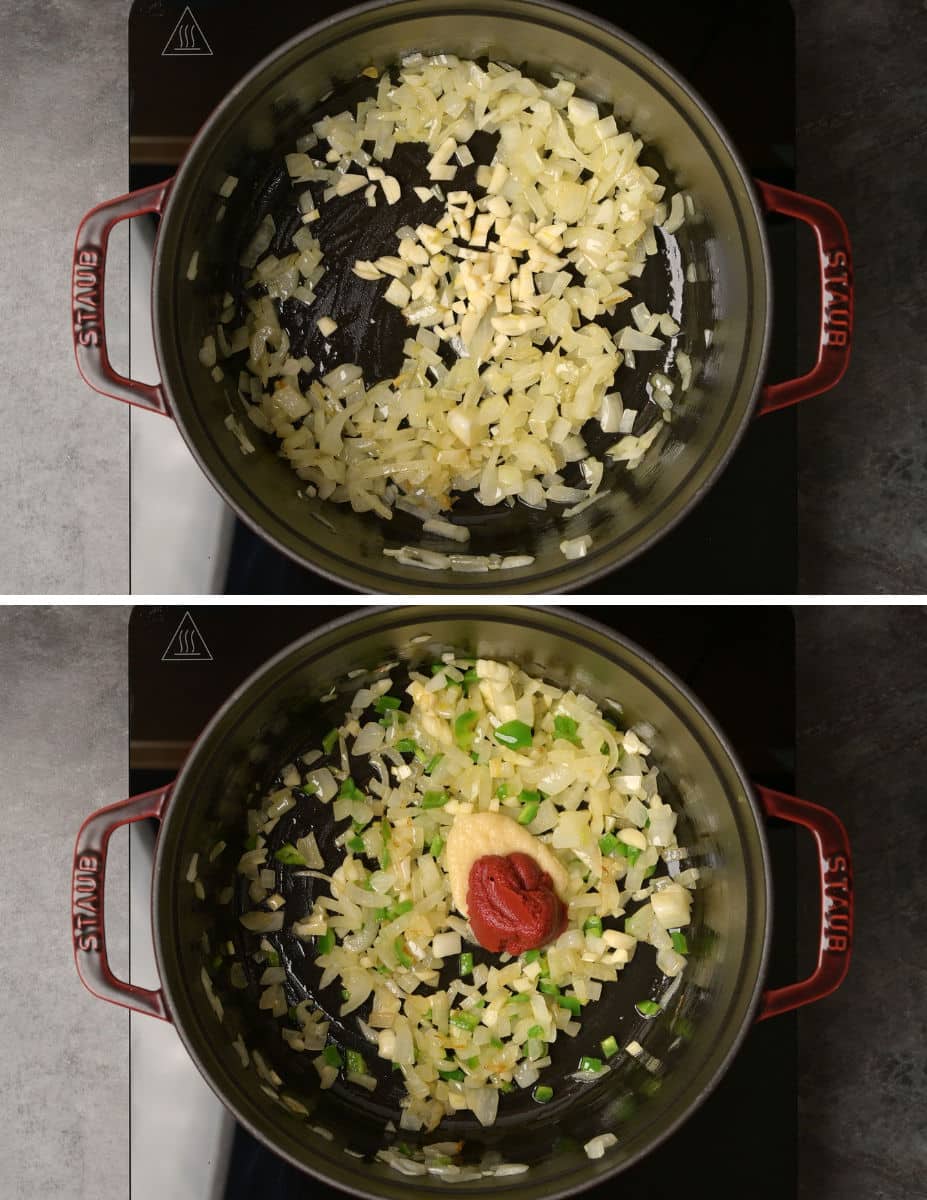 Next, add the tomato paste and ground cumin and cook for a further minute, stirring occasionally.
Add the rest of the ingredients except for the kale, stir well to combine, then bring to a boil.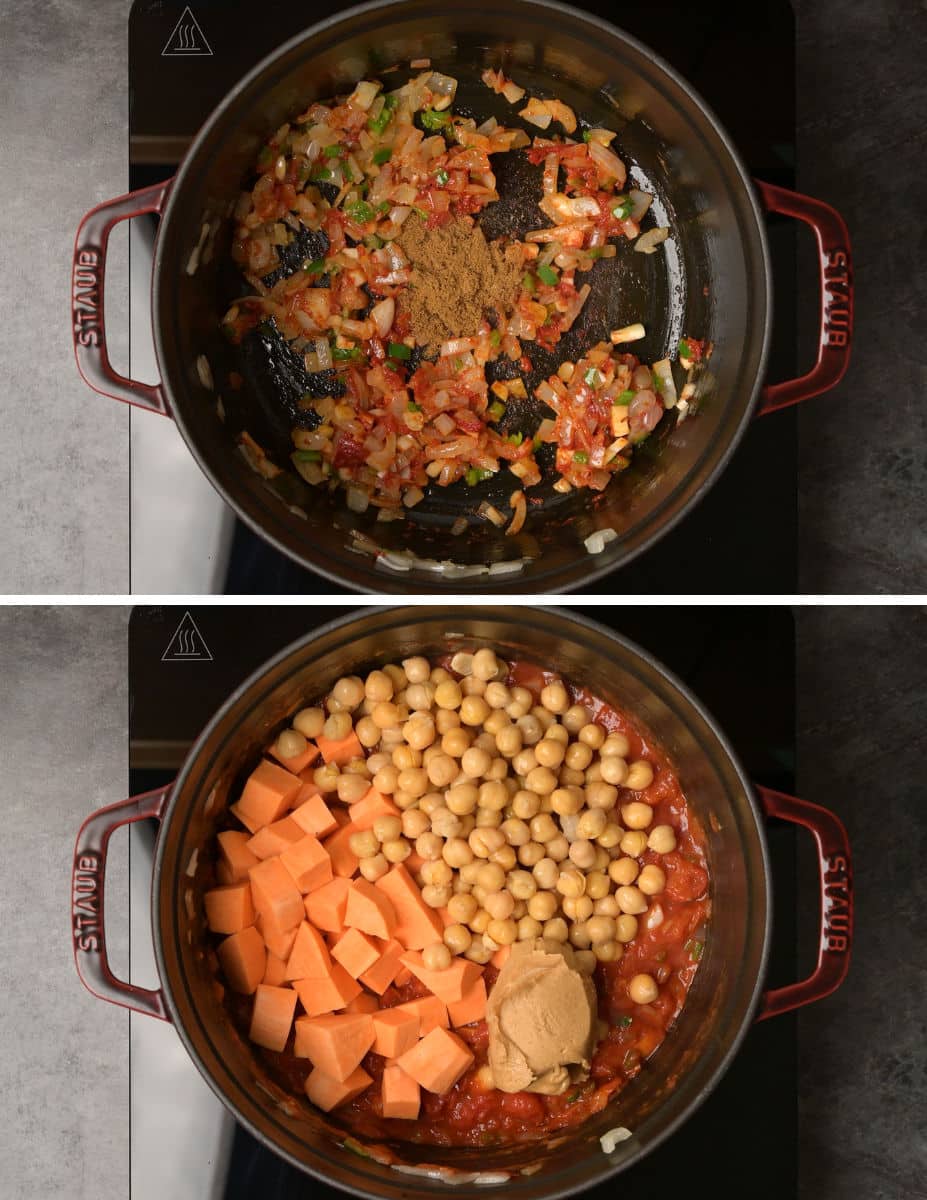 Lower the heat, cover with a lid and simmer for 15 minutes until the sweet potatoes are fork-tender.
Stir in the kale and continue to simmer for 2-3 minutes until it wilts. Season to taste and serve with your favourite rice or crusty bread.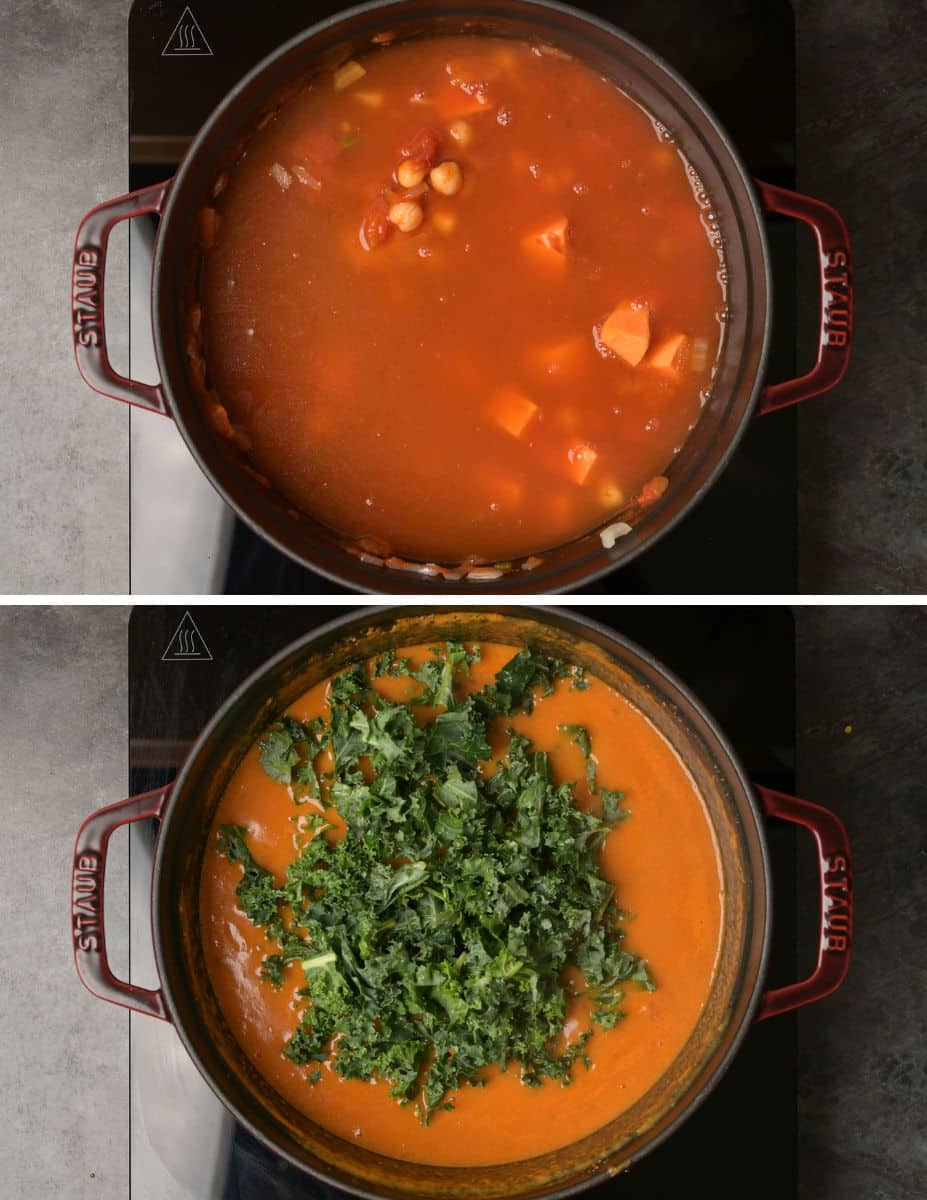 Recipe notes and tips
The soup shouldn't need any extra salt because you'll have enough from the veggie stock and peanut butter. Make sure you taste the finished soup before seasoning it any further.
This peanut butter soup goes great with rice, as it has more of a stew-like consistency. If you'd like it to be thinner, add some extra stock and serve it with your favourite crusty bread.
Top up the soup with some crushed roasted peanuts and thank me later!
If you liked this peanut butter soup, you might also like some of my other easy vegan recipes:
Don't miss out on any new recipes! Follow Vegan Cocotte on Instagram, Facebook and Pinterest.