Prasorizo (Greek leeks with rice) is a naturally-vegan dish that's fulfilling and full of flavour. This classic Greek is made with just a handful of simple ingredients and makes a light, healthy lunch or side dish.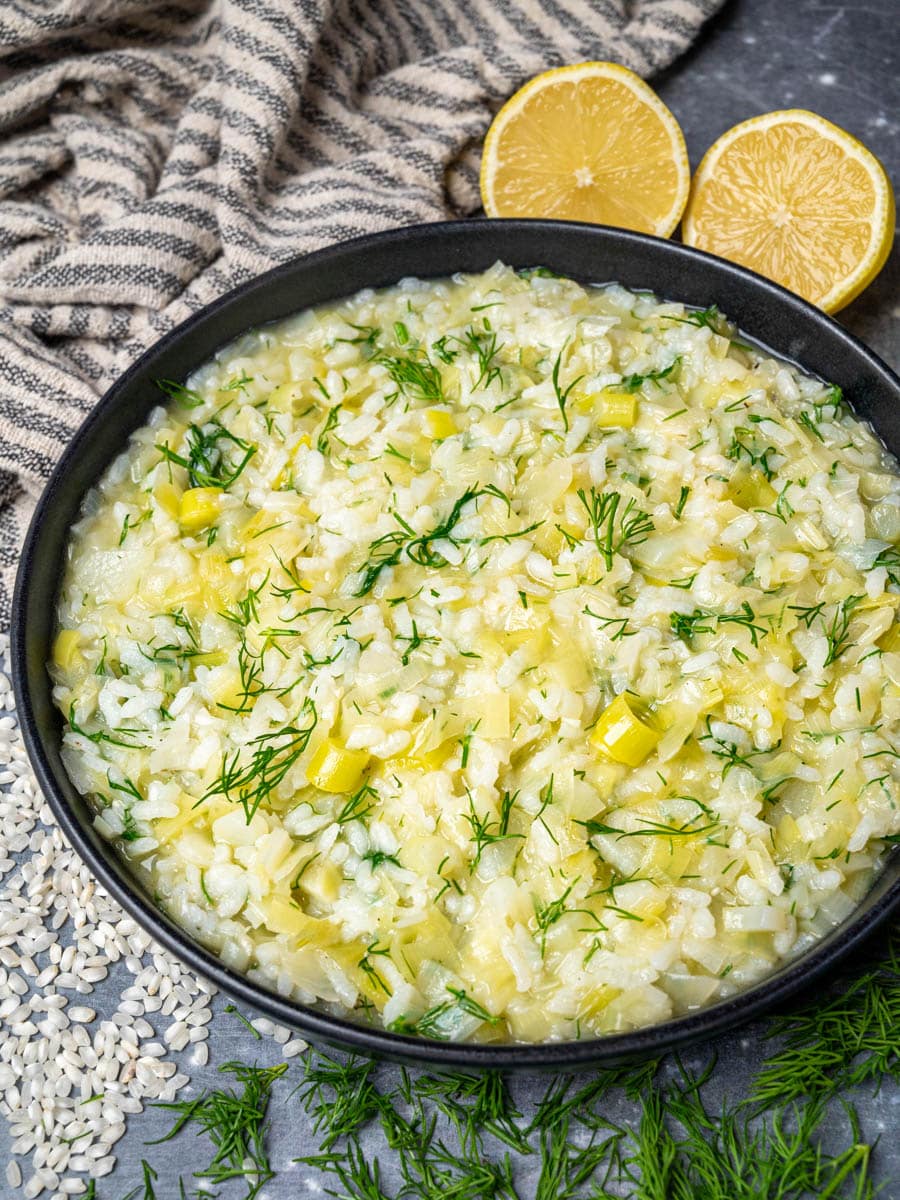 Simple dishes are often the best, and prasorizo is definitely proof of that statement. Just like spanakorizo and lahanorizo, this Greek leeks and rice dish combines the goodness of veggies with rice in a one-pot dish that's delicious and full of flavour.
Prasorizo is a kind of leek and rice pilaf that's just perfect to try if you have too many leeks on your hands or simply because you love them and you're looking for more ways to enjoy them.
Just like many other dishes of this kind, prasorizo is often served with generous amounts of feta in Greece. Vegan feta is just as good, and you can sprinkle it on individual bowls before serving. The one from Violife is quite close to the real thing.
Why you'll love this prasorizo recipe
It's very easy to make with just six simple ingredients.
It works well as a light lunch, or you can serve it as a side dish for a BBQ or a potluck.
It's just the perfect dish to try when you have too many leeks on your hands.
Ingredients and substitutions
Olive oil — As with any Greek dish, it's best to use some quality extra virgin olive oil. Don't be tempted to reduce the amount of oil in the recipe because the flavour just won't be the same.
Onion — The onion is optional, but I find that it enhances the flavour of the leeks. Both yellow and red onions work well here.
Leeks — You'll need about three medium leeks for this prasorizo recipe — that's about 300 g (¾ lb) total. Make sure you wash the leeks thoroughly because they often hide dirt between the layers.
Rice — A medium grain rice is just perfect for prasorizo. You want something that's a bit starchy for a creamy result. Arborio rice or paella rice are both good options.
Lemon — The zest and juice of a lemon infuse prasorizo with so much flavour and brightness! Feel free to use more or less lemon to suit your taste.
Fresh dill — One of the key ingredients in prasorizo, fresh dill can't be substituted with anything else. I like to add a generous amount but you can adjust the quantity to your liking.
How to make prasorizo
Heat the olive oil in a large pot or Dutch oven and saute the onion for 2-3 minutes over medium heat.
Stir in the garlic and leek and continue to cook for 5 minutes, stirring often, until the leek has softened.
Add the rice and stir to combine, then toast for 1-2 minutes, stirring often.
Stir in the water and salt and bring to a boil. Lower the heat and simmer, covered, for 20 minutes or until the rice is tender. The water should be mostly absorbed but not completely. If it looks too dry and the rice is not cooked, add some more water and continue to cook until the rice is ready.
Add the lemon zest and juice and the fresh dill and stir to combine. Season to taste and serve with an extra drizzle of olive oil if you like.
Recipe notes and tips
Prasorizo can be enjoyed hot, but it's often served at room temperature. It's one of those recipes that taste even better the next day.
Leftovers will keep well in the fridge for up to 3 days in an air-tight container.
To make it extra creamy, add a knob of plant-based butter with the olive oil.
Serve prasorizo with freshly chopped spring onion on top for extra flavour.
If you liked this prasorizo recipe, you might also like some of my other easy vegan rice recipes:
Don't miss out on any new recipes! Follow Vegan Cocotte on Instagram, Facebook and Pinterest.