This easy pinto bean soup is hearty, nutritious and ready in just over half an hour. You can make it with just a couple of pantry staples for a delicious weeknight meal that's also super good for you.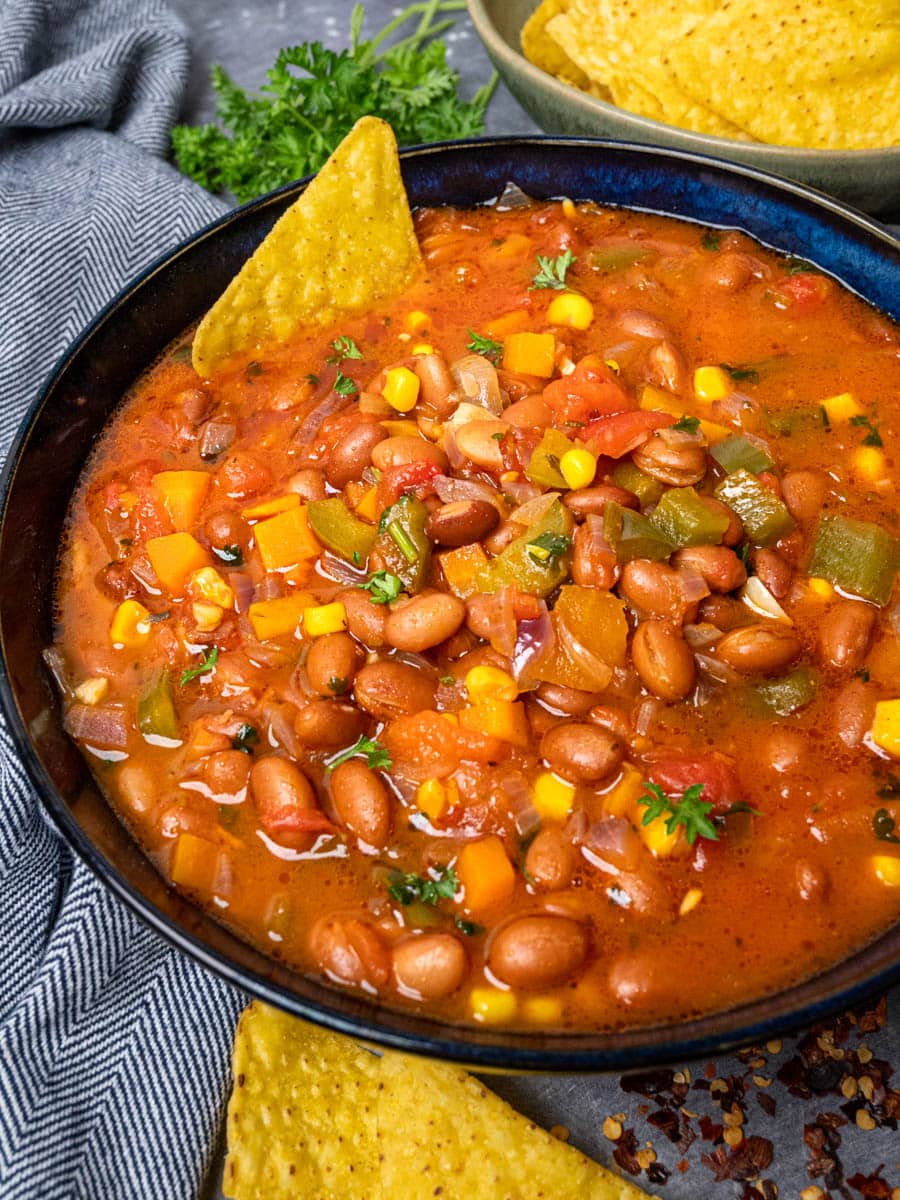 A steaming bowl of soup is all I want to see on my table on a cold day. Double points if it has beans, so it keeps me full for longer.
This vegan pinto bean soup ticks all the boxes on my "perfect soup" checklist — it's delicious, quick and easy to make and super nutritious.
Besides being delicious, this is also a very healthy bean soup with Mexican-inspired flavours that's comfort food at its best.
You can make it as creamy as you want, too — I like it quite chunky, but you can easily blend half or all of the soup if you want yours on the creamier side.
Ingredients and substitutions
Olive oil — You only need a bit of extra virgin olive oil to saute the veggies in. If you don't want to cook with oil, you can use a bit of veggie stock or even water. Keep in mind that veggies won't be as flavourful as they are when you saute them in oil.
Red onions — I love red onion in Mexican-style dishes, but you can use any other type you want.
Carrot, celery and bell pepper — Make sure you dice the veggies into similar bits so they cook evenly.
Garlic — Fresh garlic is always best in soups such as this.
Spices — I use a mix of smoked paprika, ground cumin, dried oregano and chilli flakes, but you can adjust them to suit your taste. To give the soup a bit of a kick, you can add a finely chopped green chilli.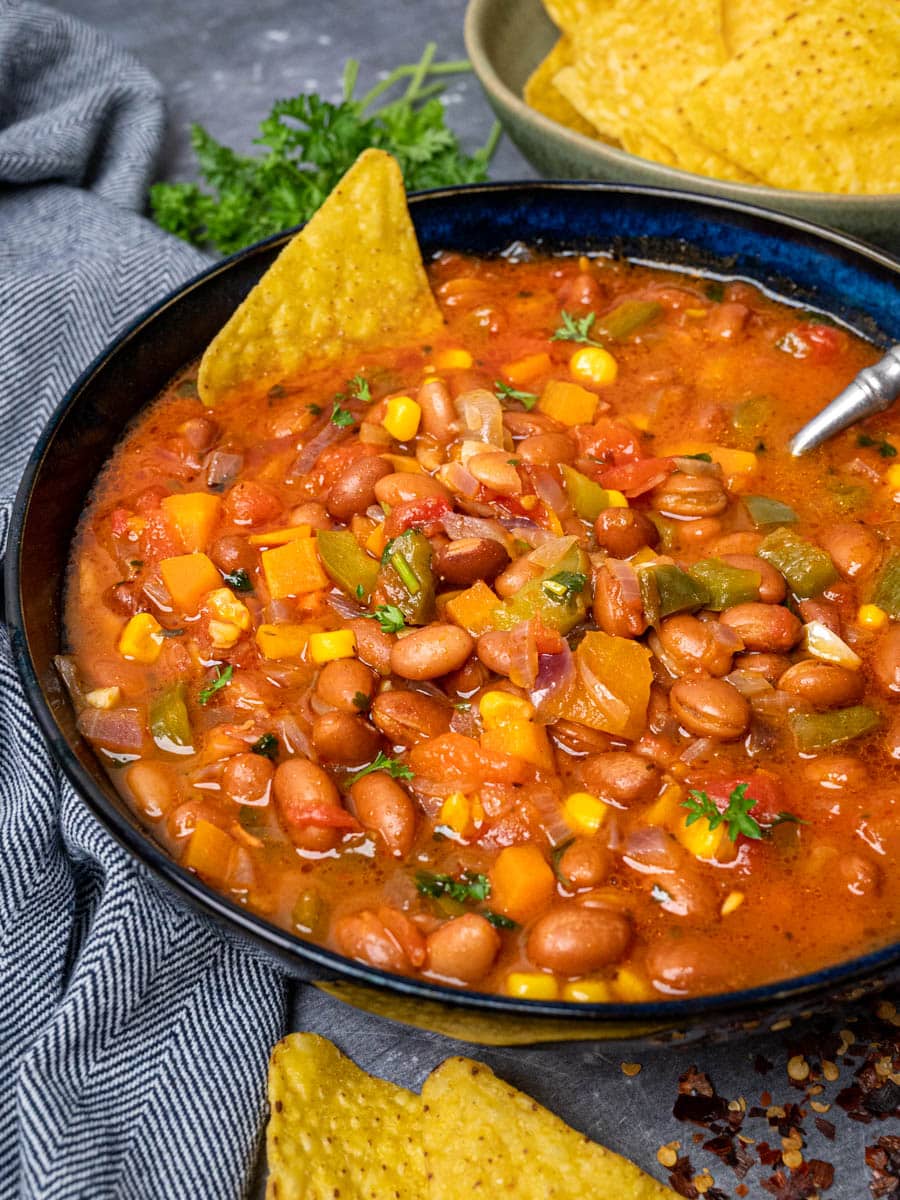 Chopped tomatoes — A can of chopped tomatoes is all you need here. You can also use peeled tomatoes that you crush by hand.
Pinto beans — I use canned pinto beans for this soup because it's quite convenient, and I always have a couple of cans in the pantry.
If you want to use dried pinto beans that you cook from scratch:
Place the beans in a bowl and cover them with cold water.
Cover the bowl and allow them to soak overnight.
Rinse and drain the beans and use them in this recipe.
You'll need to simmer the soup for an extra 30 minutes or until the beans are soft.
The equivalent of a 400 g (14-oz) can of pinto beans is approximately 125 g (4.5 oz or ¾ cup) dried beans.
Vegetable stock — You can use homemade veggie stock or your favourite shop-bought version for this Mexican bean soup.
How do you make pinto bean soup
Heat the olive oil in a large, heavy-bottomed pot and saute the red onions, carrot and bell pepper for 10 minutes over medium heat, stirring frequently.
Stir in the garlic and continue to cook for another minute until fragrant. Next, add the smoked paprika, cumin, oregano and red chilli flakes.
Add the chopped tomatoes, pinto beans, sweetcorn and vegetable stock and stir to combine. Bring the soup to a boil, lower the heat, and simmer with a lid on for 15-20 minutes.
At this point, you can smash some of the beans with a potato masher or transfer half of the soup to a blender and blend it into a creamy paste, then pour it back into the pot.
Stir in the fresh parsley, season to taste and serve with tortilla chips or cornbread.
Recipe notes and tips
Pinto bean soup will keep well in the fridge for up to three days in an airtight container. The soup actually tastes better when reheated because the flavours have time to settle. You can reheat it on the stovetop or in the microwave.
You can also freeze pinto beans soup. Allow it to cool completely, then transfer it to a freezer-friendly container and freeze for 3 months.
This is a soup that goes great with extra toppings, so you can serve it with some sliced avocado, salsa or a dash of vegan sour cream.
If you liked this pinto bean soup, you might also like some of my other easy vegan soup recipes:
Don't miss out on any new recipes! Follow Vegan Cocotte on Instagram, Facebook and Pinterest.