This quick and easy orzo vegetable soup is delicious and infused with so much flavor! It only takes 30 minutes to make in one pot for a cozy, hearty meal that will warm you up on a chilly day.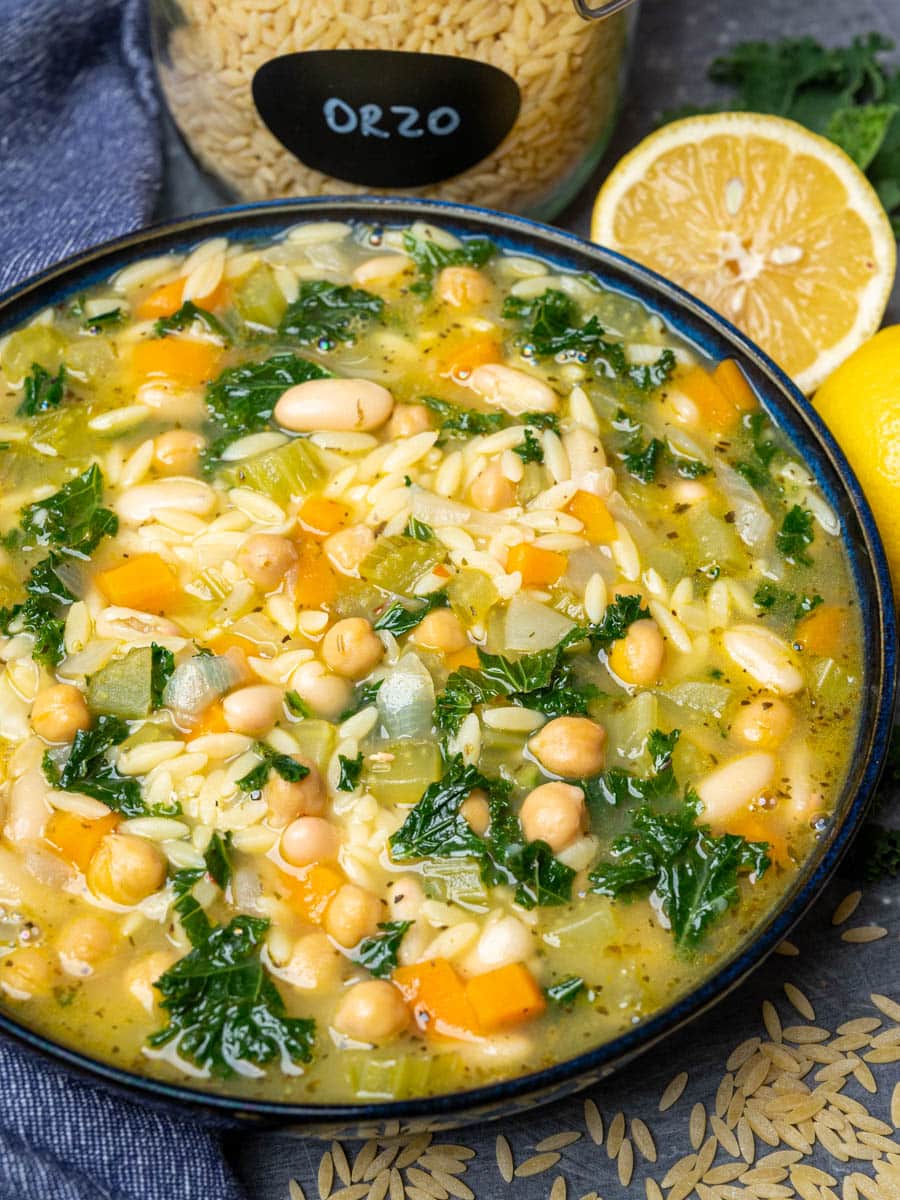 Orzo vegetable soup is a light and flavorful soup made with a mix of veggies, beans and orzo.
It's infused with loads of flavor from herbs and lemon, and it pairs perfectly with a chunk of crusty bread.
This is a one-pot recipe that's naturally vegan and easy to customize with any veggies you may have in the fridge or pantry. Zucchini, mushrooms, bell peppers and potatoes are all great options.
I love orzo in soups because it cooks very quickly and adds some carbs to turn any soup into a complete meal.
If you're not a fan of orzo, you can use rice instead, but you'll need to cook it for longer.
Why you'll love this orzo vegetable soup
Extra flavorful and made with wholesome ingredients
One-pot soup that's ready in just a bit over 30 minutes
Packed with veggies and beans for a super healthy meal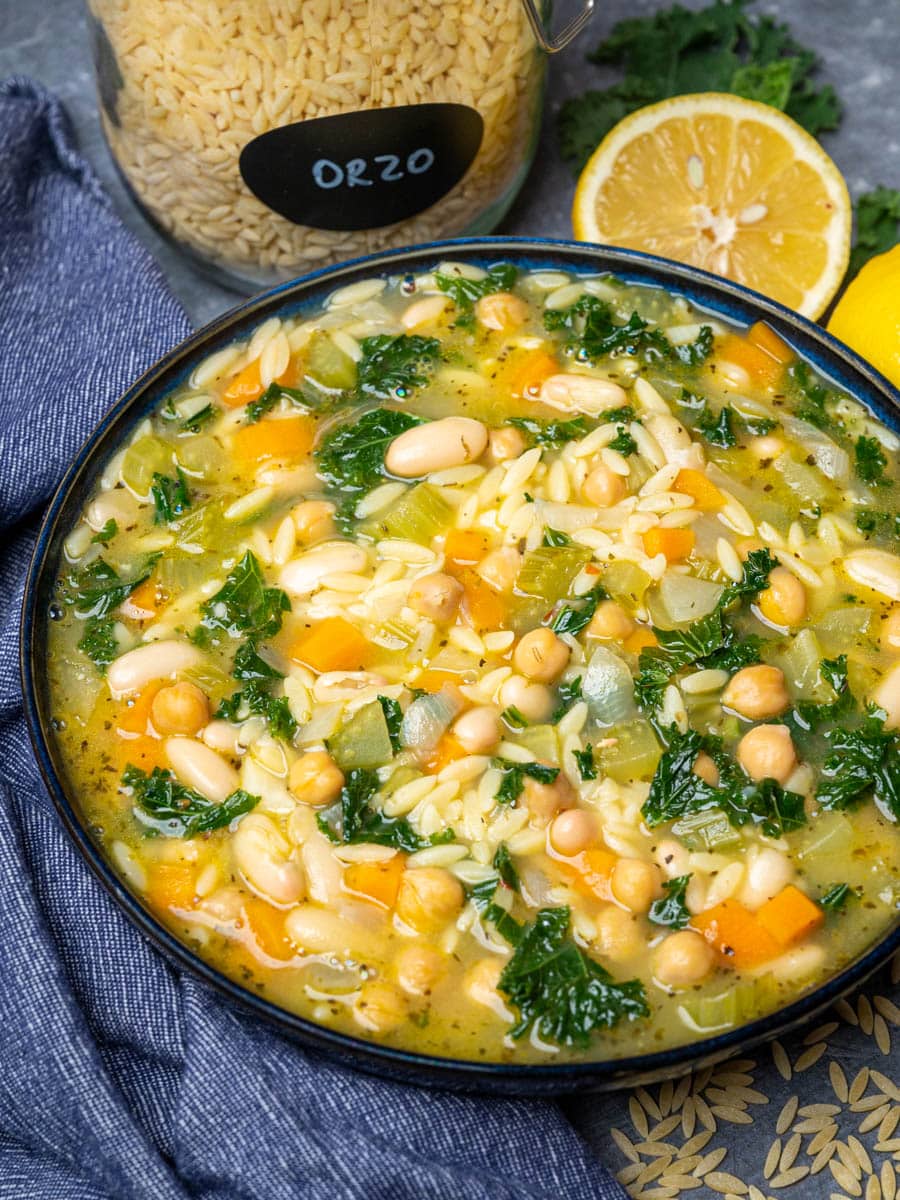 Ingredients and substitutions
Olive oil — Sauteeing the veggies in a bit of extra virgin olive oil sets up an excellent flavor base for the soup. However, if you don't cook with oil, you can saute them in a bit of veggie stock instead.
Onion, carrot and celery — I like to dice the onion, carrot and celery quite small so they cook quickly.
Garlic — There's no such thing as too much garlic in this kind of soup, so feel free to add as much as you like.
Herbs — I used a mix of dried oregano, basil and thyme for this soup. You can also use fresh herbs if you have them on hand, or use an Italian seasoning mix instead.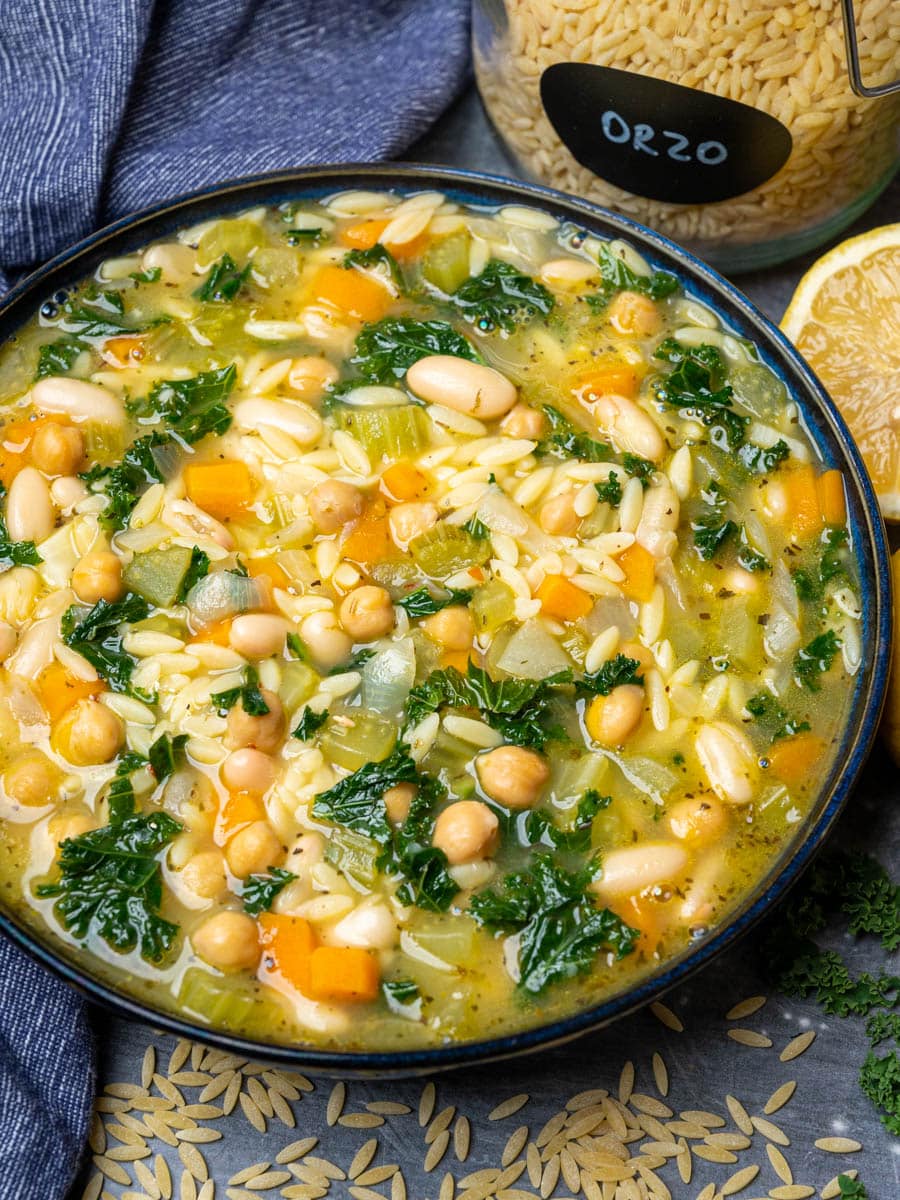 Chickpeas — I always have a couple of cans of chickpeas in the pantry, so I use them for convenience. If you want to make this soup with dried chickpeas, you have to cook them separately first until tender.
Beans — Cannellini beans are perfect in this soup. Alternatives include borlotti beans and pinto beans.
Orzo — I used regular orzo in this veggie soup, but you can also go for wholewheat orzo for a chewy, hearty texture. Make sure you check the directions on the package regarding cooking times.
Lemon — Lemon juice is a key ingredient in this soup because it gives it a bright, punchy finish. For an even more lemony flavor, add some lemon zest, too.
Kale — I love Tuscan kale (cavolo nero) in this soup because it has a wonderful thick texture. You can substitute it with curly kale or even baby spinach, but you won't get the same slightly crunchy texture.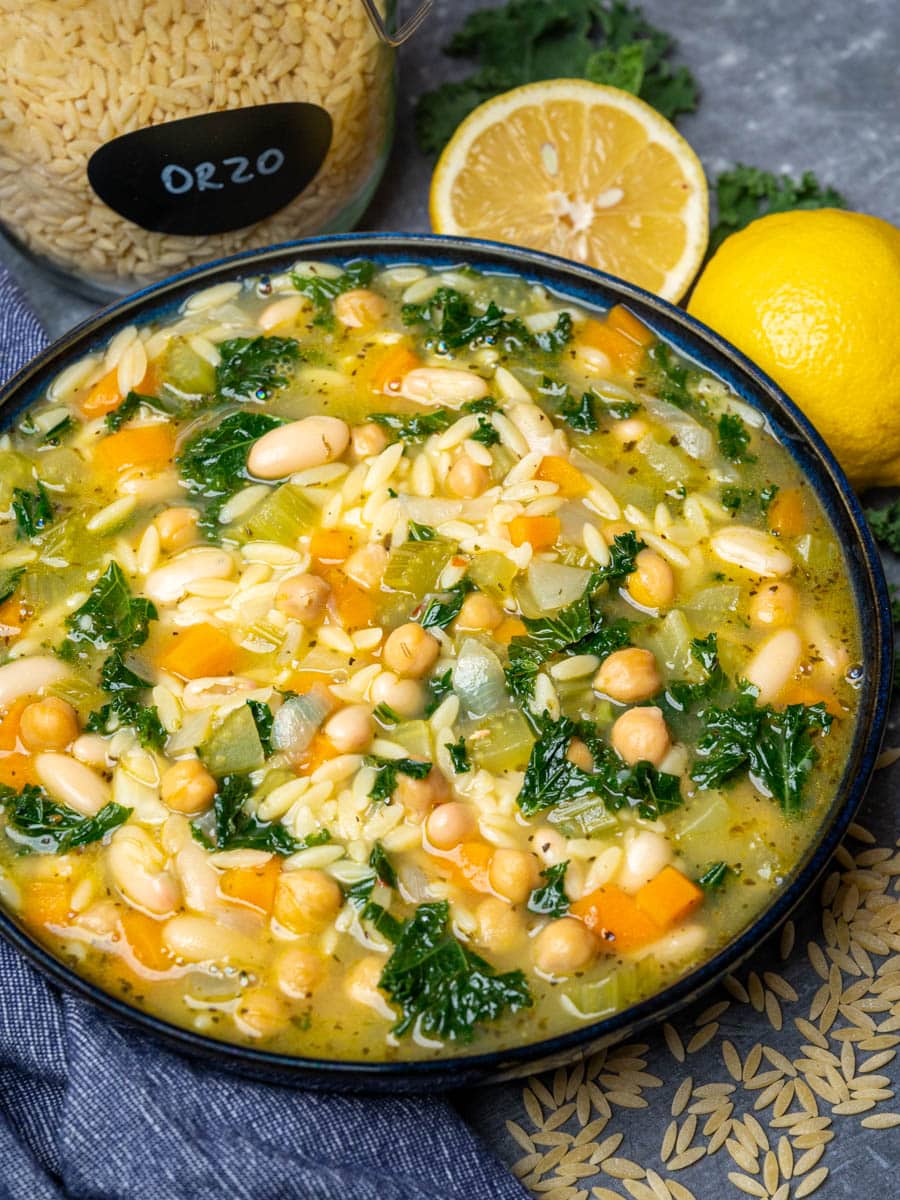 How to make vegetable orzo soup
Heat the olive oil in a large stock pot or Dutch oven and cook the onion, carrot and celery for 6-7 minutes over medium heat until softened.
Stir in the garlic, red chili flakes, dried thyme, oregano and basil and continue to cook for another minute.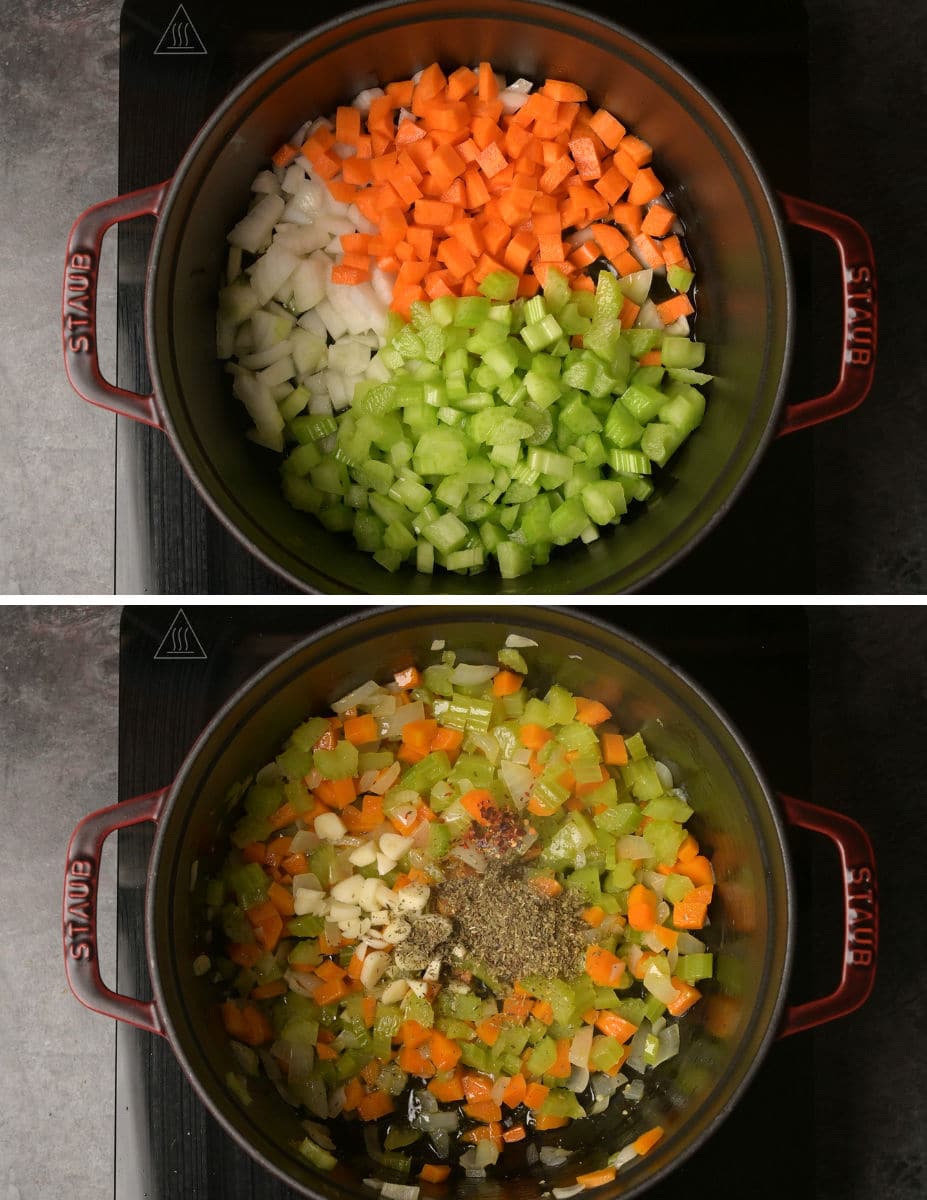 Next, add the chickpeas, beans, orzo and vegetable stock. Stir to combine, bring to a boil, then lower the heat and simmer for 10 minutes until the orzo is cooked.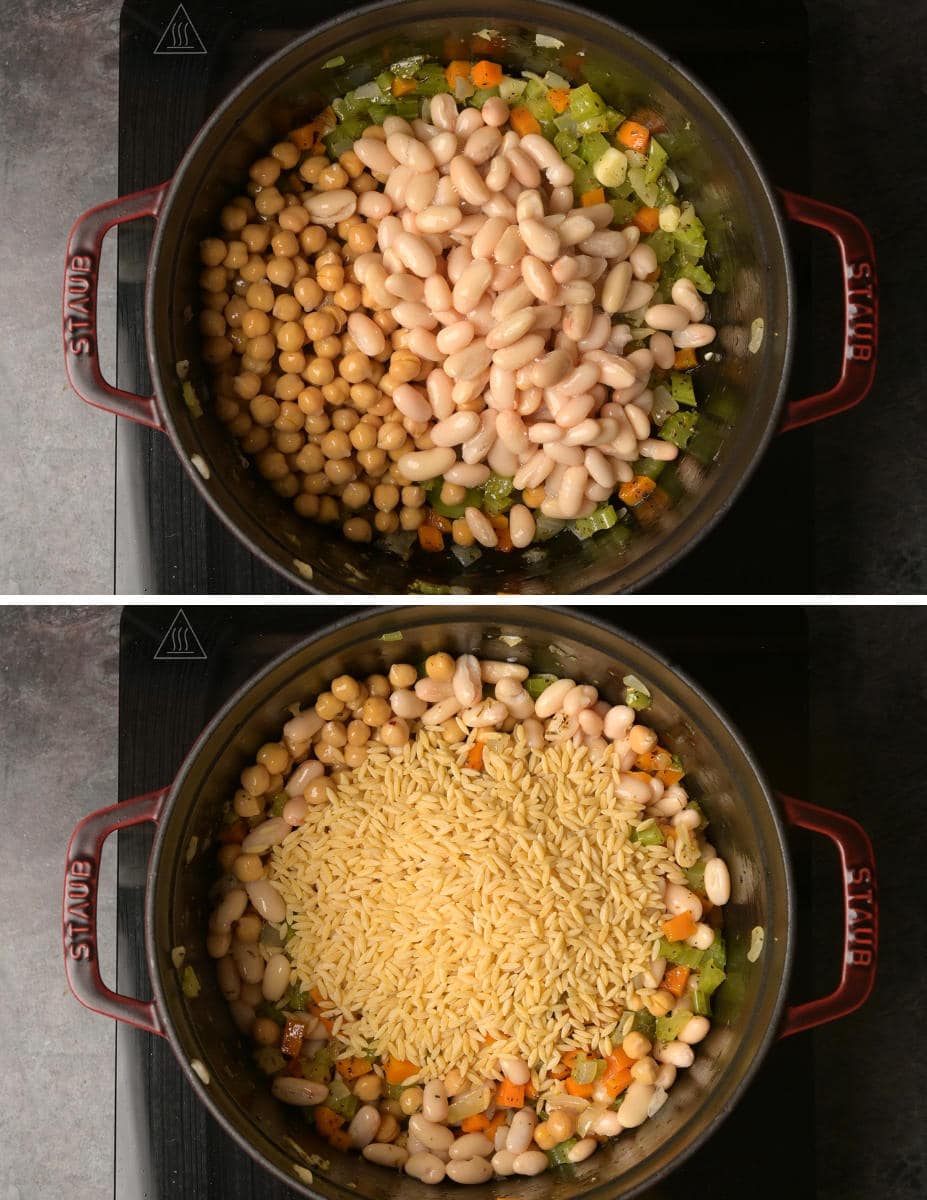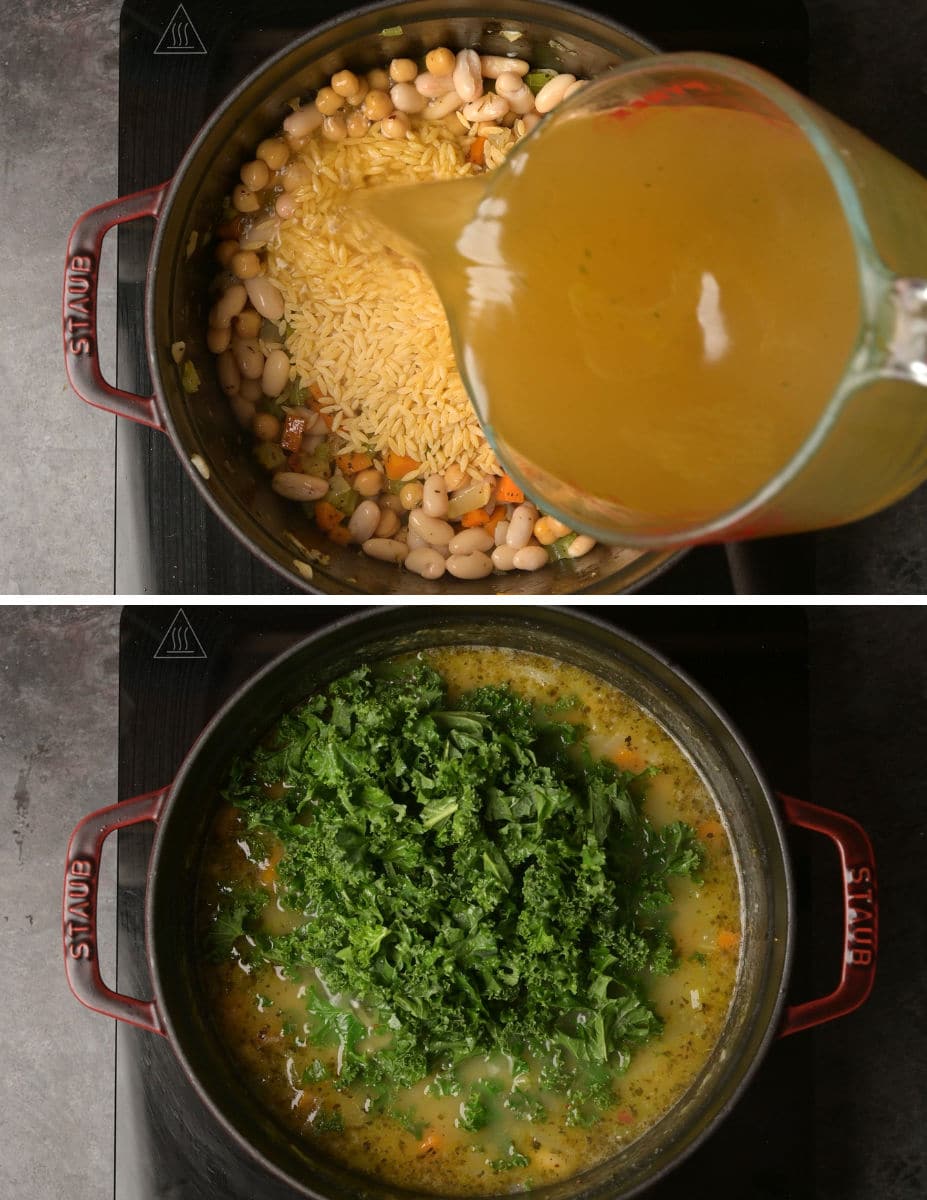 Stir in the lemon and kale and simmer for 1-2 minutes until the kale wilts.
Season to taste and serve immediately with your favorite crusty bread if you like.
Leftovers and storage
Any leftovers will keep well in the fridge for up to 5 days in an airtight container.
Reheat the soup in the microwave or gently on the stovetop. You may need to add some extra veggie stock.
I don't recommend freezing soup that has orzo init.
Recipe notes and tips
This orzo vegetable soup is perfect on its own, but you can also serve it with some crusty bread, croutons or your favorite crackers.
Add some more vegetable stock at the end if it looks like the orzo has soaked up too much of the liquid.
Make the soup creamy by stirring some plant-based cream when adding the kale.
If you liked this orzo vegetable soup recipe, you might also like some of my other easy vegan soups:
Don't miss out on any new recipes! Follow Vegan Cocotte on Instagram, Facebook and Pinterest.