This lentil cauliflower soup is the ultimate comfort food, perfect for any time of year. Loaded with warming spices, cauliflower florets and lentils in a spicy broth, this is the soup to try when you want a healthy yet restaurant-delicious meal.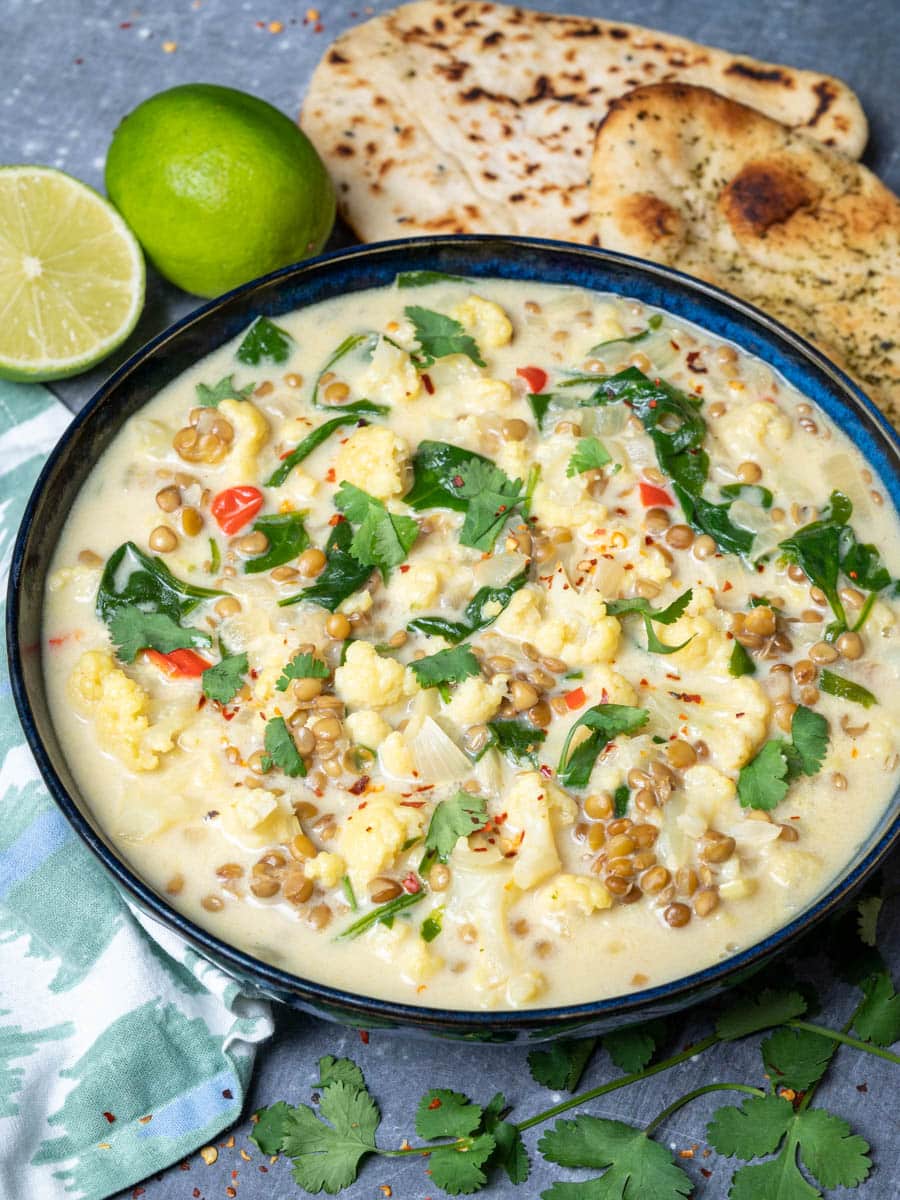 This lentil cauliflower soup is like a warm hug in a bowl and easily one of the best spicy soups I've ever made. It's loaded with cozy spices, tender cauliflower florets, and hearty lentils, all swimming in a spicy and flavorful broth.
I love this coconut cauliflower soup not just because it's amazingly tasty but also because of the mix of wholesome ingredients like lentils, cauliflower, and spinach. These create a balanced meal that fills me up without weighing me down.
The best way to enjoy a bowl of this comforting soup is with a slice of crusty bread or some warm naan, but you can even serve it over cooked rice or quinoa for a heartier meal.
Why you'll love this lentil cauliflower soup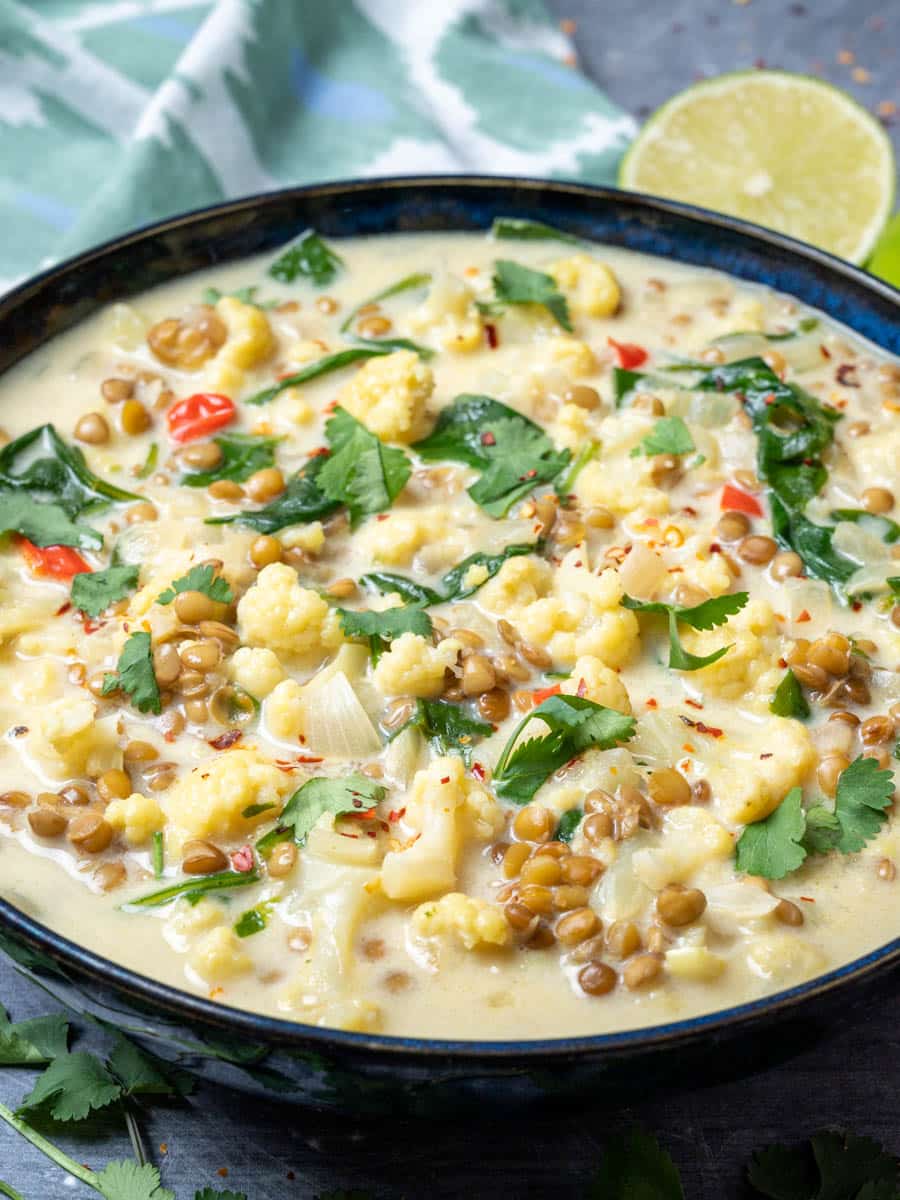 Ingredients and substitutions
Olive oil — I sautéed the veggies in a bit of extra virgin olive oil for a rich and smooth flavor. You can also use canola oil or coconut oil if you like.
Onion — Yellow onions are great in this soup, but you can also use white or red onions. If you don't have fresh onions, you can use frozen diced onions, too.
Garlic and ginger — I never skimp on fresh garlic and ginger as they add warmth and complexity to the soup.
Fresh red chili — Fresh red chili adds a spicy kick to the soup. You can adjust the amount according to your heat preference.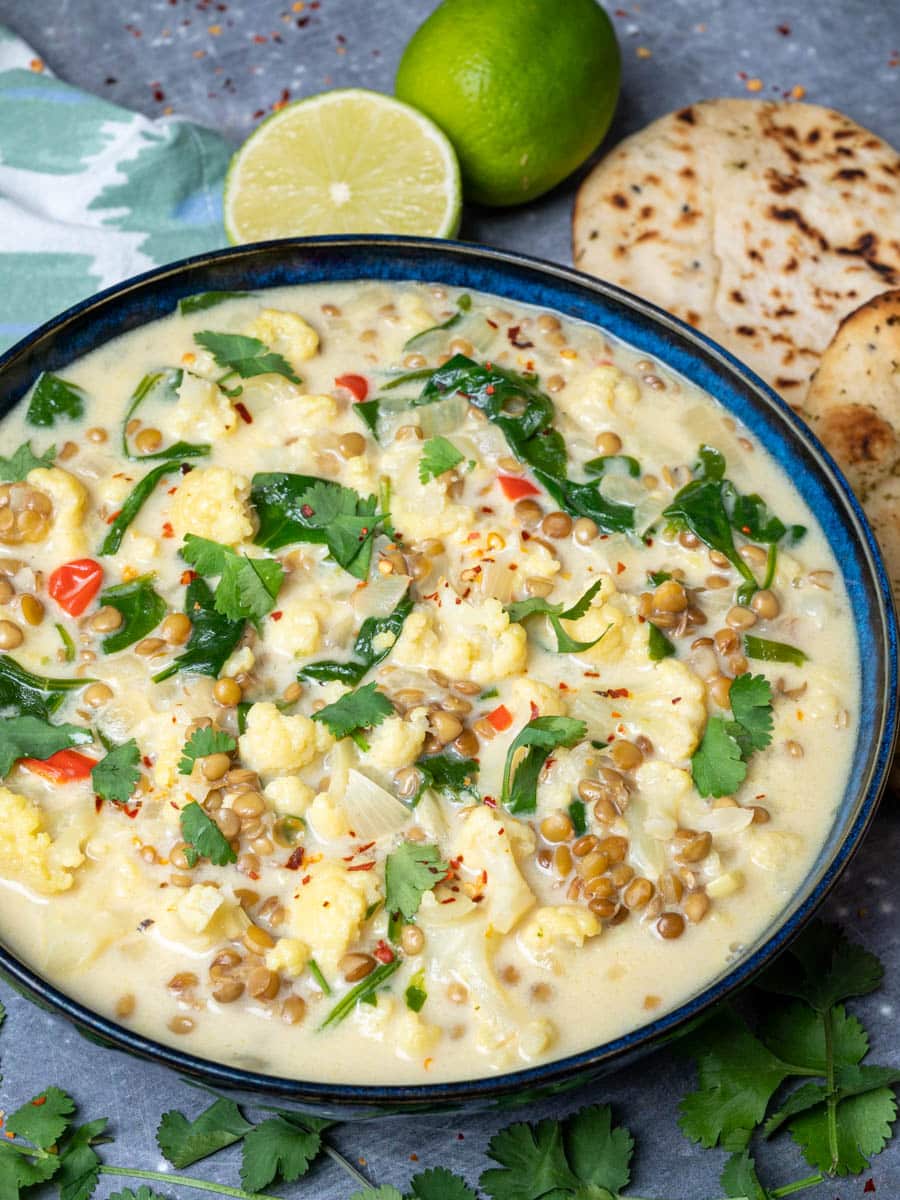 If you don't have fresh chili, you can use dried red pepper flakes, cayenne pepper, or hot sauce to add heat.
Spices — I used ground cumin, coriander and turmeric to enhance the flavor of the soup with a warm and earthy taste.
You can use a pre-mixed curry powder or garam masala as a substitute. Start with 1 tablespoon and adjust to taste.
Cauliflower florets — Fresh cauliflower florets are best here, but you can use frozen cauliflower florets or even substitute them with other vegetables like broccoli or zucchini.
Lentils — Lentils are the main protein source in this healthy cauliflower soup, providing a hearty texture and earthy flavor.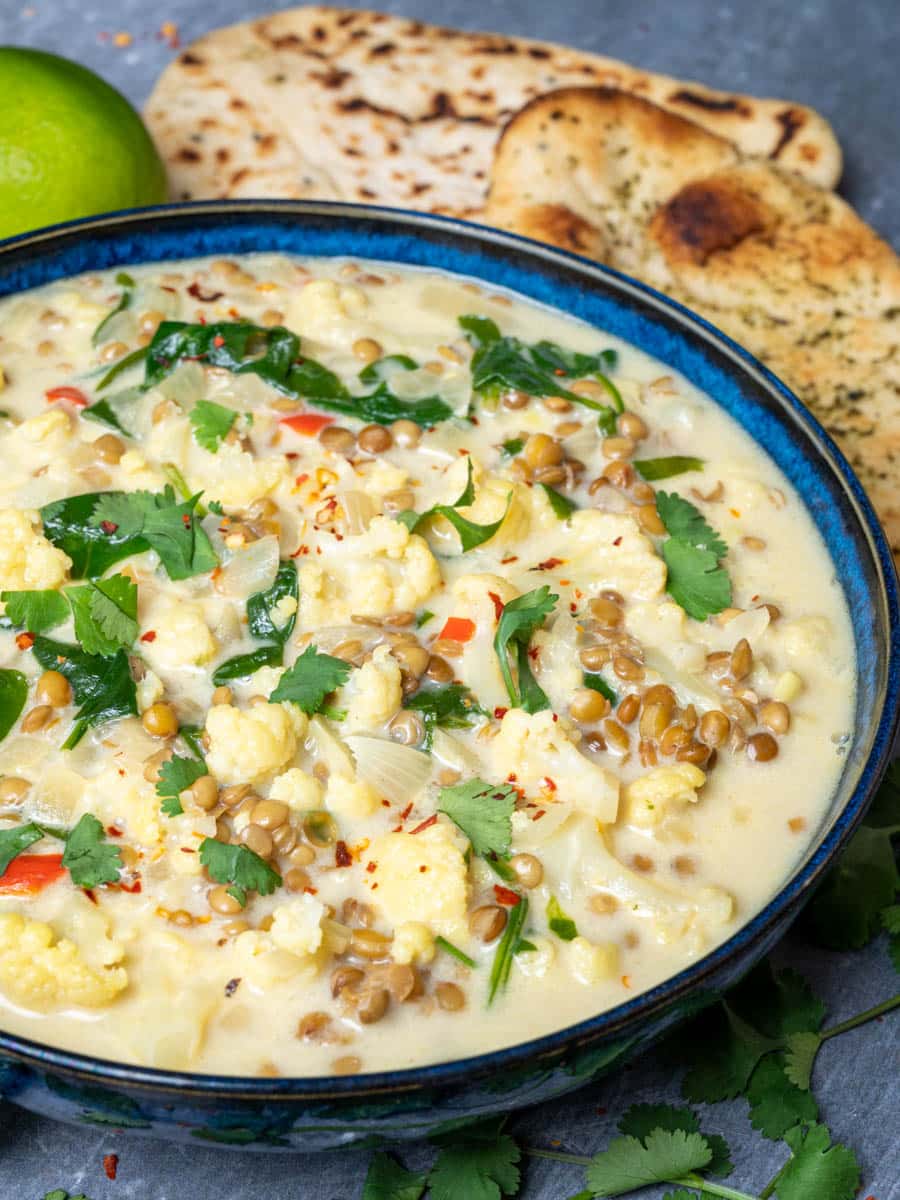 I used canned lentils for convenience, but you can also use dried green or brown lentils that you've previously pre-soaked and cooked.
Coconut milk — Coconut milk adds creaminess and a subtle sweetness to the soup while also balancing the spices. Full-fat coconut milk is best for a creamy soup.
Baby spinach — This adds a pop of color and extra nutrients to the soup. If you don't have fresh baby spinach, you can substitute it with other leafy greens like kale, Swiss chard, or collard greens.
Lime juice — Lime juice adds a tangy, fresh flavor to the soup and brightens the overall taste. Lemon juice is another option, or you can skip it altogether.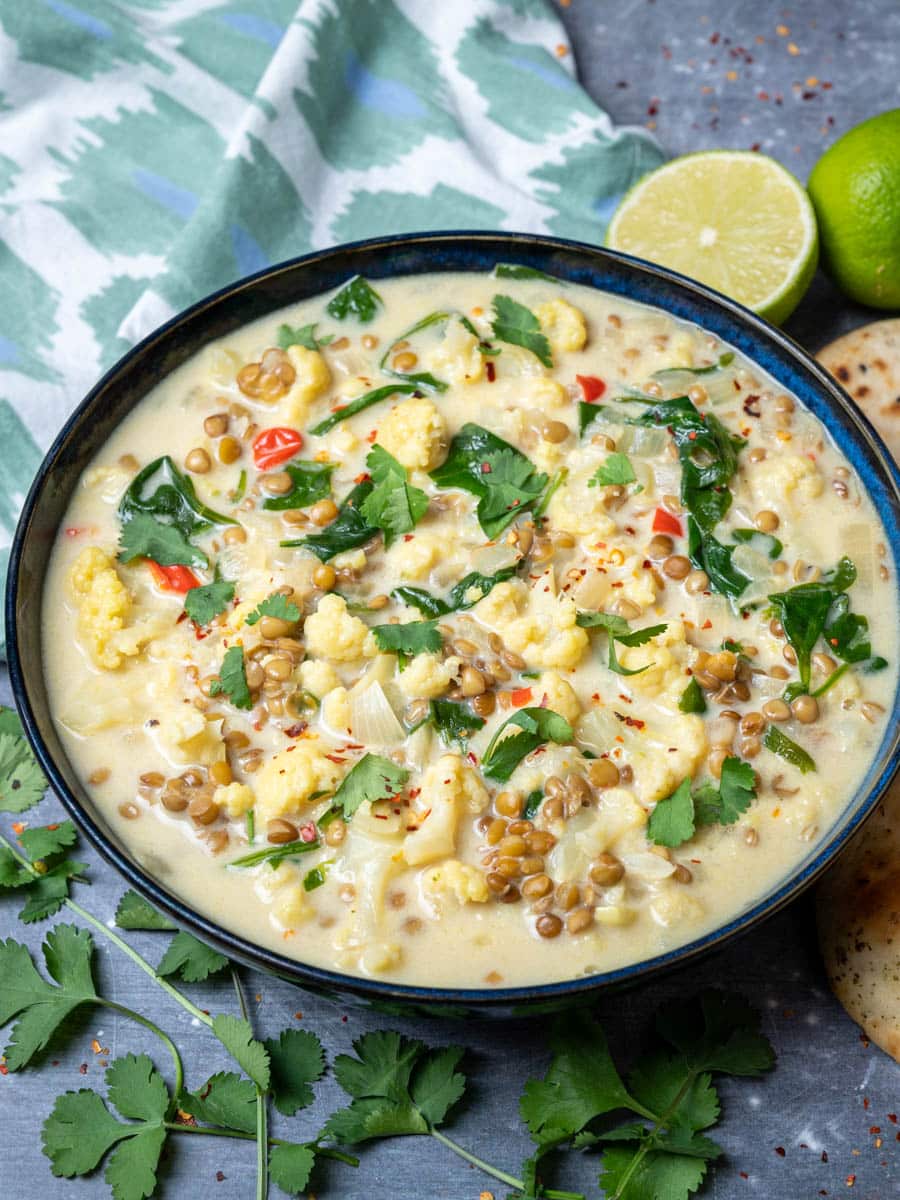 How to make cauliflower and lentil soup
Heat the olive oil in a large pot over medium heat.
Add the onion and sauté for 5 minutes, or until the onion is soft and translucent.
Stir in the garlic, ginger, and red chili and cook for another 2 minutes or until fragrant.
Add the ground cumin, coriander and turmeric to the pot and stir until the spices are well combined with the onion mixture.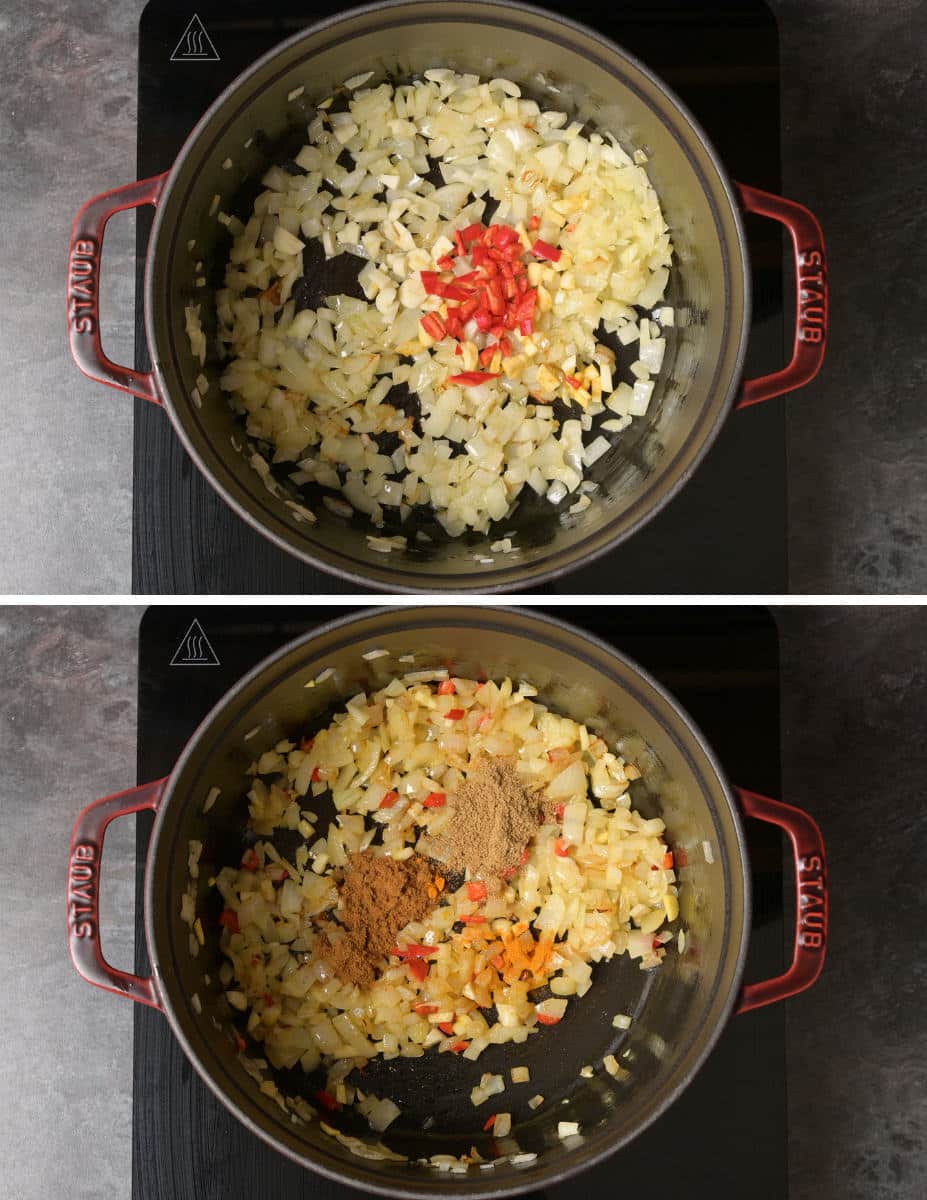 Add the cauliflower florets to the pot and stir to coat them with the spice mixture.
Pour the vegetable stock, bring to a boil, then lower the heat and simmer for 15 minutes, covered with a lid.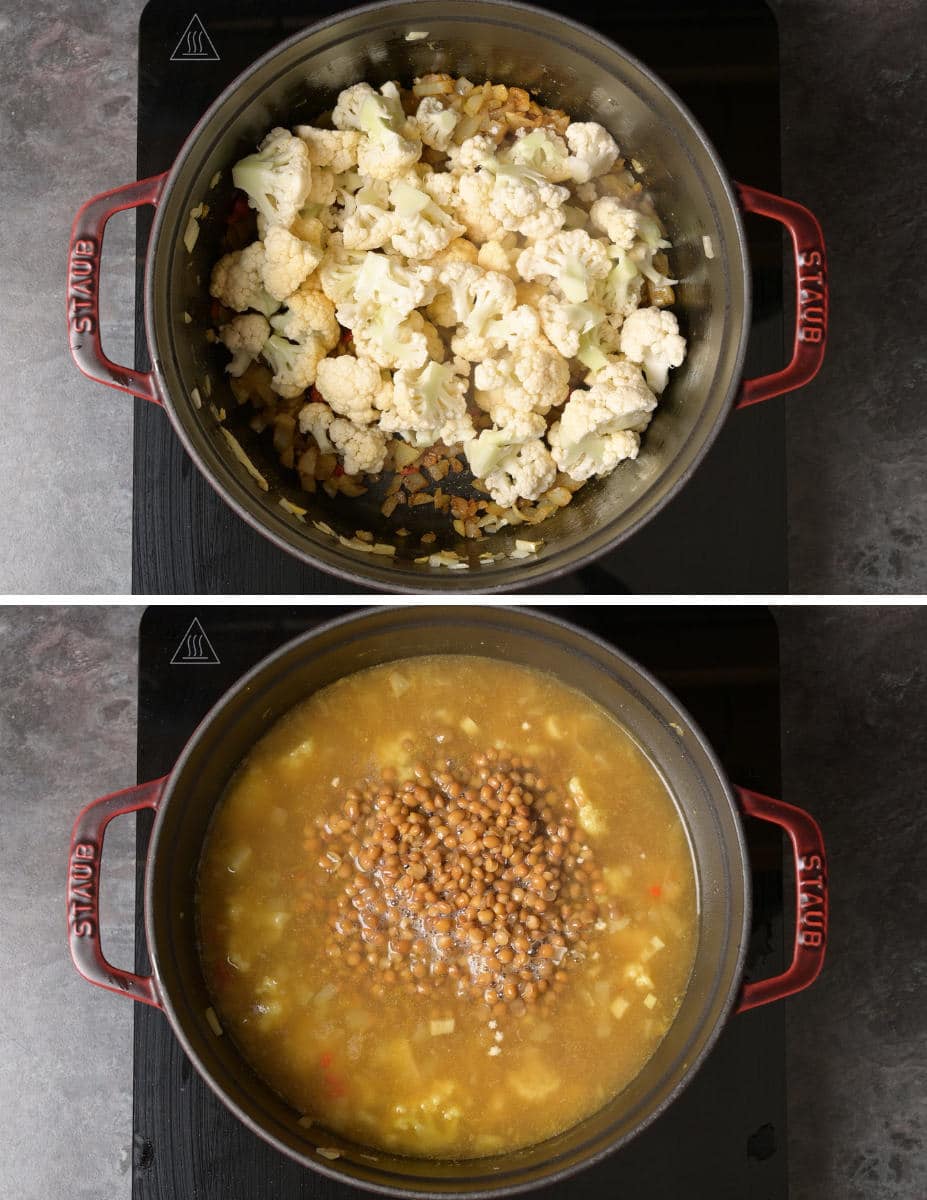 Stir in the lentil and coconut milk and simmer for 5 more minutes.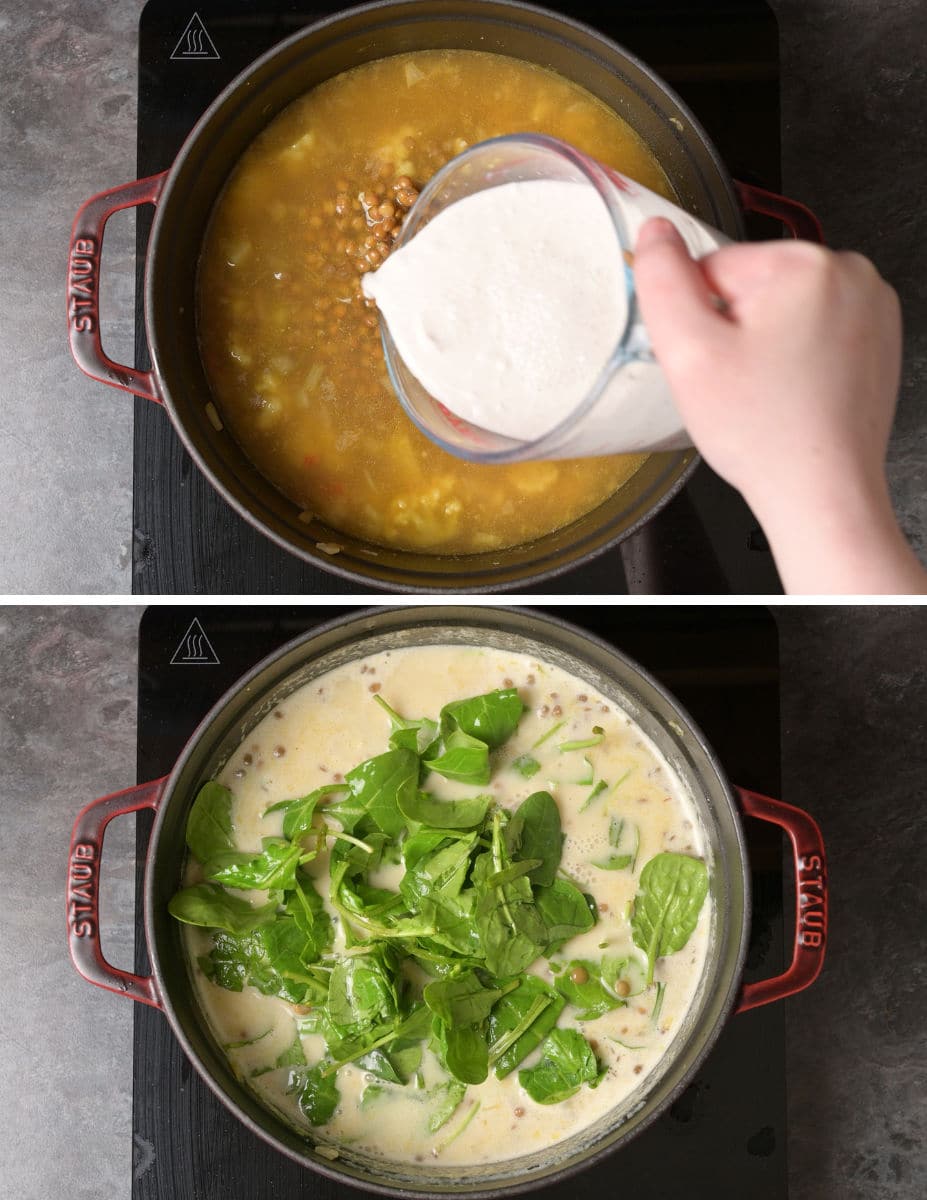 Add the baby spinach and continue to cook for 1-2 minutes.
Stir in the lime juice and adjust the seasoning to taste.
Serve hot with some freshly chopped cilantro on top if you like.
Leftovers and storage
Recipe notes and tips
If you liked this lentil cauliflower soup recipe, you might also like some of my other easy vegan soup recipes:
Don't miss out on any new recipes! Follow Vegan Cocotte on Instagram, Facebook and Pinterest.