This creamy banana blossom curry has tender pieces of banana blossom and roasted bits of eggplant, all in a fragrant coconut sauce. It's perfect over rice or served with roti or naan for an incredible plant-based feast!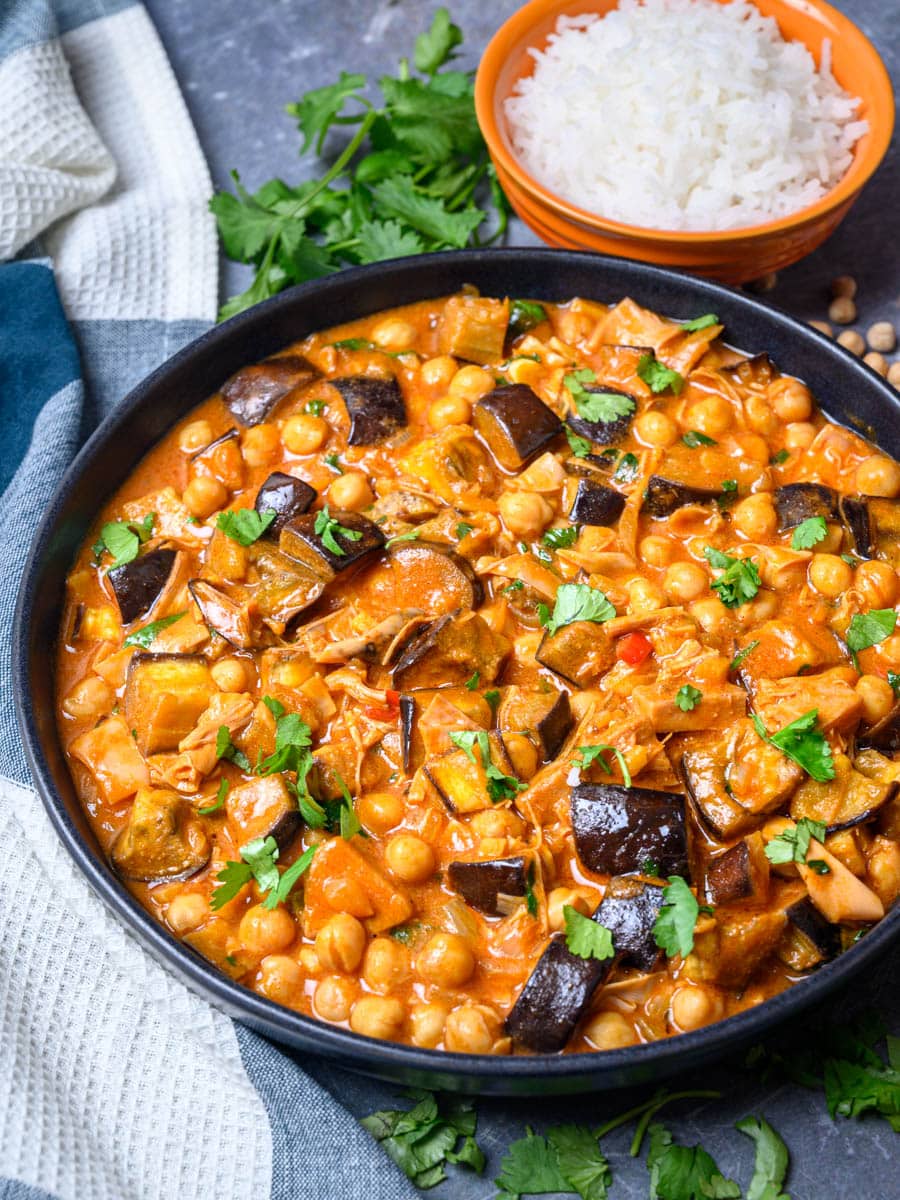 If you've been looking for ways to make your plant-based curries "meatier," banana blossom is an excellent ingredient to try.
Banana blossom is exactly what it says on the tin — the purple flower that grows at the end of banana bunches. It's a common ingredient in South East Asian cuisine and used in curries, salads and soups.
Its texture is similar to that of jackfruit, and the taste isn't similar to that of bananas at all — it's closer to that of artichokes, in fact.
This deliciously creamy banana blossom curry is just the perfect recipe to cook if you've never had banana blossom before.
I make it with a mix of canned banana blossom, roasted eggplant and chickpeas for extra flavor and texture. The result is creamy, mildly spicy and extra tasty!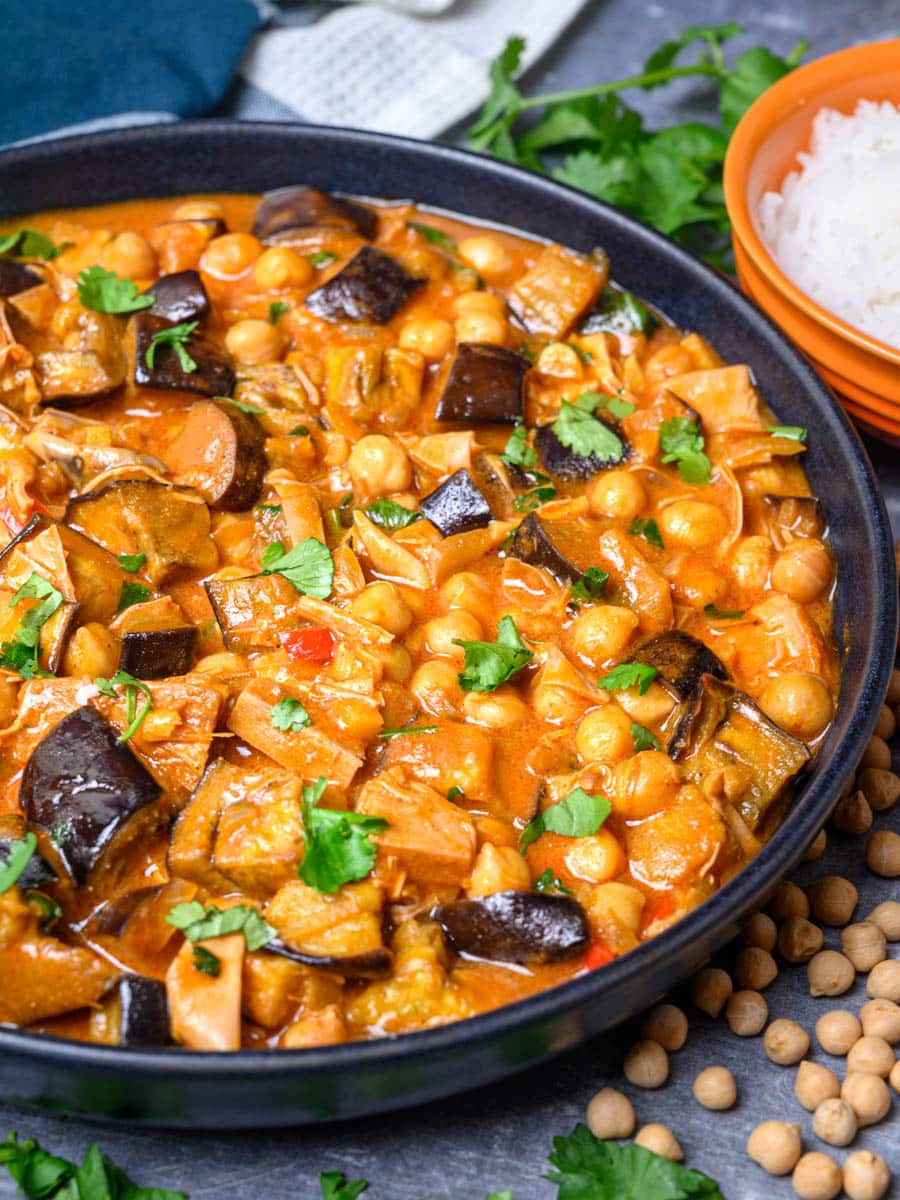 Why you'll love this banana blossom curry
The banana blossom gives it a meaty texture while doing an excellent job at absorbing flavors.
The curry is naturally vegan and gluten-free.
It's super easy to make, and you can have it on the table in just 40 minutes.
Ingredients and substitutions
Eggplant — Roasted eggplant adds loads of flavor and texture to the curry. You can roast it in the oven or make it in the air fryer.
Coconut oil — I like to use coconut oil in creamy curries made with coconut milk, but any other vegetable oil would work here.
Garlic + ginger — Freshly chopped or grated garlic and ginger are ideal for this banana blossom curry. If you don't have them on hand, use a garlic-ginger paste instead.
Red chili pepper — Feel free to adjust the quantity to suit your taste. The amount I recommend will result in a mild-medium heat level.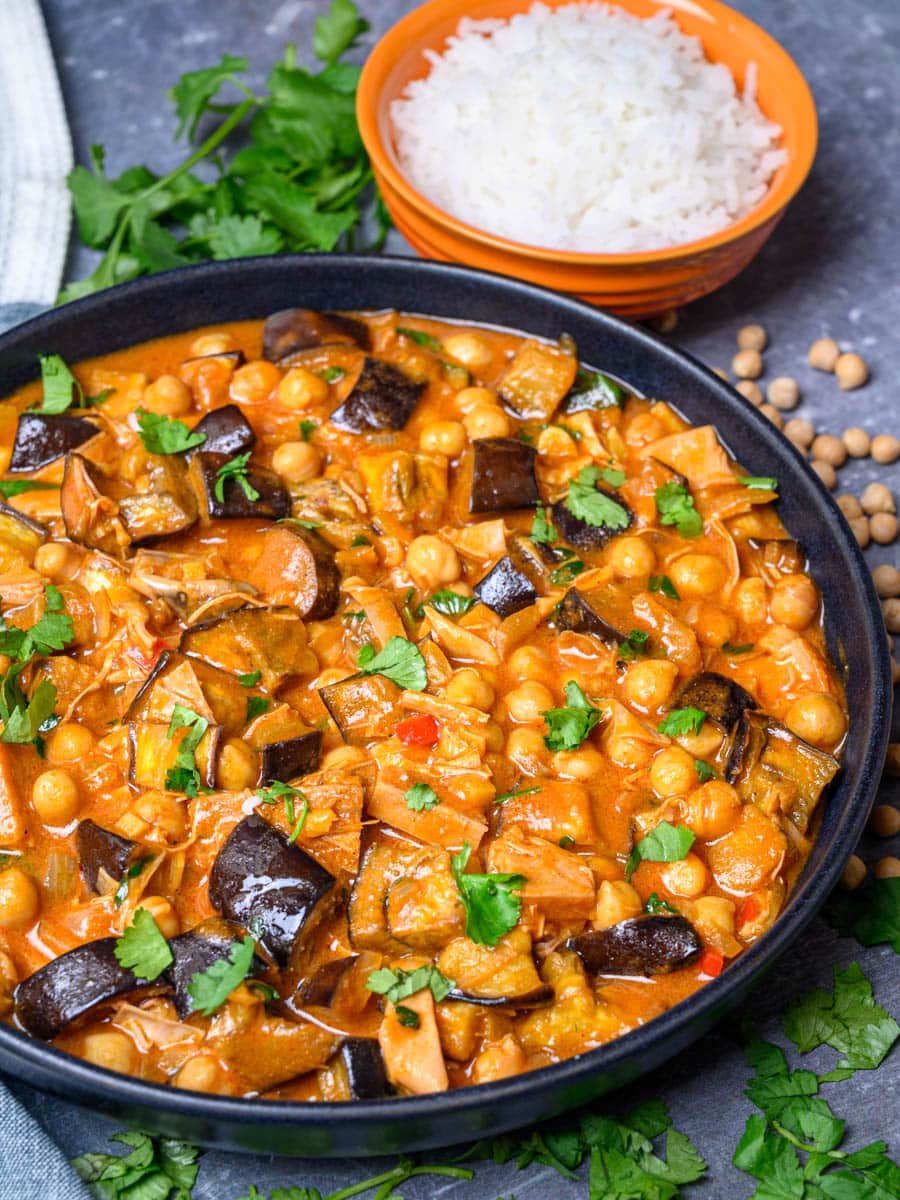 Spices — I use a mix of garam masala, ground cumin, ground coriander and mild chili powder for an extra flavorful curry. For a fiery sauce, use medium or hot chili powder.
Tomato paste — Some double-concentrated tomato paste adds extra flavor and color to the curry.
Coconut milk — Full-fat coconut milk is best in this sauce for an extra creamy sauce.
Banana blossom — I used canned banana blossom in this curry, which I drained and rinsed well. You can add two cans instead of two for an even "meatier" curry.
Chickpeas — A can of chickpeas adds extra texture, protein and fiber to the curry.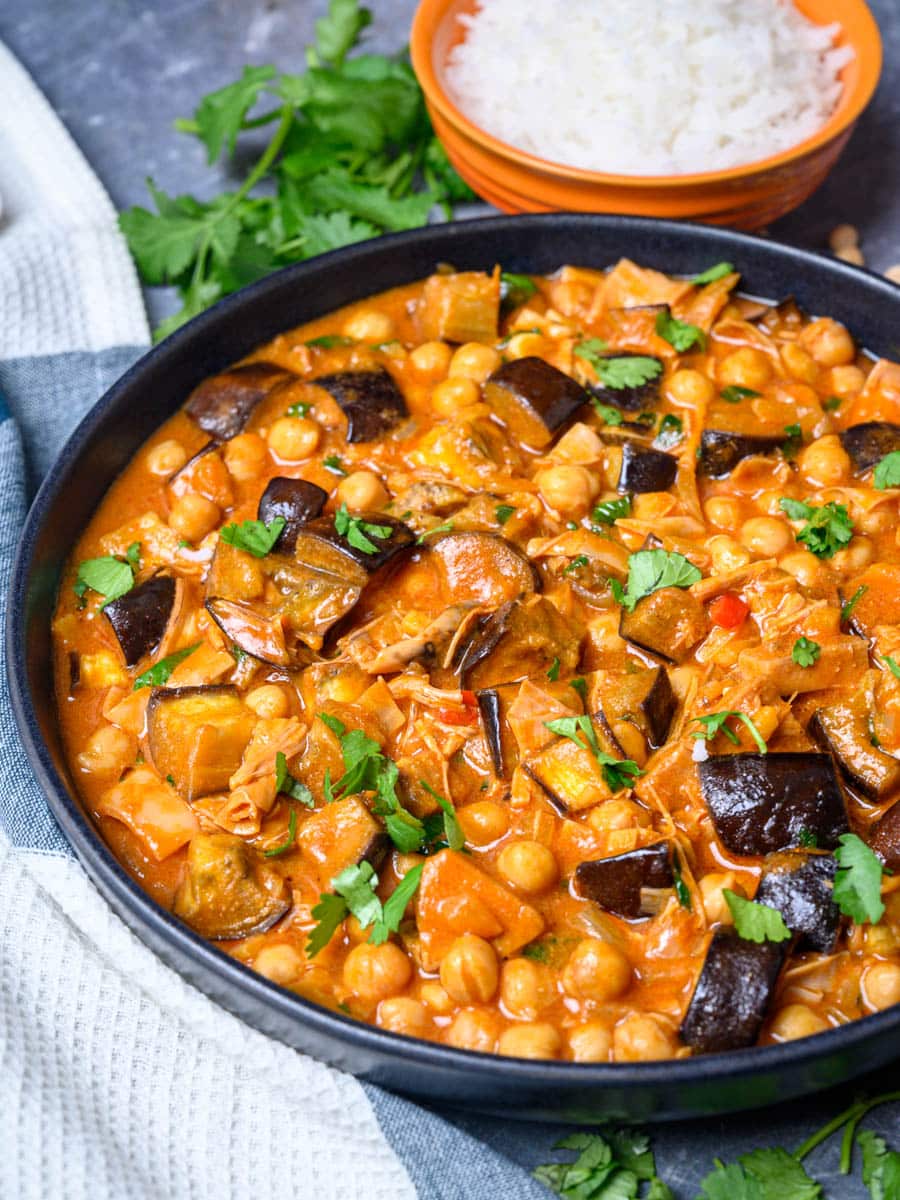 How to make vegan banana blossom curry
Start by preparing the roasted eggplant. Cut into 1-inch pieces, toss with 1 teaspoon of oil and season with a pinch of salt. Bake in the preheated oven for 20 minutes or until golden. Alternatively, roast the eggplant in the air fryer following the instructions in this air fryer eggplant recipe.
While the eggplant is cooking, make the curry sauce. Heat the coconut oil in a large, deep pan and fry the onion for 3-4 minutes over medium heat until translucent.
Add the garlic, ginger and red chili pepper and continue to cook for another minute.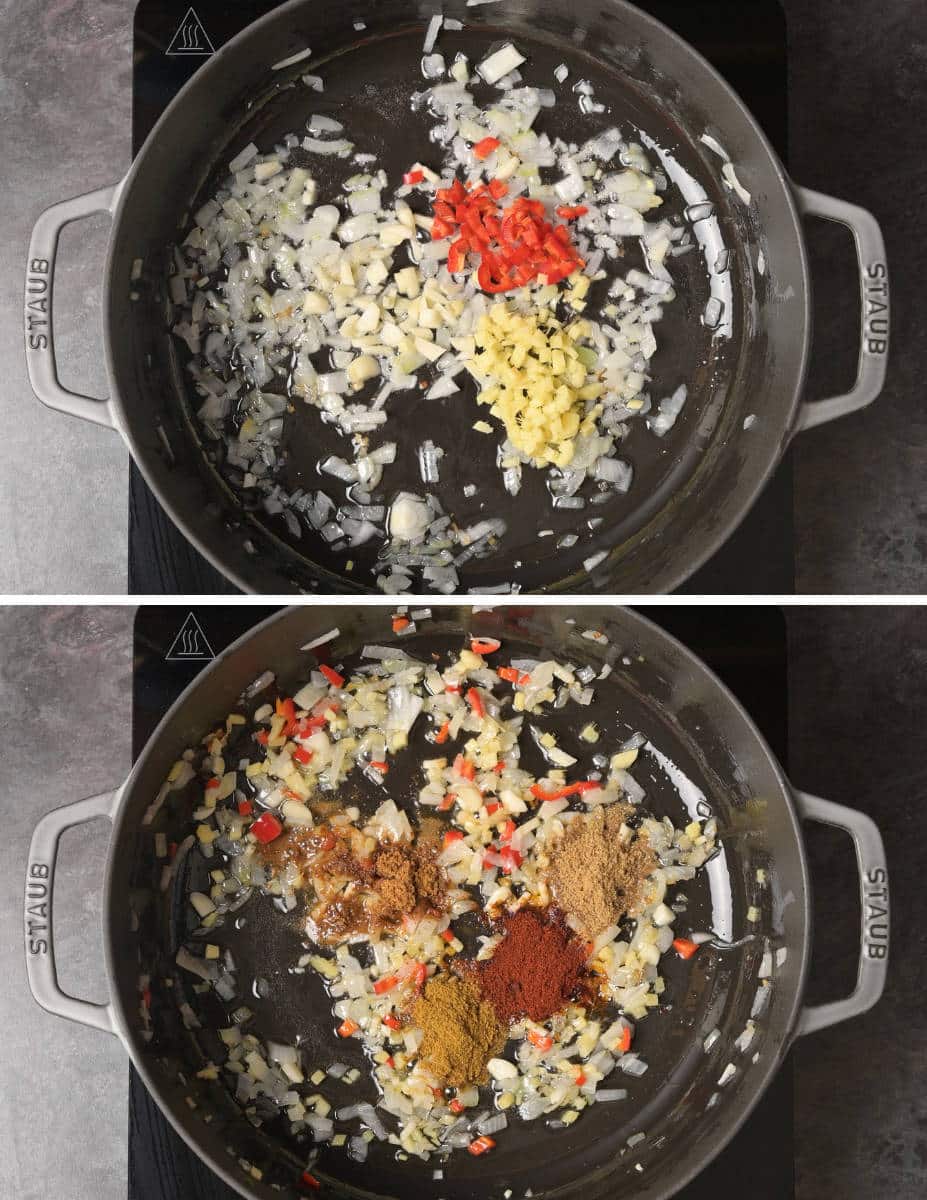 Stir in the spices and tomato paste, then add the coconut milk. Stir until you have a smooth sauce, and bring to a simmer.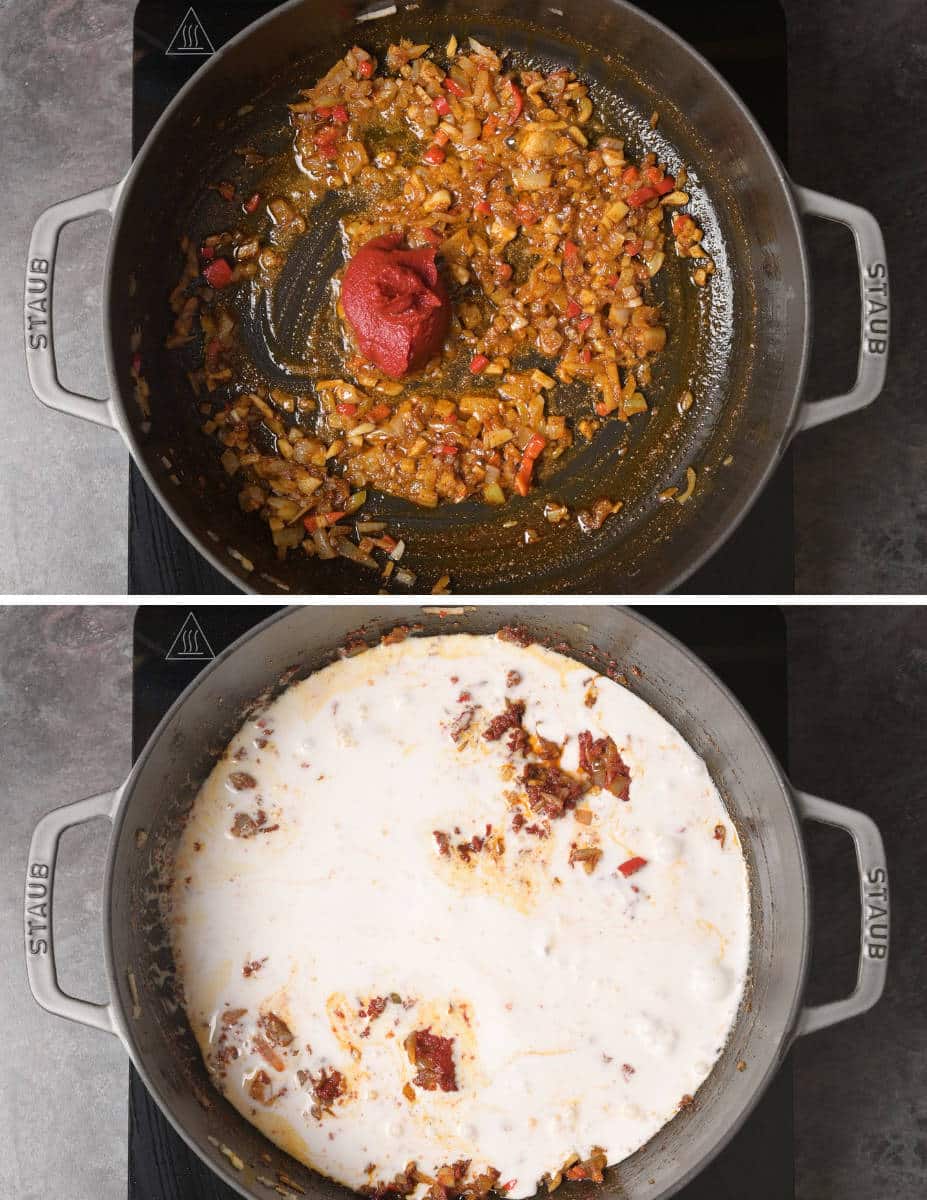 Add the banana blossom, cooked eggplant and chickpeas. Stir to combine, then place a lid on the pan and simmer for 10 minutes.
Stir in the fresh cilantro, season to taste and serve over your favorite rice with some extra cilantro and a bit of lime juice if you like.
Leftovers and storage
Keep any leftovers in an airtight container in the fridge for up to 5 days.
You can reheat the curry in the microwave or on the stovetop.
This banana blossom curry can be frozen for up to 3 months. Thaw it in the fridge overnight before reheating.
Recipe notes and tips
Serve the curry over basmati rice or this delicious cilantro lime rice. The curry also pairs great with naan bread or roti.
Canned banana blossom may sometimes be bitter. Drain and rinse it well and allow it to sit in cold water until you're ready to add it to the curry.
Other veggies you can add to this curry include sweet potatoes, broccoli, cauliflower, green beans or peas.
If you liked this banana blossom curry recipe, you might also like some of my other easy vegan curry recipes:
Don't miss out on any new recipes! Follow Vegan Cocotte on Instagram, Facebook and Pinterest.