This one-pot tomato basil pasta is a budget-friendly recipe made with pantry staples. It's ready in just 20 minutes for a fuss-free plant-based dinner the entire family will love.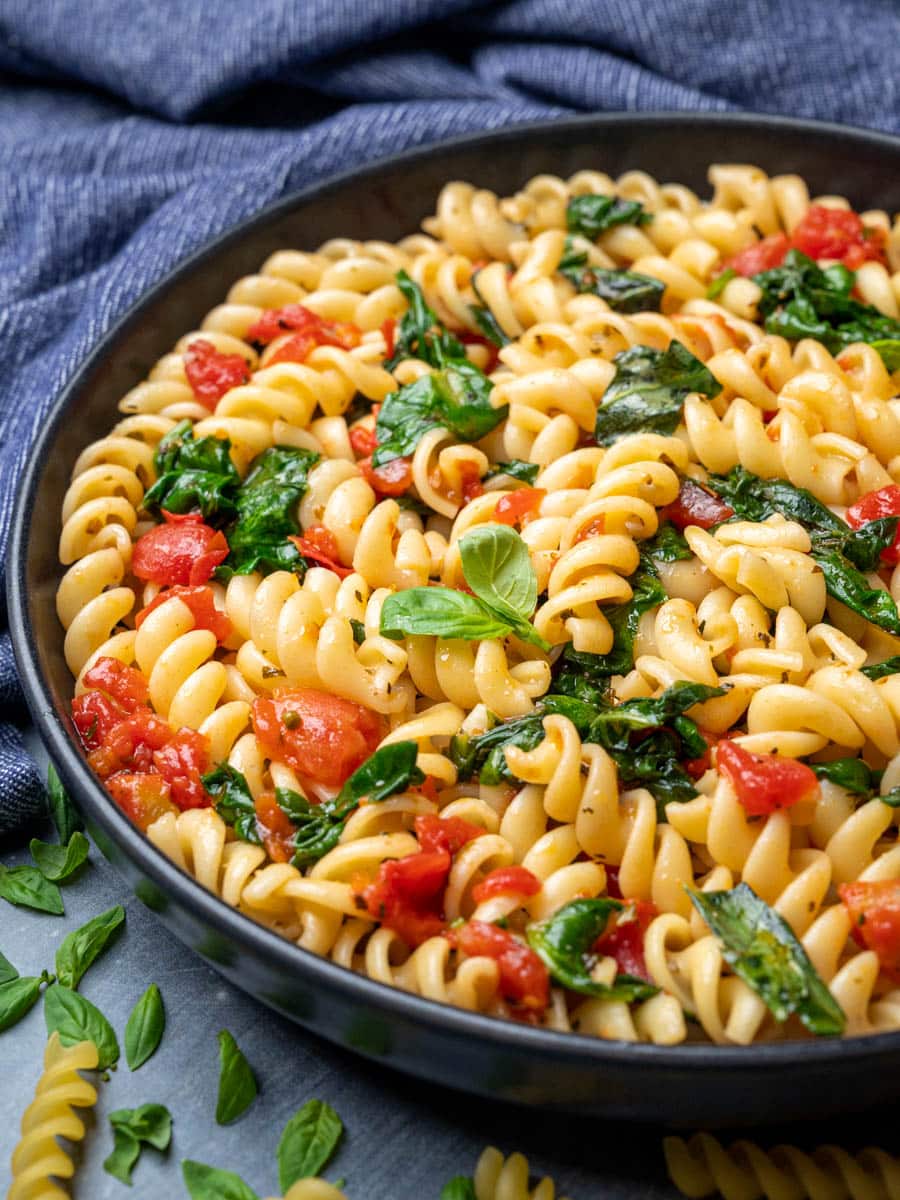 Pasta dishes are just perfect for those moments you want a quick dinner that will please everyone.
Even though most pasta recipes are quick and easy, this tomato basil pasta takes simplicity to the next level!
That's because you only need one pot to make it — all the ingredients go together in one pot or large, deep pan.
The pasta is cooked in the sauce with dried herbs and garlic powder, which means that every pasta noodle is perfectly seasoned.
What's even better, you don't need to use any extra pots or colanders during cooking for less washing up.
Why you'll love this one-pot tomato basil pasta
It's super easy to make in 20 minutes and using just one pot.
You can make it yours by playing with the dried herbs and level of spiciness.
It's a naturally vegan dish that's full of flavour, so the entire family will love it.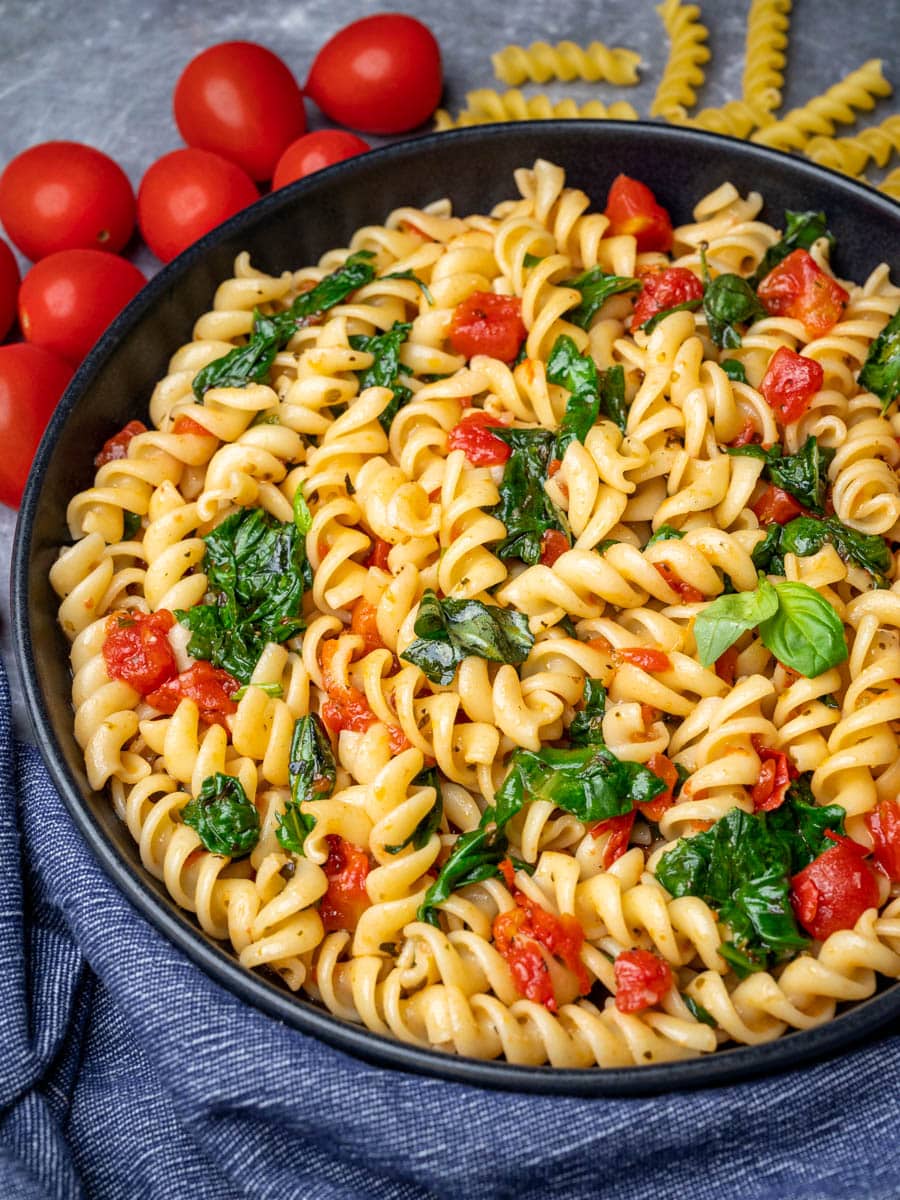 What goes into this tomato and basil pasta
Pasta — I used fusilli here because they are just perfect with this tomato basil pasta sauce. However, you can use any other kind of short pasta or even spaghetti (you may need to break them in half to fit into your pot).
Olive oil — If you don't want to cook with oil, you can skip this but keep in mind that the pasta might be a bit bland.
Chopped tomatoes — Any chopped or crushed tomatoes work in this recipe — just use anything you have in the pantry. Add a tablespoon of tomato paste for an even more pronounced tomato flavour.
Dried herbs — I used a mix of dried oregano and basil, but you can use any combination you like or a tablespoon of Italian seasoning mix instead.
Onion and garlic powder — These add extra flavour to the sauce.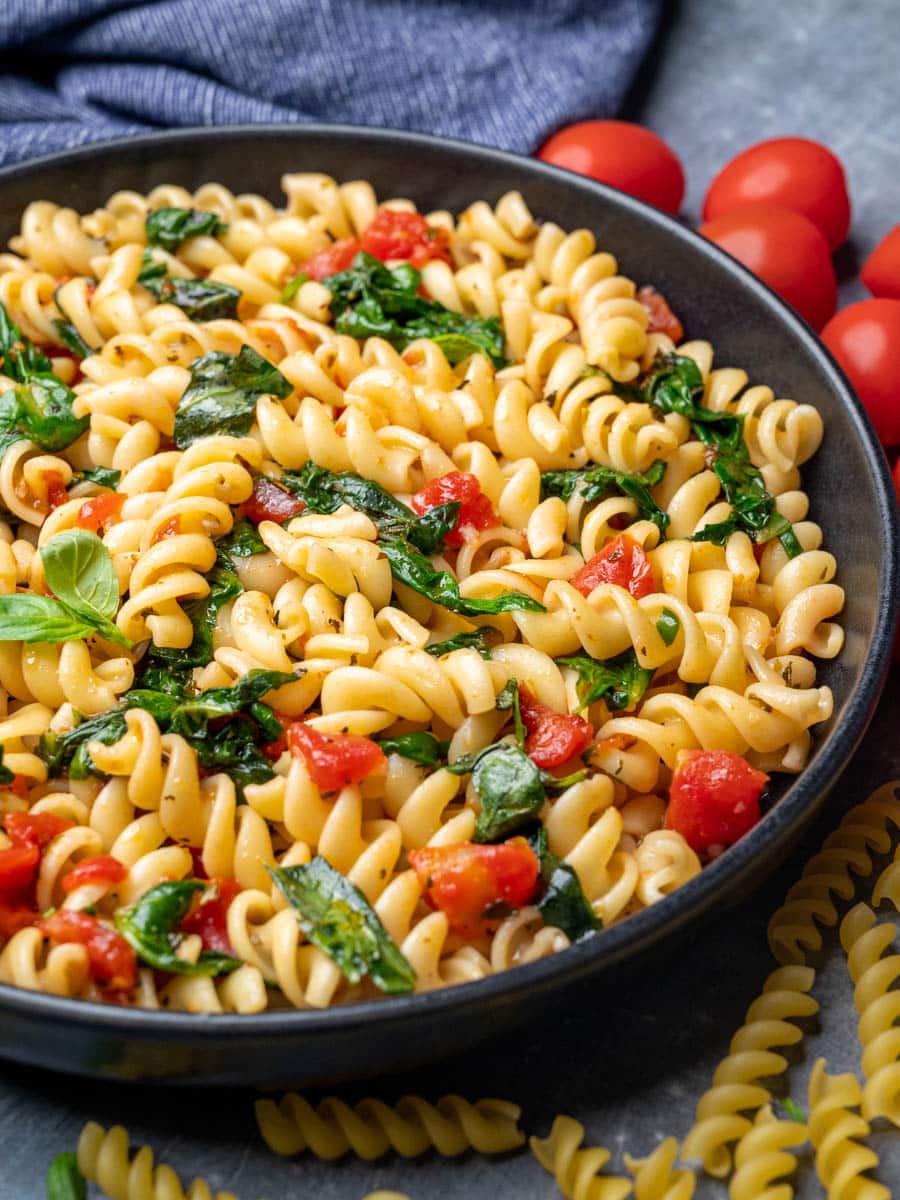 Red chilli flakes — Only use chilli flakes if you want the pasta to have a bit of a kick.
Vegetable stock — This is the kind of recipe where you should have some extra veggie stock on hand in case you need to add more until the pasta is cooked to your likening.
Baby spinach — Only add the baby spinach at the end as it takes 1-2 minutes for it to wilt.
Fresh basil — This will infuse the sauce with extra herby flavour and add more brightness to the dish.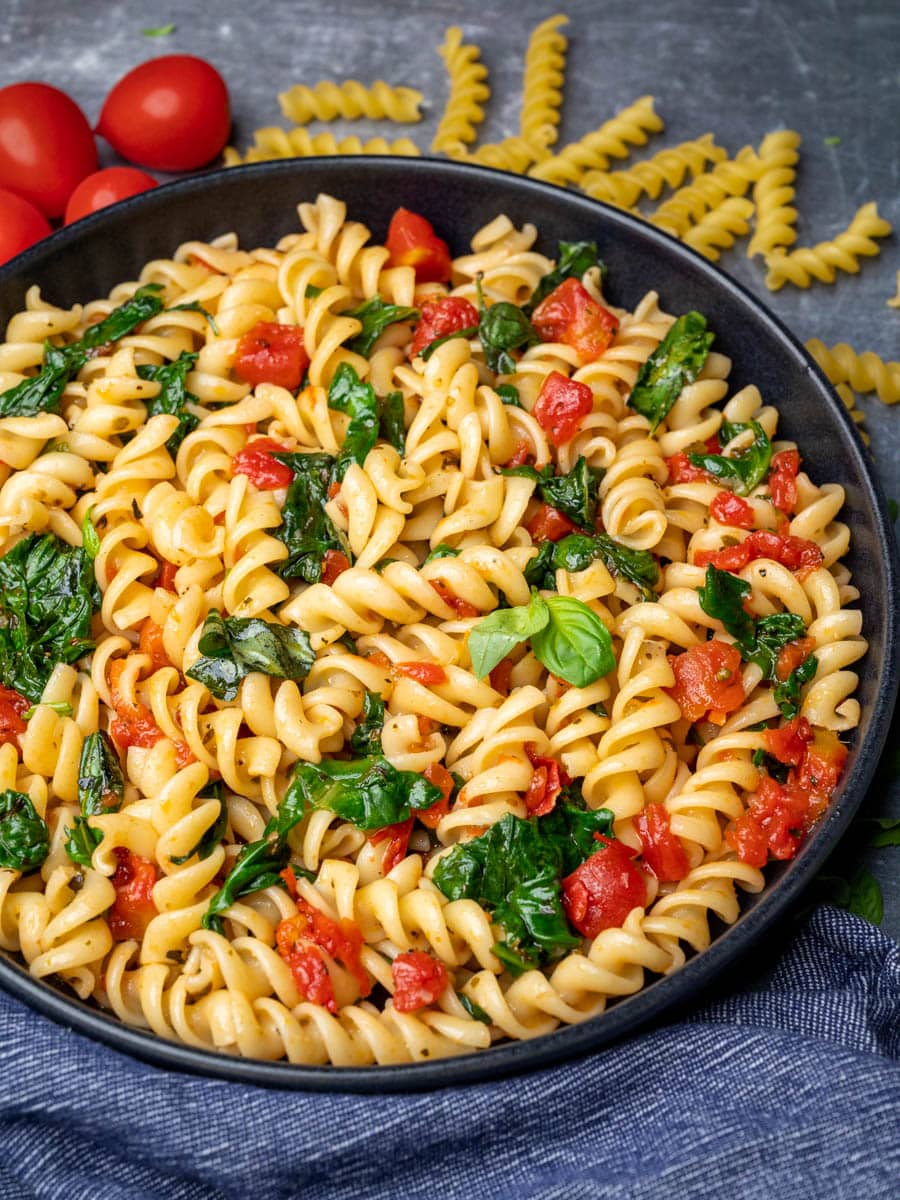 How to make this vegan one-pot pasta
Combine the pasta, olive oil, chopped tomatoes, oregano, dried basil, onion powder, garlic powder, red chilli flakes, salt and vegetable stock in a large pot.
Bring to a boil, then lower the heat to medium and cook, covered with a lid, for 10 minutes, stirring often. The pasta should be almost al dente at this point.
Add the spinach and continue to cook for 2-3 minutes. Stir in the basil, season to taste and serve hot or cold.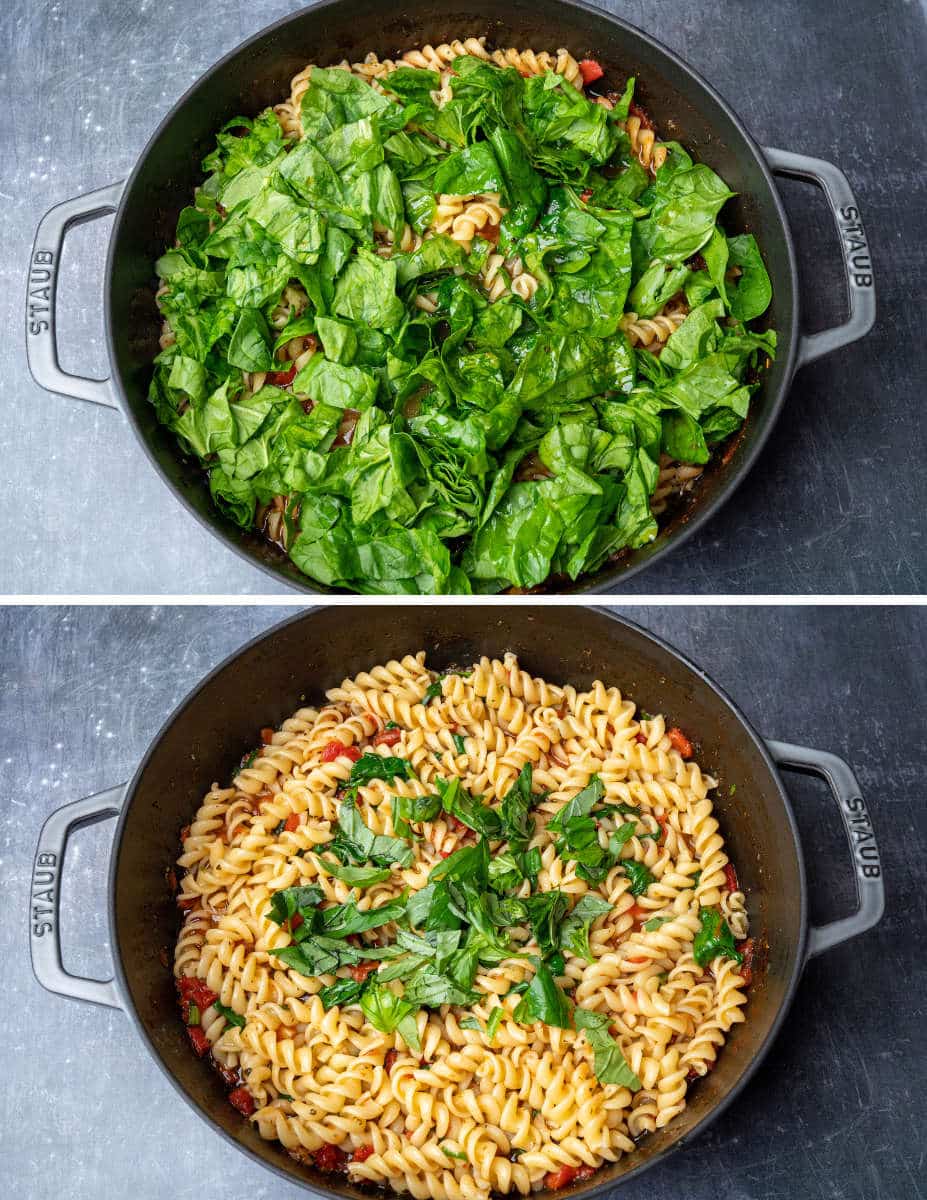 Leftovers and storage
Leftovers will keep well in the fridge for up to 5 days in an air-tight container.
It's best to reheat this tomato and basil pasta in the microwave.
I don't recommend freezing this pasta dish because it will likely be mushy when thawed.
Recipe notes and tips
You can make this tomato basil pasta in a Dutch oven, a large soup pot or a deep pan or skillet.
Add some more vegetable stock or hot water if the pasta is not fully cooked, but the liquid is completely gone.
This is a perfect recipe to make with veggie leftovers — add some sliced peppers, cauliflower, mushrooms or broccoli.
Make sure you stir the pasta often, especially in the beginning, to prevent it from sticking to the bottom of the pot.
If you liked this one-pot tomato basil pasta, you might also like some of my other easy vegan pasta recipes:
Looking for more delicious inspiration? Follow Skinny Spatula on Instagram, Facebook, and Pinterest!