This rich and creamy Instant Pot coconut curry lentil soup is the perfect quick and easy dinner. It's loaded with veggies and boasts warming Indian flavours for a comfort food meal the entire family will love.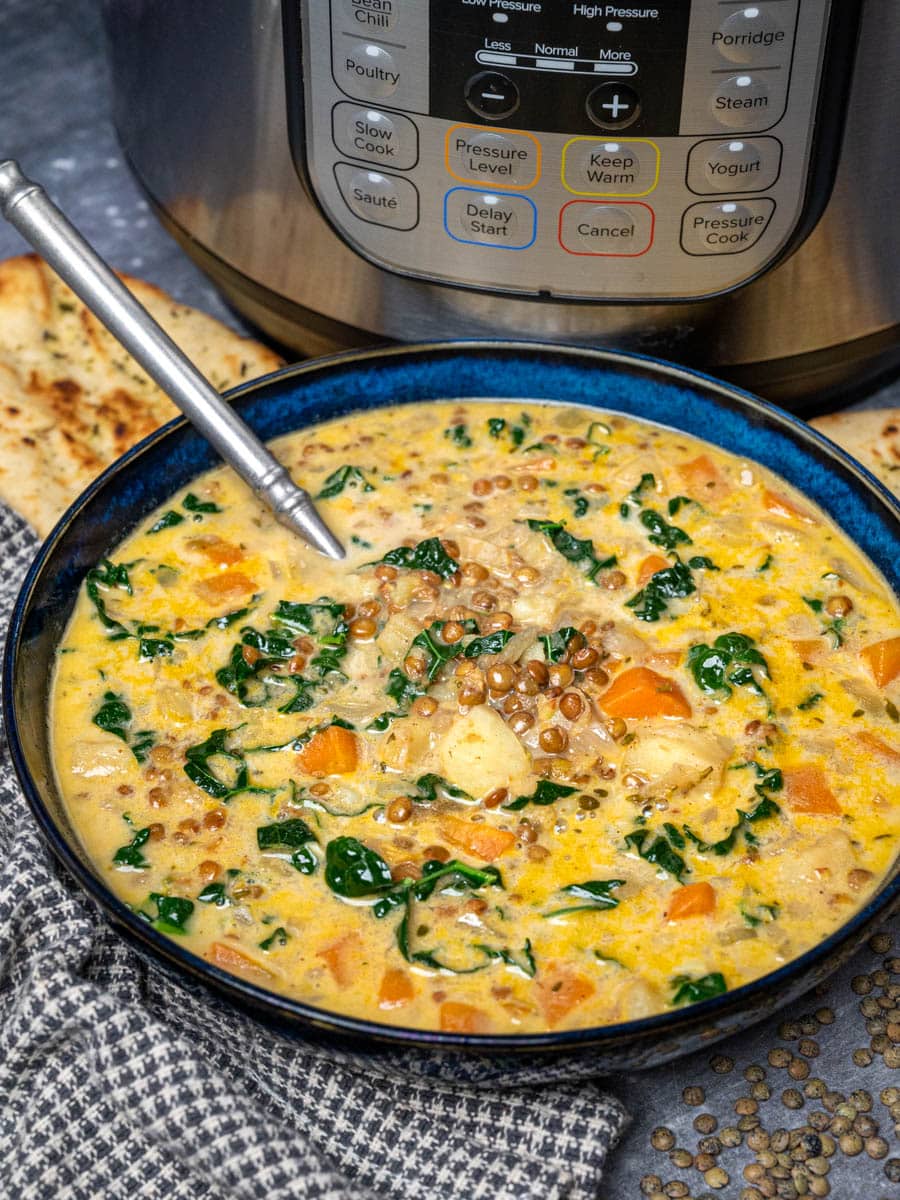 This Instant Pot coconut curry lentil soup is, without exaggeration, one of the best soups I've ever tasted. It's packed with veggies and protein from the lentils while also boasting vibrant spices for extra flavour.
Besides being incredibly tasty, this curried lentil soup is also super quick and easy to make in the Instant Pot.
You only need a handful of ingredients to make this nourishing vegan curry lentil soup, and you can easily make it your own by adding any other veggies you want.
Why you'll love this coconut curry lentil soup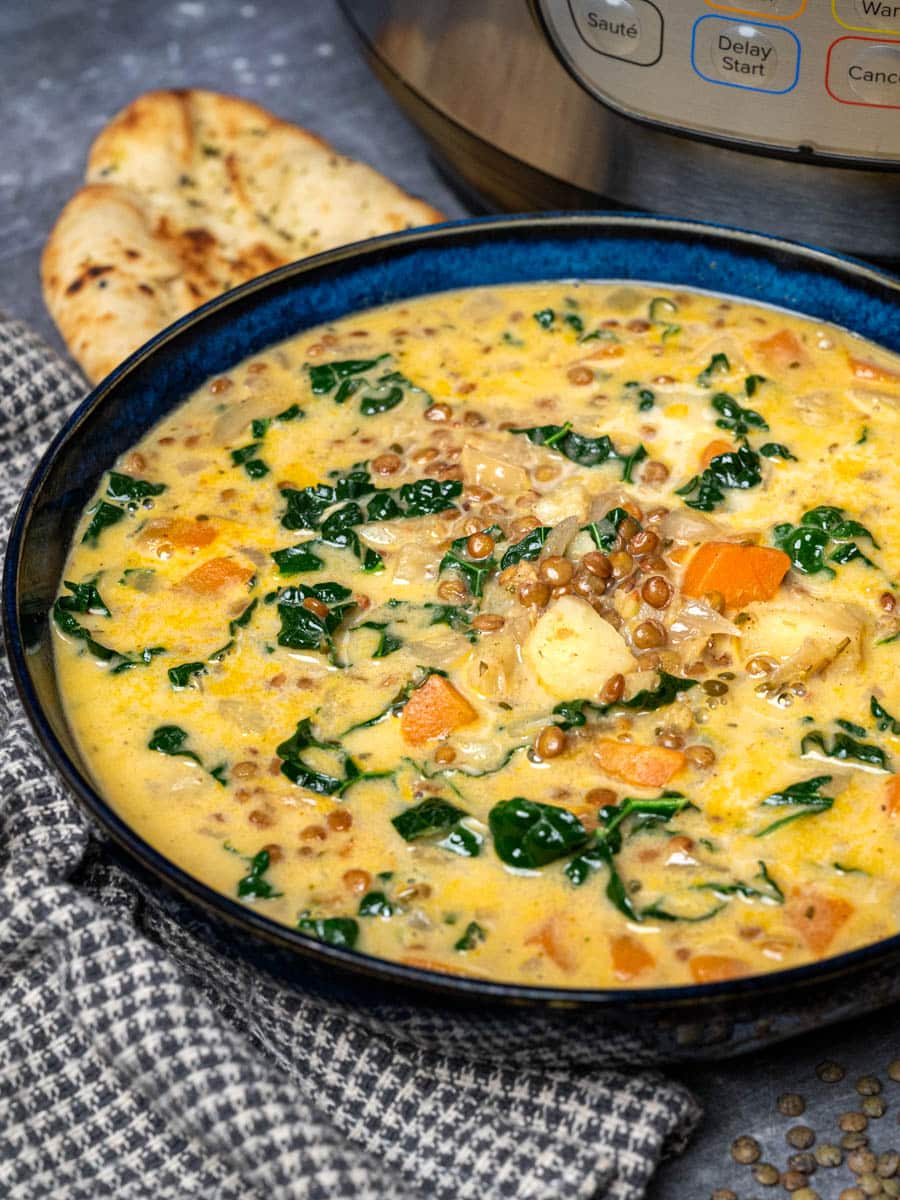 Ingredients and substitutions
Coconut oil — If you don't have coconut oil, you can use any other plant oil here, including olive, sunflower, canola or avocado oil.
Onion and carrot — Dice the veggies as large as you want as they will still be cooked to perfection thanks to the Instant Pot.
Garlic and ginger — Freshly chopped garlic and ginger are best in this soup.
Spices and herbs — You'll need a mix of medium curry powder, thyme and ground cinnamon for this soup. The spices add a warming, comforting flavour to the soup, while the thyme provides a balancing earthy flavour.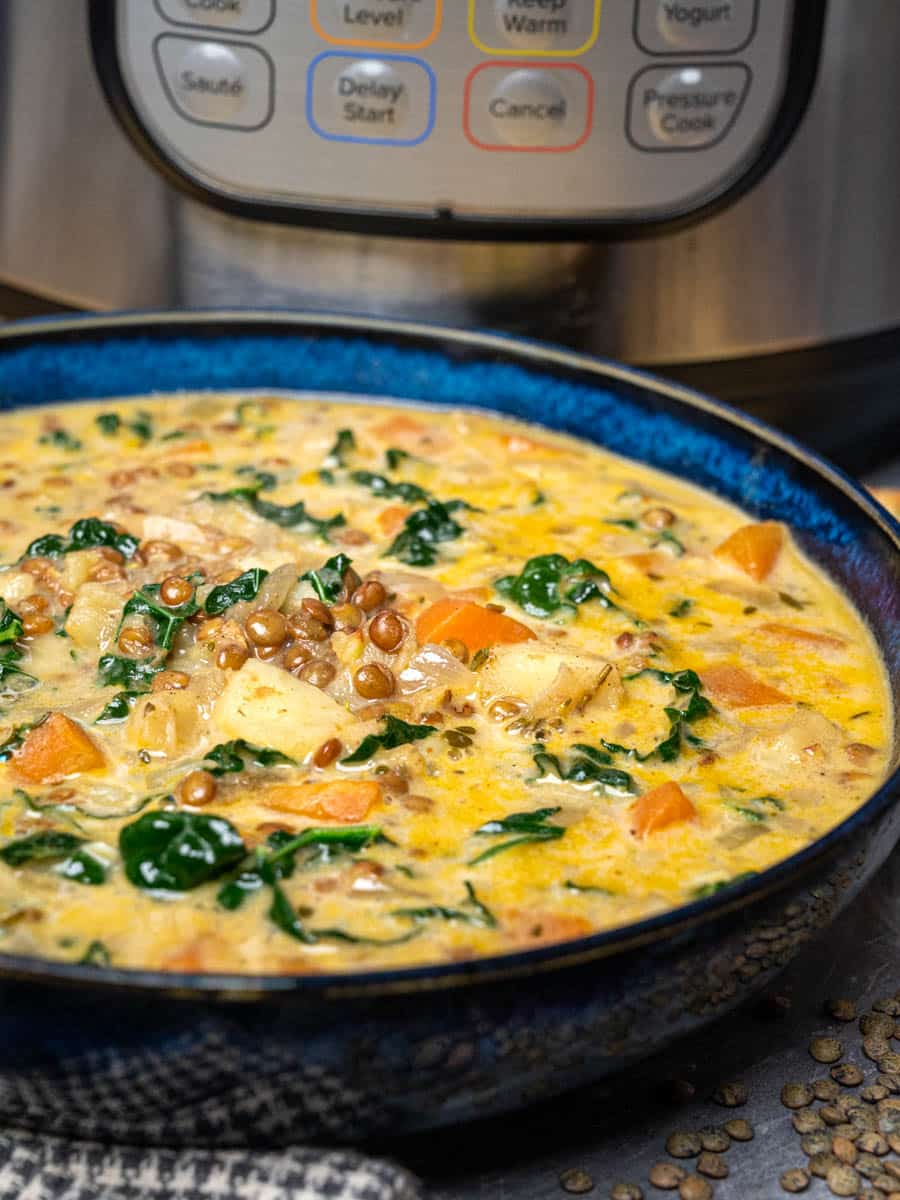 Potatoes — You can sub with sweet potatoes.
Green lentils — I used Puy green lentils to make this soup, but any type of green or brown lentils will do. Don't substitute with red lentils, though, as the texture won't be the the same.
Vegetable stock — You can use low-sodium veggie stock as needed in this Instant Pot curry soup.
Coconut milk — Full-fat coconut milk will make this curry lentil soup extra creamy. I only add half a can to this soup, but you can add the whole contents of the can if you'd like your soup to be extra creamy.
Kale — Black kale (Cavolo nero) is perfect in this soup, but you can sub with any other type of kale you like. Alternatively, use baby spinach.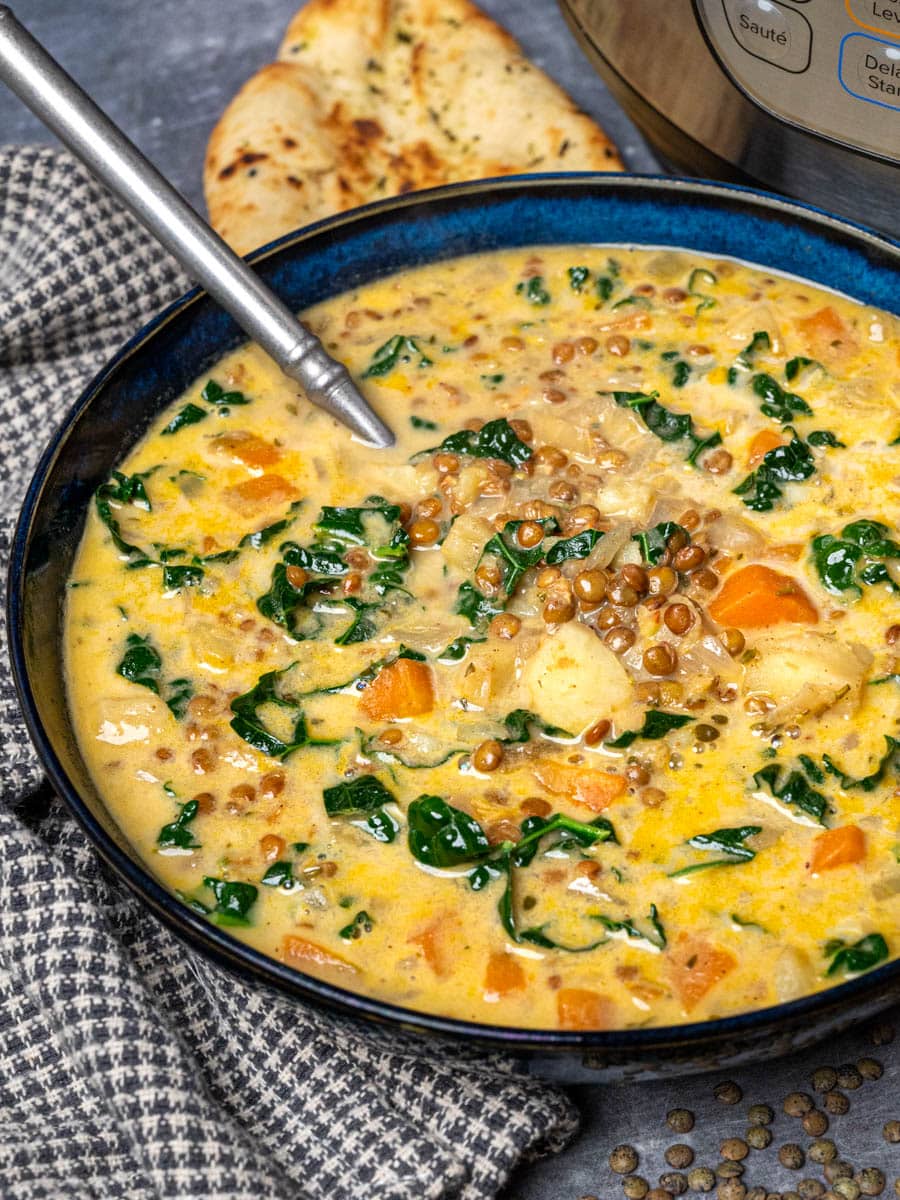 How to make Instant Pot curry lentil soup
Set the Instant Pot to "Sauté" and add the coconut oil. Once it's melted, add the onion, carrot, garlic and ginger and sauté for 4-5 minutes until softened.
Stir in the curry powder, cayenne pepper, thyme and ground cinnamon and continue to sauté for a minute.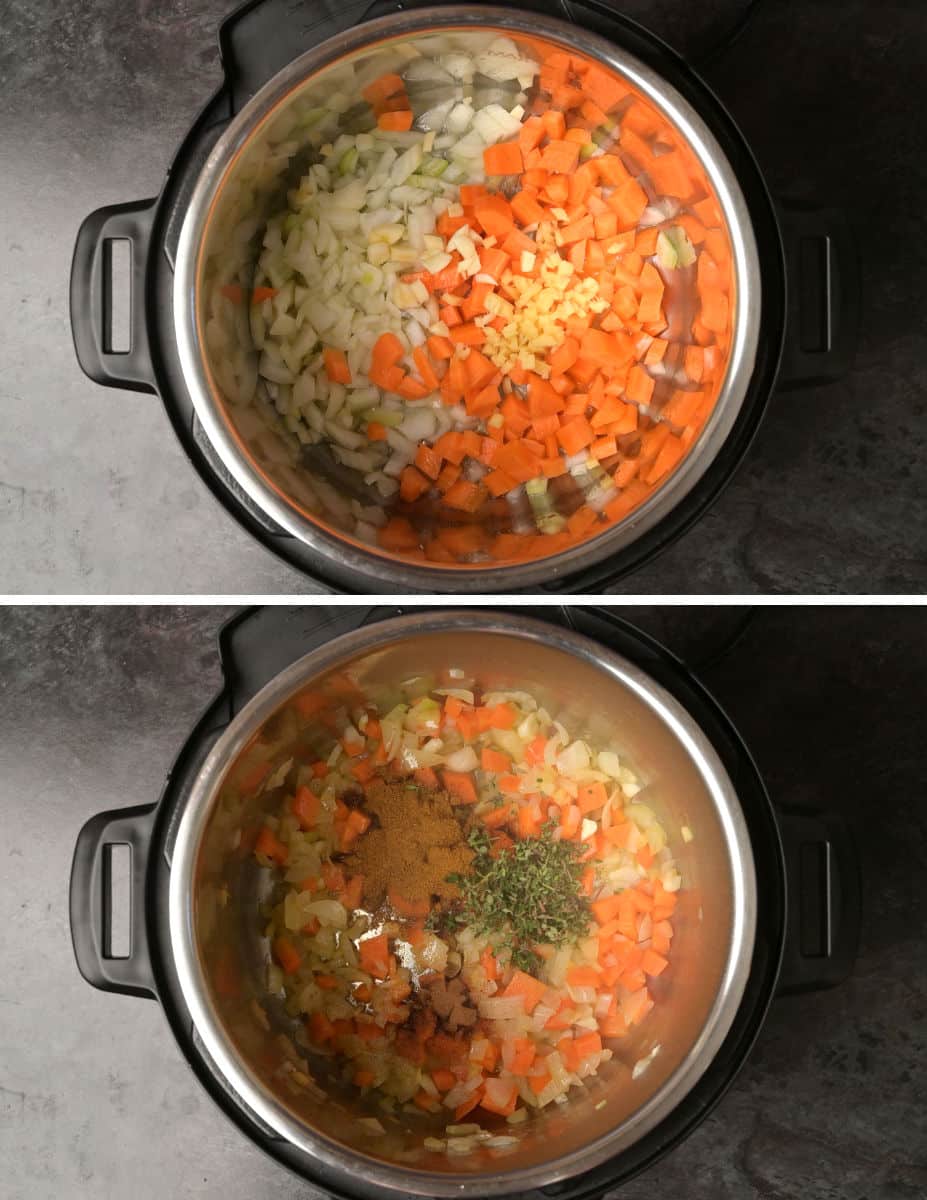 Turn off the "Sauté" function and add the potatoes, green lentils and stock. Stir to combine, then lock the lid.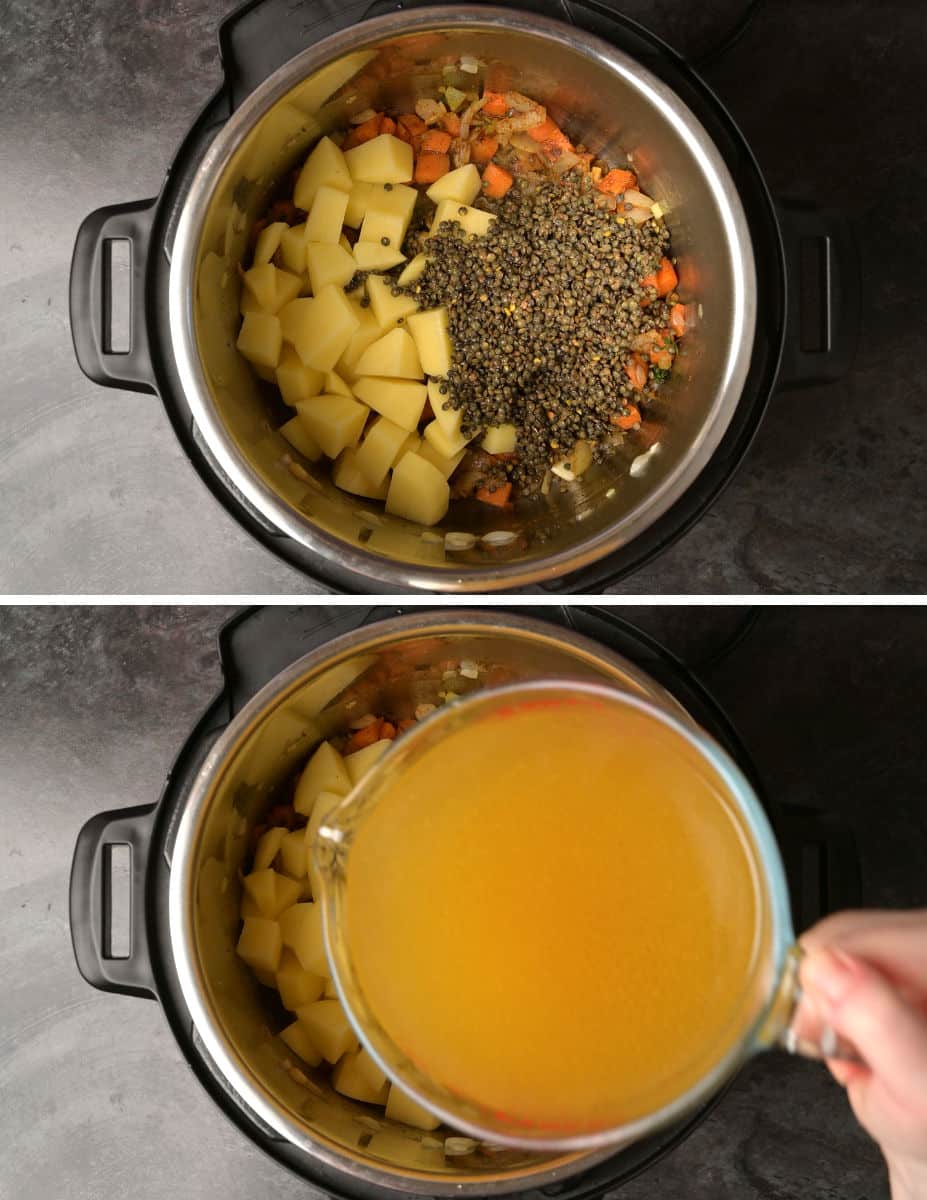 Set the Instant Pot to High Pressure for 7 minutes. When the timer goes off, allow the steam to release naturally for 15 minutes, then release the rest of the pressure manually and remove the lid.
Stir in the coconut milk and kale and cook in the residual heat for 2-3 minutes until wilted.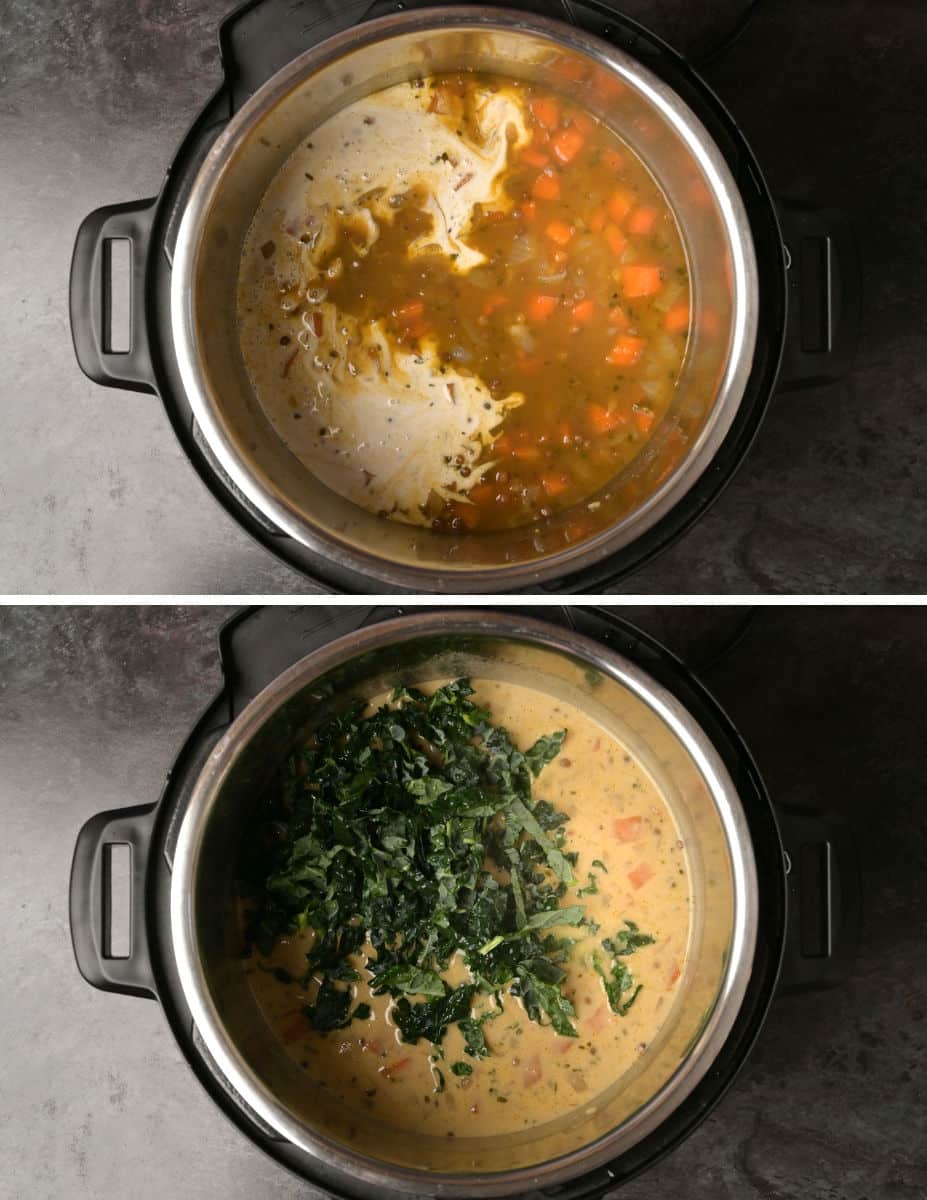 Season to taste and serve with naan bread garnished with fresh coriander or a splash of lime juice if you like.
Leftovers and storage
Recipe notes and tips
If you liked this Instant Pot coconut curry lentil soup, you might also like some of my other easy vegan Instant Pot recipes:
Don't miss out on any new recipes! Follow Vegan Cocotte on Instagram, Facebook and Pinterest.