This Greek lemon rice is a delicious, flavor-packed dish made with garlic, herbs and lots of lemon! It's a super easy side dish for summer gatherings, but it also makes an excellent light lunch.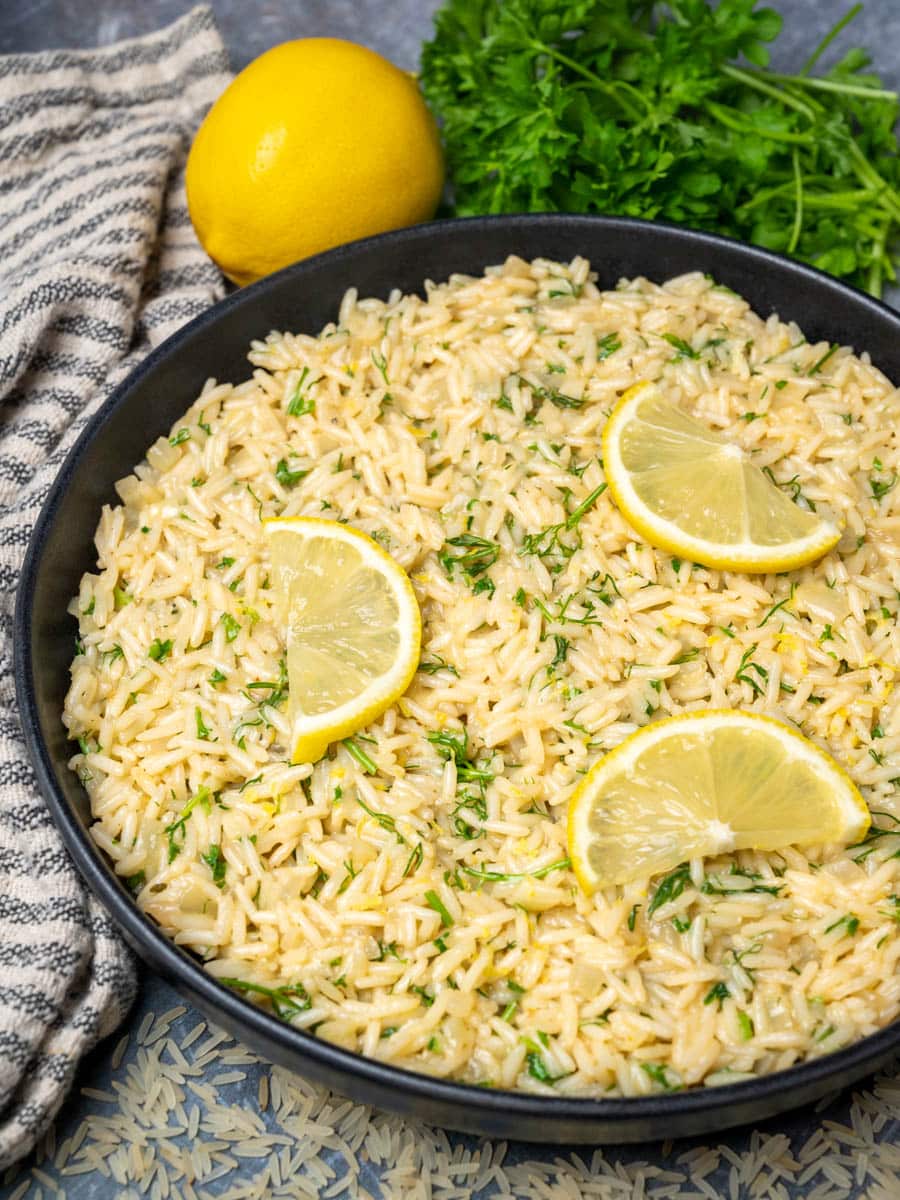 Greek lemon rice is a simple dish that's bursting with flavor! Made with just a handful of staple ingredients, this lemon rice pilaf is a quick and easy way to jazz up white rice.
It's the perfect side dish for any Mediterranean dish such as ratatouille or turlu turlu, but it's so delicious that it can be a quick meal on its own.
I make it with generous amounts of fresh parsley and dill because fresh herbs pair perfectly with the lemon flavor.
You can easily make this Greek lemon rice your own by adding chopped dried fruit such as raisins or apricots or some chopped nuts like almonds or pistachios.
Why you'll love this Greek lemon rice
It's super easy to make with ingredients you may already have in the house.
The lemon, garlic and herbs create an incredible flavor profile for this simple dish.
It's ready in just 40 minutes, and you don't have to pre-soak the rice.
Ingredients and substitutions
Olive oil — Use the best quality olive oil you can in this lemon rice because it really makes a difference. If you want the rice to be creamier, you can also add a knob of a plant-based butter.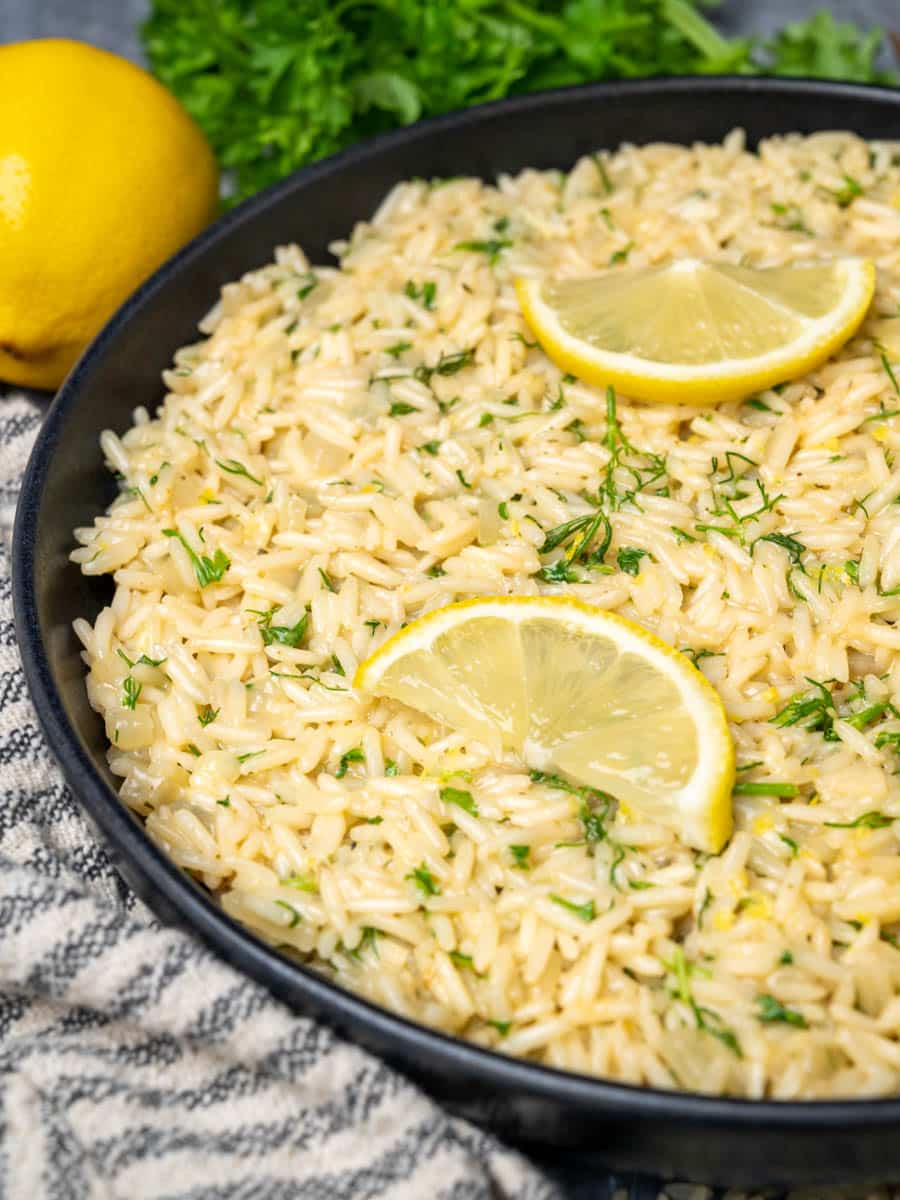 Onion — Dice the onion finely so it cooks quickly.
Garlic — Feel free to adjust the garlic amount to your taste.
Rice — Long grain rice is perfect for this recipe. Don't use risotto rice because it's too starchy, and the result will be sticky rice.
Lemon — I add the juice and zest of a large lemon because I really like the flavor, but you can adjust it to your likening. Use a small lemon for a more subtle flavor. Choose fresh, unwaxed lemons because they yield the best zest.
Fresh herbs — A mix of fresh parsley and dill takes the flavor of this lemon rice to the next level.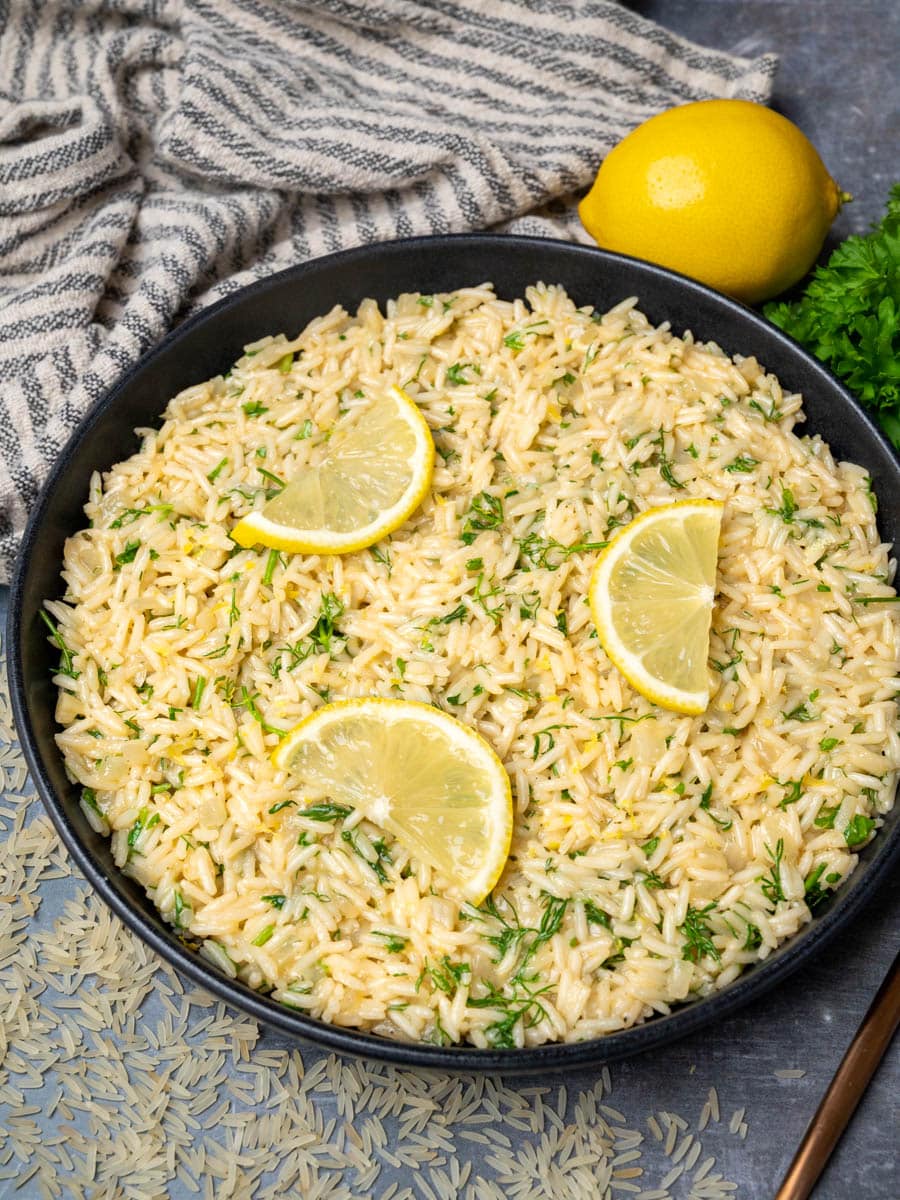 How to make lemon rice with herbs
Heat the olive oil in a large, deep pan and cook the onion for 3-4 minutes over medium heat until softened.
Add the garlic and continue to cook for another minute.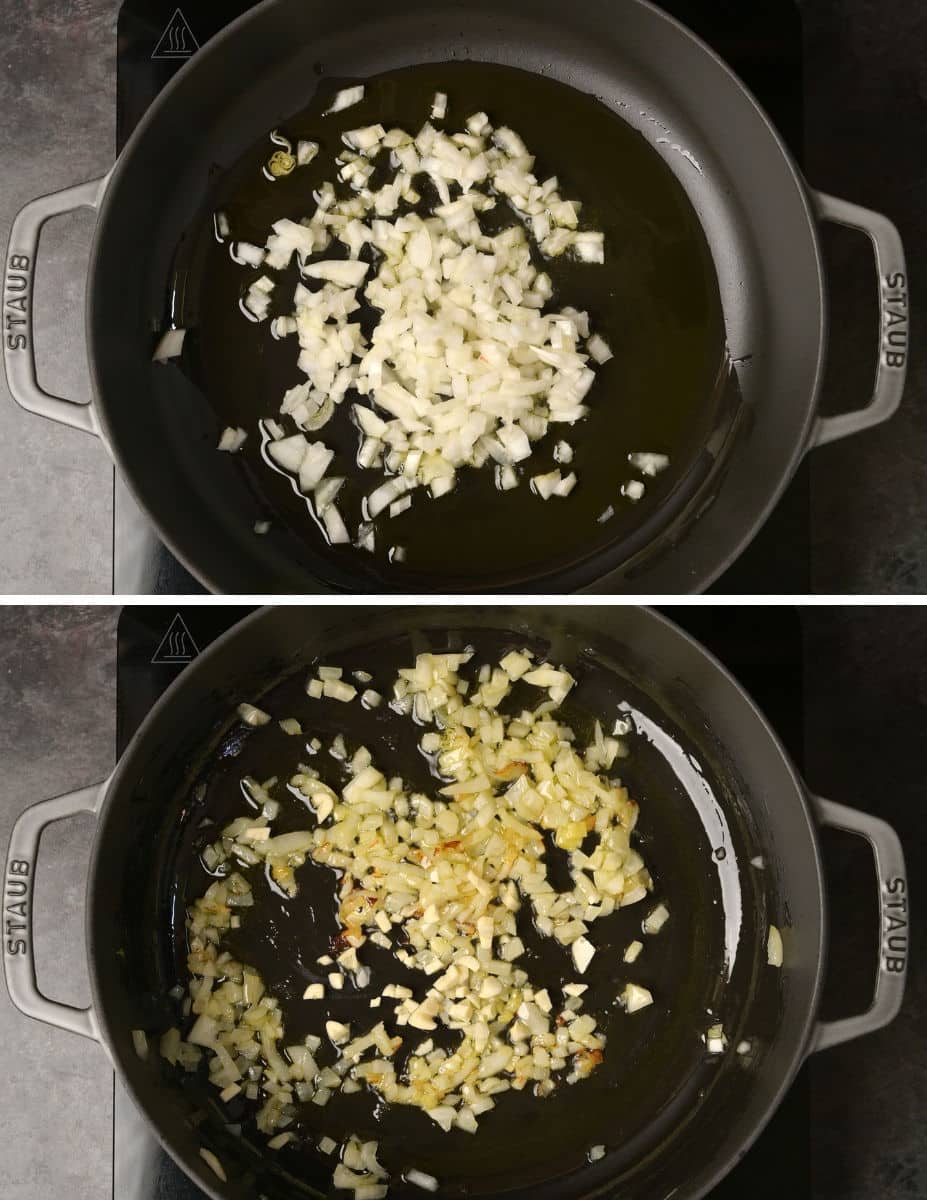 Stir in the rice and toast it for 2-3 minutes, stirring often.
Next, stir in the lemon juice and zest, then add the vegetable stock.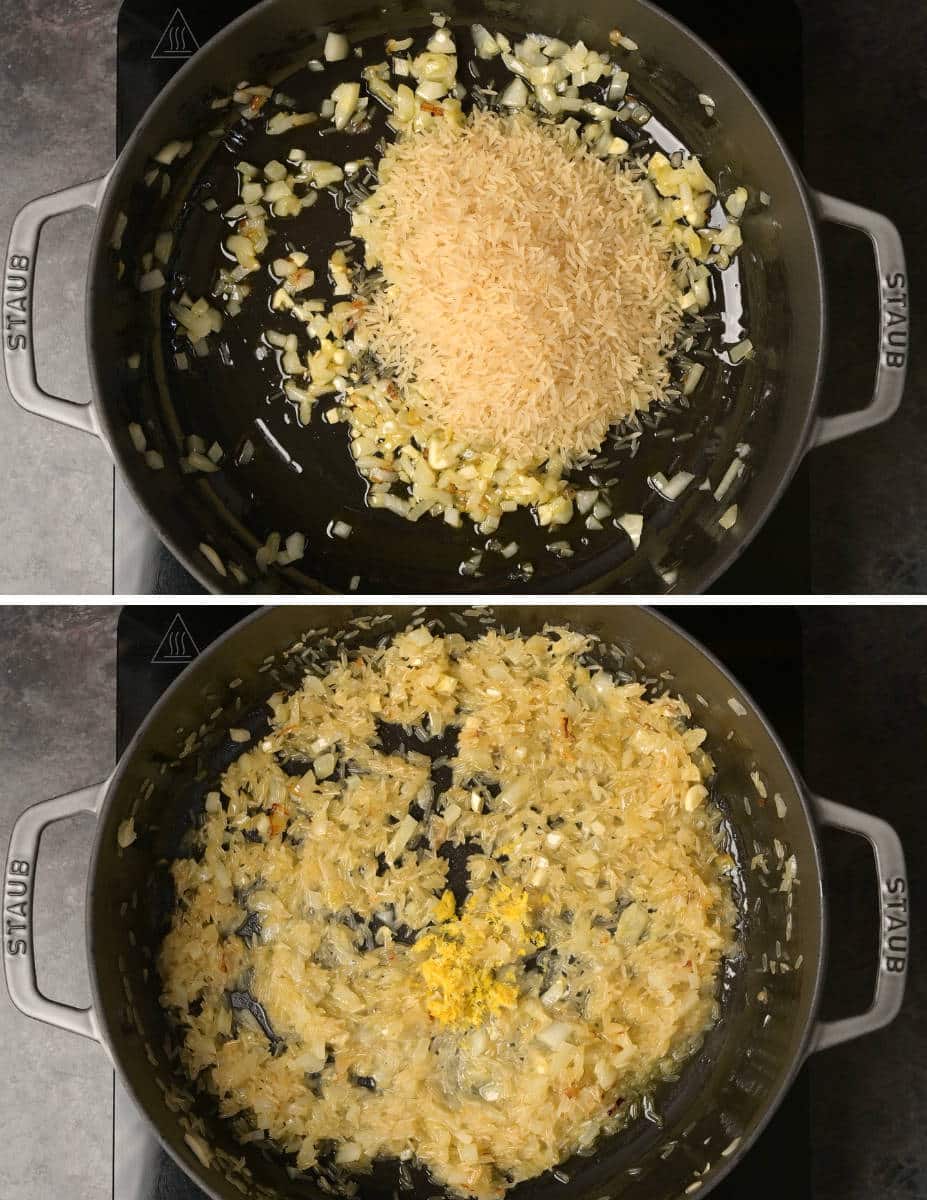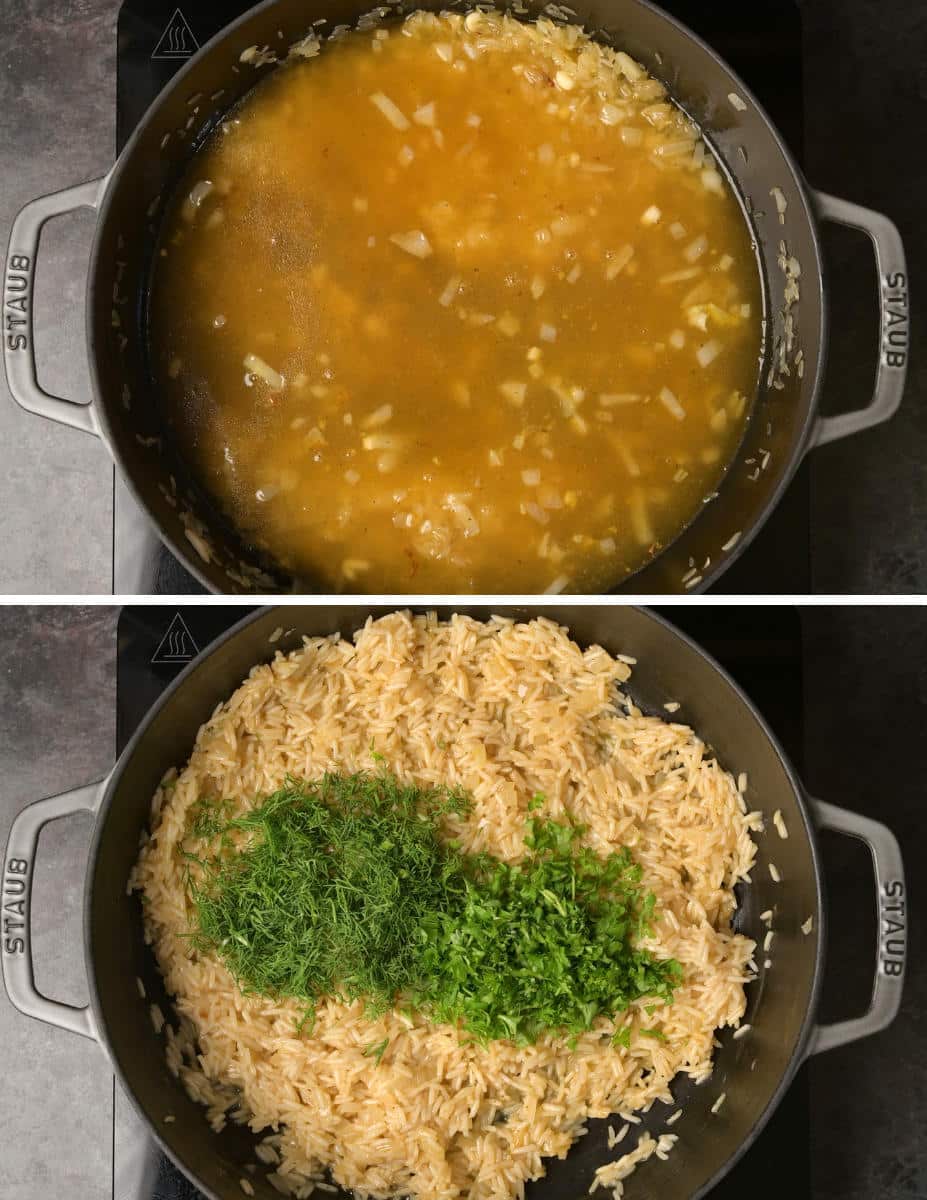 Bring to a simmer, lower the heat and cover the pan with a lid. Cook for 20 minutes or until all the liquid is absorbed and the rice is tender.
Turn off the heat and leave the pan covered for 5-10 minutes, then uncover and stir in the parsley and dill. Season to taste and serve with some extra lemon slices if you like.
Recipe notes and tips
This lemon rice is best served immediately, but if you have any leftovers, they will keep well in the fridge for up to three days. It's best to reheat this lemon rice in the microwave.
If you want more fiber, you can use brown rice for this recipe. Keep in mind that brown rice takes longer to cook — follow the instructions on the package for cooking times.
You can add a sliced leek with the onion for extra flavor.
If you liked this Greek lemon rice, you might also like some of my other easy vegan recipes with rice:
Don't miss out on any new recipes! Follow Vegan Cocotte on Instagram, Facebook and Pinterest.