Vegan Cuban picadillo is a plant-based version of a classic Cuban comfort food. Made with green lentils, raisins and capers, this vegan picadillo is an explosion of flavour and textures that's truly memorable.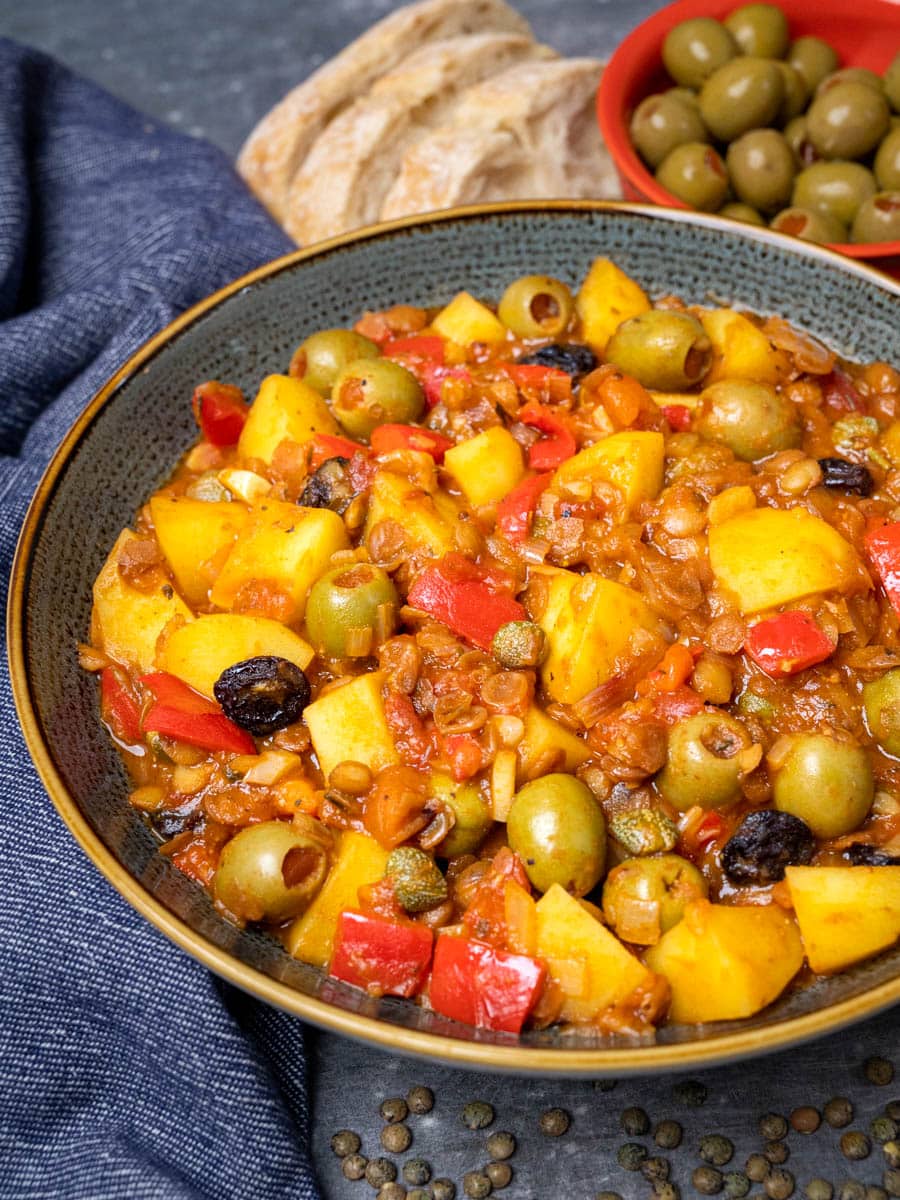 Picadillo is a hash typically made with ground meat and it's popular in many Latin American countries. Cuban versions of picadillo typically include onions, garlic, bell peppers, herbs and spices.
This vegan picadillo is made with green lentils instead of meat, but the rest of the ingredients are pretty much the same you'd find in an authentic Cuban picadillo recipe.
You can also use a plant-based meat substitute instead of green lentils. Cuban picadillo is typically served over rice, but it also pairs great with crusty bread.
Why you'll love this vegan Cuban picadillo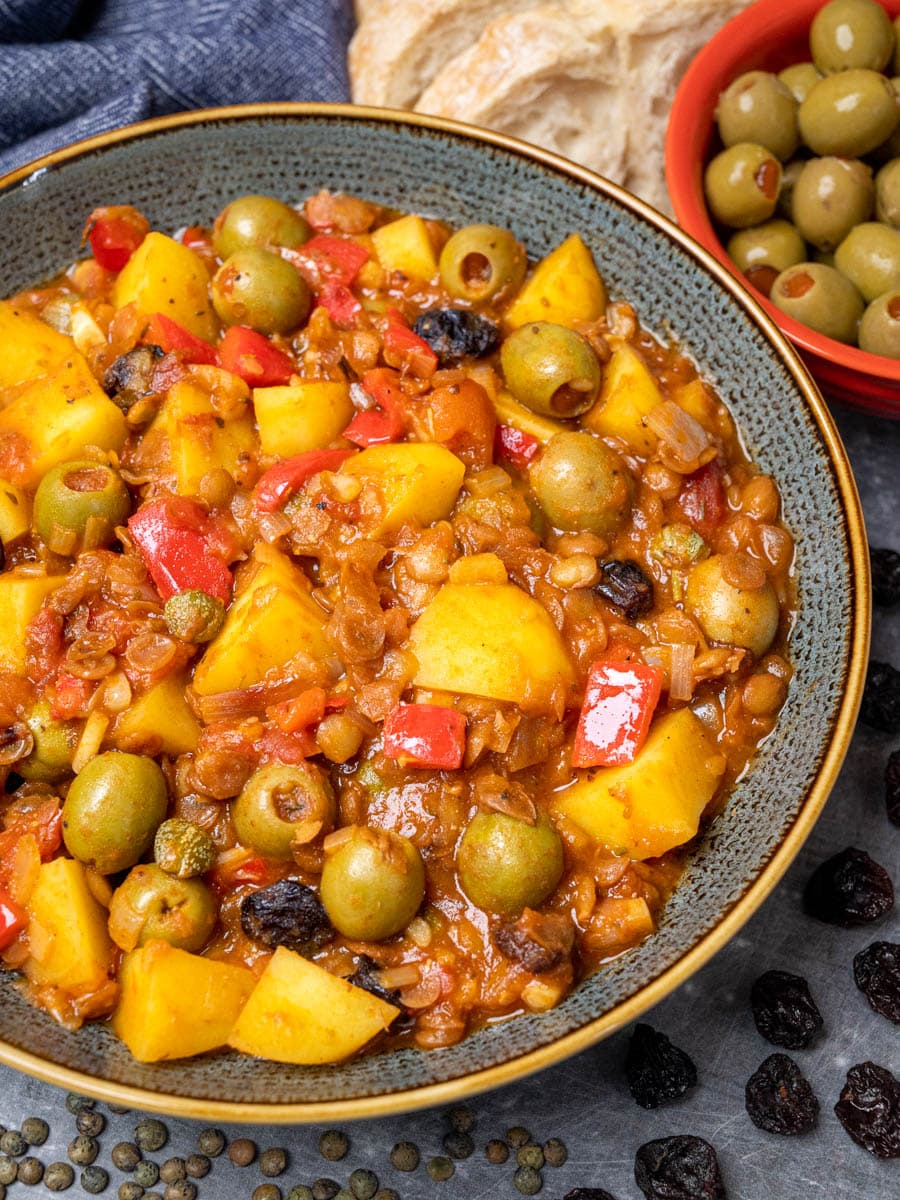 Ingredients and substitutions
Olive oil — A tablespoon of extra virgin olive oil is all you need to saute the shallots and bell pepper. If you prefer to cook without oil, saute the veggies in a bit of stock instead.
Shallots — I like the mild flavour of shallots in this recipe, but any other type of onion will do.
Bell pepper — You can use any color of bell pepper you want in this healthy picadillo or a combination of colors.
Garlic — Fresh garlic is best for this recipe. You can either chop it finely or crush it.
Herbs and spices — A mix of dried oregano, ground cumin and bay leaves infused this picadillo with warming flavours. If you want it to have a bit of a kick, add ¼ teaspoon cayenne pepper.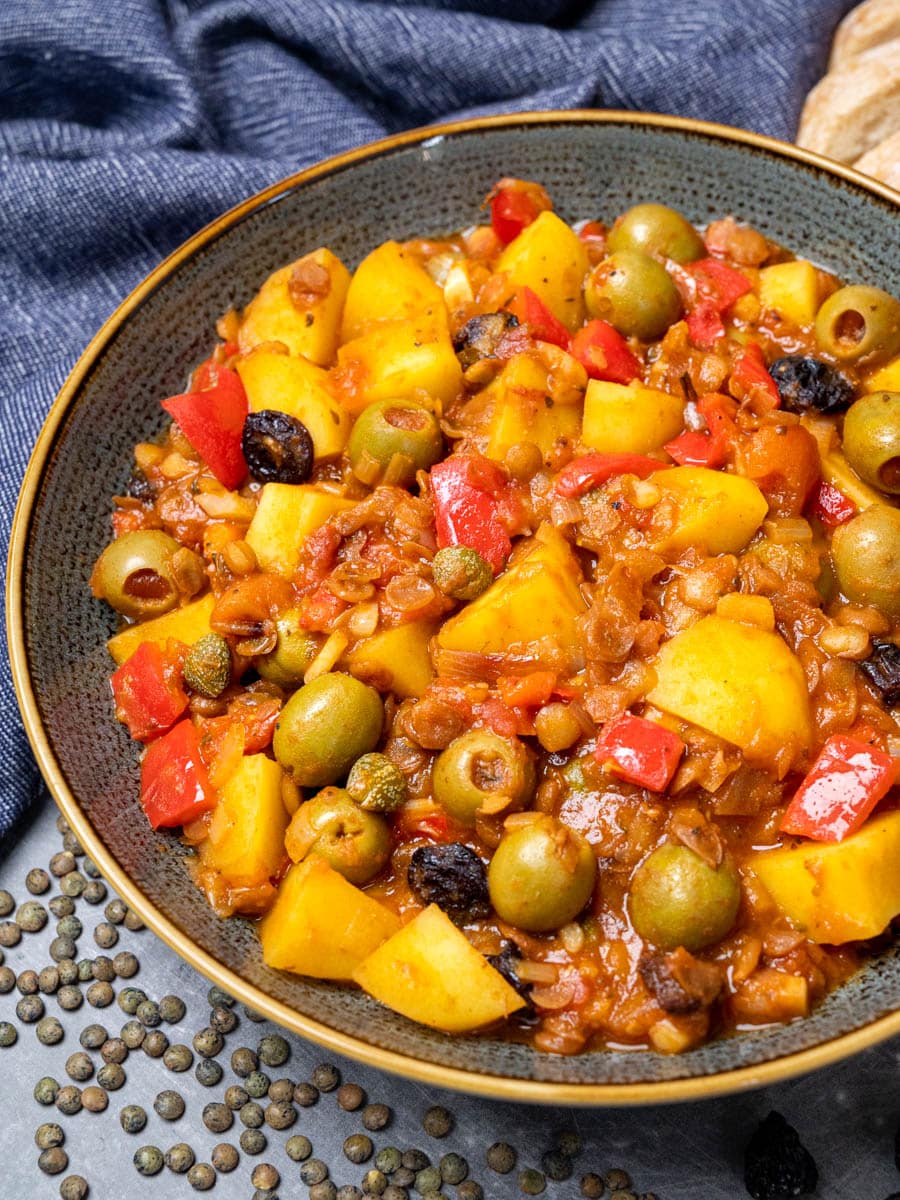 Green lentils — Canned green lentils are extra convenient for this vegan Cuban recipe. You can use lentils cooked from scratch if you have time, though.
Chopped tomatoes — Crushed tomatoes or canned plum tomatoes crushed by hand are also good options in this dish.
Raisins — I like to feel the raisins in this picadillo, so I generally leave them whole, but you can chop them roughly if you'd like.
Capers — Drain the capers but don't rinse them as the briny liquid adds loads of flavour to the sauce.
Pimento-stuffed olives — You can use any other green olives in brine if you don't have pimento-stuffed ones.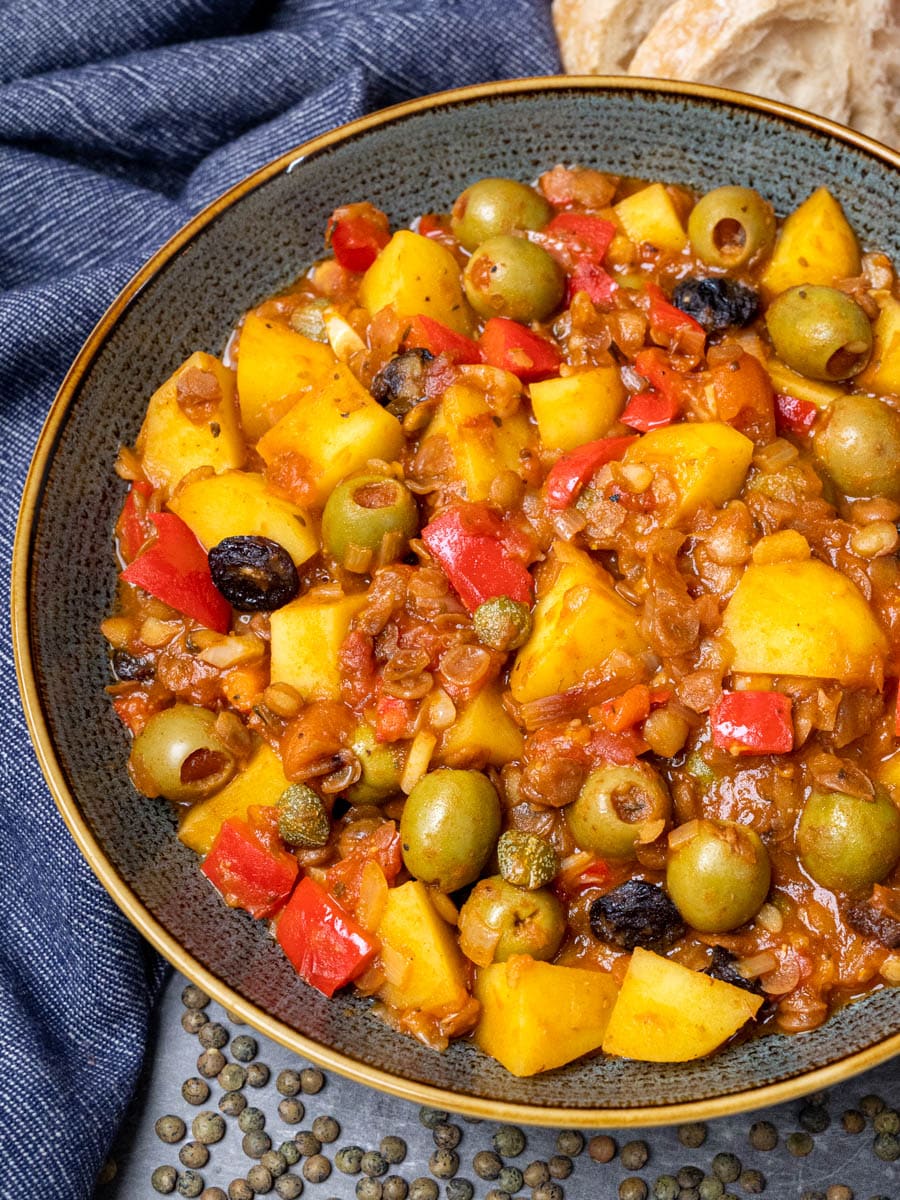 How to make vegan picadillo with lentils
Heat the olive oil in a large, deep pan or a Dutch oven and sauté the shallots and red bell pepper for 3-4 minutes until slightly softened.
Add the tomato paste and garlic and continue to cook for another minute.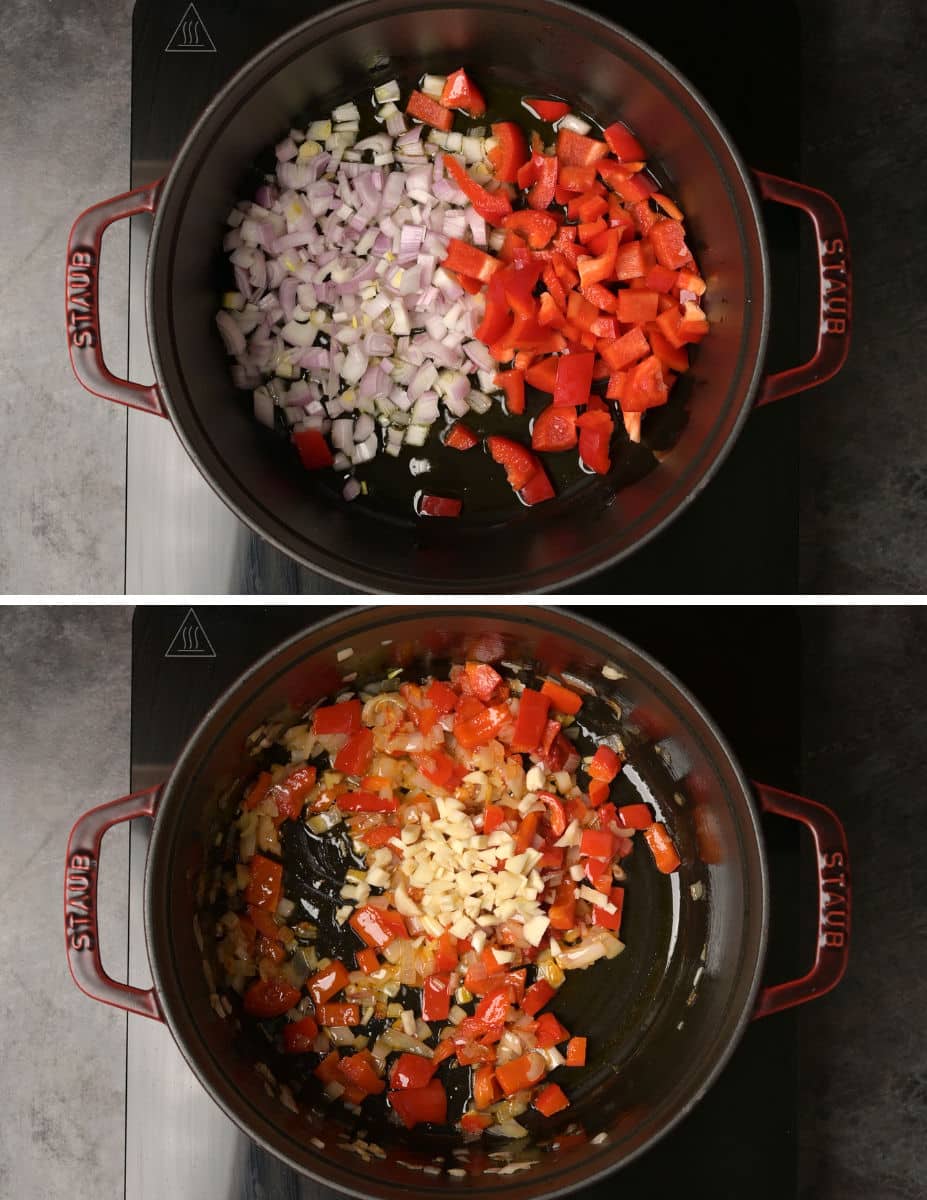 Stir in the dried oregano, ground cumin, salt and bay leaves, then add the vegetable stock and bring to a simmer.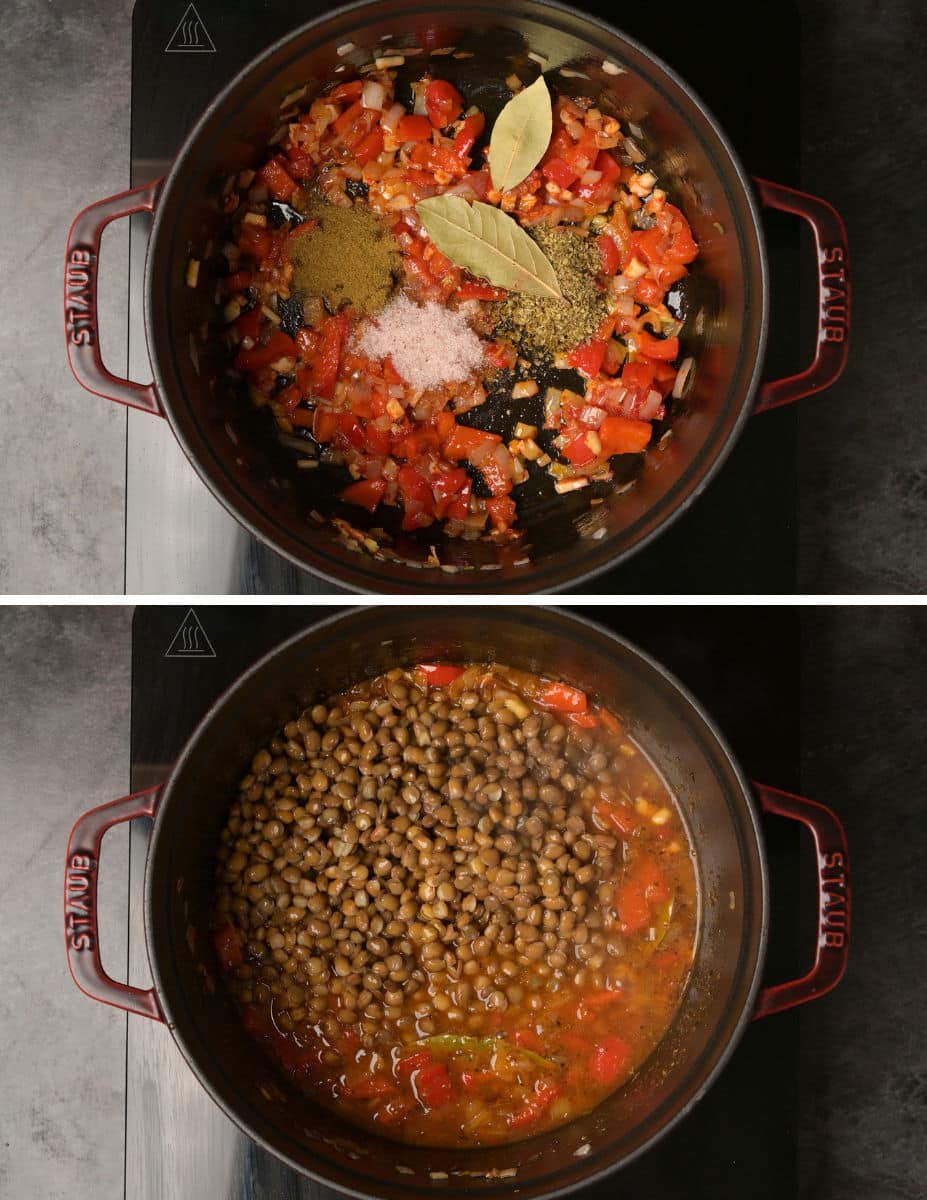 Add the green lentils, chopped tomatoes and potatoes and simmer, covered, for 20 minutes or until the potatoes are fork-tender.
Stir in the raisings, capers and pimento-stuffed olives.
Serve the picadillo over rice, with crusty bread or on its own, topped with freshly chopped coriander (cilantro) if you like.
Leftovers and storage
Recipe notes and tips
If you liked this vegan Cuban picadillo, you might also like some of my other easy vegan one-pot recipes:
Don't miss out on any new recipes! Follow Vegan Cocotte on Instagram, Facebook and Pinterest.