This vegan black bean soup is packed with protein, hearty and super easy to make. It's just perfect for a comforting weeknight meal, and it uses budget-friendly, everyday ingredients.
There's nothing quite like a delicious bowl of veggie soup on a chilly day, and this vegan black bean soup is hearty, comforting and super satisfying.
Besides being spicy and delicious, this soup is also quite good for you since it's packed with protein, fiber and vitamins.
The soup takes just a bit over 30 minutes to make, and it's just perfect if you love all things beans — in fact, it's quite possible for it to become a family favorite!
And if you're looking for other delicious plant-based recipes with beans, try my easy five-bean chili or this delicious butter bean curry.
Why you'll love this vegan black bean soup
It's ready in just over half an hour with minimal prepping.
Ingredients are mostly pantry staples and budget-friendly.
It's high in protein and fiber and low in fat for a very healthy lunch or even a light dinner.
Ingredients and substitutions
Olive oil — Sautéing the veggies in some extra virgin olive oil sets an excellent flavor base for this soup. If you don't cook with oil, you can sauté the veggies in veggie stock instead.
Onion — Both yellow and red onions are a good choice here.
Carrot — I like to dice the carrots about the same size as the onion so they cook evenly.
Bell pepper — I used a red bell pepper, but any other color would do. You can add other veggies at this step if you like, such as zucchini, corn or sweet potatoes.
Garlic — Freshly chopped or minced garlic is always best in soups.
Spices — I used a mix of ground cumin, dried oregano and chili powder in this soup. Add some red chili flakes or cayenne pepper to taste if you want a spicy black bean soup.
Diced tomatoes — Use crushed tomatoes instead of diced tomatoes if you dislike chunky bits of tomato in your soup.
Black beans — Canned black beans are perfect in this recipe as they're a pantry staple. All you have to do before adding the beans to the soup is drain and rinse them.
Vegetable stock — Choose a low-sodium vegetable stock and season to taste to better control the amount of salt in the recipe.
Kale — I love kale in this soup, but if you're not a fan, you can use any other leafy greens.
How to make black bean soup
Heat the olive oil in a large stock pot or Dutch oven and sauté the onion, carrot and bell pepper over medium heat for 5-6 minutes until softened.
Add the garlic, ground cumin, dried oregano and chili powder and continue to cook for another minute.
Stir in the diced tomatoes and red vinegar, then add the black beans and vegetable stock.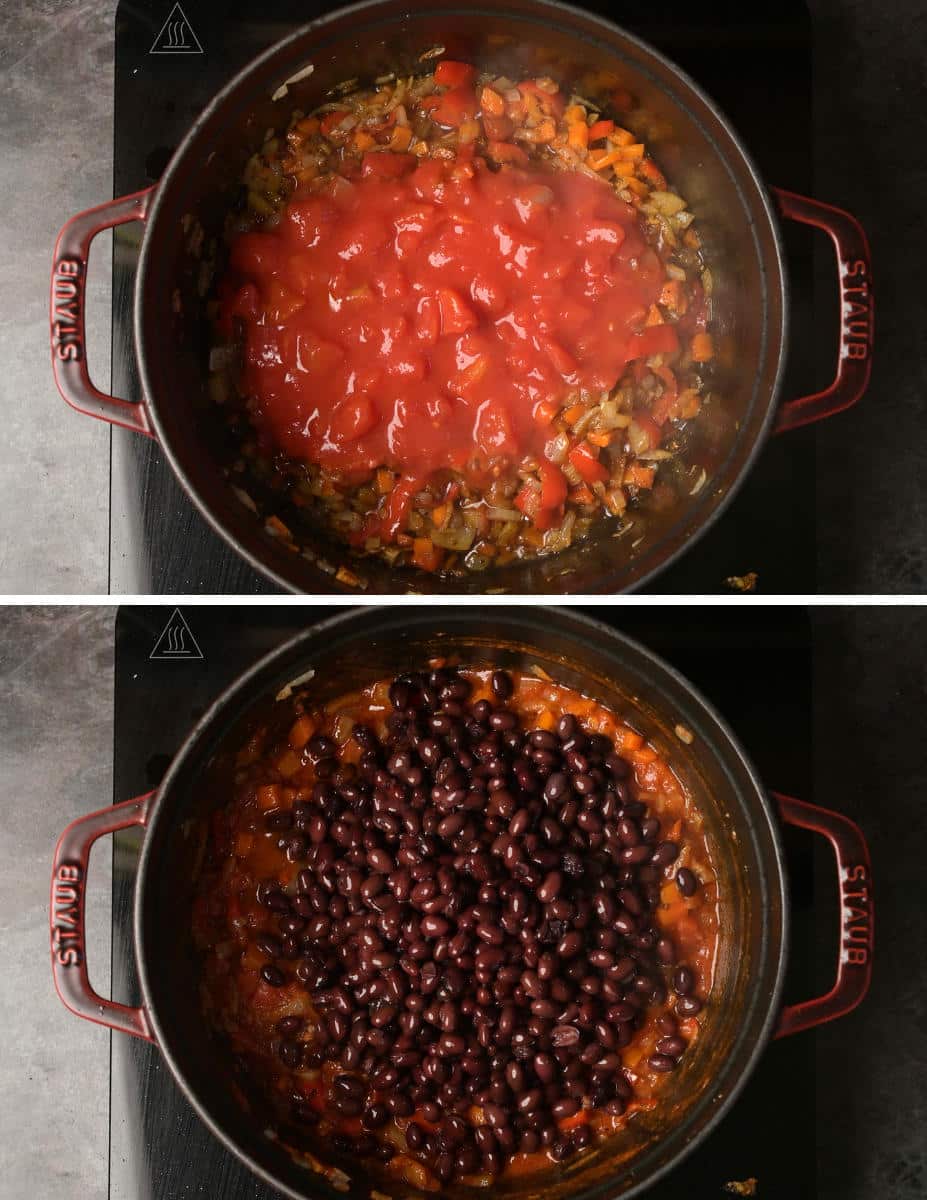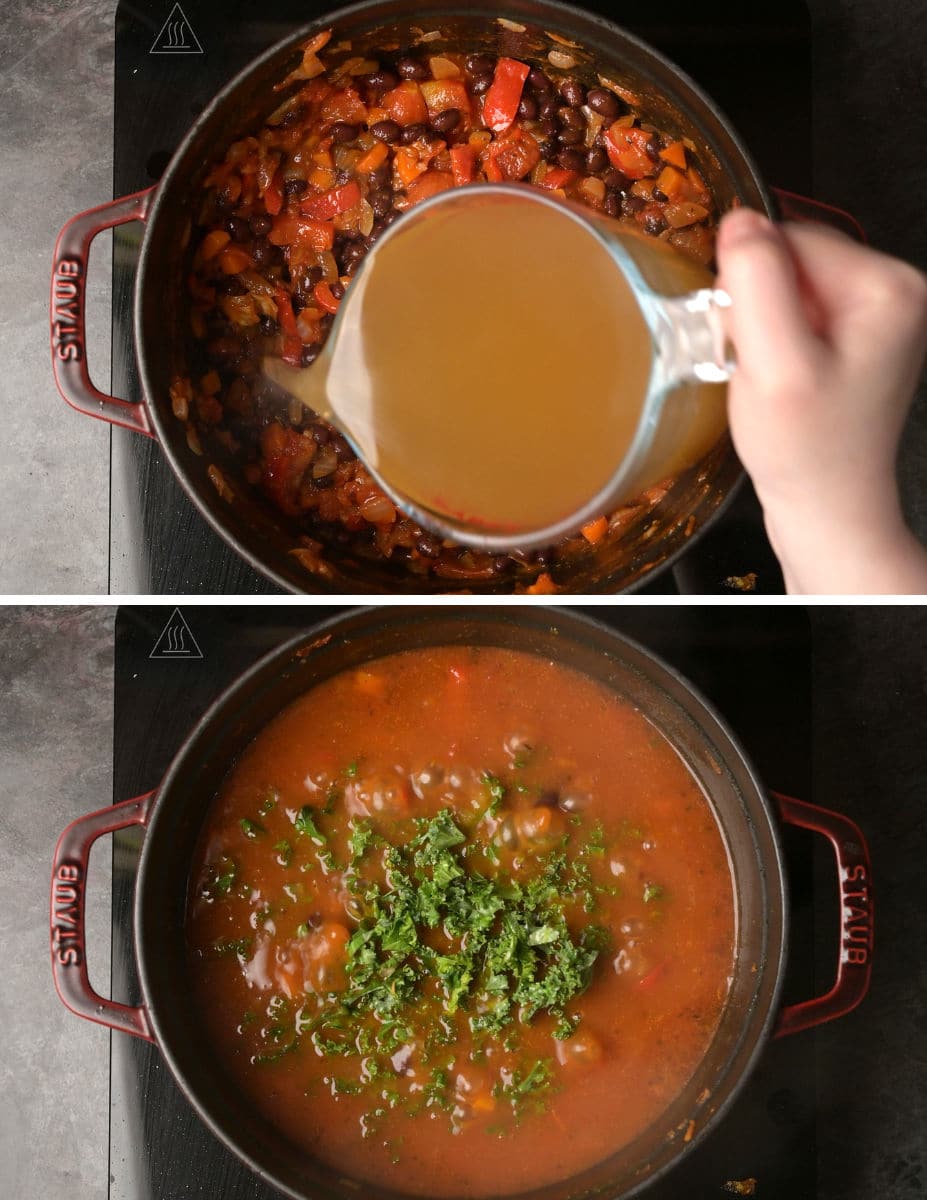 Bring to a boil, then lower the heat, cover the pot and simmer for 15 minutes.
Add the kale and continue to cook for 2-3 minutes.
Season to taste and serve hot with your favorite crusty bread, cornbread or tortilla chips.
Leftovers and storage
This black bean soup tastes even better the next day!
Leftovers will keep well in the fridge for up to 3 days in an airtight container.
You can freeze the soup for up to 3 months. Thaw it overnight in the fridge before reheating.
Recipe notes and tips
This soup pairs well with cornbread, tortilla chips or your favorite crusty bread.
Add a bit of lemon or lime juice with the kale for extra brightness.
If you want your black bean soup to be creamy, puree half of it in a blender and then return it to the pot.
Make the soup extra hearty by adding some rice or quinoa. You may need to adjust cooking times, so the grains are cooked through.
If you liked this vegan black bean soup recipe, you might also like some of my other easy vegan soups:
Don't miss out on any new recipes! Follow Vegan Cocotte on Instagram, Facebook and Pinterest.