This vegan feijoada (Brazilian black beans stew) is a plant-based version of a traditional Brazilian recipe. Veggie feijoada is comfort food at its best while also being super nutritious and tasty.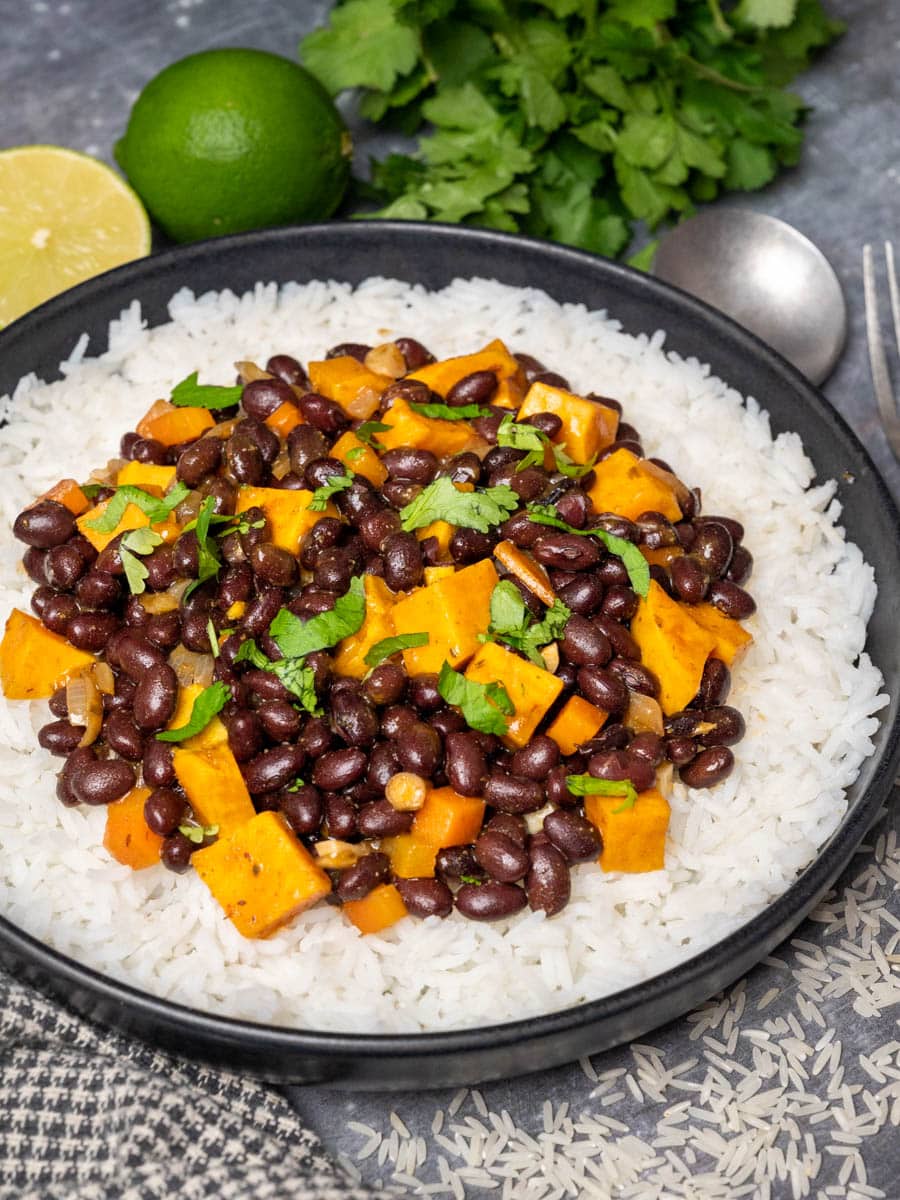 Feijoada is such a popular recipe in Brazil that it's sometimes called the country's national dish.
Even though authentic feijoada is made with smoked meat, this vegan feijoada recipe is rich and delicious.
Making feijoada vegan may not be entirely authentic, but this vegan Brazilian black bean stew is so flavourful no one will actually miss the meat!
My version is in no way authentic, but I took inspiration from the flavours of traditional feijoada to create a warming and comforting plant-based meal.
Why you'll love this vegan feijoada
It's very easy to make with canned beans. Feijoada can be made with dried beans that you cook from scratch or with canned black beans. I opted for the second choice to cut the cooking time significantly.
It's super flavourful. Even though it's made with just a handful of ingredients, vegan feijoada delivers a symphony of flavours.
Leftovers are delicious. This is a perfect recipe to make ahead because it tastes even better the next day.
Ingredients and substitutions
Olive oil — You only need a bit of olive oil to saute the veggies and aromatics.
Onion and carrot — These veggies form the foundation of any good stew and feijoada is no different.
Garlic — You need at least two large garlic cloves in this recipe — the more, the better. Some authentic feijoada recipes call for double or triple that.
Herbs and spices — I use a mix of smoked paprika, ground cumin and dried oregano in this recipe. The smoked paprika is essential because it does a good job at replicating the original smoky flavour of feijoada.
Sweet potato — You can add a mix of sweet potato and regular potatoes if you want.
Black beans — Both dried and canned beans work well in this recipe. If using dried beans, you'll need to soak them overnight and pre-cook until tender before using them in this recipe.
How to make feijoada vegan
Heat the olive oil in a large, deep pan and fry the onion and carrot for 3-4 minutes until they soften a bit.
Add the garlic and continue to cook for another minute until fragrant.
Stir in the oregano, ground cumin and smoked paprika and cook for a further minute.
Add the sweet potato, vegetable stock, red wine vinegar, bay leaf and black beans.
Add the water (enough to cover the beans), stir to combine and bring to a boil. Lower the heat, cover the pan with a lid and simmer for 15-20 minutes.
Season to taste and serve with white rice or your favourite bread.
Leftovers and storage
Leftovers will keep well in the fridge for up to 3 days in an airtight container.
Reheat it in the microwave or on the stovetop until piping hot. You may need to add a bit of water or
You can freeze this vegan feijoada for up to 3 months in a freezer-safe container or in Ziploc bags.
Recipe notes and tips
Feijoada is typically served with orange slices, supposedly because they help with the digestion of black beans.
You can mash some of the beans with a stick blender or a potato masher to thicken your feijoada.
If you decide to use dried beans, make sure thy're not very old. Black beans that have been sitting for more than a year in your pantry may cook unevenly.
If you liked this vegan feijoada recipe, you might also like some of my other easy vegan stew recipes:
Don't miss out on any new recipes! Follow Vegan Cocotte on Instagram, Facebook and Pinterest.