This quick and easy vegan butter bean curry is just the perfect recipe for an easy weeknight dinner. It's a low-fat, plant-based curry full of protein and flavour that pairs perfectly with rice or naan bread.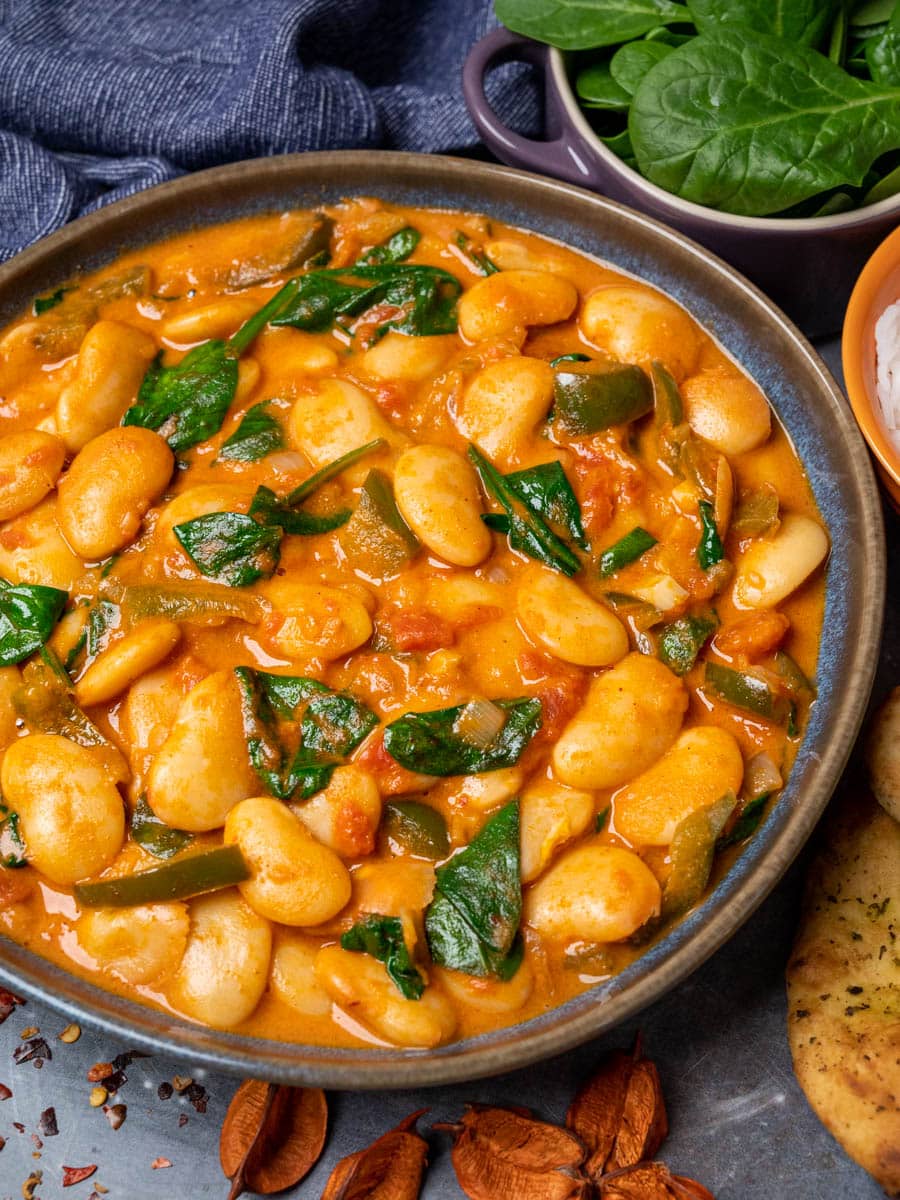 This vegan butter bean curry is a delicious yet very easy plant-based dish that makes a perfect alternative to takeout.
Besides being loaded with protein, this curry with butter beans is also super easy to customise. You can easily add any veggies you want or even make it with different types of beans.
This butter bean curry recipe takes very little time to prepare and is ideal for a busy weeknight or if you're looking for a healthy dinner on a budget.
Why you'll love this butter bean curry
It's an easy meal that you can throw together in just 40 minutes, just perfect for a busy day.
It's a perfect choice for those days when you want to load up on protein.
You can add any extra veggies you want to make this easy butter bean curry recipe truly yours.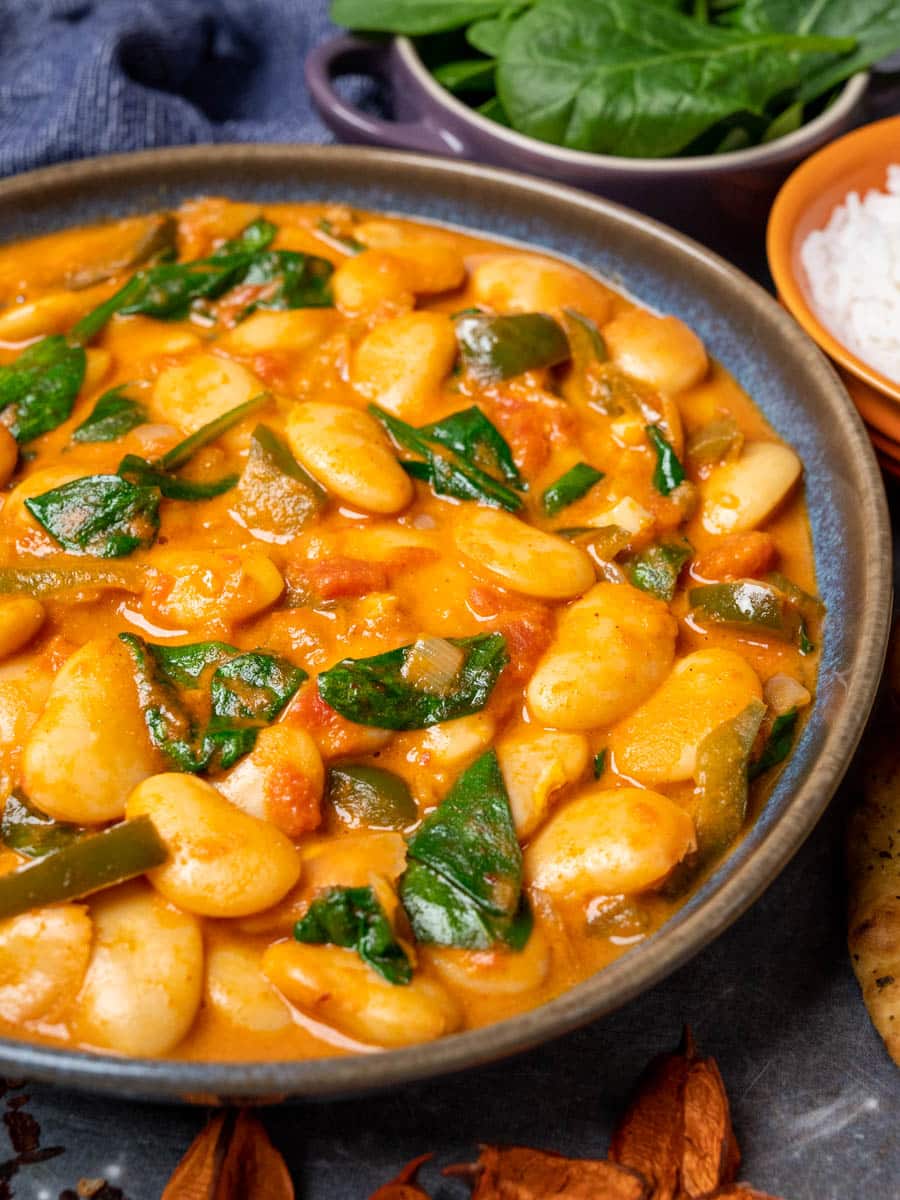 Ingredients and substitutions
Oil — I used sunflower oil in this butter bean curry but canola or coconut oil would work just as well. If you don't want to cook with oil, simply saute the veggies in a bit of veggie stock or water.
Onion — Any kind of onion is great in this curry. I used yellow onions, but white onions or red onions are great options.
Green bell pepper — Use any colour bell pepper you want in this curry and feel free to add any other veggies you want at this point.
Garlic and ginger — Freshly chopped garlic and ginger are always best in curries.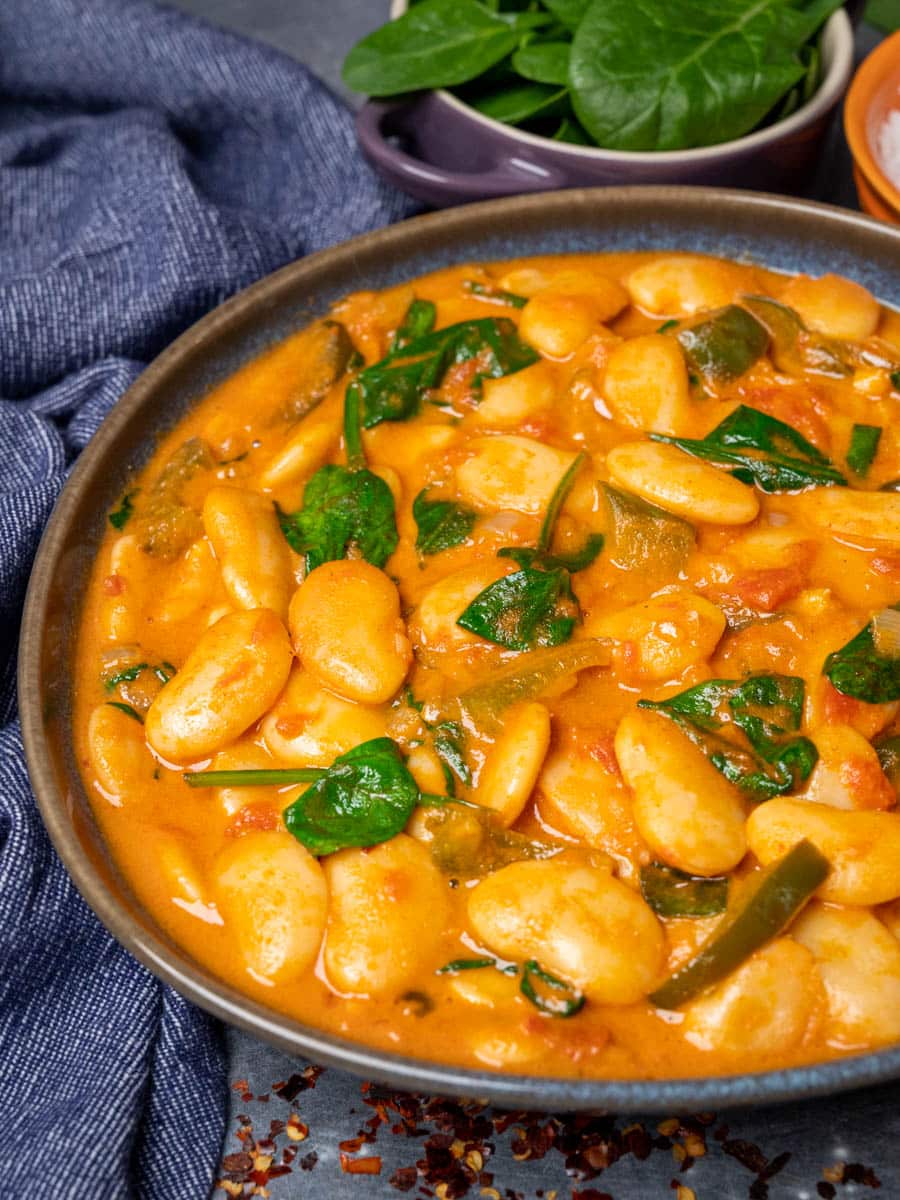 Spices — I used a mix of ground cumin, chilli powder, ground coriander and red chilli flakes in this curry. Use a mild chilli powder if you don't want the curry to be too hot.
Chopped tomatoes — Chopped or crushed tomatoes both work well in this butter bean curry recipe.
Butter beans — Canned butter beans are perfect for this curry because they're convenient. You can also use butter beans that you've cooked from dry. This article from Serious Eats is quite useful for learning more about canned beans to dry ratio.
Coconut milk — I like to make this curry with light coconut milk, but if you want it creamier, you can use full-fat coconut milk instead.
Baby spinach — Kale or collard greens are good substitutions for baby spinach but remember they may take a bit longer to wilt.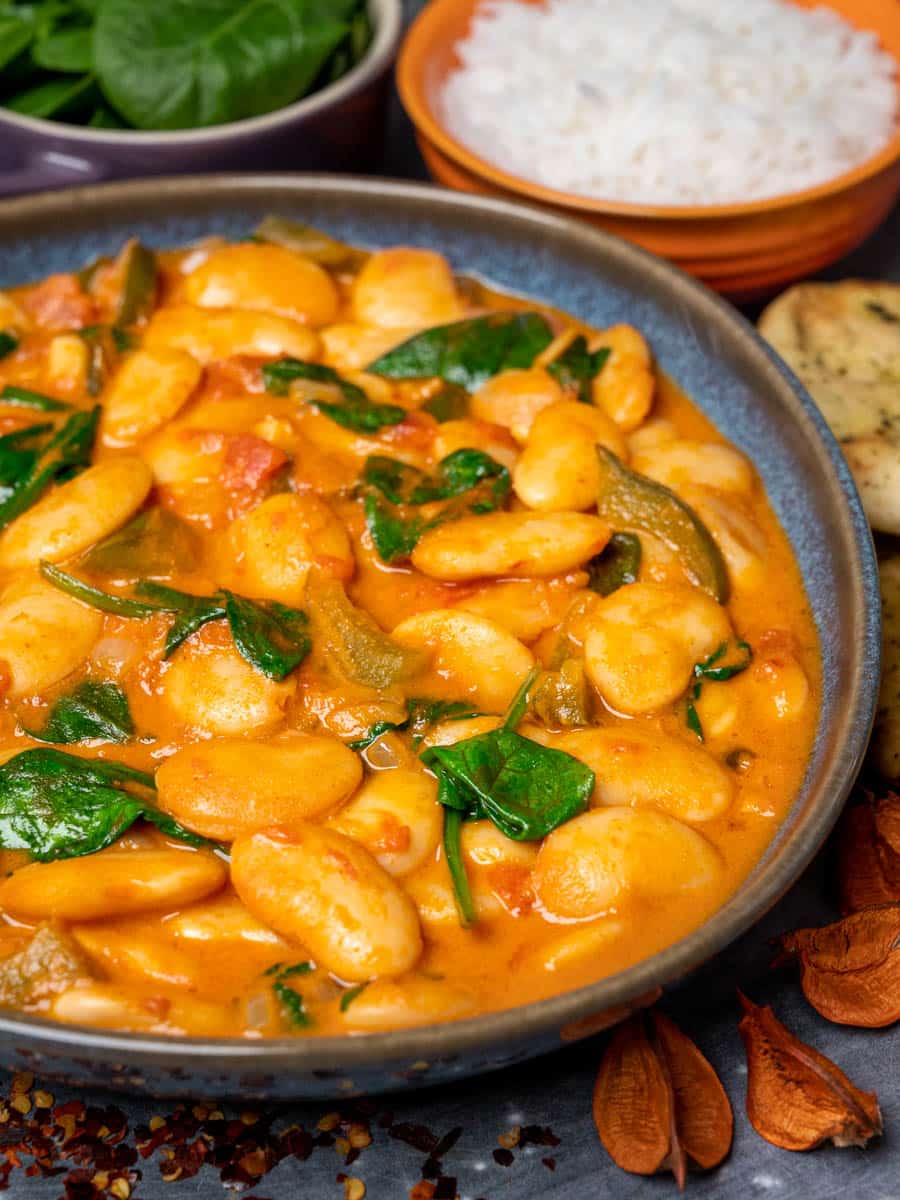 How to make this butter bean coconut curry
Heat the oil in a large, deep pan and saute the onion for 3-4 minutes over medium heat. Add the green pepper and continue to cook for 2-3 minutes until it softens a bit.
Stir in the garlic and ginger and cook for another minute until fragrant. Add the ground cumin, chilli powder, ground coriander and red chilli flakes and stir to combine.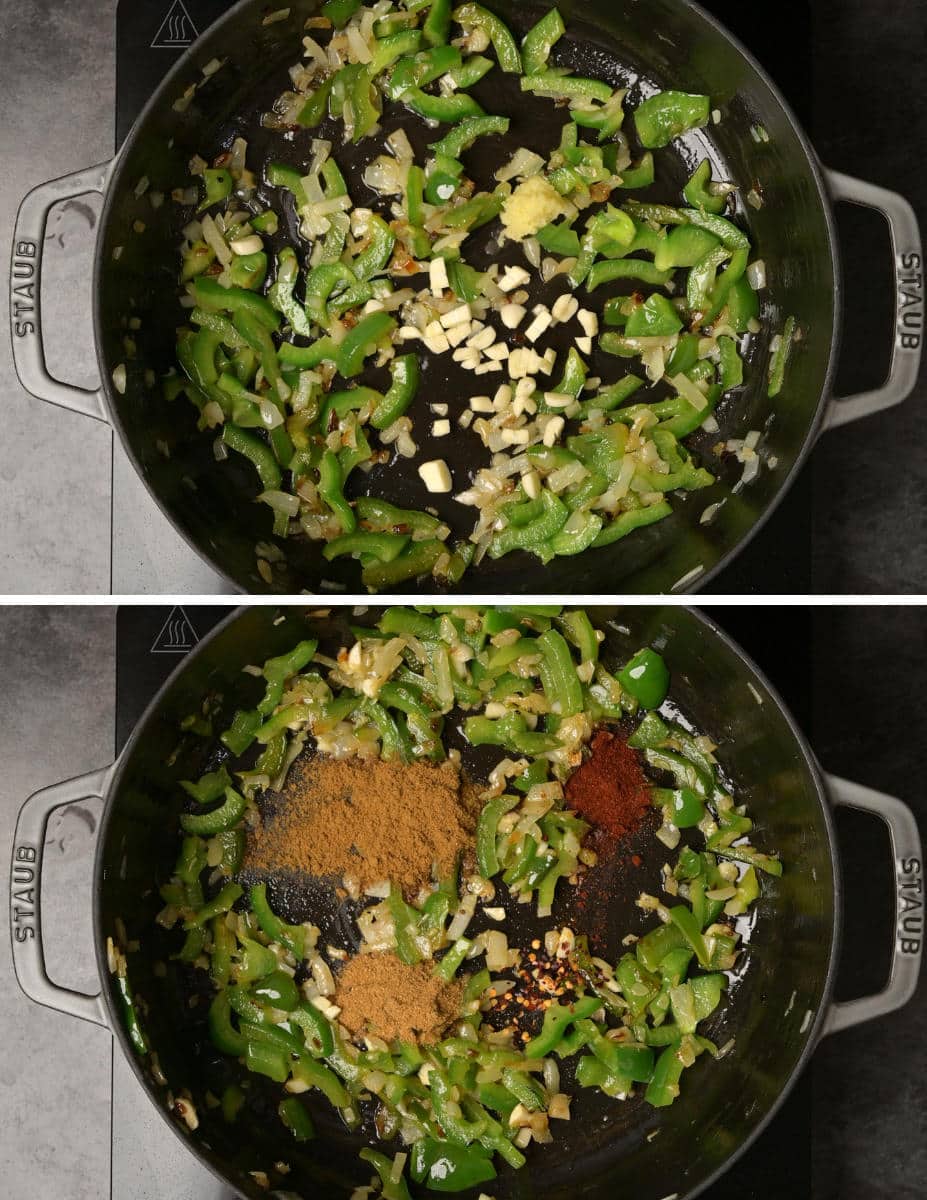 Continue to cook for 1 minute, then stir in the chopped tomatoes, butter beans and coconut milk. Bring to a simmer, then lower the heat and simmer for 15 minutes, covered.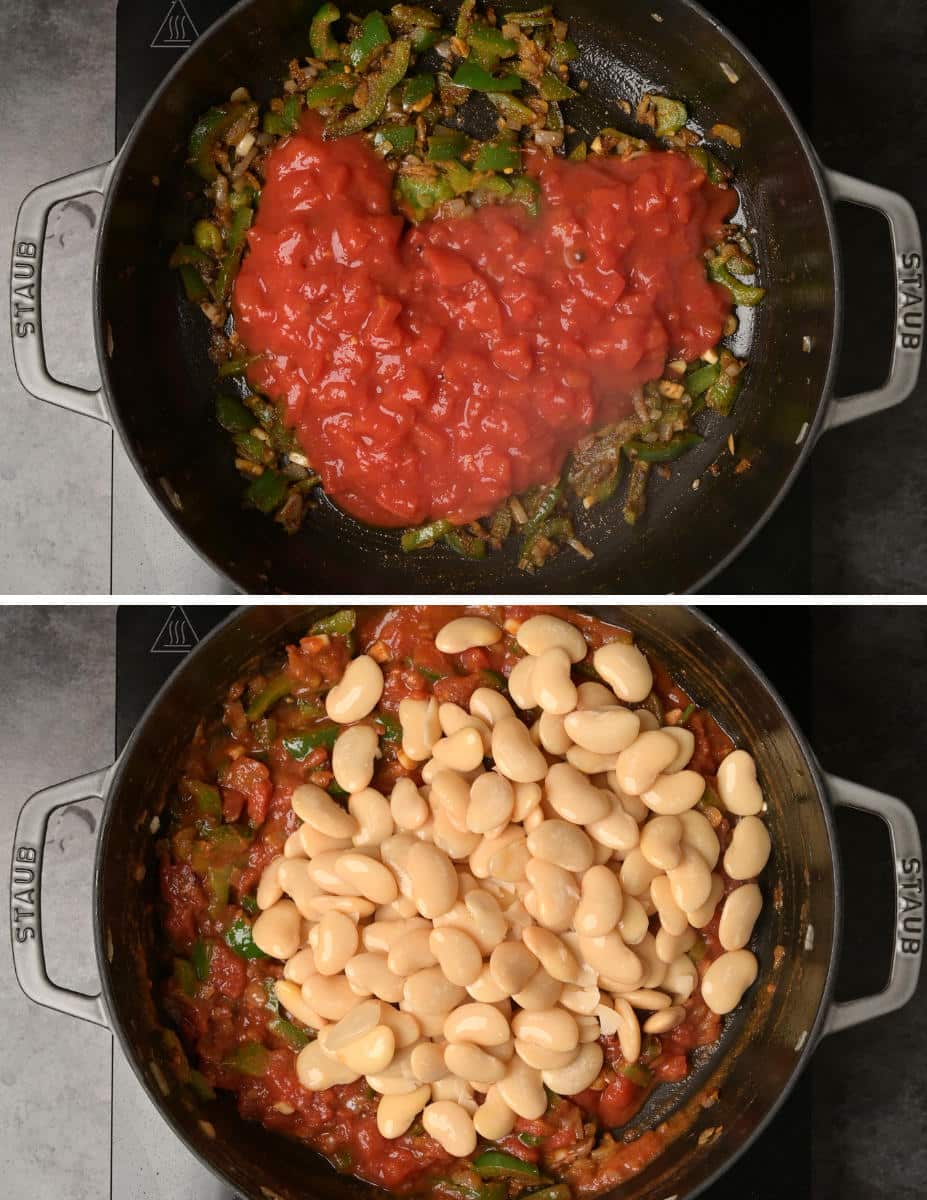 Add the baby spinach and simmer for 1-2 minutes until it wilts. Season to taste and serve over your favourite rice or with naan.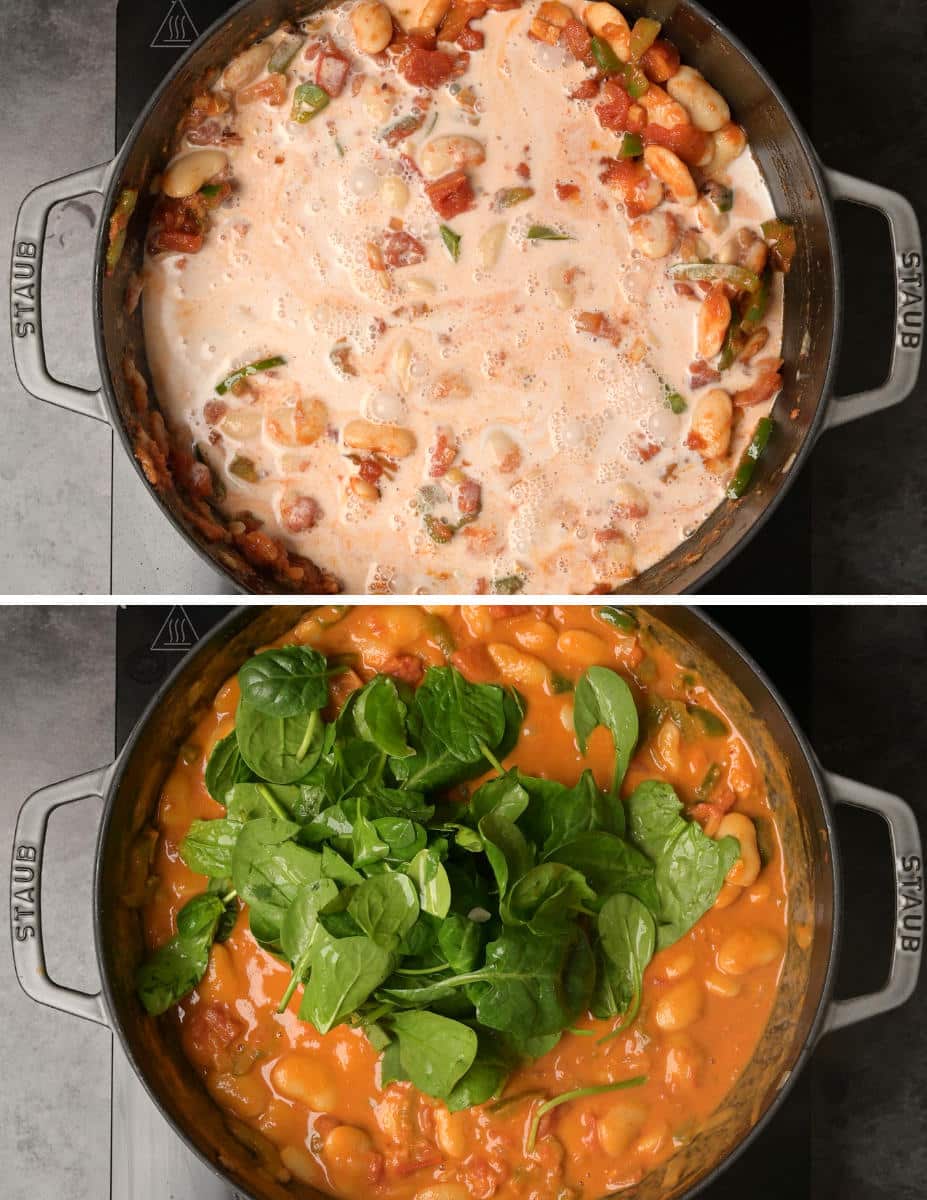 Leftovers and storage
Leftovers will keep well in the fridge for up to 3 days in an airtight container.
Reheat the curry in the microwave or on the stovetop. I like to serve any leftovers over freshly boiled rice.
You can freeze butter bean curry for up to 3 months. Thaw it in the fridge overnight before reheating.
Recipe notes and tips
Serve this butter bean curry with cauliflower rice for a low-carb meal.
Sprinkle the bowls with freshly chopped coriander (cilantro) right before serving for a bit of brightness.
This curry is an excellent base to use with any other kind of beans or chickpeas.
If you liked this vegan butter bean curry, you might also like some of my other easy vegan curry recipes:
Don't miss out on any new recipes! Follow Vegan Cocotte on Instagram, Facebook and Pinterest.