This easy three bean soup is hearty and packed full of protein, just perfect for a cosy weeknight dinner. All you need is three types of canned beans, and you'll be ready to face any chilly evening.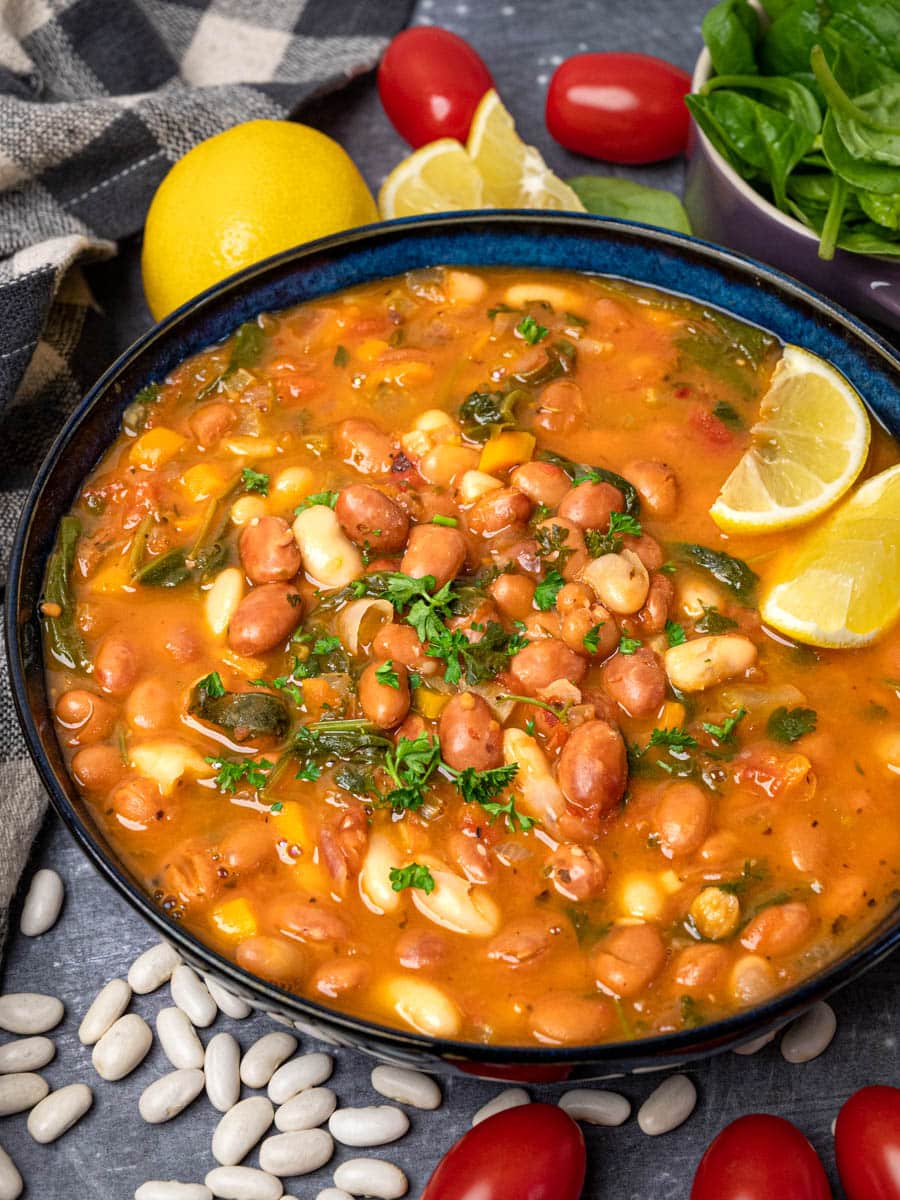 I'm a massive bean lover and I use them in all kinds of soups, stews and chillis. This easy three-bean soup is a dream come true for me and just the perfect treat for a chilly day.
As you may have perhaps noticed if you've been on Vegan Cocotte before, I like to keep things quick and easy. That's why I use canned beans to make this soup. It's seriously more convenient to do so, as soaking three kinds of beans is no easy feat.
One of the best things about this can bean soup is that you can adapt it to suit your particular taste in beans. The possibilities are truly endless.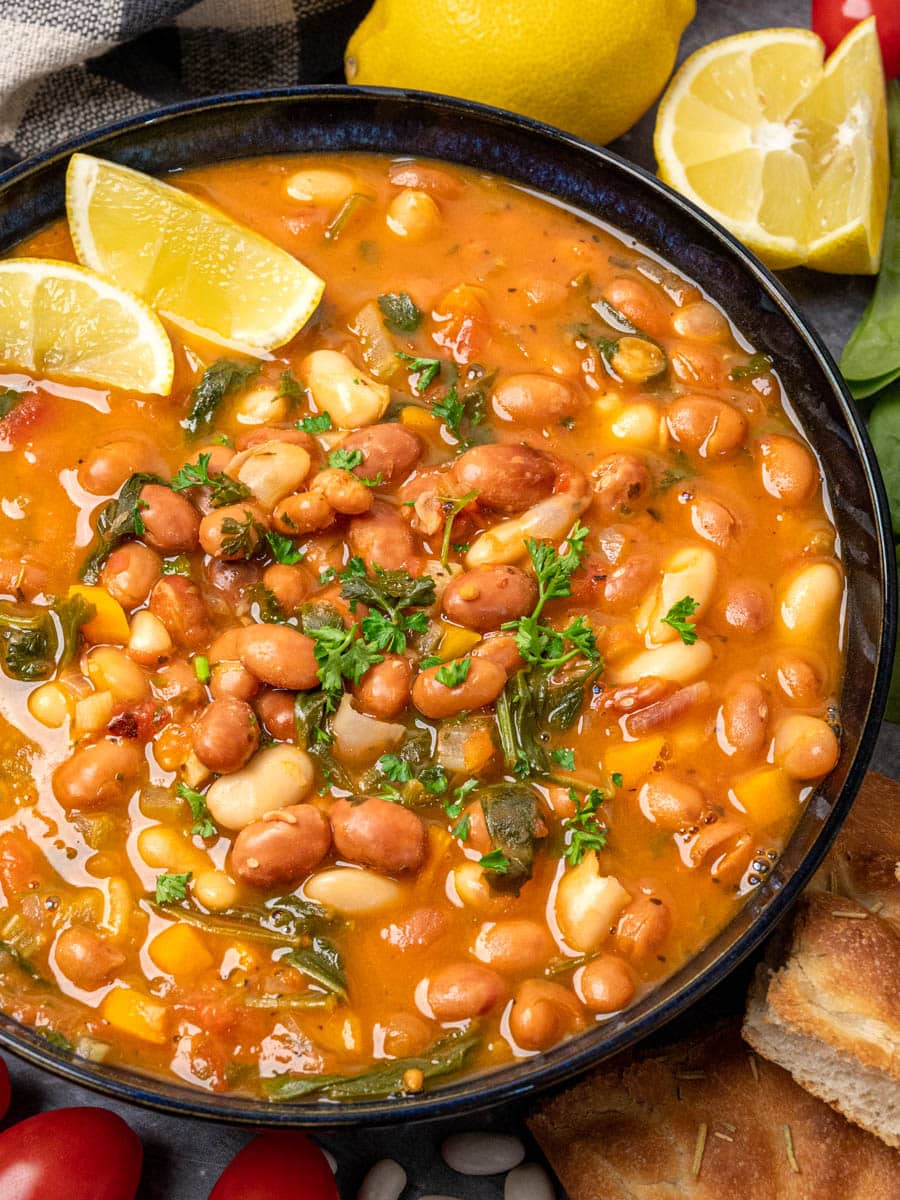 Ingredients and substitutions
Here's what you need to make the easiest bean soup recipe using canned beans.
Three types of beans — I typically make it with a mix of cannellini, borlotti and pinto beans, but you can use any mix you want. Kidney beans, navy beans, butter beans and black beans are all great ideas.
Red onion, carrot and celery — These veggies are the base of any good soup. Dice them small if you want them to cook quicker.
Garlic, red chilli flakes and oregano — To give the soup just the right flavour, you can adjust the quantities to your liking. I like the bean soup on the milder side, but if you prefer it to be more fiery, you can up the amount of red chilli flakes.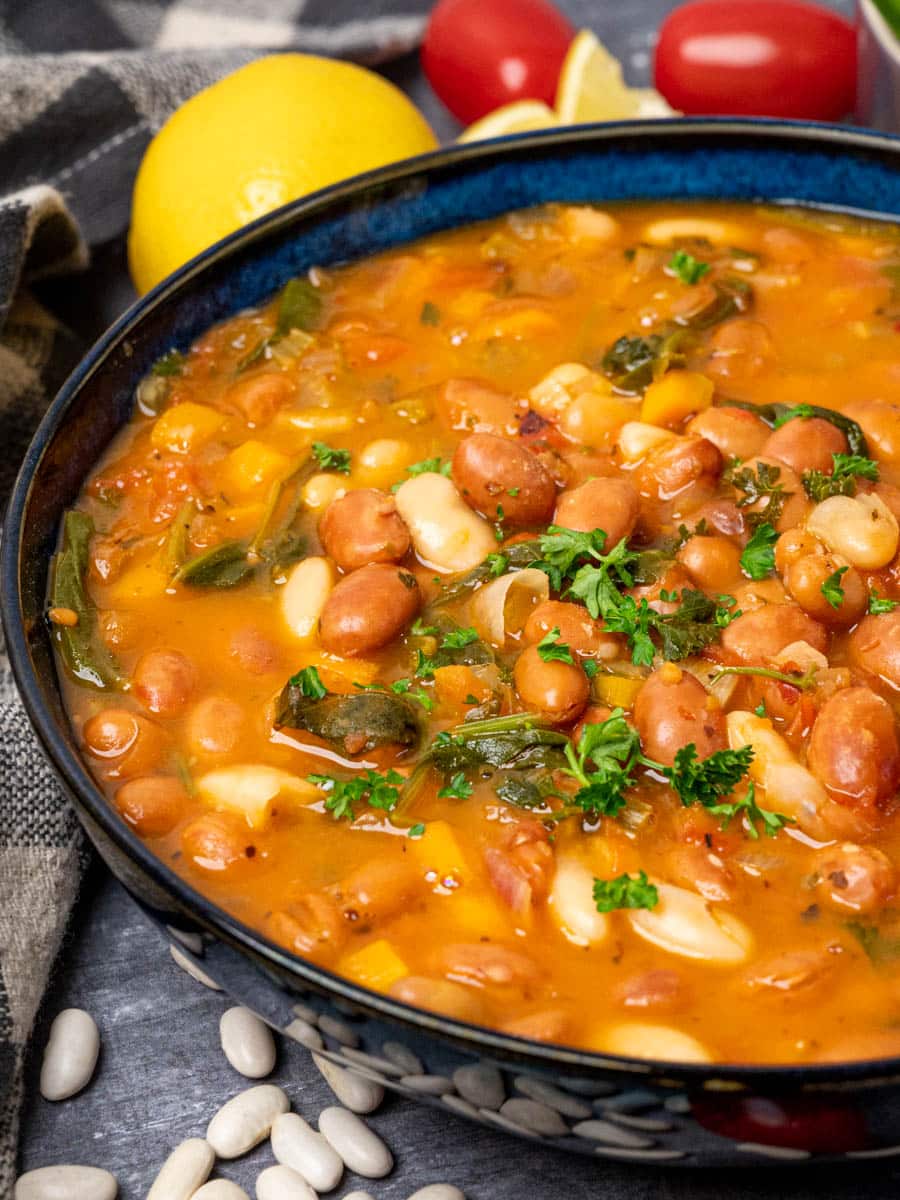 Chopped tomatoes — You can use fresh tomatoes instead, but only if they're very ripe and juicy.
Vegetable stock — Use the best quality stock you can because it really makes a difference.
How do you make three bean soup?
Heat the olive oil in a large pot and saute the red onion, carrot and celery for 6-7 minutes, stirring continuously, until slightly softened.
Next, add the garlic and red chilli flakes and cook for another minute until fragrant. Stir in the chopped tomatoes and oregano and continue to cook for 2-3 minutes.
Add all three types of beans and vegetable stock, bring to a boil, then lower the heat and simmer for 20 minutes until the beans are tender and the soup has naturally thickened a bit.
Stir in the baby spinach, parsley and lemon juice and cover with a lid for 2-3 minutes to allow the spinach to wilt.
Serve with extra lemon wedges and crusty bread.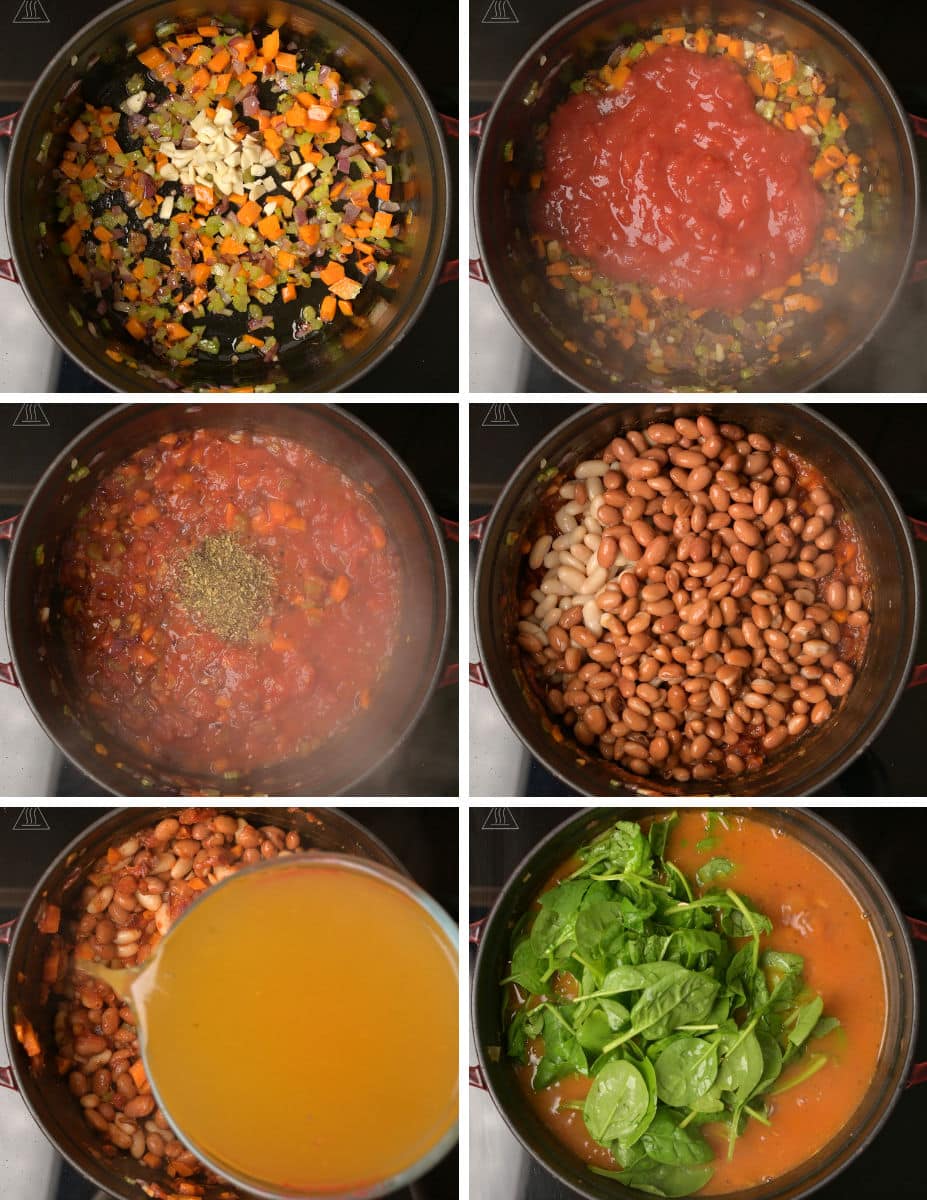 Extra recipe tips
This bean soup will keep well in the fridge for up to 5 days in an airtight container.
If you want to use dry beans instead, soak each type separately overnight and cook them separately until they are tender (about one hour, depending on type).
You can also use other seasonings for the soup, such as an Italian seasoning blend instead of oregano, bay leaves, or fresh rosemary and/or thyme.
To make the soup cremier, blend a quarter or half of it in a blender, then return it to the pot.
If you liked this easy three bean soup, you might also like some of my other easy vegan soups:
Vegan Avgolemono Soup (Greek Lemon Orzo Soup)
Cannellini Bean and Cavolo Nero Soup
Vegan Butternut Squash Kale Soup with Lentils
Don't miss out on any new recipes! Follow Vegan Cocotte on Instagram, Facebook and Pinterest.