This Cajun bean and potato stew is the perfect comfort food for a cold day. It's smoky, spicy and loaded with flavors, and it makes a wonderfully hearty and nutritious one-pot dinner.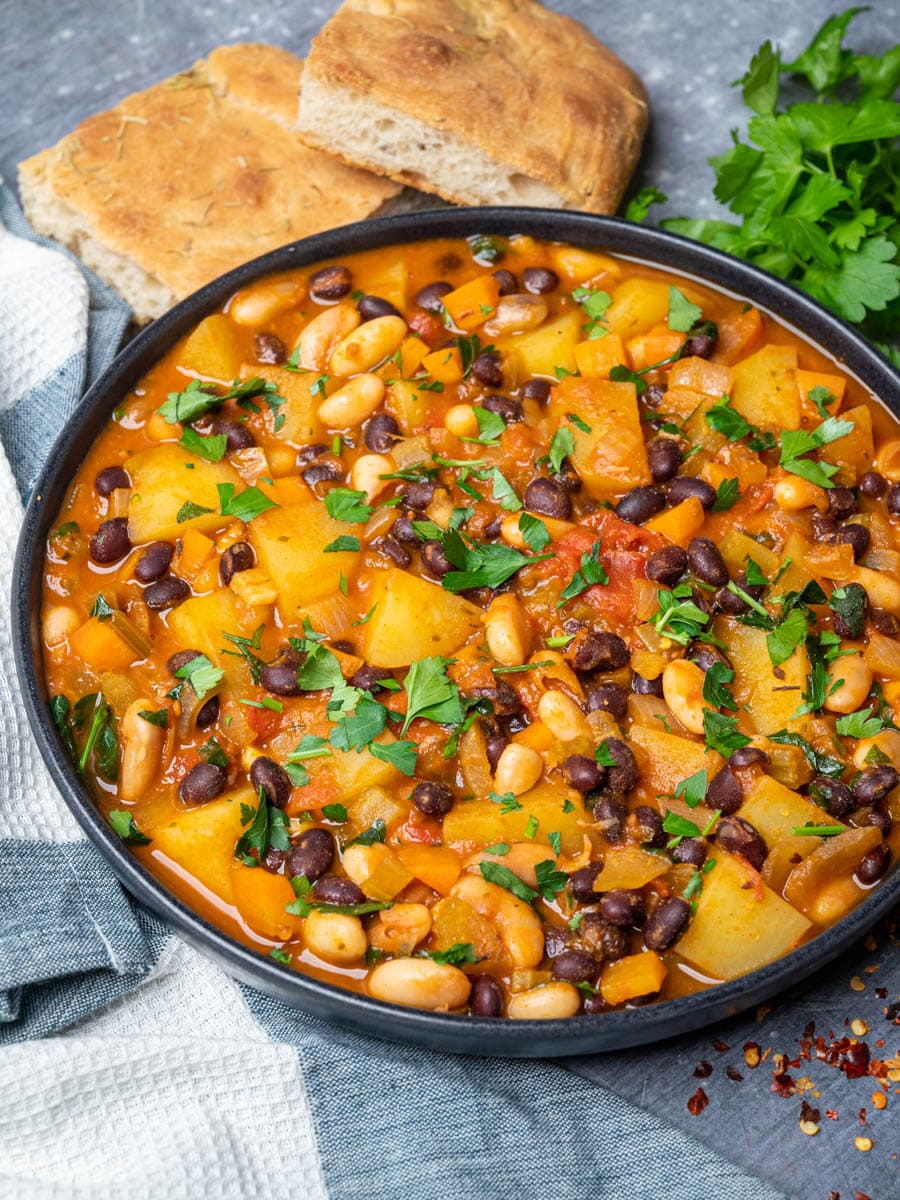 Cajun bean and potato stew is a simple and satisfying dish that packs some pretty complex flavors.
It's the perfect stew to make on those days you want something easy and nutritious but won't settle for bland flavors.
I make this spicy cajun stew with a mix of cannellini beans and black beans, but virtually any kind of beans would work. Pinto beans, red kidney beans and black-eyed beans are all great options.
You can make this stew with shop-bought Cajun seasoning for convenience.
I made it with a mix of dried oregano, red chili flakes, smoked paprika, chili powder, onion powder and dried thyme, which are the ingredients you'll find in most Cajun seasoning mixes.
Why you'll love this Cajun bean and potato stew
It's super easy to make with just a handful of simple ingredients.
You can make it with dried beans for extra flavor or opt for canned beans for convenience.
It's a filling and budget-friendly stew.
Ingredients and substitutions
Olive oil — You'll need a bit of olive oil to saute the onion, carrot and celery in. You can substitute with sunflower or canola oil or simply use some veggie stock if you don't cook with oil.
Onion, carrot and celery — These are the veggies that set out the perfect flavor base for the bean and potato stew. I like to dice them small, so they cook quicker.
Garlic — Feel free to add as much fresh garlic as you like! Minced garlic in a jar or garlic paste also works if you don't have fresh garlic on hand.
Spices — I used a mix of dried oregano, red chili flakes, smoked paprika, chili powder, onion powder and dried thyme to flavor this stew. Alternatively, use 2-3 tablespoons of shop-bought Cajun seasoning.
Diced tomatoes — Use the best quality diced tomatoes you can for the best flavor.
Beans — If you want to make this stew with dried beans, pre-soak them overnight and cook them until tender before adding them to the stew pot.
Potatoes — I typically make this soup with Maris Piper (Yukon Gold in the US), but any other boiling potatoes work.
How to make potato bean stew
Heat the olive oil in a heavy-bottomed pot and cook the onion, carrot and celery over medium heat for 5-6 minutes or until softened.
Add the garlic and continue to cook for another minute.
Next, stir in the dried oregano, red chili flakes, smoked paprika, chili powder, onion powder and dried thyme.
Add the diced tomatoes, cannellini beans, black beans, potatoes and vegetable stock.
Stir to combine, bring to a boil, then lower the heat and simmer for 20 minutes or until the potatoes are fork-tender.
Stir in the fresh parsley, season to taste and serve with your favorite crusty bread.
Leftovers and storage
This spicy cajun stew tastes even better the next day, so it's a great make-ahead meal.
Store it in an airtight container in the fridge for up to 5 days and reheat it in the microwave or on the stovetop until piping hot.
The stew freezes well for up to 3 months. Thaw it overnight in the fridge before reheating.
Recipe notes and tips
You can add other veggies to this stew to make it your own. Bell peppers, mushrooms and peas are all good ideas.
To make the bean and potato stew extra fiery, add a chopped jalapeño with the garlic.
Make the stew creamier by taking out 2-3 cups and blending before returning them to the pot.
If you liked this Cajun bean and potato stew, you might also like some of my other easy vegan stews:
Don't miss out on any new recipes! Follow Vegan Cocotte on Instagram, Facebook and Pinterest.