Brinjal bhaji is a delicious eggplant curry that's packed full of flavor and very easy to make. You only need a handful of ingredients to make it, and you can serve it as a main dish or as a side with your favorite curries, rice and naan.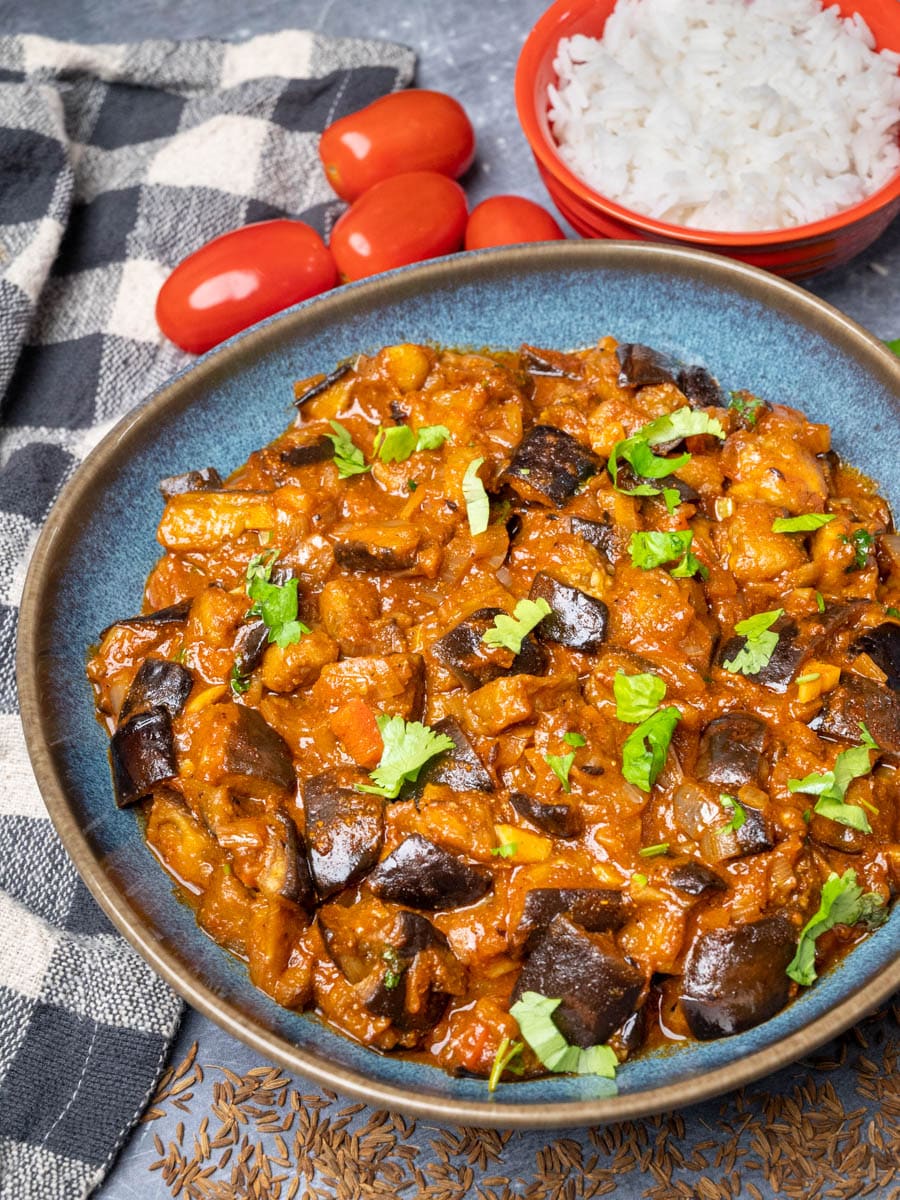 Brinjal bhaji, also known as eggplant bhaji or aubergine bhaji in the UK, is a popular dish at Indian restaurants across the world.
It's a naturally vegan recipe that's very easy to make with staple ingredients. Brinjal bhaji is basically a mix of roasted eggplant with onion, garlic and spices. It's a simple and light dish that you can serve as a main dish or as a side dish as part of an Indian feast.
There are several ways to go about roasting eggplant for this brinjal bhaji recipe. I prefer to use the air fryer to roast the eggplant to perfection. This air fryer eggplant recipe is all you need to get started.
Alternatively, you can roast the eggplant in the oven — you'll find the instructions in the recipe card at the bottom of the post.
Why you'll love this brinjal bhaji
It's a delicious, mildly spicy recipe the entire family will love.
It's very easy to cook with just a handful of ingredients.
Since it tastes great the second day, brinjal bhaji can be made ahead and it's great for meal prepping.
Ingredients and substitutions
Eggplant — You'll need about 1 lb (450 g) eggplant to make this brinjal curry. That's the equivalent of a large eggplant or two medium ones.
Cut the eggplant into 1-inch cubes — even if they look a bit big, they will shrink during roasting. There's no need to salt the eggplant and leave it to sit before roasting.
Oil — Sunflower oil and olive oil are both good choices for this recipe. You'll need a tablespoon for roasting / air frying the eggplant and another one to saute the shallots in.
Aromatics — A mix of finely chopped shallots, garlic and red chili pepper makes an excellent flavor base for this curry. You can also use regular onion instead of shallot.
Spices — I used a mix of mild curry powder, ground cumin, ground coriander and chili powder for this eggplant bhaji. If you want it spicier, you can use medium or hot curry powder.
Tomato paste — You can also use a can of diced tomatoes to bulk up the curry a bit.
How to make brinjal bhaji
Cook the eggplant in the air fryer according to the instructions in this air fryer eggplant recipe.
Alternatively, cook the eggplant in the oven. Preheat the oven to 450°F (240°C) and line a baking tray with baking paper.
Place the eggplant cubes in a bowl, add 1 tablespoon oil and season with salt and ground black pepper. Toss well, then spread the eggplant on the baking tray and roast for 20 minutes or until the edges are caramelized.
Meanwhile, heat 1 tablespoon of oil in a large, deep pan and wait for it to become hot. Add the cumin seeds and cook for 30 seconds or until they pop.
Add the shallot and cook on medium heat for 2-3 minutes until slightly softened, then add the garlic and red chili and cook for another minute.
Stir in the tomato paste, curry powder, ground cumin, ground coriander and chili powder, then add 1 cup of water.
Bring to a simmer, stir in the cooked eggplant and cook on low-medium heat for 15 minutes, stirring occasionally.
Stir in the fresh coriander, season to taste and serve with rice or naan.
Leftovers and storage
Leftovers will keep well in the fridge for up to 3 days in an airtight container.
Reheat them in the microwave or on the stovetop. Brinjal bhaji also tastes great at room temperature.
You can freeze brinjal bhaji for 2-3 months. Defrost it in the fridge overnight before reheating.
Recipe notes and tips
You can add some other veggies such as bell peppers or zucchini to this eggplant curry.
Choose eggplants with a firm texture for best results when roasting.
If you want to bulk up the curry and add some protein, you can add a can of chickpeas.
If you liked this brinjal bhaji recipe, you might also like some of my other easy vegan curry recipes:
Don't miss out on any new recipes! Follow Vegan Cocotte on Instagram, Facebook and Pinterest.