Aloo gobi matar is a simple potato cauliflower and pea curry that's ready in just 30 minutes. This naturally vegan recipe with a tomato-based sauce pairs great with your favourite steamed rice or roti.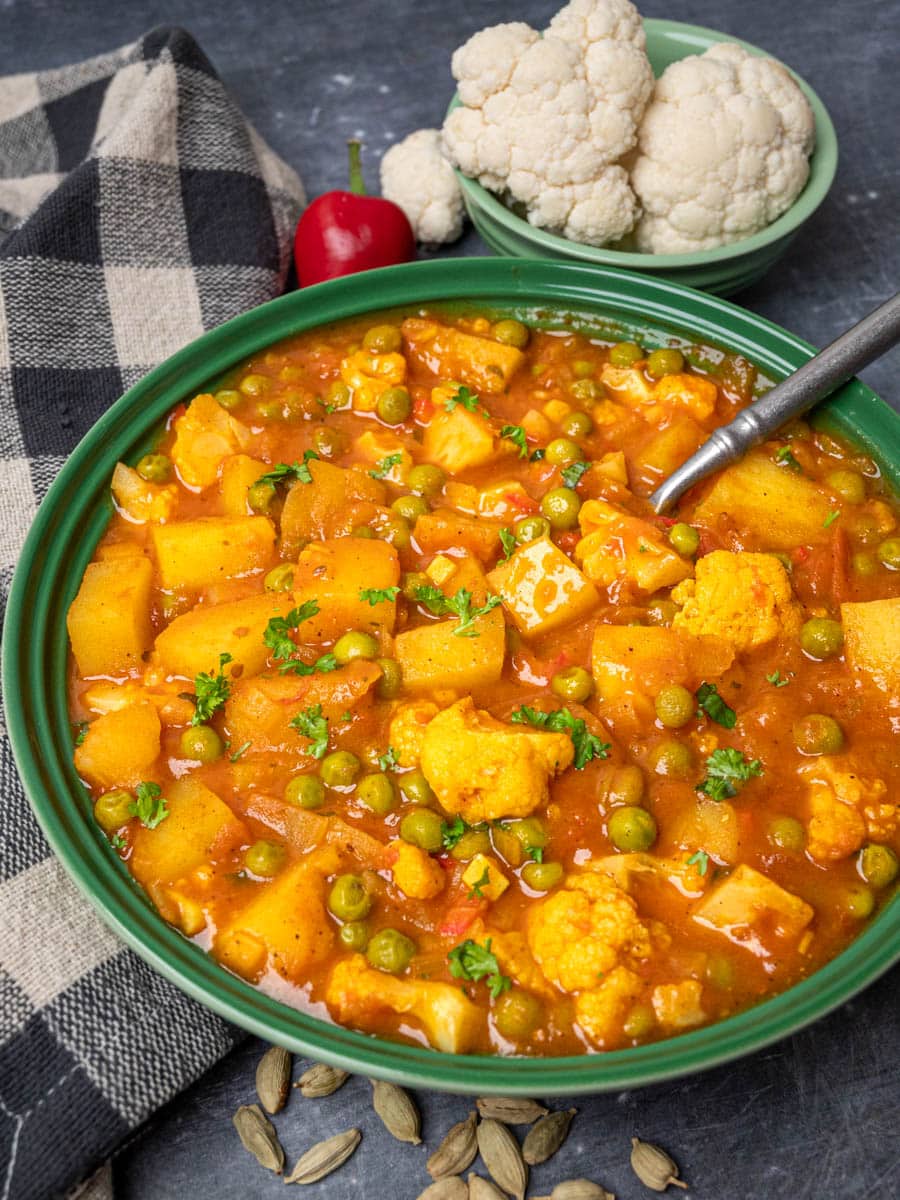 Aloo gobi matar is an Indian curry made with potatoes, cauliflower and peas and even though it sounds like a very simple recipe, it's surprisingly flavourful and downright delicious.
There are lots of aloo gobi matar variations out there. Some are dry and used as a side dish, whereas others have more liquid and are more like a proper meal.
My version is somewhere in between — it has a bit more liquid that's great for soaking up with roti or naan. If you want to make aloo gobi matar dry, you can simply reduce the amount of veggie stock.
You don't have to roast any of the veggies to make this potato cauliflower curry — it all goes in one pot so you can have a delicious plant-based meal on the table in just half an hour.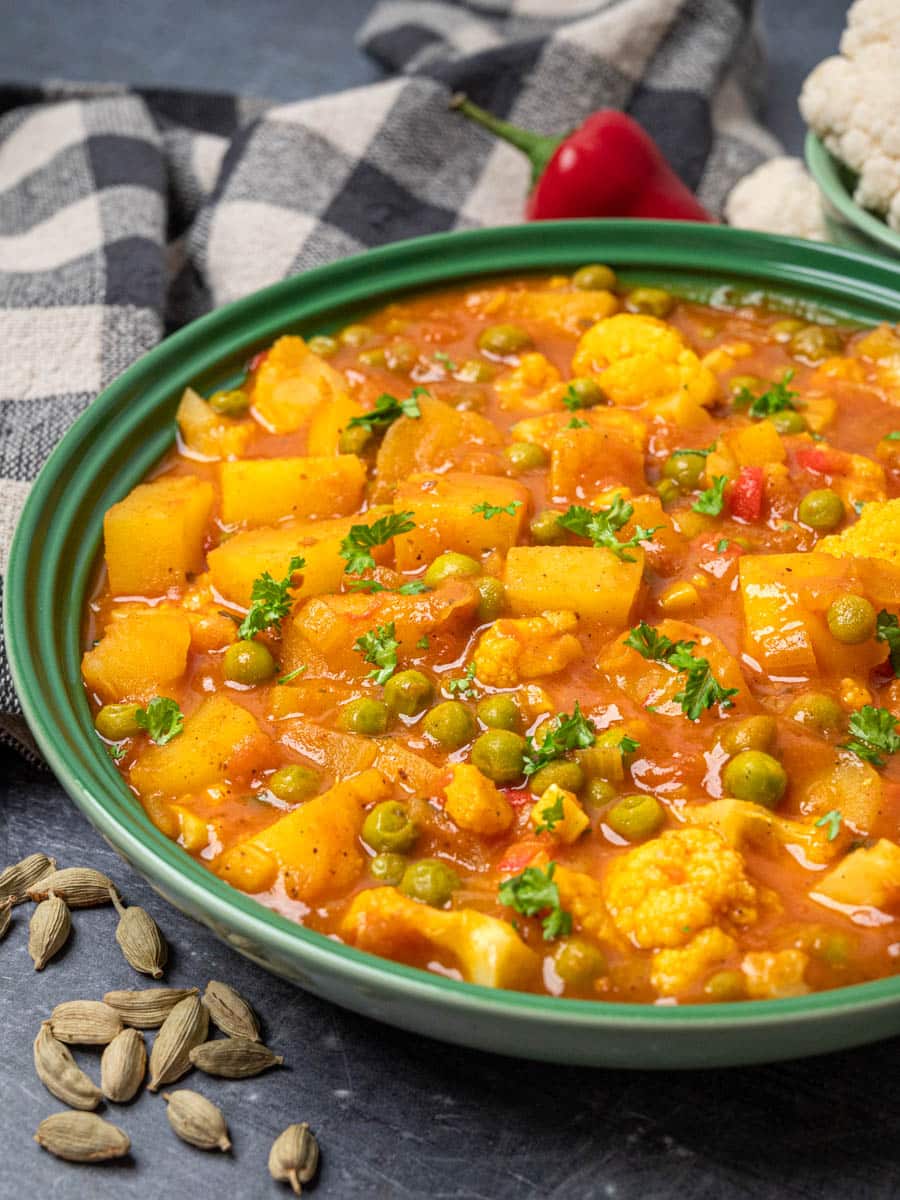 Ingredients and substitutions
Vegetable oil — Just like with any other curry of this kind, you can use any type of vegetable oil you like. Sunflower and canola are both good options. If you don't want to cook with oil, you can saute the veggies in a bit of water or veggie stock instead.
Shallot — I like the mild flavour of shallots in this curry, but you can use red onion instead if you want.
Garlic, ginger, and red chili form the aromatic base of the curry, so use fresh ones if possible. I often increase the garlic quantity because we really love it.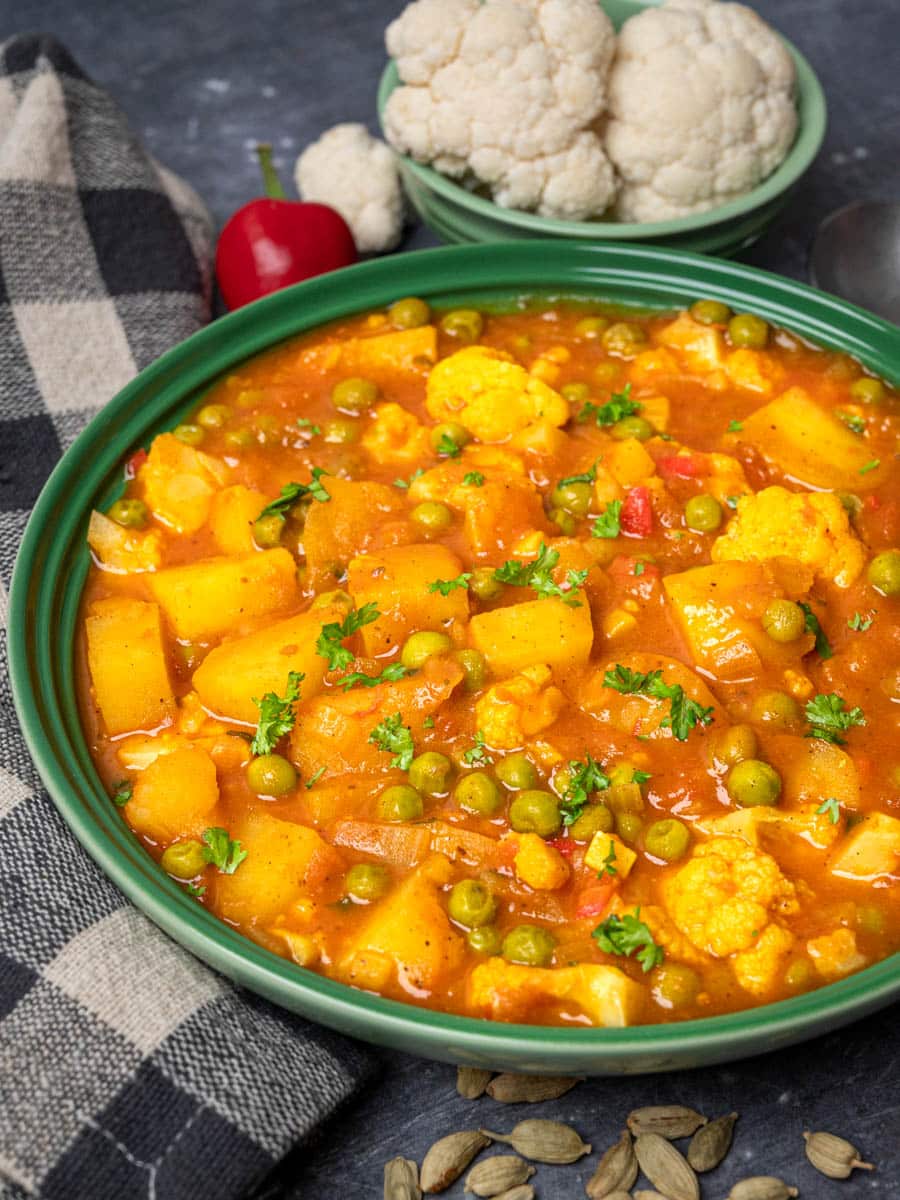 Spices — I use a mix of garam masala, turmeric and cayenne pepper to make this potato cauliflower curry, but you can adapt them to suit your taste. If you don't want the curry to be too spicy, you can skip the cayenne pepper — you'll still get a bit of a kick from the red chilli pepper.
Crushed tomatoes — A can of crushed tomatoes is all you need for this aloo gobi matar curry.
Peas — Both fresh and frozen peas work well for this recipe. If you decide to go with frozen, there's no need to thaw them first.
Cauliflower — Curried cauliflower is just the best and this veggie truly shines in this curry. Cut a small head of cauliflower into bite-sized florets.
Potatoes — Floury potatoes such as Maris Piper are best for this cauliflower. Cut them into medium-sized chunks so they cook evenly.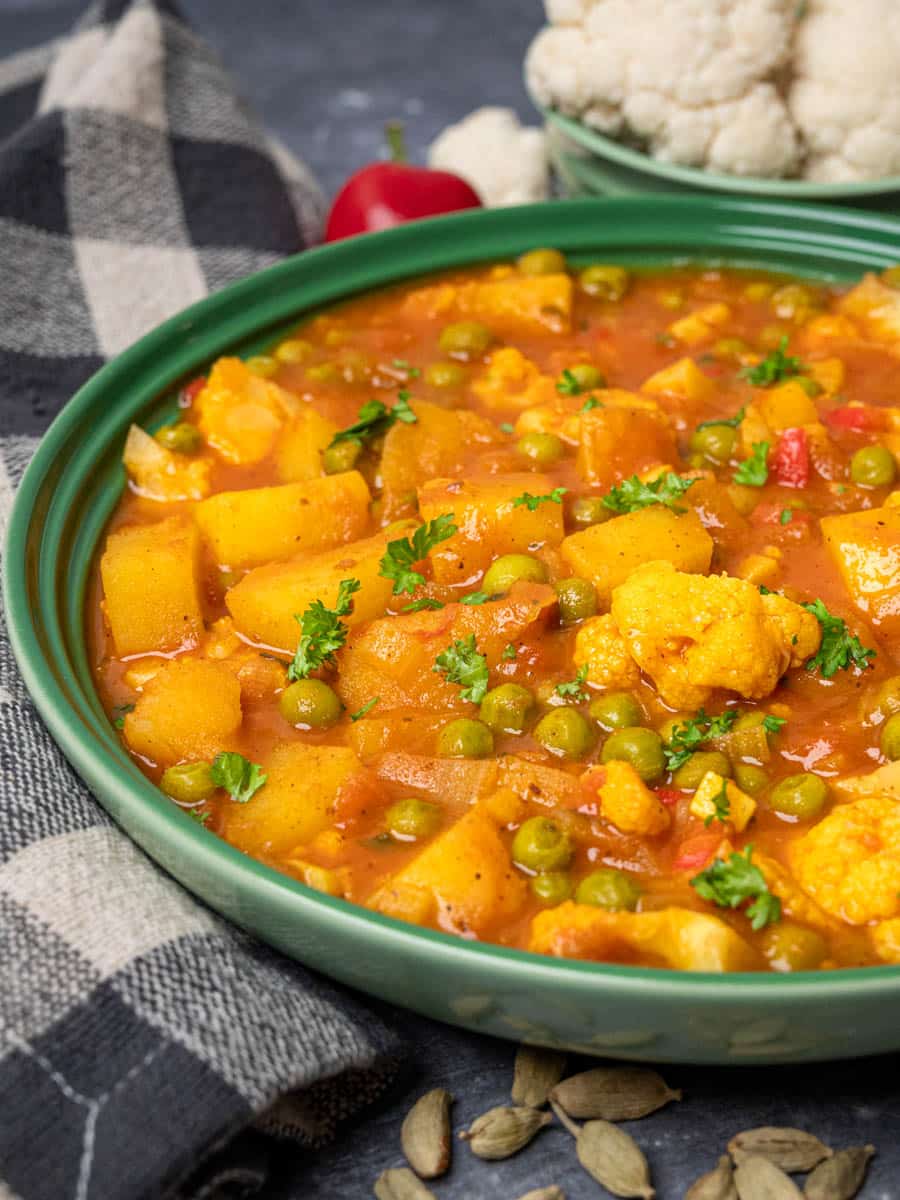 How do you make aloo gobi matar?
Heat the olive oil in a large, heavy-bottomed pot. Sauté the shallot for 2-3 minutes over medium heat until slightly softened.
Add the garlic, ginger and red chilli pepper and continue to cook for another minute until fragrant.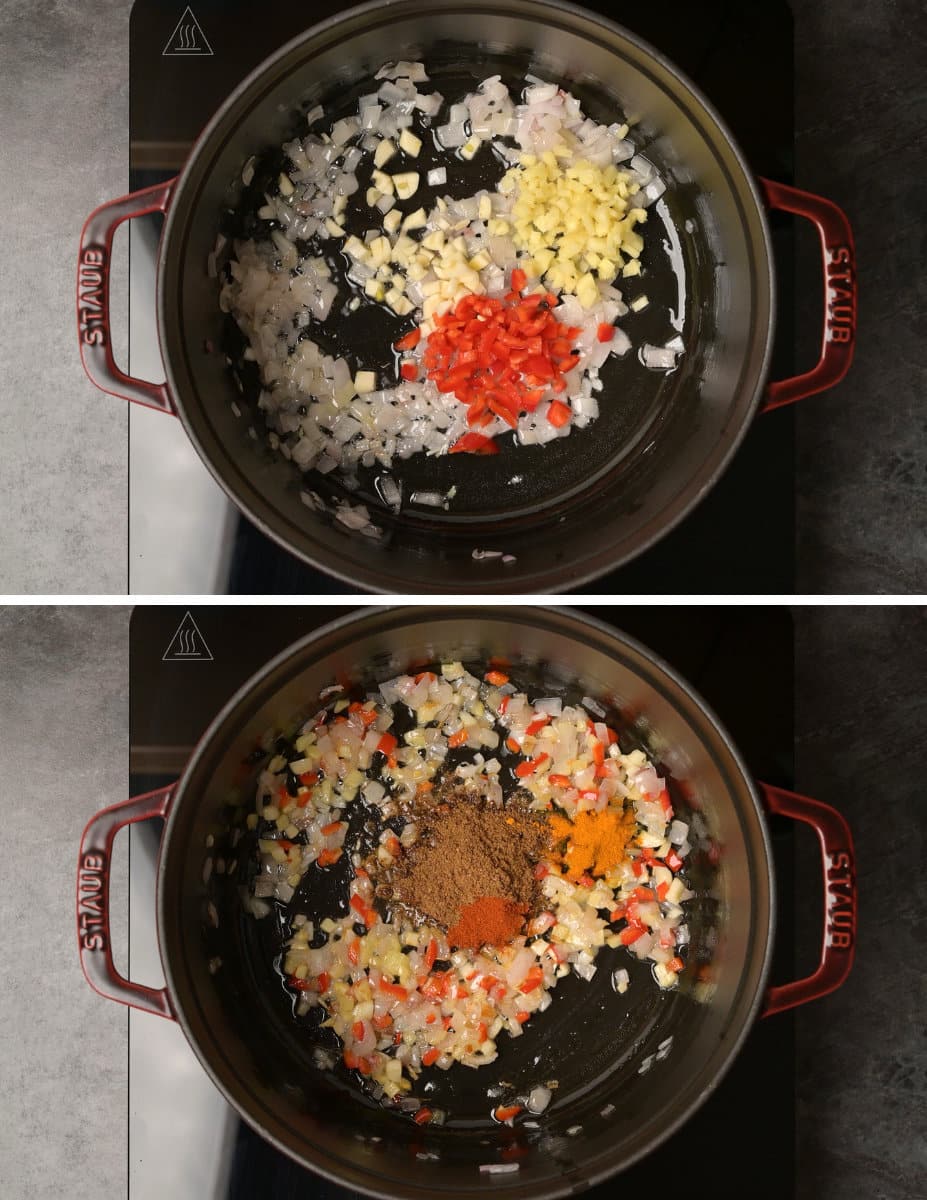 Stir in the spices and cook for a further minute, stirring occasionally.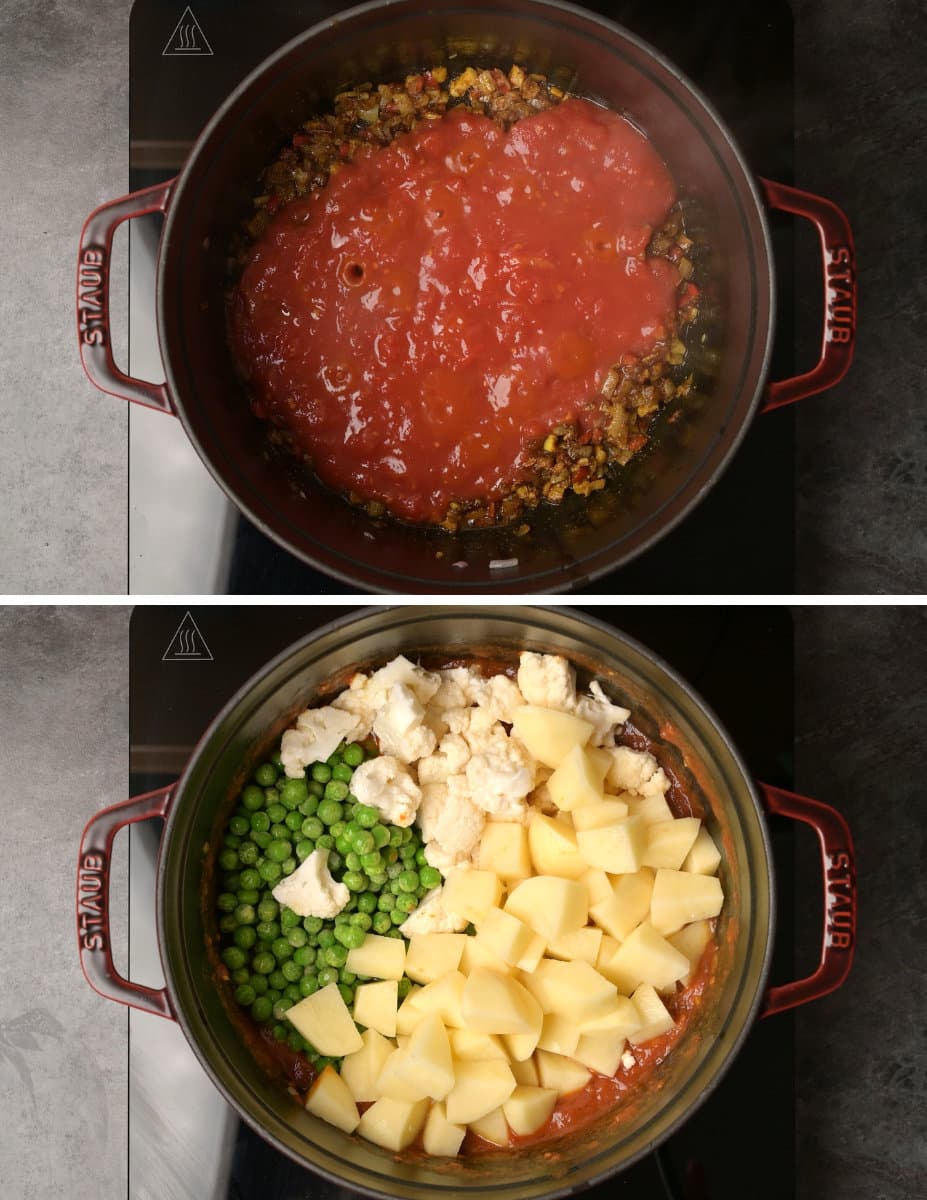 Next, add the tomatoes, peas, cauliflower, potatoes and vegetable stock to the pot and bring to a boil.
Lower the heat and simmer for 15-20 minutes until the potatoes are fork-tender.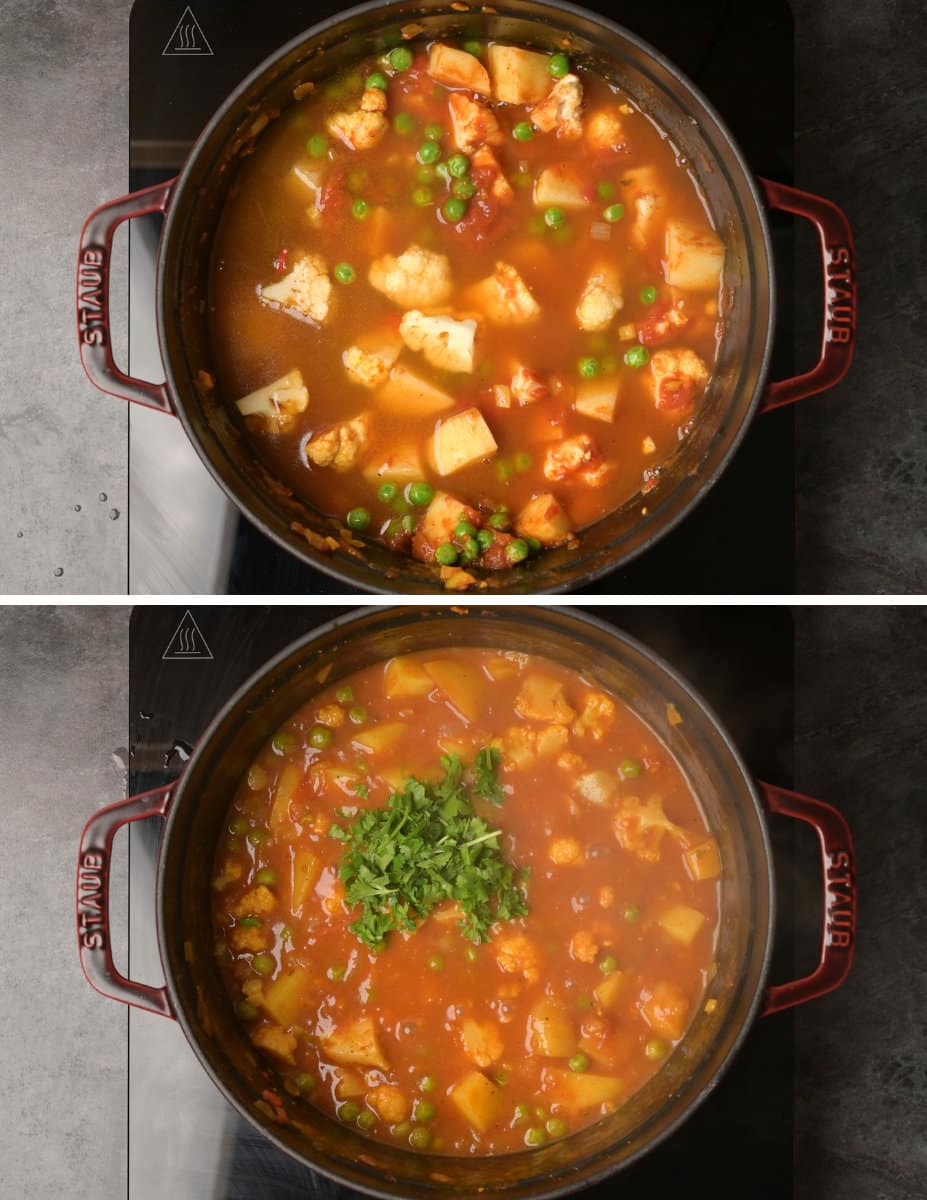 Stir in the fresh coriander and season to taste. Serve with your favourite steamed rice or roti.
Recipe notes and tips
Aloo gobi matari can be frozen for up to one month. To serve, defrost it in the fridge overnight and heat on the stove or in the microwave. You may need to add a splash of water when reheating.
Reduce the water quantity by a half if you want to make this aloo gobi matar dry.
You can blend the onions, garlic, ginger and red chilli pepper to a paste in a blender before adding them to the pan. This extra step makes sure you release all that extra flavour.
If you liked this aloo gobi matar recipe, you might also like some of my other easy vegan curries:
Don't miss out on any new recipes! Follow Vegan Cocotte on Instagram, Facebook and Pinterest.